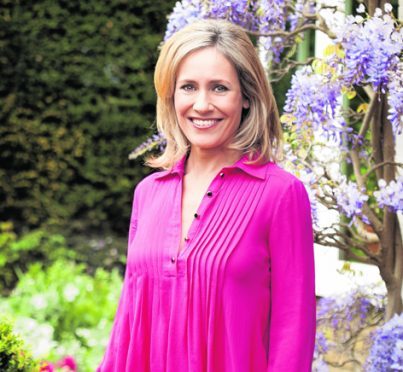 She may have made her mark anchoring the BBC News, but Sophie Raworth has proved she's no one-trick pony. From presenting and co-presenting TV shows to making film cameos and storming marathons, the 47-year-old is a tour de force – and she wouldn't have it any other way.
"It's nice to have a lot of different things," she confides.
"I've been presenting the national news for 20 years next year – I started in breakfast in 1997 – and I remember vividly thinking, 'OK, well I can do this until I'm 40', but I've had far more opportunities and far more variety since I turned 40, and long may that last."
One of Sophie's upcoming gigs is fronting the peak coverage of the RHS Chelsea Flower Show, a slot she took over from the long-serving Alan Titchmarsh in 2014.
First, she tells us about her transition from hectic newsroom to the great outdoors…
MAY FLOWERS
If you follow the top horticultural event, which for 2016 runs from May 24-28, expect a year of herbal healing, twists aplenty and odes to the Queen's 90th.
Being involved, enthuses Sophie, is "just wonderful".
"I'm incredibly lucky to have the job, and it's not just that one week, it's the run up to it as well. I really enjoy the build-up; to get an idea of the hard work, graft and expertise needed to create these spectacular gardens is a real privilege."
Dream team Monty Don, Joe Swift, Nicki Chapman and James Wong will join Sophie in her return for more than 12 hours of broadcasts on BBC One and BBC Two, including live coverage from the showground, as they spotlight the latest designs and planting innovations in the horticultural world.
One of the highlights is the People's Choice Award, where viewers will have the chance to vote for their favourite garden, from a total of 17 entrants.
"We'll announce the winner on Friday," reveals Surrey-born Sophie, who today resides in London with her husband and three children. "It means an awful lot to the designers, because it's the real public seal of approval."
TELLING TALES
Now in its 103rd year, the Chelsea Flower Show, held in the grounds of the Royal Hospital Chelsea, attracts green-fingered talent from all over. But the creativity of the gardens is rooted far deeper than simply how pretty they look.
"The designers tell these wonderful stories through a pretty small garden, and I always say to people, 'Make sure you read up on them'," Sophie explains.
"All the gardens have a different concept, and understanding what the designer is trying to achieve adds so much more to it."
So does the week-long event leave her itching to take the shears to her own garden?
"I'm very comfortable in gardens, I've grown up with them all my life," says the reporter-turned-TV personality, whose parents – including her mother, an ex-florist – have transformed their own outdoor space into a show garden.
"The problem I have with Chelsea is I tend to go home with rather a lot of it," she admits, chuckling. "I go to the sell-off day on the last day, and I've spent a week wandering around going, 'Gosh, yeah I could find a home for that'.
"I was looking at my garden today and it is absolutely full of Chelsea… my husband and children are bracing themselves for what comes next!"
SWITCHING IT UP
Since joining the BBC in 1992, personable Sophie has carved a career as one of the most trusted on-screen broadcasters, embracing whatever is thrown her way.
"A whole lot has changed since I started, but then so have I, and I've done an awful lot of different roles. It changes and you just go with it," she exclaims.
And her professional remit doesn't end there, with a number of cameos in popular TV series and films, including A Good Day To Die Hard (2013), as well as a part in the upcoming Absolutely Fabulous: The Movie.
"It's great to have a completely different pace and experience," she says.
"The one my eight-year-old was absolutely beside himself about, and I didn't tell him I was in, was Doctor Who. I've got all the credit points there!"
UP AND RUNNING
Defying the pretext that there's just not enough time in the day, Sophie not only manages to incorporate running into her busy schedule, but marathons, too.
"I'm ready for the next one now," she cries, having completed the London Marathon just two weeks prior to our chat.
"It's a bit of an addiction my marathon running; the more I do it, the more I love it," admits the fitness fan, who has already lined up her next event, the Berlin Marathon in September.
"I worked out I ran 600 miles between January and April. If you told me years ago I'd be doing that, I wouldn't have believed you," she adds.
"I live a very high-octane life with my jobs and my kids, and running is a great relief. I run a lot on my own, I don't listen to music, I run on beautiful trails and paths and it's something I can fit into my life without using up too much time. If I need to run and I don't have much time, I just run to work.
"I like having a goal," Sophie reasons. "I like having something to try and aim for, and something to achieve."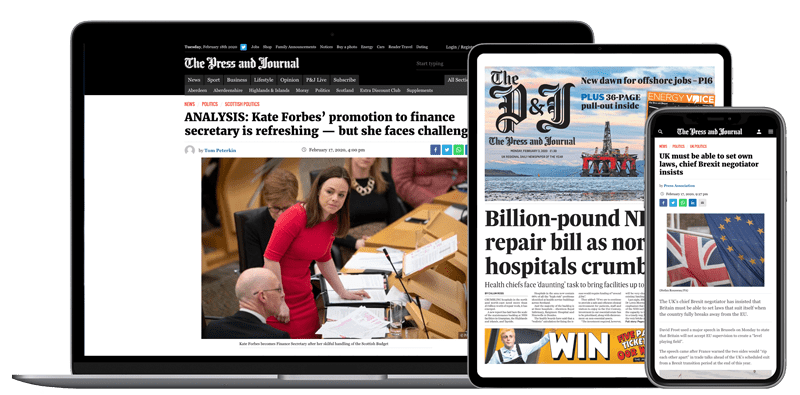 Help support quality local journalism … become a digital subscriber to The Press and Journal
For as little as £5.99 a month you can access all of our content, including Premium articles.
Subscribe