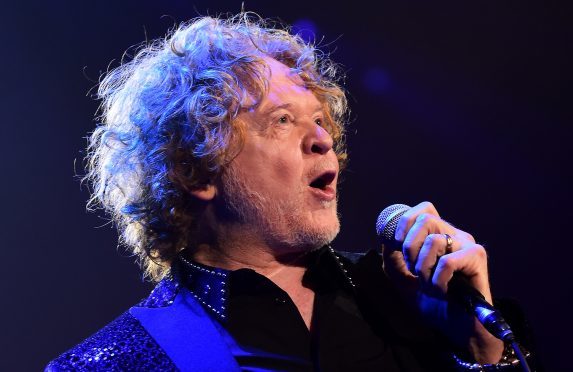 Money's too tight to mention, Mick Hucknall once said.
Words that ring true for many in Aberdeen these days, and at north of £50 for a ticket, I wondered how busy the AECC would be last night as Simply Red came to town.
I needn't have worried. With 50million albums sold there were evidently plenty of reasons for a good-sized audience of (mainly) middle-aged women to head to AB23.
The AECC hosted the reformed Simply Red as part of a string of UK arena shows, celebrating the 25th anniversary of their Stars album. Their high-water mark commercially, Stars spawned five hit singles, shooting the band to the top of charts the world over in 1991.
The Beatles, Rolling Stones and the Buzzcocks are not influences that perhaps spring to mind when you think of Simply Red. It was indeed from this musical palette that Mick Hucknall formed the band and set out on a career (short break, and brief foray with the Faces aside), that has sustained him for more than 30 years.
The show was structured in an interesting way. A brave 45-minute set of relaxed, deeper cuts and covers kicked off proceedings, the six-piece band providing the platform for Hucknall's glorious vocals.
Now 56, his voice hasn't really diminished, that unique tenor tone mixing melody with a little northern grit. Heaven was sublime, while Home and the blue eyed soul of So Not Over You pressed nostalgia buttons throughout the audience. Wine bar muzak they may be to some, but you know when you hear a Mick Hucknall song and the Aberdeen audience loved it.
And what a band he has. Effortlessly tight, Kenji Suzuki's funky guitar, sat on top of Steve Lewison's classy bass lines, creating real groove. All of this set against the backdrop of striking, busy multimedia screens.
An interval allowed the audience to check out the merchandise (tea towels £10) before the house lights dimmed again for part two, a full rendition of the Stars album. Playing an album in its entirety to celebrate its anniversary is a relatively recent phenomenon.
I have witnessed this a few times and I am not convinced it always works. Original track listings can be a bit off in a live setting, and this approach often means leaving out other career hits, as was the case last night.
Holding Back The Years, If You Don't Know Me By Now and The Right Thing all missing the cut.
Stars is no ordinary record though. One of the biggest-selling albums of all time in the UK, the songs clearly meant an awful lot to the AECC audience.
The first Simply Red album to boast all original material, Something Got Me Started, For Your Babies and the gorgeous title track all came to life on stage, harking back to headier days. Classy.