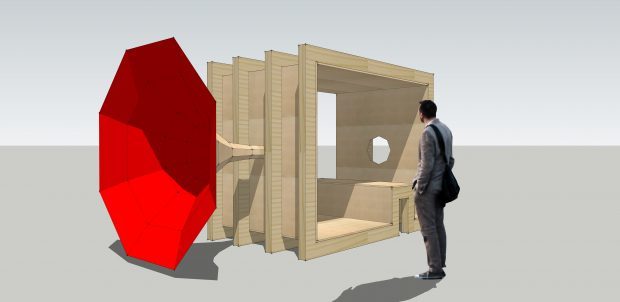 People living in Aberdeen will once again be asked to become tourists in their own city when one of Scotland's leading visual art and design festivals returns later this month. The Look Again festival runs from April 27 – May 1, 2017.
Featuring work from internationally acclaimed artists and north-east talent alike, Look Again offers something for all – from inflatable and wearable art to pop-up 'record stores', large interactive public art works and digital installations.
In line with the Year of History, Heritage and Archaeology 2017, each installation is rooted in stories and events from the north-east, with many drawing on the city's rich archives for inspiration. The work will inspire, challenge and evoke.
Design guru Wayne Hemmingway will officially launch the festival in the city, following a pre-festival showcase at Robert Gordon University's Garthdee Campus, April 20-24 2017.
Festival highlights include:
Record Store
Venue: Seventeen, Belmont Street
Record Store is curated by artists Janie Nicoll and Chris Biddlecombe in collaboration with 36 Scottish artists. Part exhibition, part fantasy record shop, it explores and celebrates the crossover between visual arts and music. Record Store will be shown in the creative hub that was formerly the much-loved One Up Records.
Control Room
Venue: Peacock Visual Arts Project Room, Castlegate
Artists Jon Thomson and Alison Craighead, who are based in London and the Scottish Highlands, will present a new evocative moving image work, inspired by archives held by Aberdeen Harbour Board, alongside two existing artworks, Aberdeen Wall and Here.
The Listener
Venue: Pocket Park, Union Terrace
Led by Scottish artist Jason Nelson. The installation is both an object to be viewed and a space to be used by people, from which to hear the histories and the urban myths that form the collective consciousness and identity of Aberdeen.
Look Inside
Venue: Academy Shopping Centre
A design collective of Aberdeen-based makers – Anne Marquiss, Gabi Reith, Mags Gray and Aubin Stewart – who will showcase a new collaborative 'Aberdeen Collection'. Pieces include jewellery, ceramics, illustration, apparel and more.
The Doric Boule
Venue: Marischal Quad
Swedish-based designer Nick Ross will showcase new work inspired by Aberdeen's Seven Incorporated Trades. The project connects ideas of local power and influence to a wider view of the world. It will create a public meeting point made not just from local stone but from varieties of granite from across the world.
Inflato – Optical Image Intensifier
Venue: RGU's Garthdee Campus
Glasgow based duo, Ruby Pester and Nadia Rossi are set to launch Look Again @ Garthdee Campus this year with their visually captivating artworks. A series of large-scale, site-specific inflatable and wearable sculptures inspired by some of the curious measuring and optical instruments from the early pharmacy, engineering, and domestic science schools.
For further details and the full programme visit www.lookagainfestival.co.uk or keep up to speed by following the festival on social media.