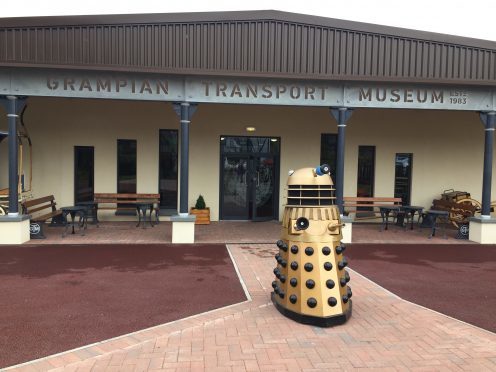 One of Dr Who's deadliest foes has decided to set up base at Alford's Grampian Transport Museum after learning that the Doctor has returned to TV screens.
The ever popular Dalek Day invites visitors to the museum to pose for a 'selfie' with the museum's roaming Dalek – if you dare – on Monday.
Hailing from the planet Skaro the Dalek, named locally as Alec, will be roaming around between 10am and 4pm for hourly attacks and may be found patrolling the museum exhibits.
Marketing manager Oliver Edwards, from the museum said: "We started the Dr Who connection in 2006. I don't know of any others in Aberdeenshire or Aberdeen. There aren't many people who can say they have seen a real Dalek."
Along with Alec the Dalek, the museum has another 'non-live' Dalek in its swinging sixties collection and has one of the iconic police phone boxes parked outside.
Hoping to break the 30,000 visitor barrier this year, the museum has also lined up new pieces in the Rich and famous collection and has its Guy Martin exhibition.
Mr Martin loans his pieces to the stand which includes his transit van, believed to be the fastest transit van in the world after reaching the speed of 164mph in Nevada, with Mr Martin at the wheel.
The museum is also hosting a rare breeds event in a celebration of "not quite" classics.
Mr Edwards said: "We have got 50 entrants already for the 'How many left' day.
"Celebrating the mass produced cars which are now considered 'endangered species' with less than 500 examples remaining – in some cases we have the only remaining models."
Dalek Day is on Monday, from 10am-4pm. The 'How many left' event is being held on Sunday, May 21. For more details visit www.gtm.org.uk