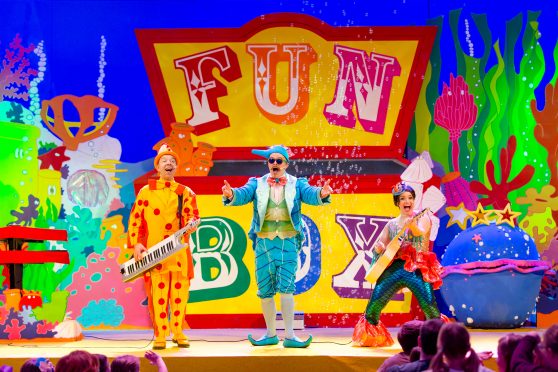 Children's entertainers Funbox made a splash at HMT in Aberdeen over the weekend with their new stage show Underwater Adventure.
Family favourites Anya, Gary and Kevin returned to the Granite City with a winning combination of songs old and new, larger-than-life characters, awful fish puns and just the right amount of audience participation.
This hard-working trio seem to be constantly on tour yet manage to come up with new themes and storylines to keep their act fresh and worth returning to see time and again.
The underwater set was colourful and cleverly put together with subtle special effects and well-designed costumes.
Shelby the giant clam was a highlight, as were the cute little "helpers" who were plucked from the audience and given costumes to turn them into starfish, sharks and lobsters.
And it wasn't just the audience who enjoyed the show. It was obvious the performers were having a ball, too, especially when Kevin dropped some props off the stage and was then bombarded with them several times by someone backstage, all adding to the hilarity.
My two children – aged four and eight – were both engrossed, singing along to the songs and joining in with the actions.
They loved Bonzo the dog with his cheeky antics and toilet humour, although his joke about taking a train to King's Crustacean left them confused while the adults had a giggle.
To continue with the fish puns, my family and I thought this show was "brill", and my son left the theatre working out how many months there are until Funbox return in January with another new production, The Funtastic Factory.