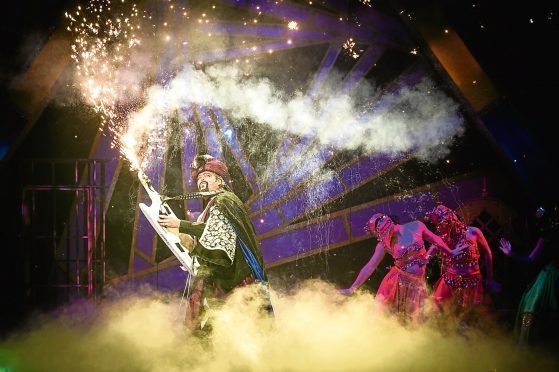 Christmas is all about wishes, from adult's hopes and dreams of a better year to come, to children hoping to get everything on their Santa list.
For me, I was wishing for fun, laughter and a magical escape from reality, even if just for one night.
And that's exactly what I got with HM Theatre's production of Aladdin.
Despite a technical hitch, which delayed the performance of this year's panto by around 20 minutes last night, it was well worth the wait.
What more could you ask for than a night filled with magic carpets, giant talking cobras and Jimmy Osmond in sequins.
Yet again Alan McHugh managed to retain the spirit of the children's favourite fairy tale while injecting a large amount of Doric humour fit for both adults and children alike.
But in a twist of the plot and a shout out to all feminists in the audience Princess Jasmine, played by Lisa-Anne Wood, is no damsel in distress and shows women don't need to sit about waiting for a man to rescue them.
And those regular panto-goers who may be missing an old favourite may be pleasantly surprised to hear the dulcet tones of the Genie.
But what made the performance really special was the use of the special effects, which brought the whole production to life.
However, if you are planning to take your out-of-town relatives to see it when they come and visit at Christmas it may be advisable to give them a lesson in local geography and Doric first. But if they still struggle I am sure Jimmy Osmond's rendition of his 1970s classics will more than make up for it.
Jordan Young also took to the stage in the leading role for his 11th panto at the theatre and had everyone roaring with laughter from start to finish.
McHugh has once again delivered another rip-roaring night out at the theatre. If I had one more Christmas wish it would be that McHugh keeps on writing pantos the north-east will continue to love.