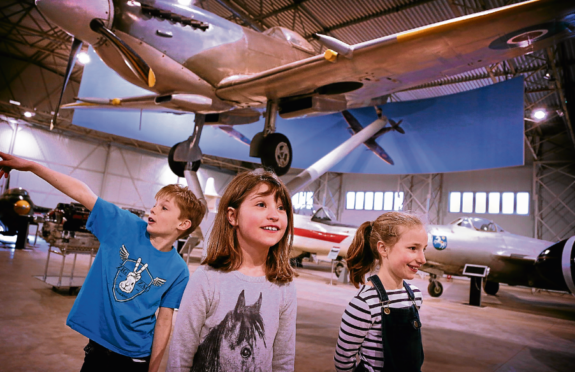 As the RAF prepares to celebrate its centenary year, the new season launch at the National Museum of Flight in East Lothian will mark the anniversary with a range of RAF100 activities and an invitation to discover more about the East Fortune attraction's history as a wartime RAF base.
Supported by the players of People's Postcode Lottery, a series of family activities taking place across Easter Sunday, that's April 1 and Monday, April 2, will highlight the RAF centenary and include the chance for visitors to see and handle authentic military flying clothing, meet World War I reenactors, enjoy themed craft sessions and try their hand at flying an aircraft with VR headsets.
Taking place on Tuesday, April 3 and Wednesday, April 4, is the Pilot Training School where visitors can try their hand at flying an aeroplane in the virtual world with the help of headsets. Suitable for those aged 10 and over, the school gives people the chance to test themselves against friends and family to see who would make the best pilot.
Visitors can also discover more about the historic airfield's wartime heritage in the attraction's Fortunes of War exhibition and can see the Museum's iconic Spitfire, which played such an important role during World War II.
Other RAF aircraft at the museum include a 1953 Armstrong Whitworth Meteor, the RAF's first jet fighter; a 1961 English Electric Lightning, the organisation's first supersonic jet fighter, and a 1976 SEPECAT Jaguar tactical strike and reconnaissance fighter. Visitors can also see a 1989 Panavia Tornado that carried out air defence patrols from Saudi Arabia during the first Gulf War and learn about the museum's Avro Vulcan delta-winged bomber, one of only two deployed in conflict.
There's plenty more to see during a visit to the museum including a not-to-be missed opportunity to visit Scotland's only Concorde. Visitors can climb aboard this iconic aircraft to discover what transatlantic flight was like for passengers and crew and learn about Concorde's legacy.
There's also the chance to explore two recently restored hangars which tell the stories of military and civil aviation over the past 100 years. They showcase the museum's world-class collection of aircraft alongside uniforms, documents and photographs, in immersive, interactive and thought-provoking displays.
East Fortune Airfield is a Scheduled Monument which has played a fascinating role in the history of the Royal Air Force.
Before the formation of the RAF on April 1, 1918, East Fortune operated as a Royal Naval Air Station, home to aircraft such as Sopwith Pups, Avro 504s and giant airships that carried out sea-lane patrols.
After the merger of the Royal Naval Air Service with the Army's Royal Flying Corps the airfield became Royal Air Force Station East Fortune and trained crews in torpedo bombing techniques. It was aircraft from East Fortune that filmed the surrendered German fleet sailing into the Firth of Forth.
During World War II, RAF Station East Fortune served as an operational training base for night fighter crews. It then became a base for an anti-shipping strike training unit within No 17 Group Coastal Command, with the Bristol Beaufort and Beaufighter as its principal aircraft, and a torpedo training school was again opened on-site.
The National Museum of Flight is at the East Fortune Airfield, East Lothian, EH39 5LF. It is open daily from March 30 until October 31, from 10am-5pm. Admission: Adult £12, Concession £10, Child (5-15) £7 (under 5 free). Family ticket £31 (Two adults and two children). National Museums Scotland members free.
Contact: 0300 123 6789 or visit www.nms.ac.uk/flight