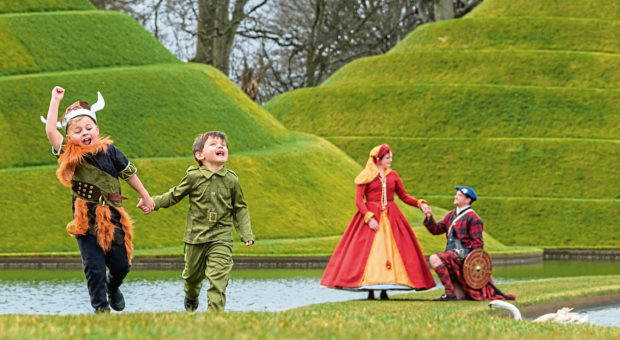 The Festival of Musuems was launched at Jupiter Artland, which is a new venue joining the festival for 2018, and where Joe Lawler, 7, and Flynn Robertson, 4, both of Edinburgh, came face to face with Mary Queen of Scots and a Jacobite warrior.
Scotland's ancient and modern history will be brought to life this weekend through a series of interactive events taking place across the length and breadth of the country.
Festival-goers can encounter the Jacobite and Redcoat soldiers that inspired Outlander, rack their own family history and experience what it's like being a pupil in a Victorian school.
Events taking place include:
Tomorrow, Elgin Museum hosts Marbles to Minecraft – Play Through the Ages, a dementia-friendly reminiscence session from 2-3pm. Visitors can explore the museum in this relaxed and informal session designed for those with dementia and their carers. Working with the Play Through the Ages theme, visitors will handle and discuss toys from the collection, reminisce about favourite childhood pastimes, songs and rhymes.
The same day, Aberdeen Maritime stages an after hours event from 7-9.30pm when there's a chance to enjoy live music and explore the museum after hours. Gaelic singer-songwriter Alasdair C Whyte and electronic composer and musician Ross Whyte will be performing new arrangements of rarely heard traditional Gaelic songs.
At the Heritage Project Centre in Tarves, there's a blackboard and chalk event – aka, school in the olden days. Visitors can go along to try writing on a slate, sit at an old school desk and try using pen and ink under the watchful eye of a Victorian teacher. Visitors can come dressed up as a Victorian or use supplied costumes to have a go and step back in time. The event takes place from 1-4.30pm from May 18-20.
Visitors can take advantage of free entry to Caithness Horizons Museum and Art Gallery in Thurso during Festival of Museums weekend. There will be guided tours available, so go and celebrate the heritage of Caithness from 325 million years ago until the present day. Open from 10am-4pm.
On May 19 and 20, Groam House Museum in Rosemarkie hosts a special event from 11am-4.30pm with stories, poems and reminicences plus a chance to meet the research team behind the museum's exhibition which looks at the impact The First World War had on Avoch, Fortrose and Rosemarkie.
On Saturday, between 10am-4pm, The Black Watch Castle and Museum in Perth stages the Jacobites and Redcoats: Battle for the Highlands. Visitors can travel back in time to the 18th Century and discover the origins of Scotland's oldest Highland Regiment, The Black Watch. Meet courageous Jacobites and stern government redcoats as they fight for control of the Highlands.
Dress up in soldiers' uniforms, find out how to fire a musket, wield a broadsword and take part in a heroic Highland charge. Get creative by making your own musket, basket-hilted broadsword and shield.
And on Sunday, there's an opportunity to go behind the scenes at The Highlanders' Museum in Fort George, between 10am-4pm. Those attending will be invited to visit the museum's archives of documents, diaries, letters and photographs while a dedicated band of specialist volunteers will assist in researching Highlanders connections from the Seaforth, Cameron, Queen's Own Highlanders or Lovat Scouts.
Visitors will also see a fascinating array of objects including weapons, uniforms, souvenirs and silverware, paintings and photographs, while a fully costumed First World War Sergeant Major will be in attendance, training the new recruits.
Now in its 12th year, this year's festival sees a number of new venues taking part including Edinburgh's outstanding Jupiter Artland sculpture park; Skelmorlie Secret Bunker, where visitors descend 15 foot underground to get a chilling insight into the Cold War; and St Ronan's Wells, a historic spa overlooking Leithen Valley.
Sarah Burry-Hayes, marketing manager at Museums Galleries Scotland, said: "The Festival of Museums programme is bursting with fun events to spark the imagination and celebrate culture in Scotland."
For details of the festival visit www.festivalofmuseums.com