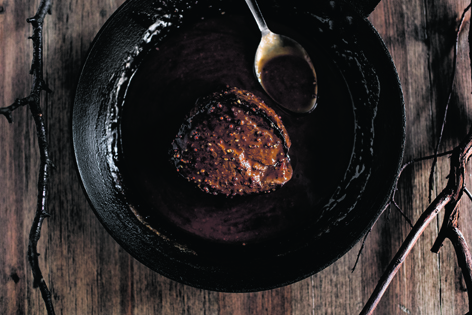 Inverurie-based Donald Russell's Connoisseur Steaks are specially selected by hand and the absolute crème de la crème of all their steaks.
This is the gold standard – richly marbled, beautiful ribeye, matured and packed specially for you, complete with its own certificate, hand signed by one of four senior butchers.
If planning a romantic meal for two, the steaks, aged for 35 days and containing beefy grass-fed flavour, pair well with Donald Russell's new Alpine Fries. The classic combination of steak and chips is elevated to new gastronomic heights with these fries that deliver a satisfying crunch with a soft fluffy interior.
Here's how to cook your steaks to perfection . . .
1. Let them defrost slowly
Always leave steaks in their wrapping and thaw slowly in your refrigerator
Allow plenty of time – we recommend defrosting overnight, or up to 24 hours
Ensure your Connoisseur's Steaks are thoroughly defrosted before cooking
2. Give time to breathe and 'bloom'
Carefully cut around 3 sides of the vacuum packaging and gently ease out the steak, replumping at the edges if needed
Pat dry with kitchen paper and let the meat breathe and 'bloom' at room temperature for at least 20 minutes
Your steaks will have regained their rich, buttery beef aroma, and will now cook evenly
3. Cook hot and fast . . .
Make sure your pan is preheated to the highest temperature before you begin
Brush your steaks with a little oil, so they don't stick
The meat should sizzle when placed in the pan
Cook one side first, then turn carefully just once
3 minutes each side will give you a perfect 'medium'
4. . . . And rest long
Once cooked to your liking, place on a rack, loosely covered with tin foil
Leave to rest in a warm place for at least 10 minutes, and up to half an hour
This allows the meat to relax and become evenly warm, succulent and tender throughout
Use a razor-sharp, unserrated knife, and cut your steak across the grain for the ultimate tenderness.
Four x 250g Connoisseur Steaks are £55. To order, visit www.donaldrussell.com or phone 01467 629666.