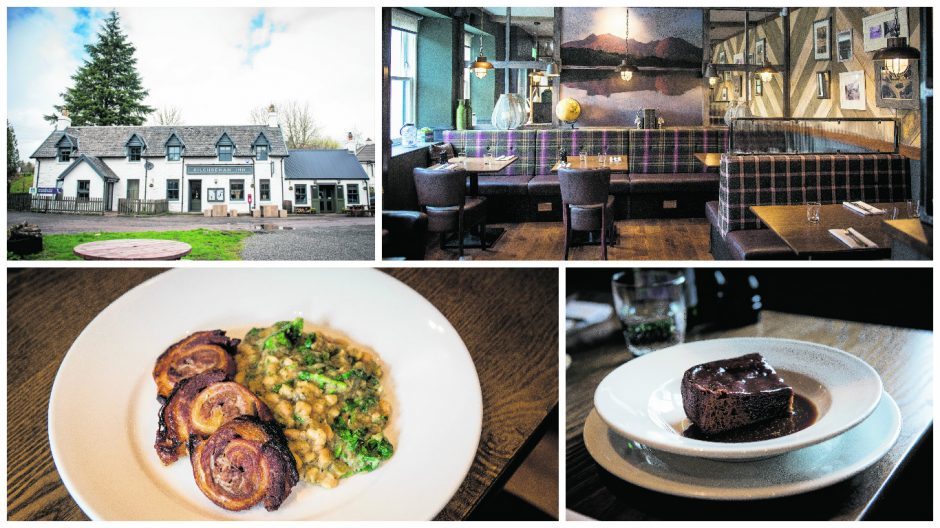 It's nearly dusk as we wind our way along an uneven single track road which leads us to the serene Kilchrenan Inn, about six miles south of Taynuilt, near Oban.
My fellow diner and I arrive early after a long journey from the Highlands and order a crisp beer at the bar. There, we meet the house dog Hank "the tank," whose friendliness matches the warm welcome we get from the staff at this bonnie spot by Loch Awe.
Hank stays by the open, wood-burning fire at one side of the bar as we're taken through to the restaurant at the far end. It's a Thursday evening and we're the only people there – but the place soon starts to fill up.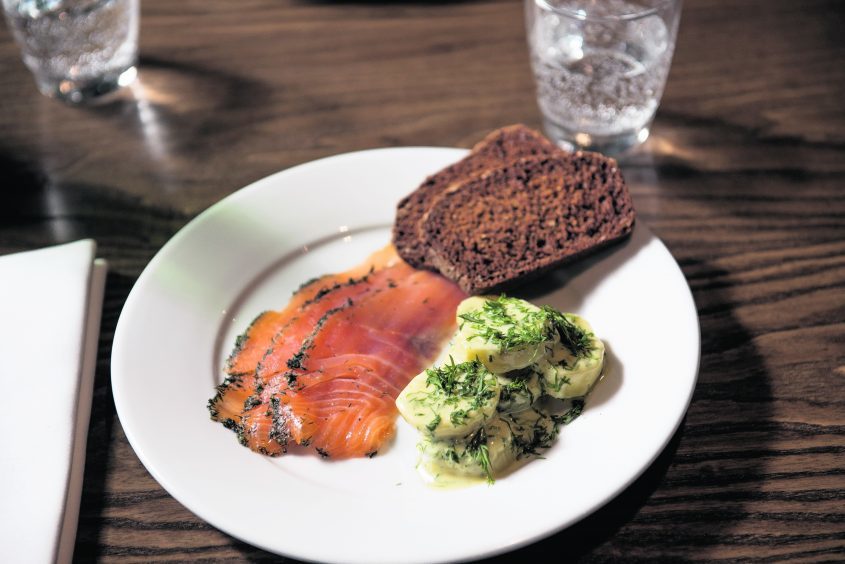 The inn – once an 18th-century trading post – was refurbished and opened in October last year as a gastro pub and restaurant. Plain wood panelling covers some of the walls, and tables and tartan padded seats are separated by shelves holding ornaments from pottery and books to a mini globe, all lit up by low-hanging ceiling lamps.
Some photographs of the building from years gone by pepper sections of the wall and a painting of the neighbouring loch stretches across the back wall of the restaurant. The place has a country feel.
The menu was simple but varied. To start I ate gravadlax, a delicious Scandinavian dish of dry-cured salmon marinated in herbs with potato dressed in dill sauce and served with soda bread.
My fellow diner chose the rich yet smooth duck liver pate, which spread easily over some crunchy toast and was served alongside watercress dressed in mustard vinaigrette.
For main, the unusual cut of crispy lamb breast was hearty and tasty and married well with a white bean and rosemary mix which was just moist enough on the palate – but a good sauce would have completed the dish.
My companion chose pork belly with braised Milan turnips and could not fault a thing. It was slow-cooked to perfection and the fat was rendered down to a desired crispy texture.
Vegetarian dishes on the menu included starters of green pea split soup or beetroot and red onion with goats' cheese and rocket, and a main of baked fennel, potato and Mull cheddar with pickled walnut.
For dessert, a ginger sponge with butterscotch sauce and vanilla ice cream proved a real triumph, and my friend's buttermilk pudding – similar in texture to panna cotta – served with stewed, rosy Yorkshire rhubarb, was a bright, fragrant and delicious way to round off a pleasant meal.
The food at the Kilchrenan Inn is excellent value and is all about simple but effective cooking, allowing fantastic local ingredients and flavours to shine through, and the service throughout was both friendly and attentive.
Managers Jordan and Lesley Foster have been running the gastro pub since its opening in October. Jordan, a past UK Seafood Championships regional winner, has previously worked in some of the world's top restaurants including The Seahorse in Dartmouth, the Rockpool Bar and Grill in Sydney and the Hereford Road Restaurant in London.
Lesley also carries a wealth of front-of-house experience having worked at eateries such as the Rockfish in Bristol and Cafe Nice in Sydney, and was restaurant manager at Bernardie's in London.
The young couple also stock an extensive drinks selection, from local craft beers to fine wines and numerous Scottish gins and malt whiskies. The Sanda Blonde IPA, brewed by Fyne Ales, was especially noteworthy for its refreshing citrus aromas which made for a delicious light drink – just the ticket after a long journey.
While in the village, it's also worth visiting the Kilchrenan churchyard to see the tomb of Colin More Campbell, of Lochawe, a fledgling clan leader who was killed at the Battle of Red Ford in 1294.
The clash, a land dispute between the Campbells and MacDougalls, took place on the borders of Lochawe and Lorne, with the battle site named "Red Ford" after the ford which was said to have run red with blood in its aftermath.
The Kilchrenan Inn is very much the focal point of the village and was the ideal pit stop for us on our drive down the beautiful Mull of Kintyre coast to play golf in an unusually calm Machrihanish.
In fact, the inn's location makes it an ideal stop for anyone touring the west coast, or anyone living in Oban who might fancy eating somewhere a little bit different.
It's a splendid place to enjoy some honest, hearty fare in a truly idyllic setting and is well worth a visit. Just be careful when you're driving along that single track road.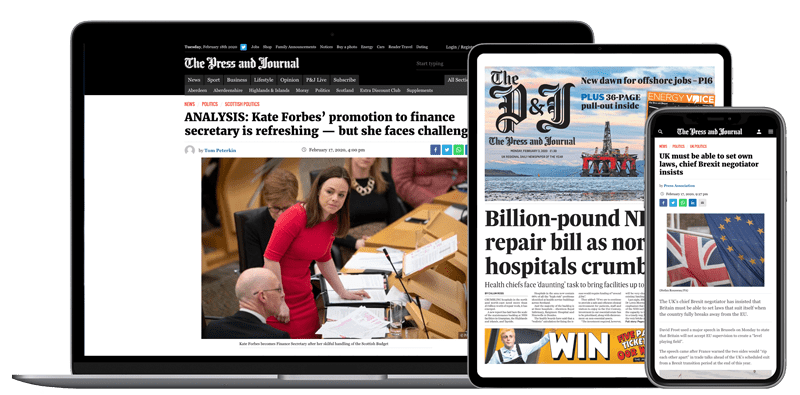 Help support quality local journalism … become a digital subscriber to The Press and Journal
For as little as £5.99 a month you can access all of our content, including Premium articles.
Subscribe