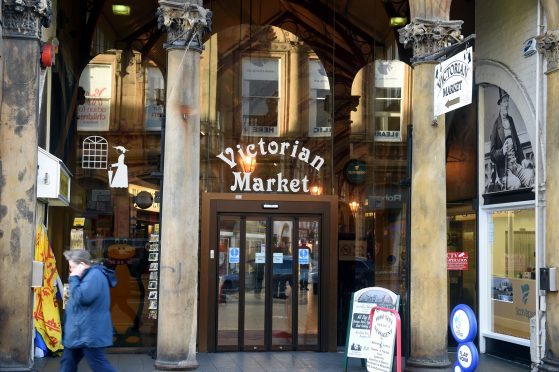 Spring is in the air and all around there's signs of new life  –  snowdrops, daffodils and crocuses are popping up, while in homes across the Highlands, winter woollies are being packed away and stodgy meals are being replaced with lighter, healthier options.
It's a good time to be alive, and a good time of year to take a look at your own lifestyle and check you are following a healthy, balanced diet.
Every good diet should include fish. Earlier this year, the NHS and health professionals recommend eating two portions of fish each week – one of which should be an oily fish.
Fish is delicious and nutritious, and here in the Highlands we have access to some of the best quality seafood in the world, produce that has world-class chefs regularly singing its praises.
In Inverness, there's one remarkable building sitting in the heart of the city centre, that has always had an important role to play in ensuring locals enjoyed access to good, fresh local produce  –  the Victorian Market.
In the olden days, the markets in Inverness were of the open air variety but in 1876-70 the Town Council decided to build a covered market. Although it was destroyed in the fire, the original sandstone entrance still remains and can be seen at the Academy Street entrance.
The market was rebuilt in 1890-91 and since then, has been a popular shopping destination, especially for those looking for fresh produce.
Head into the market from the Church Street entrance and take a look at the sandstone arch which has been partly worn away  –  not an act of vandalism but a throwback to the days when the fish merchants sharpened their knives on it.
One of the best known family-run businesses there is Duncan Fraser Fishmonger, which has a shop in the Queensgate Arcade of the Victorian Market, celebrating 90 years at 8-10 Queensgate Arcade, having been trading since 1927
Malcolm said "My grandfather started the business in 1911 at No.1 Queensgate Arcade as a butcher's, then the fishmongers opened here in 1927.
"Some of the reasons we have been in business for 90 years is the quality and freshness of our produce. We have the biggest range you'll find locally; everything from fresh local fish and shellfish as well as more exotic fish.
"The product knowledge and expertise from the team means that we can offer advice and guidance on how to prepare and cook the perfect fish dish – we can also fillet and prepare our product range, as needed by the customer.
"We offer a great range of fish at a fair price, with excellent personal service. To be honest, fair prices and excellent personal service is what you'll find throughout the market – that's what makes this place so special."
Research has shown that eating fish and shellfish regularly is good for our bodies in many ways  –  but buying fresh seafood you are also supporting your local fishmonger and those hard-working fishermen who brave all weathers to bring you the catch of the day.
Why not swing by the Victorian Market in Inverness this weekend and check out the fresh food on offer there and have a chat with your local fishmonger about what's good to buy this week.
Haddock and smoked haddock are always a good, flavoursome bet and the two recipes featured below will help you turn a regular fillet of fish into a family favourite dish that will have them yelling for more!
CLASSIC FISH PIE
SERVES 4
 
The ingredients
250g salmon fillets
400g haddock fillets
200g smoked haddock fillets
300ml double cream
250ml milk
Half a glass of white wine
1 small bunch of parsley, chopped
50g butter
1kg potatoes
2 egg yolks
1 heaped dessert spoon of cornflour dissolved in 75ml cold water to make a thin paste
Green vegetables to serve
Salt and pepper
The method
Peel the potatoes and boil in salted water. Cut all the fish fillets into 2cm cubes.
In a heavy saucepan, combine 250ml of cream, the milk and wine and heat until just about to boil. Turn down the heat to low. Whisky half of the cornflour paste into the cream mixture. Allow to cook for two minutes until you get a custard-like consistency.
Add the fish and stir through the sauce, season and remove from the heat. The fish will be half cooked but will finish cooking in the oven later.
When the potatoes are cooked, drain and mash them with the butter and 50ml of cream. Check seasoning. Add two egg yolks and mix in.
Place the pie filling in an ovenproof dish and allow to cool. Pipe or spoon the mash onto the top of the pie mix evenly. Bake in a pre-heated oven at 180oC for 30 minutes until the mash is a lovely golden colour and the centre is piping hot.
Serve with a selection of green vegetables.
SMOKED HADDOCK AND GREEN HERB RISOTTO
SERVES 4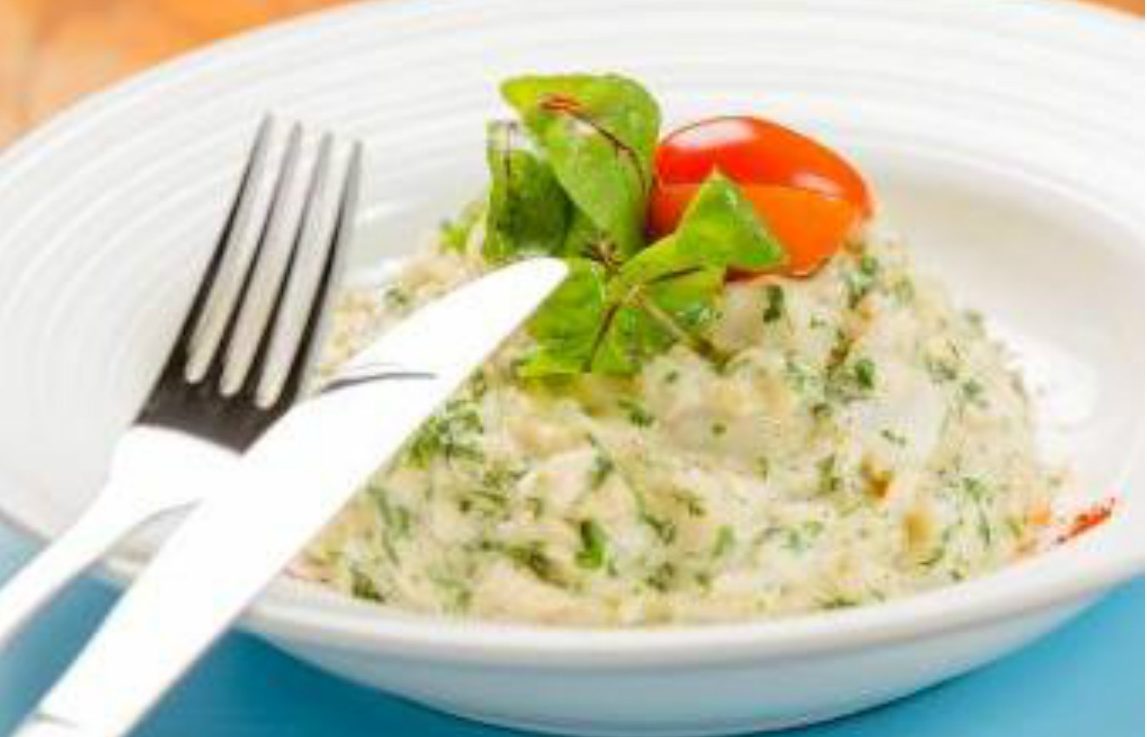 The ingredients
2 large smoked haddock fillets, diced
200g Arborio rice
50ml olive oil
1 medium onion, diced
2 garlic cloves, finely chopped
1 glass of white wine
600ml fish stock (1 cube dissolved in boiling water)
50g cream cheese
25g finely grated parmesan
Any selection of parsley, tarragon, dill and chives (1 small bunch of each, chopped)
1 lemon
Salt and pepper
The method
In a heavy saucepan, sweat the diced onion in olive oil. When soft, add the rice and stir constantly for around five minutes until all of the grains are coated in oil.
Add the finely chopped garlic and stir for a further minute, turning the heat up full.
Add a glass of wine and stir until absorbed. After about eight minutes, taste the rise for consistence  –  it should have a nice bite but not be crunchy or chalky.
At this stage, add the diced smoked haddock, cream cheese and grated parmesan, stir through and adjust consistency to your liking with a little more stock. Add the chopped herbs, a squeeze of lemon juice and season to taste.
The fish will be cooked in about three or four minutes and your risotto ready to serve.
For more recipes, visit www.seafoodscotland.org/en/recipes