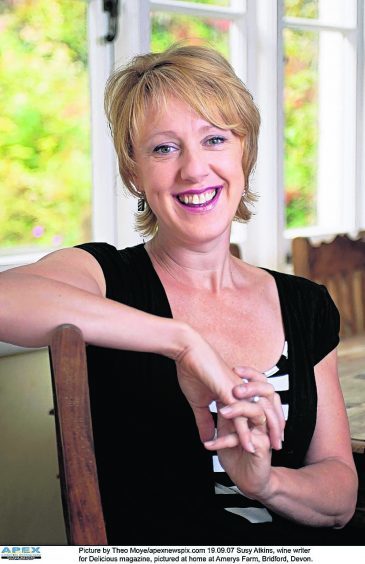 The secret behind finding the best bottle of wine to complement a meal will be revealed at this year's Taste of Grampian event.
Renowned wine expert Susy Atkins, who regularly appears on popular TV programme Saturday Kitchen, will share her tips for wine pairing success at the award-winning food and drink festival.
She is among the line-up of celebrity chefs attending this year's festival, which takes place at the Thainstone Centre, Inverurie, on Saturday, June 3.
The other headline acts for the event are former Saturday Kitchen host James Martin and famed Scottish chef and P&J food writer Lady Claire Macdonald.
Cookery demonstrations are a regular feature at the event, however this year's show will feature the added bonus of drinks master classes with Susy Atkins.
The first will focus on sparkling wine, the second on artisan local gin, and the third on South American wines.
"Everyone will get to taste the wines and I'll be doing a little talk on how to drink wine like a pro," says Susy.
"For those who haven't done it before I will touch on the best ways to sip, sniff and swirl and we'll also have some really contrasting styles of wine. Hopefully everyone will be able to compare and contrast the different wines. Everyone will have different favourites so it will be exciting to hear everyone's preferences."
Susy will also hold a question and answer session and give tips on how to pair wine with food.
"When you get the perfect wine with the perfect dish they both taste better, it's fantastic how complementary they can be. To give people a few tips on where to start with, that is really helpful. You're learning how to enhance both," adds Susy.
The two wine classes are being held in conjunction with one of the oldest wine merchants in the UK – Corney and Barrow.
Among the wines being showcased by the company are sparkling wines from Wiston in Sussex, the Delamotte Champagne house, and Le Colture Prosecco from the north of Italy.
The reds on offer include a selection from the Bodega Ruca Malen and Achaval Ferrer estates in the Mendoza region of Argentina, and some from the Vina Mar estate in Chile's cool Casablanca Valley.
Pablo Cuneo, who makes wine at Bodega Ruca Malen, says: "We are really happy to be taking part in this event; it is always fulfilling to bring our carefully crafted wines to a new audience, sharing our wonderful story."
Corney and Barrow account manager, Gordon Davidson, adds: "Last year's event was a huge success and this year we aim to build on that, showcasing even more of the wonderful wines we represent and telling the unique stories that underpin their success."
Tickets for the sparkling wine master class are £15, while tickets for the gin and wine classes cost £12. The price includes samples and tasting notes.
A limited number of tickets are still available for the classes. They can be purchased online at www.tasteofgrampian.co.uk