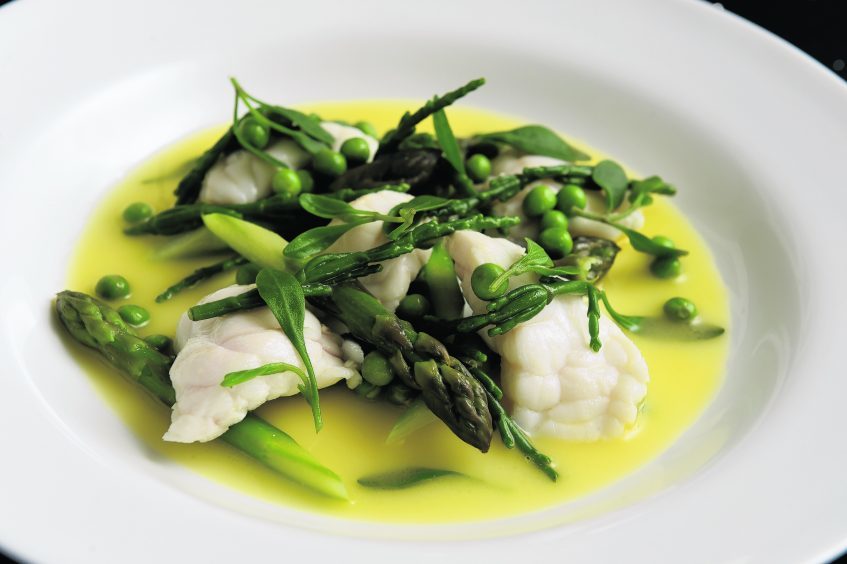 There's a trendy new product on the scene which has actually been around for a long time – sea purslane.
You may not have heard of it before but rest assured you will, because it is slowly making its way on to menus.
Sea purslane is a sea vegetable which grows on the seashore but isn't a seaweed. It has a nice salty taste and works well with fish. You can buy it in specialist shops or online but I wouldn't advise foraging for it on the seashore yourself unless you are going out with someone who knows what they are doing.
It, along with seaside growing samphire, goes brilliantly with fish and features in my first recipe, monkfish, samphire, asparagus and butter sauce.
Cooking fish in a light butter emulsion is very easy – the trick is not to let it boil – and it's a great way to cook fish, especially monkfish. It's very easy to overcook monkfish, but by gently poaching it this way, it retains all the flavour and only takes a few minutes to cook. Add asparagus and peas which give it a lovely summery touch.
The second recipe, salmon medallions, spring salad and basil is driven by Mediterranean flavours. There are chilli, shallots and coriander seeds which add a lovely warm orangey tone to the oil.
I also add diced avocado to the dish – you can't beat an avocado in a spring salad – but I like to add it in cold as I like the contrast in temperatures between the hot salmon and cold avocado.
Using bite-size salmon medallions means the whole dish only takes a few minutes to prepare, and the whole thing makes a brilliant, light summery meal.
Monkfish, Samphire, Asparagus and Butter Sauce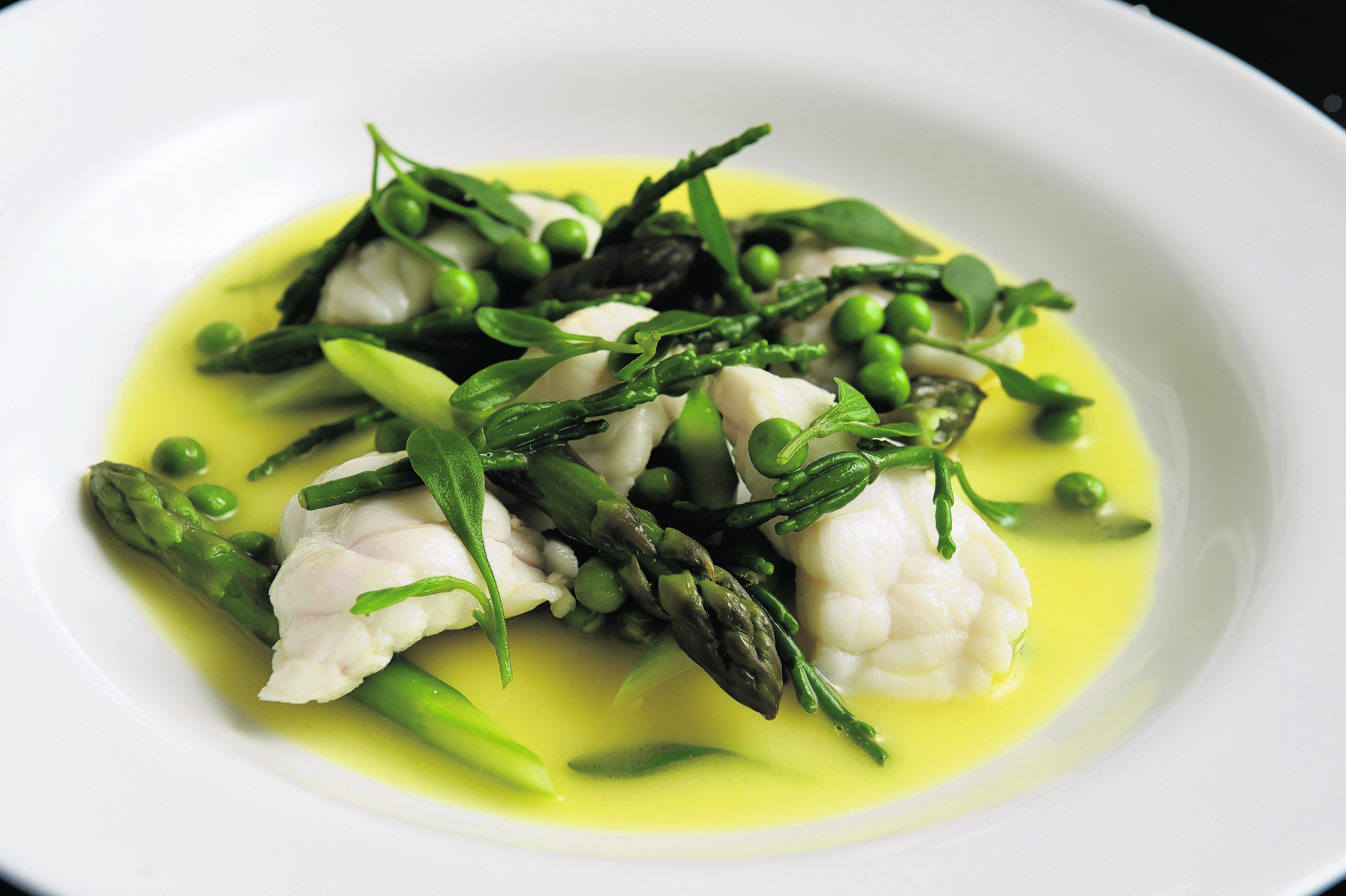 SERVES 2
The ingredients
400g monkfish fillet
30g unsalted butter
90ml water
50g asparagus
50g samphire
10g sea purslane
30g peas
Salt and pepper
The method
Blanch the asparagus, samphire, and peas for 60 seconds in boiling water. Add the sea purslane for the last few seconds. Drain everything and rinse in cold water.
Make sure the monkfish is de-veined and skinned. Cut into bite-size pieces. Add the water to a deep, wide pan and heat, add the butter and whisk as it melts to create a light butter emulsion.
Heat until just simmering, but not boiling, and season. Add the fish and cook gently for 2-3 minutes, without ever letting it boil, then turn the fish and ensure it's just cooked through. Remove to a warm place.
Add the blanched asparagus, peas and samphire to the butter emulsion to heat through for a few seconds.
Arrange the fish and veg in warmed shallow serving dishes, pour over the butter emulsion as a sauce, then garnish with the blanched sea purslane. Serve straight away, with extra seasoning if needed – remembering the sea purslane is quite salty.
Salmon Medallions, Spring Salad and Basil Oil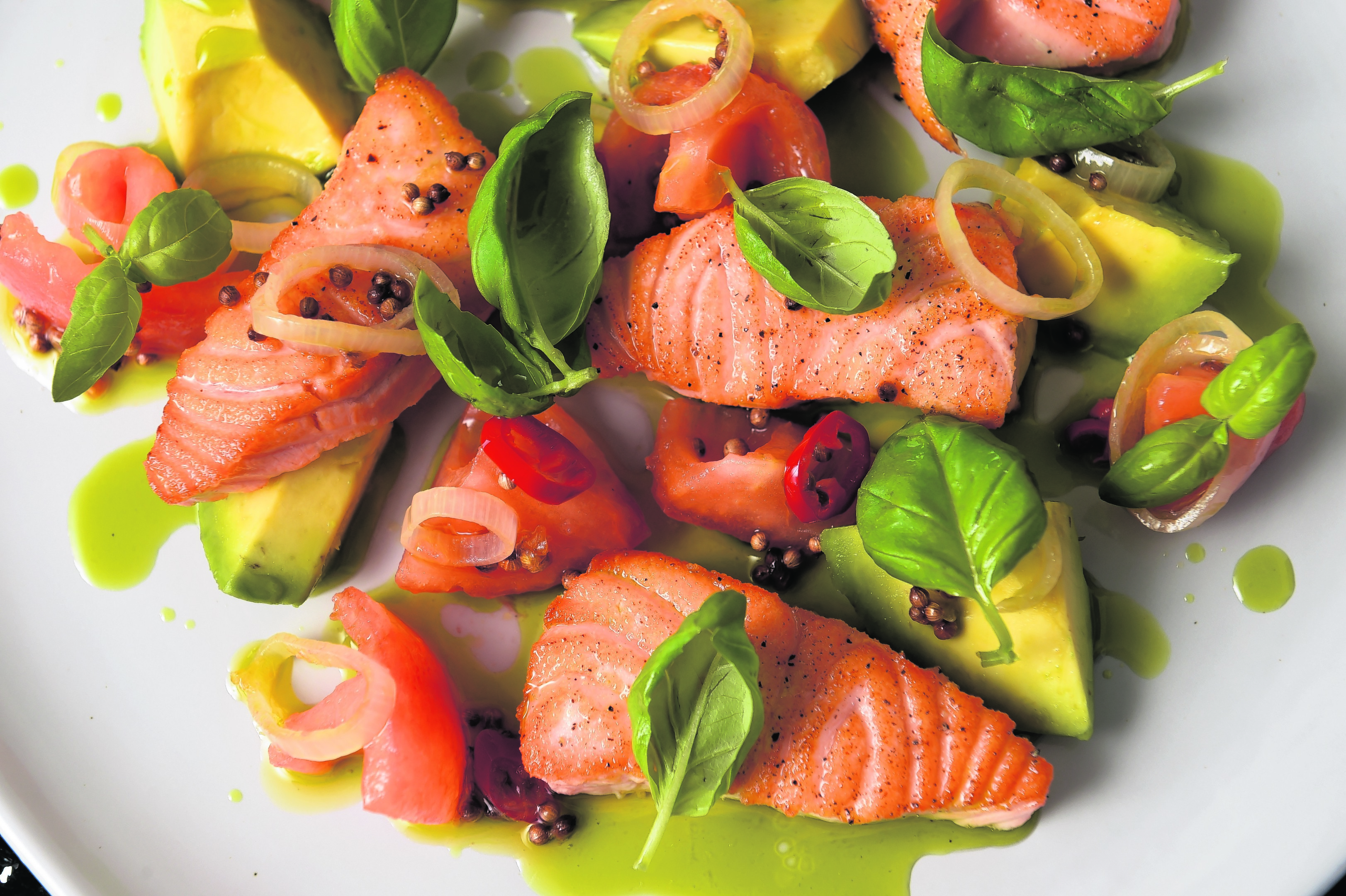 SERVES 2
The ingredients
FOR THE SALMON:
2 salmon fillets, skinned
2 tbsp olive oil
1 avocado
2 medium tomatoes
1 shallot, sliced into rings
Half a tsp coriander seeds
Half a red chilli, finely sliced
Basil leaves to garnish
Sea salt and black pepper
FOR THE BASIL OIL:
80g basil leaves, finely chopped
300ml olive oil
The method
For the basil oil, roughly chop the herbs then place into a blender with the oil and blend well.
Pour into a small pan and heat very gently (without boiling) until the colour changes to vibrant green. Pass through a fine sieve, cool and store in the fridge for up to 48 hours.
For the spring salad vegetables, peel and de-seed the tomatoes. I do this by blanching them in hot water, peeling off the skins, then quartering them and scooping out the seeds.
Roughly chop the remaining tomato flesh. Peel and chop the avocado into bite-size chunks.
Heat a tablespoon of olive oil in a small pan, add the shallot rings and chilli slices to soften for a minute or so. Add the coriander seeds. Remove from the heat.
Cut the salmon into medallions and season. Heat a frying pan until hot. Add the remaining olive oil; when it's hot add the salmon and leave to cook for a minute or so, before turning. When it's just done, remove to rest on a metal tray.
Arrange the salad, chopped tomato, avocado, softened shallot, chilli and coriander seeds on a plate. Add the cooked salmon medallions, and generously drizzle over the basil oil. Garnish with basil leaves and serve.