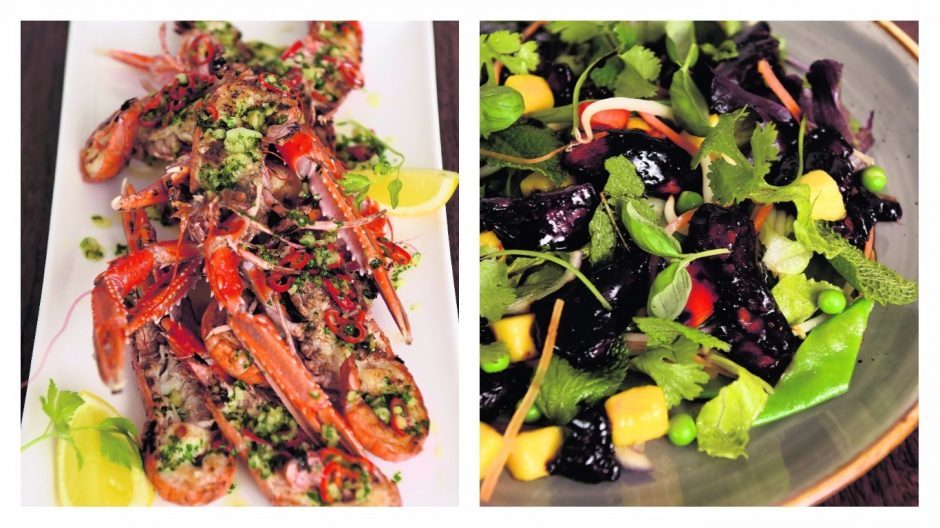 Scottish langoustines are delicious, beautifully succulent and a joy to eat.
If you are planning on creating a dish featuring them, make sure to buy live ones with that beautiful deep orange colour and translucent glow.
Your fishmonger will be able to order them, or there are online Scottish companies who will deliver.
Dead langoustines turn a dull yellow and release an enzyme that breaks down the flesh in the tail, turning it into a cotton wool texture. If you are unsure about cooking with langoustines, you can substitute these with good quality, large, fresh tiger prawns if you prefer.
Today's first recipe, grilled langoustine with garlic, lemon and parsley takes just minutes to prepare and offers a real taste of luxury.
The main ingredient in today's second recipe, chicken teriyaki with Asian salad, features a very affordable product, chicken thighs.
I always use boned chicken thighs for this dish because breast meat dries out too much. It makes for moreish succulent spicy pieces of chicken, paired with a lovely fresh salad filled with green summery goodness, and the exotic sweetness of mango. Everyone loves it.
The Asian mango salad, minus the chicken, will be appearing on the Kailyard menu at Doubletree Hilton Dunblane Hydro from June 20.
Grilled Langoustine, Garlic, Lemon and Parsley
SERVES 2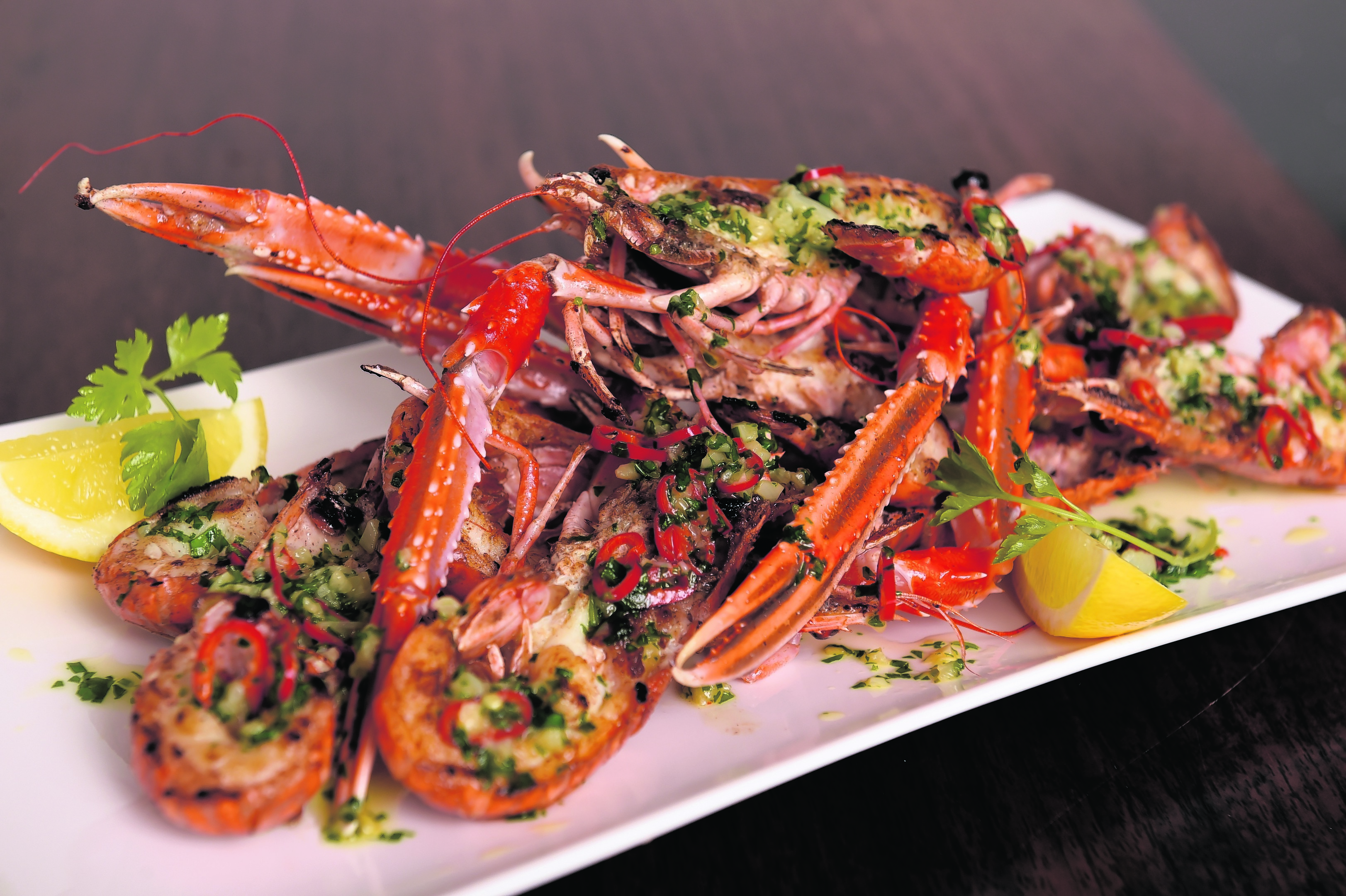 The ingredients
6-8 live langoustines
10ml olive oil
30g butter
4 cloves garlic, peeled and finely chopped
1 red chilli, finely chopped
1tbsp parsley, finely chopped
Lemon wedges, to serve
The method
To ensure your langoustines are still fresh check that their eyes are bright, there is little smell and they are bright orange in colour. The most humane way to kill langoustines is to place them in the freezer for 20 minutes which will put them to sleep before cooking.
Next, I grab the middle fan of the tail, which has five sections, and gently twist and pull out the long intestinal tract. Now halve them, lengthways, with the shell on. If there are any roe, remove them with a teaspoon.
Now heat the olive oil in a large frying pan and throw in the halved langoustines, and stir fry for about three minutes until just turning opaque. Add the butter, chopped garlic, and chopped chilli and stir fry for another minute.
Pick out the langoustine and arrange on plates. Spoon over the remaining buttery sauce making sure the langoustines are well coated. Serve immediately with lemon wedges.
Chicken Teriyaki with Asian Salad
SERVES 2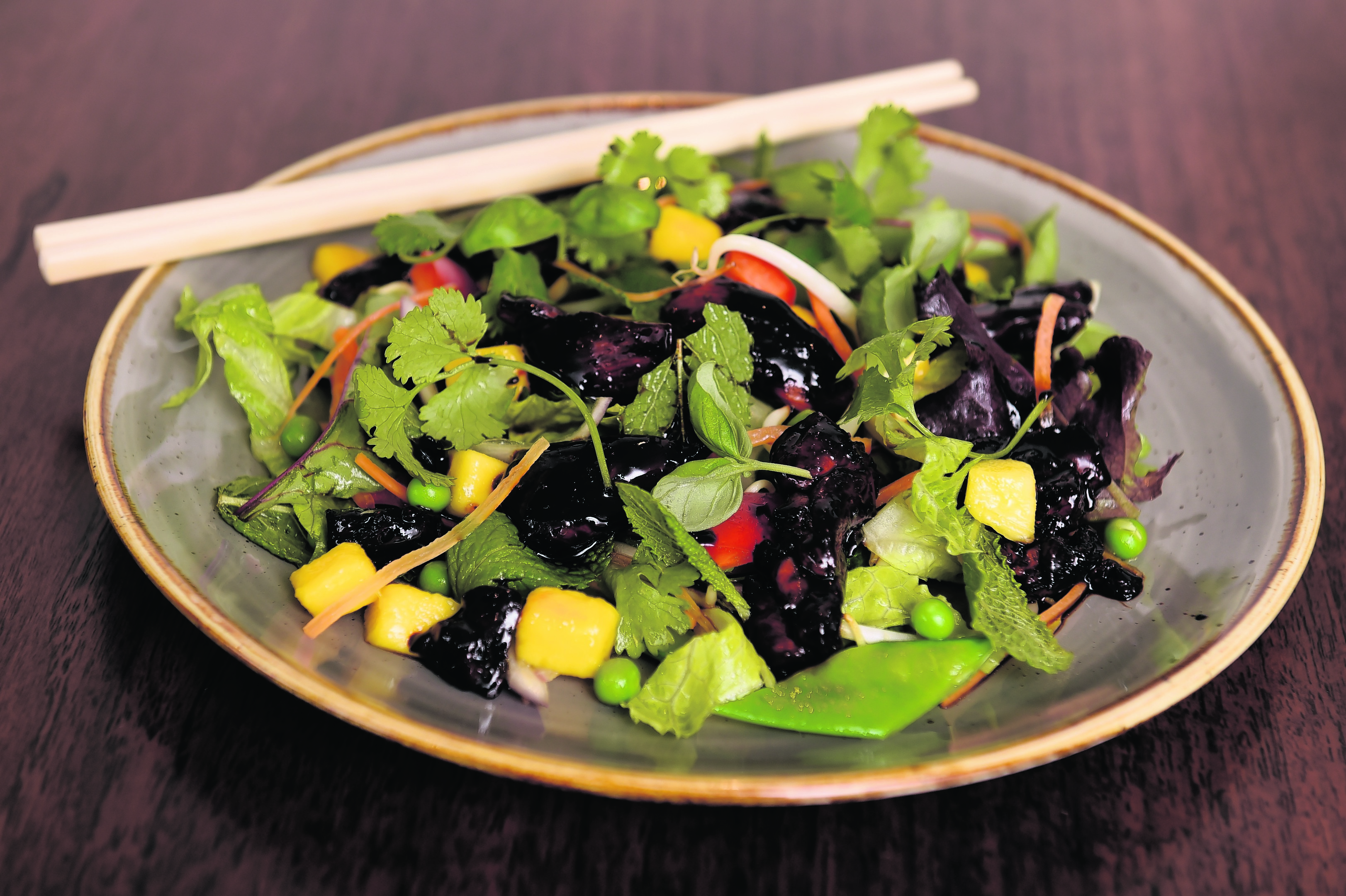 The ingredients
FOR THE SALAD
1 mango, peeled and diced
3-4 crisp lettuce leaves
Half a red pepper, finely sliced
20g fresh peas
Half a carrot, very finely sliced
10g beansprouts
20g mange tout, finely sliced
Half a red onion, finely sliced
5g mint leaves
5g coriander leaves
5g basil leaves
FOR THE DRESSING
Juice of 1 lime
1tbsp fish sauce
1tsp sugar
FOR THE TERIYAKI CHICKEN
4 boned chicken thighs, chopped into small pieces
Salt and pepper
1tbsp vegetable oil
2tbsp soy sauce
1tbsp squeezy honey
Juice of 1 lime
1tbsp mirin
5g ginger, finely chopped
1 clove garlic, finely chopped
The method
Chop the chicken thighs into small pieces. Mix the teriyaki ingredients together (soy, honey, lime, mirin, ginger and garlic) in a small bowl.
Heat a frying pan over a medium heat, and add the oil. Season the chicken pieces with salt and pepper, throw them into the pan and begin to cook.
After 2-3 minutes, add the mixed teriyaki marinade. Stir fry until it coats the chicken, and keep cooking until nice and dark, but don't let the honey turn to caramel. Remove from the heat and set aside.
For the salad, blanch the carrot strips, and peas, for 30 seconds, drain and rinse in cold water.
Dry on a clean tea towel. Mix all the salad ingredients in a bowl. Mix the dressing ingredients thoroughly and lightly drizzle over the salad. Combine gently with clean hands.
Place a portion into two bowls and top with the cooked chicken. Serve immediately.