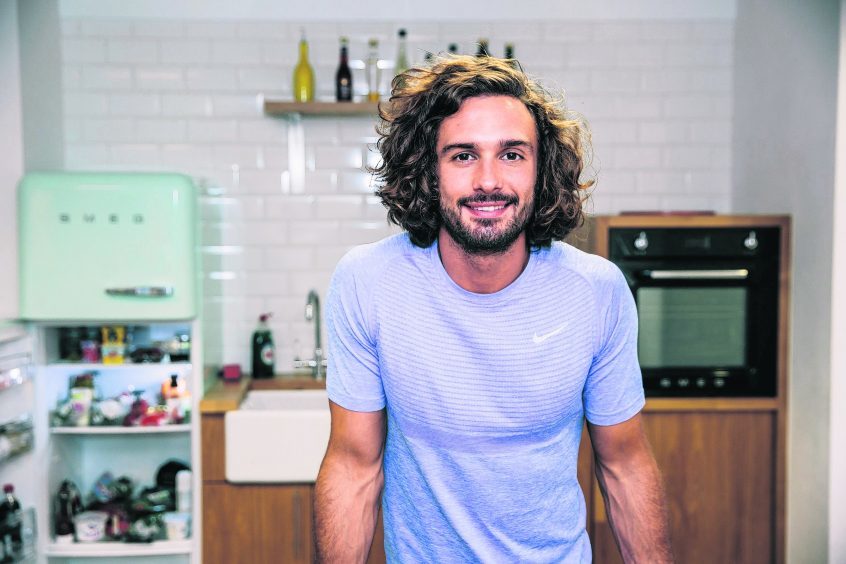 Keen to stay lean but not scrimp on flavour? Best-selling author Joe Wicks, aka The Body Coach, shares his recipes for a hearty meal of meatballs, and some fresh and crunchy veggie treats.
Big Meaty Balls – Serves 4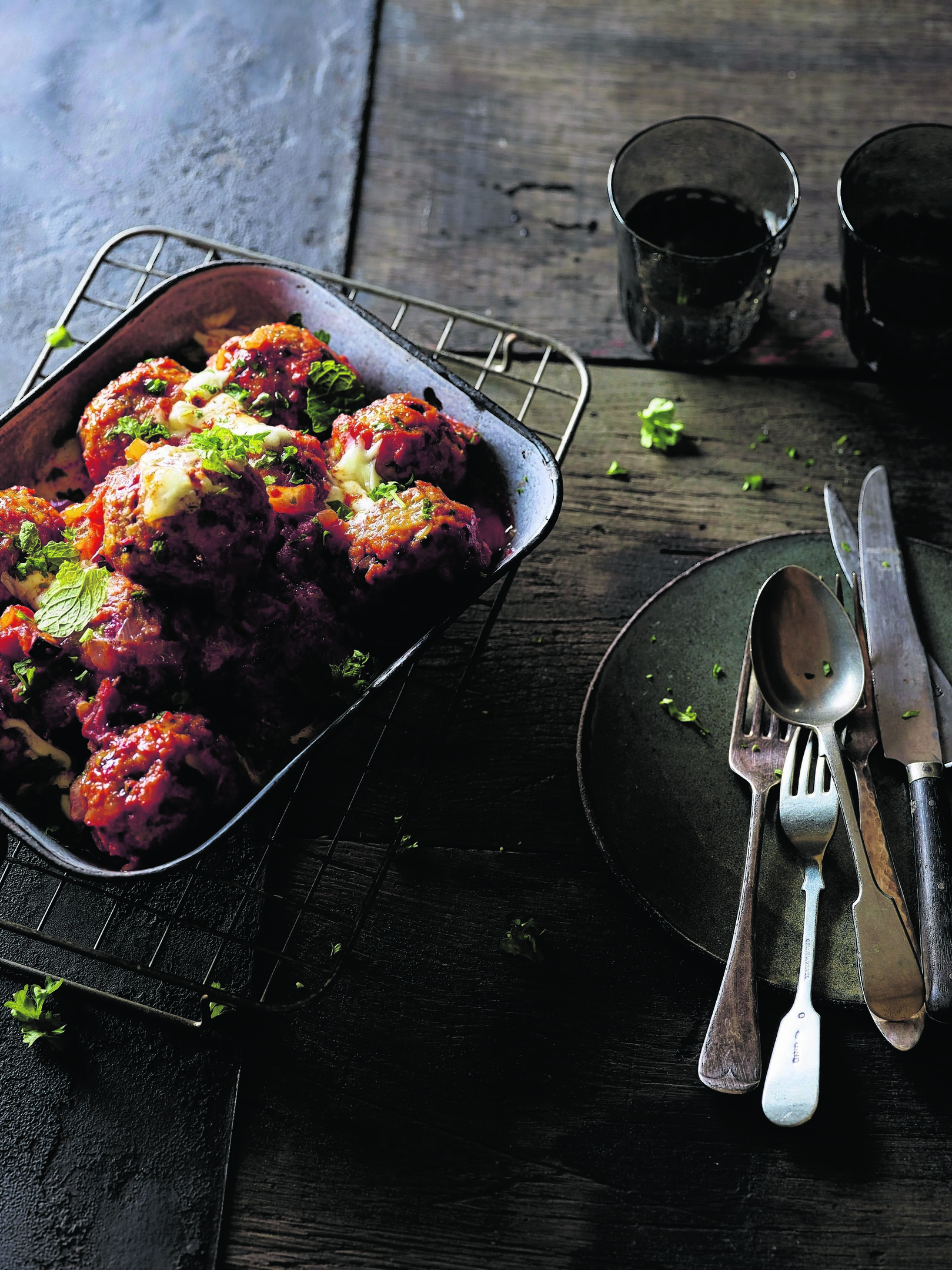 The ingredients
500g lamb mince
250g beef mince
50g breadcrumbs
1 egg
12 pitted black olives, roughly chopped
20g pine nuts, roughly chopped
Small bunch of parsley, finely chopped, plus extra for garnish
2 jarred red peppers (about 100g), drained and roughly chopped into small pieces
1tbsp olive oil
1 red onion, diced
1 x 400g tin of chopped tomatoes
Salt and pepper
2 x 110g balls of mozzarella
TO SERVE:
Mint leaves, roughly chopped
Salad or steamed green beans
The method
Preheat your oven to 180C (fan 160C/gas mark 4). Place the lamb and beef mince into a bowl and add the breadcrumbs. Crack in the egg and chuck in the olives, pine nuts, chopped parsley and red peppers.
Get your hands stuck in and knead all of the ingredients together until the mixture is well-combined. With damp hands, shape the mixture into 12 large balls and set aside.
Heat the olive oil in a large ovenproof pan over a medium to high heat. When the oil is hot, chuck in the red onion and fry, stirring regularly for two minutes. Tip in the chopped tomatoes along with a quarter tin of water. Season with salt and pepper and bring to the boil.
Place the meatballs in the sauce and simmer for 10 minutes, then carefully flip them over with a large spoon. Tear up the mozzarella balls and lay a little piece on top of each meatball. Any remaining cheese can be scattered in the sauce.
Slide your pan into the oven and bake for 20 minutes, until the meatballs are fully cooked through and the cheese has melted and turned golden brown on top. Scatter over the mint leaves and remaining chopped parsley and serve with a helping of salad or steamed green beans.
Vietnamese Summer Rolls – Makes 16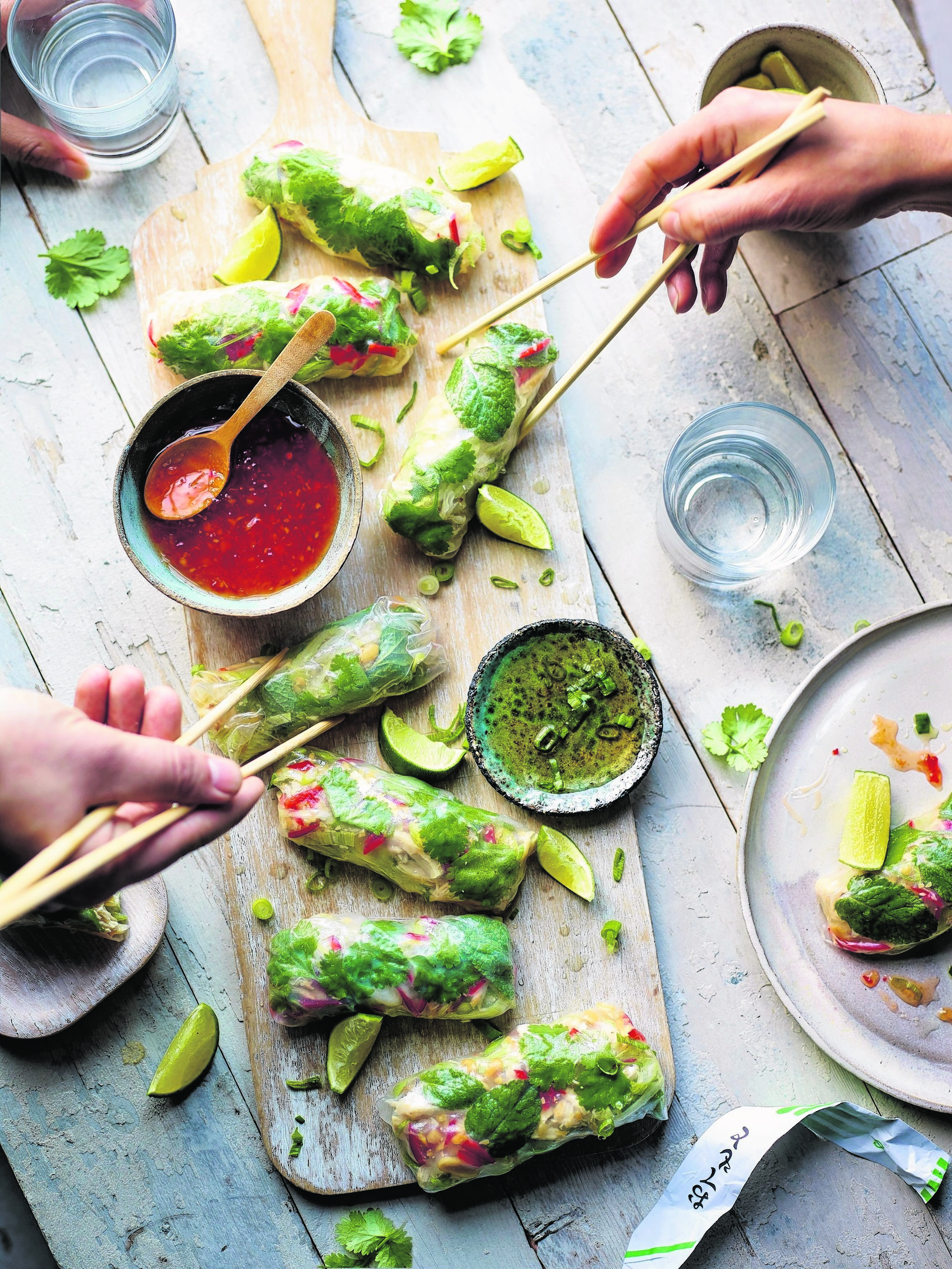 The ingredients
250g cooked chicken, shredded
2 spring onions, finely sliced
1 red chilli, finely chopped – and de-seeded if you don't like it hot
2 lemongrass stalks, tender white parts only, finely sliced (about 1.5tbsp)
2tsp sesame oil
4tsp fish sauce
1tbsp lime juice
1/2 bunch of coriander, leaves only, roughly chopped
1/2 bunch of mint, leaves only, roughly chopped
1/2 iceberg lettuce, shredded
40g salted peanuts, finely chopped
Salt and pepper
A little olive oil, for greasing
16 rice paper wrappers
Sweet chilli sauce, to serve – optional
The method
Put the shredded chicken into a bowl and add all the remaining ingredients apart from the rice paper wrappers. Give the filling a good mix and add salt and pepper, if needed.
Lightly oil a chopping board and a small tray. Half-fill a wide bowl with warm water from the tap. Taking one paper wrapper at a time, dip it into the warm water and leave it just long enough to soften – this should be quick, about five to six seconds. Carefully transfer the soft wrapper to your chopping board, unfolding where necessary.
Place about two heaped tablespoons of the filling across the middle of the circle, leaving a gap at either side.
Fold the sides over the filling and then pick up the edge closest to you and fold over the filling. Keep rolling until you fold over the far side where it should stick. Place your completed summer roll onto the greased tray and repeat the process with the remaining paper wrappers and filling.
Serve up the summer rolls just as they are, or with a side of sweet chilli sauce.