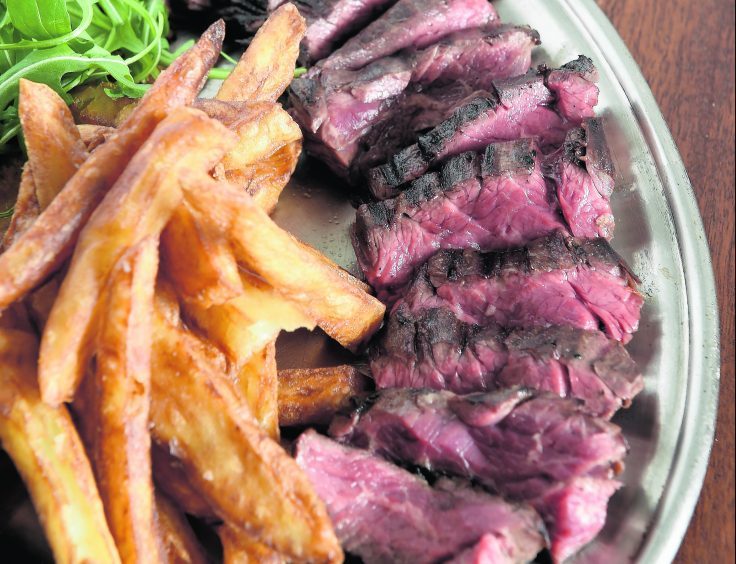 Skirt steak is one of the most flavourful cuts of beef, and even though it's one of the tougher cuts, with a lot of connective tissue, it's still a great steak for grilling.
It's also very cheap, making it an ideal choice for the classic combo of steak and chips. To source this lesser known cut, speak to your local butcher.
Today's dessert is a delicious baked cheesecake we've developed at Loch Bay to incorporate those most Scottish of ingredients, Crowdie and oatmeal. Serve with Scottish soft fruits, which are all coming into season now.
Skirt Steak & Chips
SERVES 3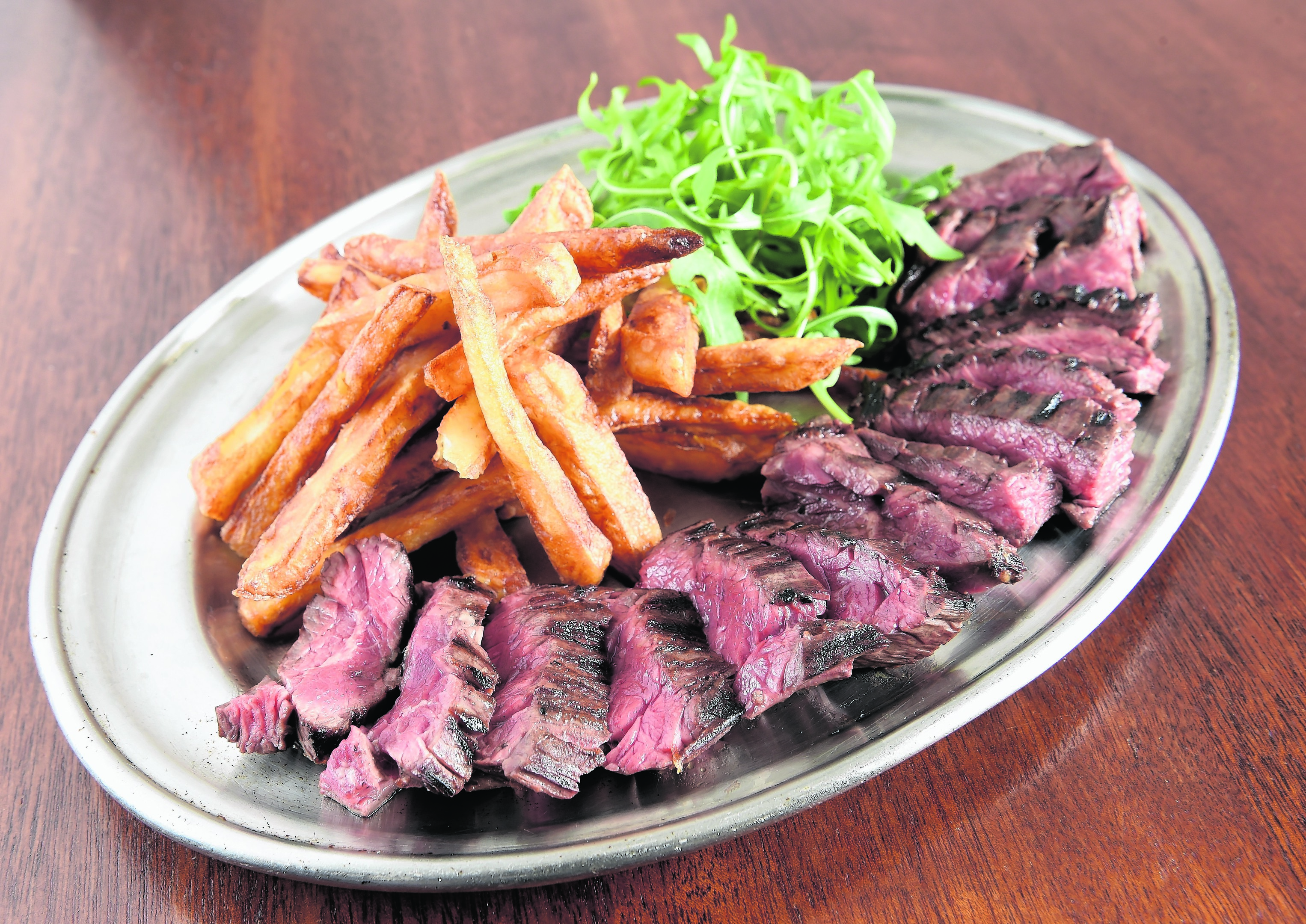 The ingredients
Allow 300g skirt steak per person
Sea salt and pepper
Rapeseed oil
Salt and pepper
1kg chipping potatoes, peeled and cut into thin chips
You'll also need:
A non stick griddle pan
A deep fat frier at 180C
The method
Firstly, fill the frier basket with the cut chips. Lower this into the hot oil and fry until the thermostat light goes off (in other words, once the oil returns to 180C again).
Repeat this process once more.
For the steak, this cut is best served rare to medium rare as cooking it further will result in a very chewy, if flavourful, piece of meat.
Heat the grill pan as hot as you dare! Season the steak generously with the salt and freshly milled black pepper then rub a little oil onto the steak.
Turn the extraction on full, open windows and doors
Then pop the steak onto the smoking hot grill. Do not touch it for 90 seconds, after which time turn the steak over using tongs. cook for a further 30 seconds only then remove and rest for five minutes.
Drop the twice blanched chips back into the hot oil (180C) for 30 seconds and serve with the rested steak.
Crowdie Cheesecake
SERVES 12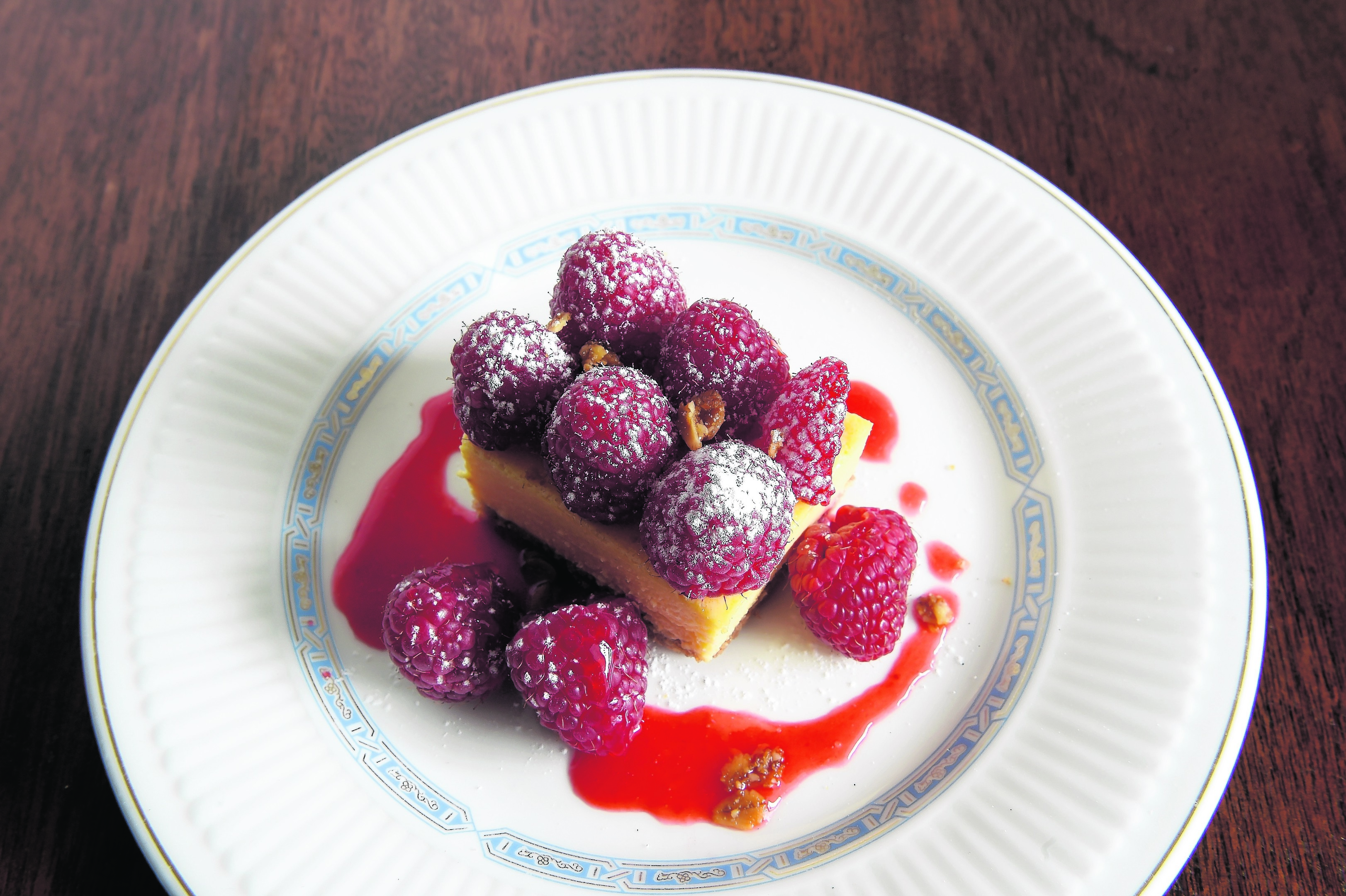 The ingredients
FOR THE BASE:
60g butter (unsalted)
60g caster sugar
60g ground almonds
30g plain flour
30g medium oatmeal
The method
Melt the butter then mix in the dry ingredients.
Line a 23cm square cake tin with greaseproof paper then press in the base mix evenly and level.
Bake at 160C for 30mins. Cool completely.
FOR THE FILLING:
200g caster sugar
140g Crowdie
560g Philadelphia soft cheese
150g mascarpone cheese
8 egg yolks
2 whole eggs
2 vanilla pods, seeds scraped
The method
Using a mixing machine, combine all the filling ingredients in a bowl and mix well. Strain through a sieve.
Pour the strained filling onto the cooled base and bake at 110C for 50mins to 1 hour.
There should still be a good wobble to the cheesecake.
Cool and ideally refrigerate overnight before cutting and serving.