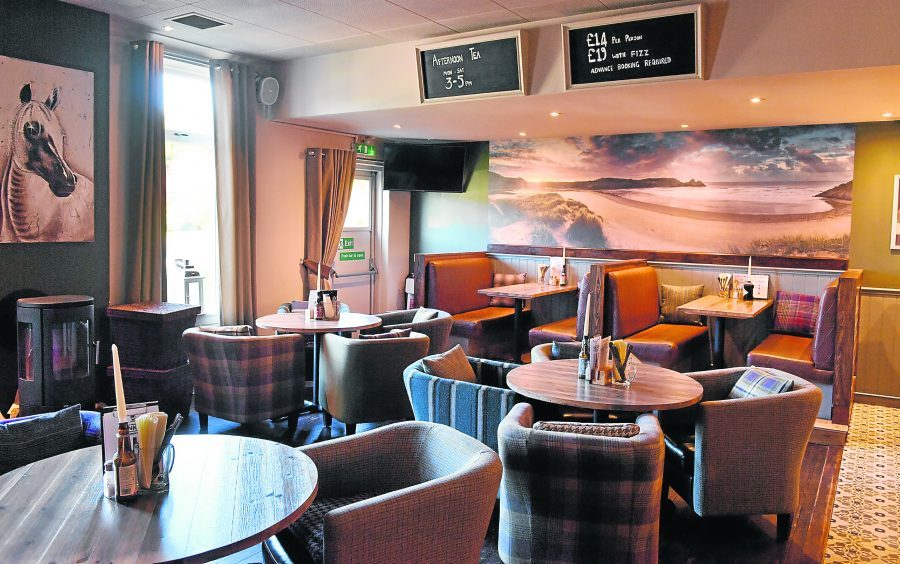 We pass by the White Horse Inn in Balmedie almost every weekend. The golden sands of Balmedie Beach is our cocker spaniel Olly's favourite walk and he just loves chasing rabbits around the dunes – he never catches any, in case anyone is worried!
I remarked on passing that we hadn't visited the hotel in years, so with a friend in tow we headed out for a Friday night supper and a good old girlie catch up. It was dark when we arrived and from the outside the building doesn't have the best kerb appeal, but as we peered inside we were pleasantly surprised at the cosy glow emanating through the windows.
And what a wonderful warm welcome we received from the manager who showed us to a lovely booth in the dining area. The large open-plan room is split into bar and dining areas with a large bar stocked full of local whisky and craft beers running along one side. We both gasped a little as we walked in as the room really is impressive and just so inviting.
There is a classy seaside theme going on with glass lanterns, wood panelling, round wooden mirrors and walls colourwashed in shades of sea blue. Real candles in old wine bottles flickered on pale wooden tables surrounded by chairs in sumptuous brown leather or rich lilac and blue checks. We remarked on how fabulous the restaurant looked and he said it was late 2014 that it had been refurbished; how time flies!
We ordered a chilled bottle of wine to share and sat back to peruse the menus. They list local suppliers and pride themselves on using the freshest seasonal quality produce. Our host said they were changing the menu so quite a few things weren't available, but there was still plenty to choose from including about six starters and 14 main courses. It was pleasing to see some vegan and gluten-free choices on the menu too.
We decided to share a starter of cheesy nachos with sour cream, guacamole, jalapenos and salsa. Nachos are a family favourite of ours so I see myself as an expert reviewer on the popular snack. These were pretty good but could have done with a lot more cheese. My husband always says you need to layer it to create the proper crisp to cheese ratio, however we managed to polish them off quick enough so perhaps we were just being super fussy.
For a main course my friend ordered the Peterhead haddock and chips while I chose the breaded chicken goujons. I had really fancied the house curry which was Thai green curry that evening, however I was then informed it was Thai red curry and it was fairly spicy, so I changed my mind. We were just catching up on my friend's latest holiday to Iceland where her favourite dish had been line caught Atlantic cod (the haddock had a lot to live up to) when our main courses arrived.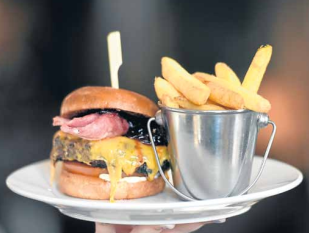 The haddock, in a perfect golden batter, shared the plate with a small bowl of peas and a large dollop of tartar sauce and was served on top of the chips. I have seen fish presented a number of times like this and although it looks aesthetically pleasing on the plate, it does unfortunately make the chips go a little soggy.
On the other side of the table, my chicken goujons were wonderful; perfectly crisp on the outside with moist chicken inside while the accompanying sweet chilli dipping sauce gave them a fitting sweet and spicy zing. Served in neat little metal buckets, this was definitely a case of ditching the cutlery and using your fingers.
As we sat back enjoying the rest of our wine, we contemplated dessert, or as it states on the menu, "saving room for pudding". Not quite sure if we had room or not, we spotted our favourite puddings on the menu.
One of my childhood favourites is rhubarb crumble while my friend just adores sticky toffee pudding, so diets out the window, and praising ourselves that we had shared a starter, our orders were in before we could change our minds. My warm rhubarb crumble with cooling ice cream was sheer perfection. Packed full of tangy fruit and a perfect crumbly crunch with a divine hint of cinnamon, it was comfort food at its very best.
However, my friend's sticky toffee pudding really was something special. The portion was huge (maybe we should have shared pudding as well as starter) with a large slab of sponge, a delightful miniature milk bottle full of sauce and a small bowl of vanilla ice cream.
The sponge looked a little dry, but she said it was far from it, moist and light, while the sauce had a slight treacle flavour as opposed to the usual toffee sauce.
And a great idea having the ice cream and sauce in separate serving dishes so you can have your pudding drizzled or drowned in sauce according to preference.
The young girls who attended to us during the course of the meal were efficient and friendly throughout. A warm welcome and a cheery "thank you" and "hope to see you again soon" goes a long way.
I noticed a sign saying dogs are welcome, so lunch or perhaps a breakfast is already planned for the next dog walk at Balmedie Beach where we look forward to sampling the new menu; just please don't ditch the sticky toffee pudding!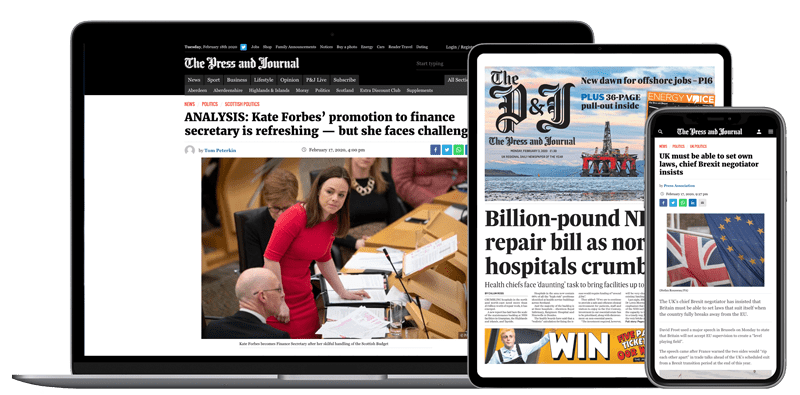 Help support quality local journalism … become a digital subscriber to The Press and Journal
For as little as £5.99 a month you can access all of our content, including Premium articles.
Subscribe