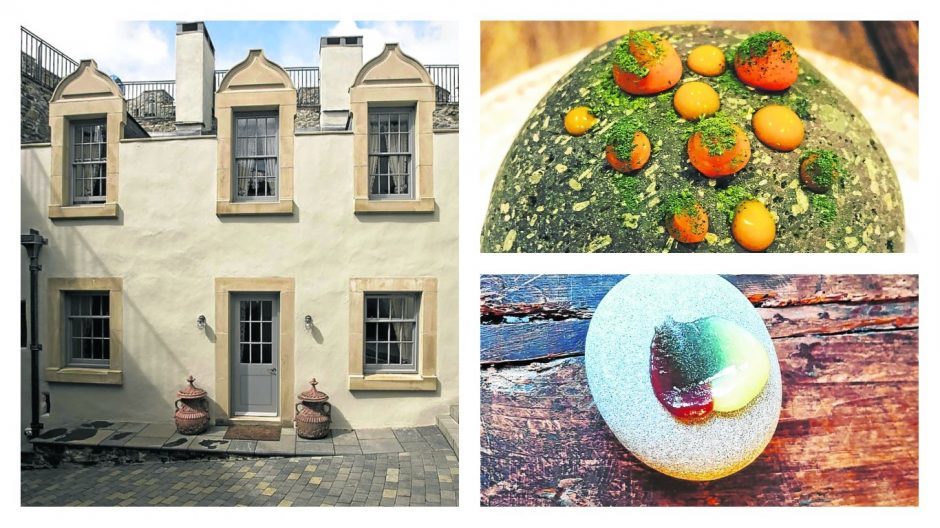 "Is everyone at the table OK with insects?"
Not the sort of question I am used to being asked when sitting down in a fancy restaurant, but we were prepared to expect the unexpected when we booked to go to Mingary Castle, on the Ardnamurchan peninsula.
A glance at their website gives a clear signal a meal here will be a little different. With a "Food Manifesto" that declares they provide "everything cut to the bone removing all unnecessary decoration, being fully focussed on flavour and creativity" we were prepared for something out of the ordinary.
But then everything about Mingary is extraordinary. The castle itself is jaw dropping. The last time I visited it was little more than a pile of stones slowly falling into the sea. Perched precariously on the furthest westerly shore of the mainland it seemed these old walls with their colourful history were finally succumbing to the relentless storms which ravage this coastline.
Now it simply looks magnificent. Its walls have been repaired, its ramparts stand proud and, when we arrived, the drawbridge was offering a welcome from the rain and chill winds of a winter evening.
And once inside those thick walls we were blown away by the quality of the workmanship which has made the place habitable. The wooden stairway and panelling, the furnishings, the fixtures and fittings – all glorious and befitting such a venerable monument, yet with sufficient comfort to appeal to a modern traveller. Full marks to those who have breathed life back into this wonderful place.
But enough of the building. We were here for a meal and soon settled into the sumptuous dining room. Guests share a communal table, and while some might find this off-putting, I love it. Can there be any better way of making new friends than sharing a meal? And if you are worried about not having anything to talk about, the chefs in the kitchen will soon give you enough to fill both your stomach and any awkward gaps in conversation.
In they came bearing the first course. In front of each guest they placed a pebble with two smears of intriguing gel on it. This was, we were told, a combination of fermented apples. One had been fermented for a few weeks, the other several months. And how were we to eat it? Well the title of the dish was "lick me", and so we did. We were rewarded with a refreshing shot of flavour.
And that was just the start of a fabulous journey. Soon the chefs were back with larger stones dotted with preserved and confit egg dusted with dried seaweed. This time we were given the luxury of a spoon to eat them with.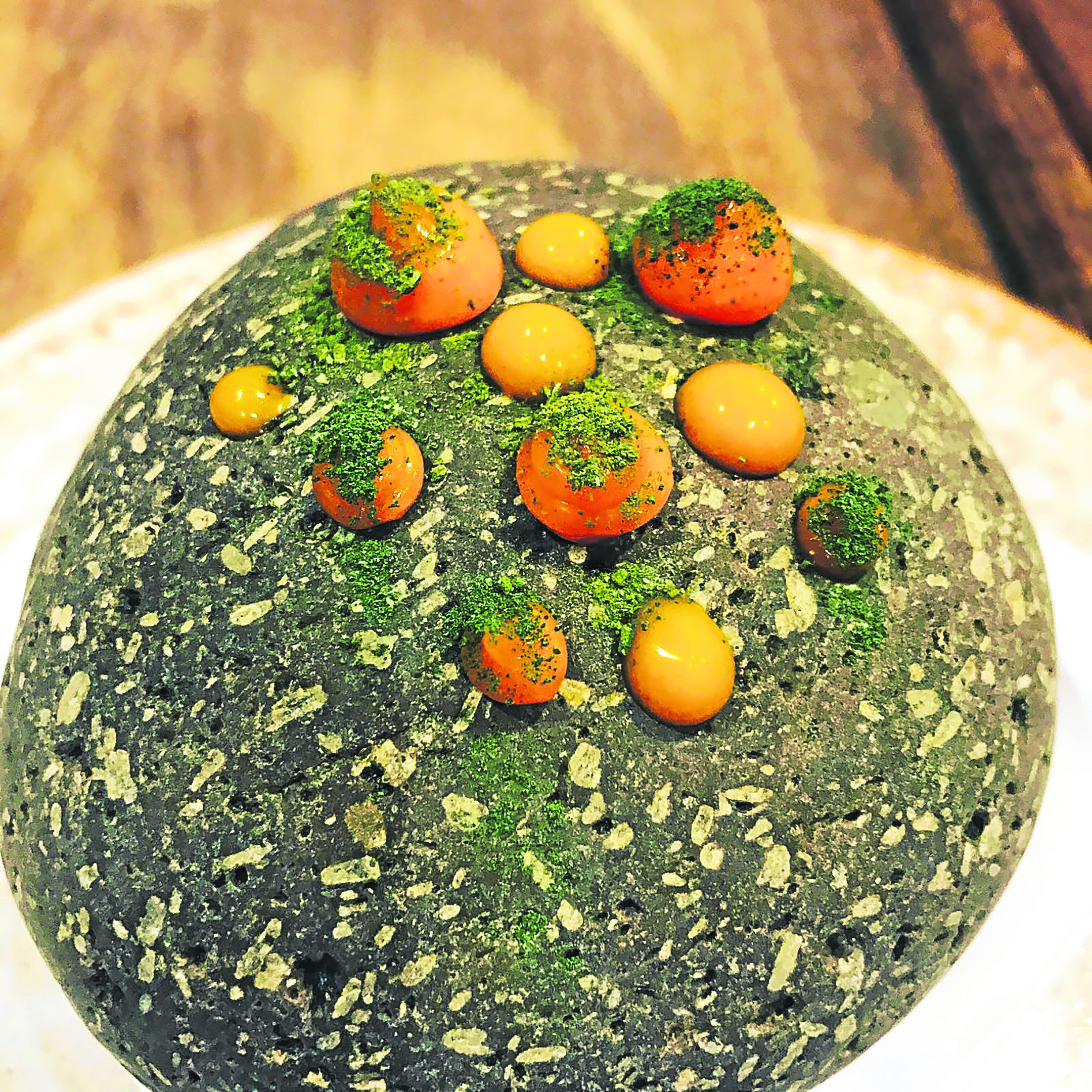 Before we had finished talking about that dish we were presented with "chimp sticks". The concept reflects the behaviour of chimpanzees using twigs to extract ants from their nests. We were given liquorice roots covered in malt extract, pieces of puffed potato and a liberal dusting of ants.
None of us had ever tried ants before and there was a bit of apprehension as we picked them up and gingerly began nibbling. But we all really liked them. The contrast between the puffed potato and the sweetness of the malt was lovely.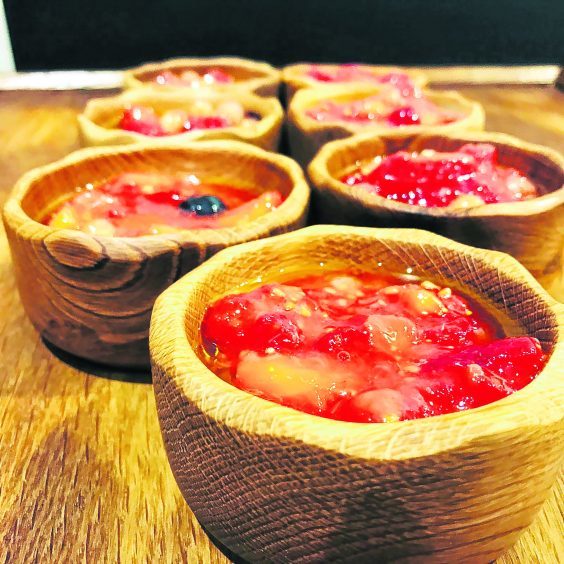 And the ants? Well, they had a deep savoury taste that I thought was a bit like Marmite, while others felt it was more like roasted chicken skin. Whatever, all of us licked the liquorice root clean and had the added thrill of feeling adventurous.
And to follow came a procession of dishes containing tiny morsels of perfectly prepared tastes of intriguing food including 15-hour cooked carrot, oxalis root, apple marinated in vodka, and my personal favourite – eider duck on a bed of peasemeal. We were asked to think of the peasemeal as "celtic polenta". My partner declared the dish of pickled and pureed cauliflower utterly divine.
We moved on to a succession of sweet dishes including a simply stunning Jerusalem artichoke ice cream (not too sweet but creamy and silky smooth), dehydrated and rehydrated apple with burnt honey ice cream and corn served as a paste and popped.
And who could forget the "Brownie of a Million Ants" containing, we were told, more ants than chocolate. This was gooey pudding heaven.
Every one of the 15 courses was sublime. Beautifully prepared and presented with amazing attention to detail. What an experience.
And that's what it was. An experience. From first arrival at this magnificent historic monument through every moment of the meal, it was an occasion we will talk about for years to come. Even the crockery was a talking point.
It may not be to everyone's taste, but if you're looking for simple yet stunning cooking with a twist, I can't recommend Mingary Castle highly enough. And the ants are optional.
Mingary Castle
Kilchoan, Acharacle, Ardnamurchan PH36 4LH
PHONE: 01972 510715
£50 a head for dinner x 2 £100
Bottle of Bordeaux £36
Macallan Gold £6
Cognac £4.75
Bottle of dessert wine £21
Sparkling water £1.70
GRACE LEFT £20
£189.45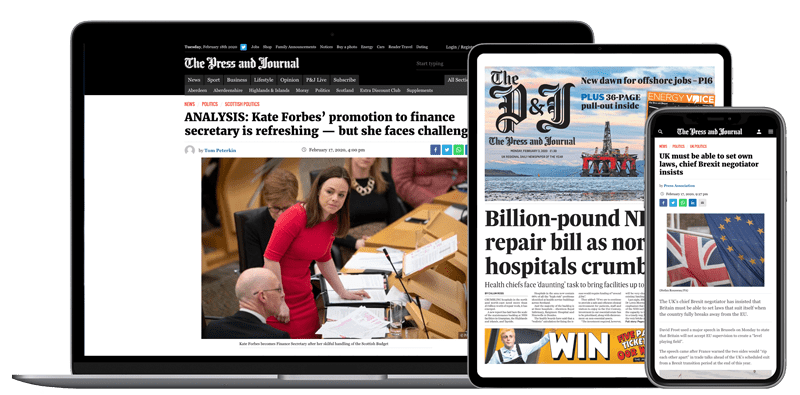 Help support quality local journalism … become a digital subscriber to The Press and Journal
For as little as £5.99 a month you can access all of our content, including Premium articles.
Subscribe