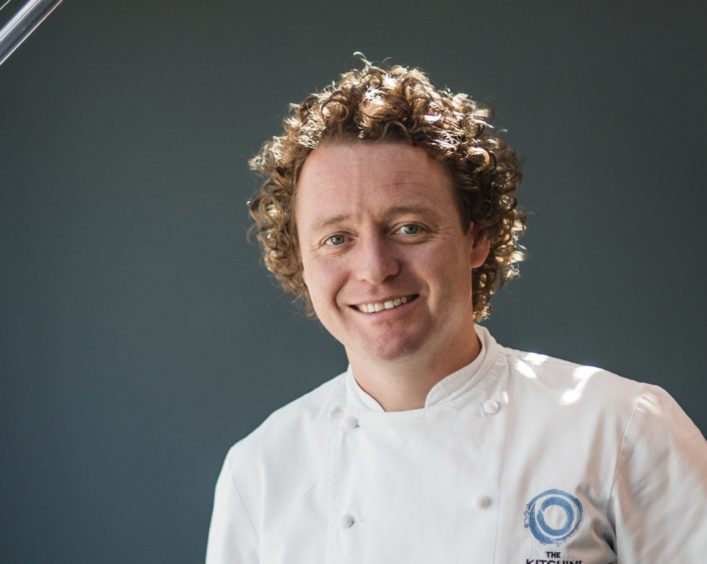 Michelin-star chef Tom Kitchin shows how to transform a mid-week meal into a culinary treat using local seafish.
Scottish seafish is some of the best in the world. Not only is it delicious, it also comes with all the added health benefits that many of us seek at this time of year.
With a huge variety of different species found locally, lots of wonderful seasonal flavour marriages and so many inspiring dishes, it can be easy to get the two portions of fish a week that are recommended for better heart, brain and eye health.
White fish can be really easy to cook as a mid-week supper. Haddock is a firm Scottish classic and ideal for feeding the family as it's really affordable and readily available from your local fishmonger.
Haddock is at its best from around November until late spring and now is the perfect time to try it as the cold air at this time of year makes the flesh firmer and tastier. I like to add haddock to lots of recipes from hearty fish pie and stews, to Sunday breakfast alongside poached eggs and spinach.
If you're looking for an affordable, light, healthy supper, haddock can be outstanding baked gently in the oven with fresh tomatoes, lemon, shallots, dill and white wine. Baking it on tin foil is key to retain all those lovely cooking juices and flavour.
If you don't cook with fish regularly, it can be easy to overcook it, at which point it will start to become quite dry and won't be enjoyed at its best.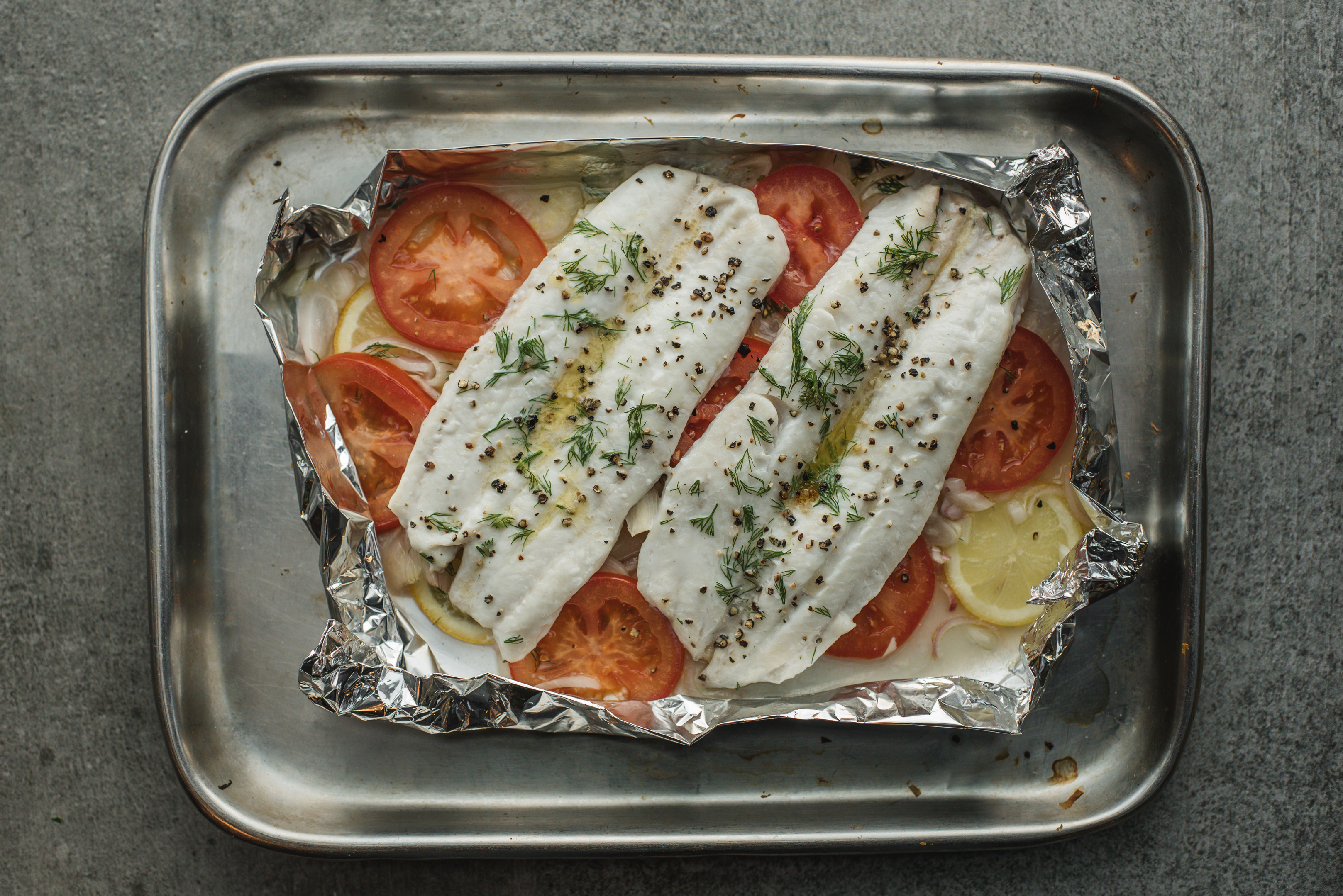 A good technique can be to cook fish or seafood wrapped in bacon or pancetta, like this plaice recipe. It is simple to do and wrapping seafood in bacon is a good way to keep the fish moist. It's also a great way to introduce fish to people who might not always choose seafood, as it brings different textures and flavours.
I always think the combination of the meaty, smooth fish makes such a perfect match to the crispiness of the bacon or pancetta wrapped around it.
This roasted hake, beans and kale is one of our family favourites as it's so simple, yet so tasty when you combine the meaty white fish with the sweetness of the tomatoes, creaminess of the beans combined with the pesto and slight crunch and bite of the kale. You can use the basis of the recipe and try different kinds of fish or beans to keep it fresh too.
Dishes like these are ideal midweek suppers and are a welcome, fresh, healthy and colourful option to take you through to spring.
Grilled Haddock
SERVES 2
2 angel fillets of haddock
2 large tomatoes, sliced
2 large shallots, sliced
1 lemon
1 sprig of dill, chopped – roughly 20g
Olive oil
Salt and pepper for seasoning
Pre-heat the grill to medium-high. Line a grill tray with tin foil and cover with a dash of olive oil. Place the tomatoes, shallots and lemon on the tray. Season lightly with salt and pepper.
Season the haddock all over with salt and pepper and place onto the vegetables. Drizzle with olive oil again and place under the grill for 5-6 minutes until cooked.
Keep the cooking juice for sauce. Sprinkle the dill all over.
Plaice wrapped in Pancetta
SERVES 4
FOR THE BRAISED ONION
4 medium onions
100ml chicken stock
60g chopped nuts
70g chicken sauce
1 bay leaf
3 sprigs thyme
Salt and pepper for seasoning
Cut the onions in half horizontally, peel the skin and keep the root on.
Make a braising liquid with the chicken stock, chicken sauce, bay leaf and thyme. Season with some salt and pepper.
Slowly braise the onion for roughly one hour in the oven until cooked.
Cook the jus down until the onion is coated.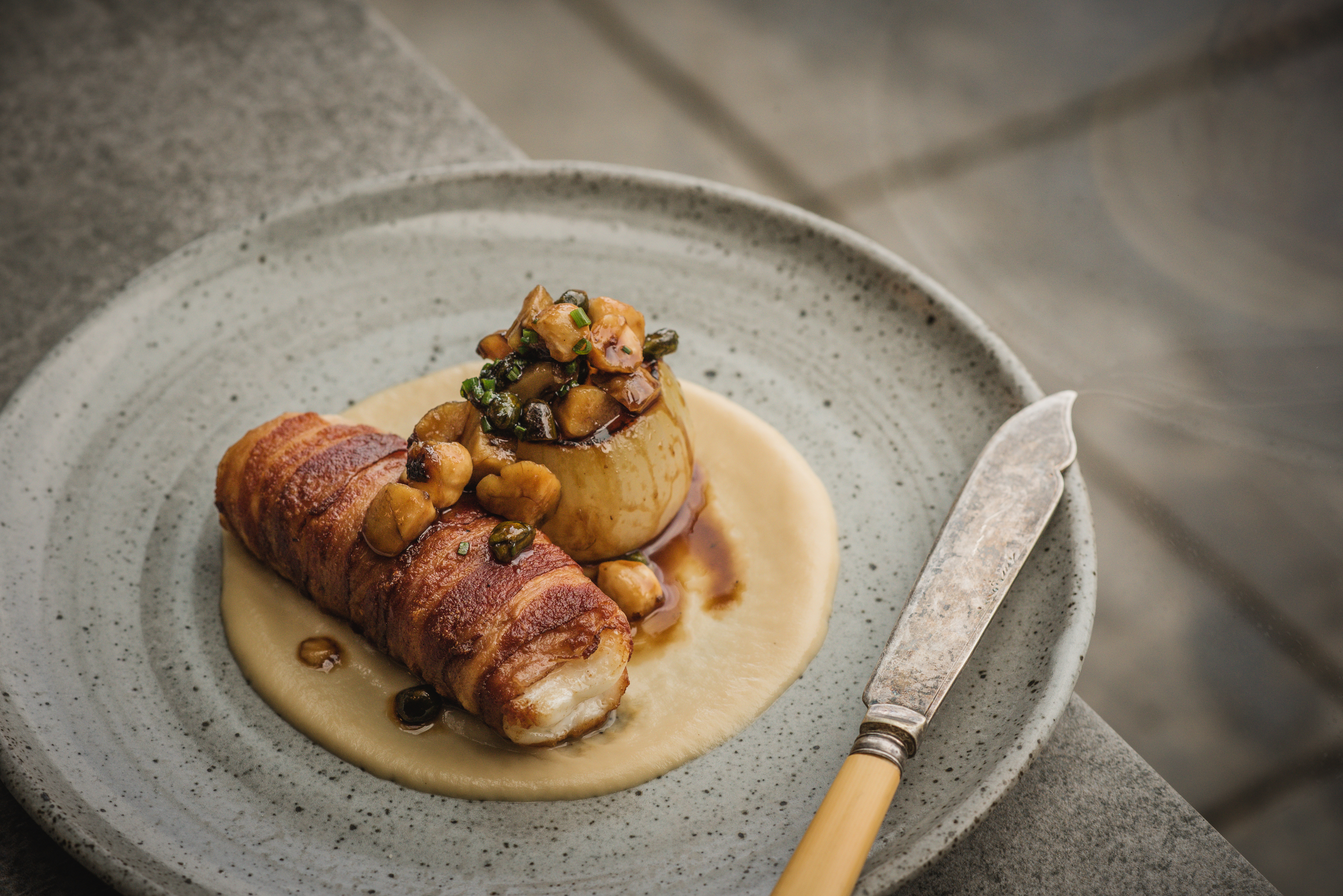 FOR THE ONION PUREE
The trimmings from onions used in braised onion, roughly 400g
Chicken stock
Salt and pepper for seasoning
Sweat the onions on a low heat until they are starting to colour. At this point, add the stock to cover and cook for a further five minutes.
Blend and pass onto a bowl of ice. Season to taste.
FOR THE PLAICE
8 plaice fillets
24 rashers of pancetta
Place two fillets on top of each other and wrap neatly in pancetta. Repeat this for the remaining six fillets. Colour the fish in a shallow pan until cooked and the pancetta is caramelised all over.
TO SERVE
Heat the puree and warm the onion. Add the chopped nuts on top of the onion and season with some chives and capers.
Serve with the cooked plaice
Roasted Hake, Beans and Kale with Kale Pesto
SERVES 4
FOR THE KALE PESTO 
(MAKES 250ml)
50g toasted pine nuts
60g kale leaves
1 clove garlic (de-germ)
50g grated parmesan
125ml extra virgin olive oil
Salt and pepper
4 x 180g portion of hake fillets, skin on
300g dry white beans (eg coco beans/tarbis beans)
100g kale (for garnish)
10 cherry tomatoes
Extra virgin olive oil
1 shallot
2 litres chicken stock
Chopped parsley
Sherry vinegar (to taste)
Salt and pepper (to taste)
A few sprigs thyme
Large pinch of sugar
50g butter
Dash of lemon juice
FOR THE KALE PESTO
Blanch the kale leaves in salted water until tender. Refresh in ice water briefly.
Chop the leaves finely. Blend with all remaining ingredients in a food processor to create a rough puree.
Season with salt and pepper to taste.
FOR THE DISH
Soak the beans overnight in plenty of cold water.
Slice the cherry tomatoes in half – sprinkle with salt and pepper, sugar, thyme leaves and olive oil – leave in a warm oven at 60°C for approximately two hours or until nicely dried, then set the tomatoes aside.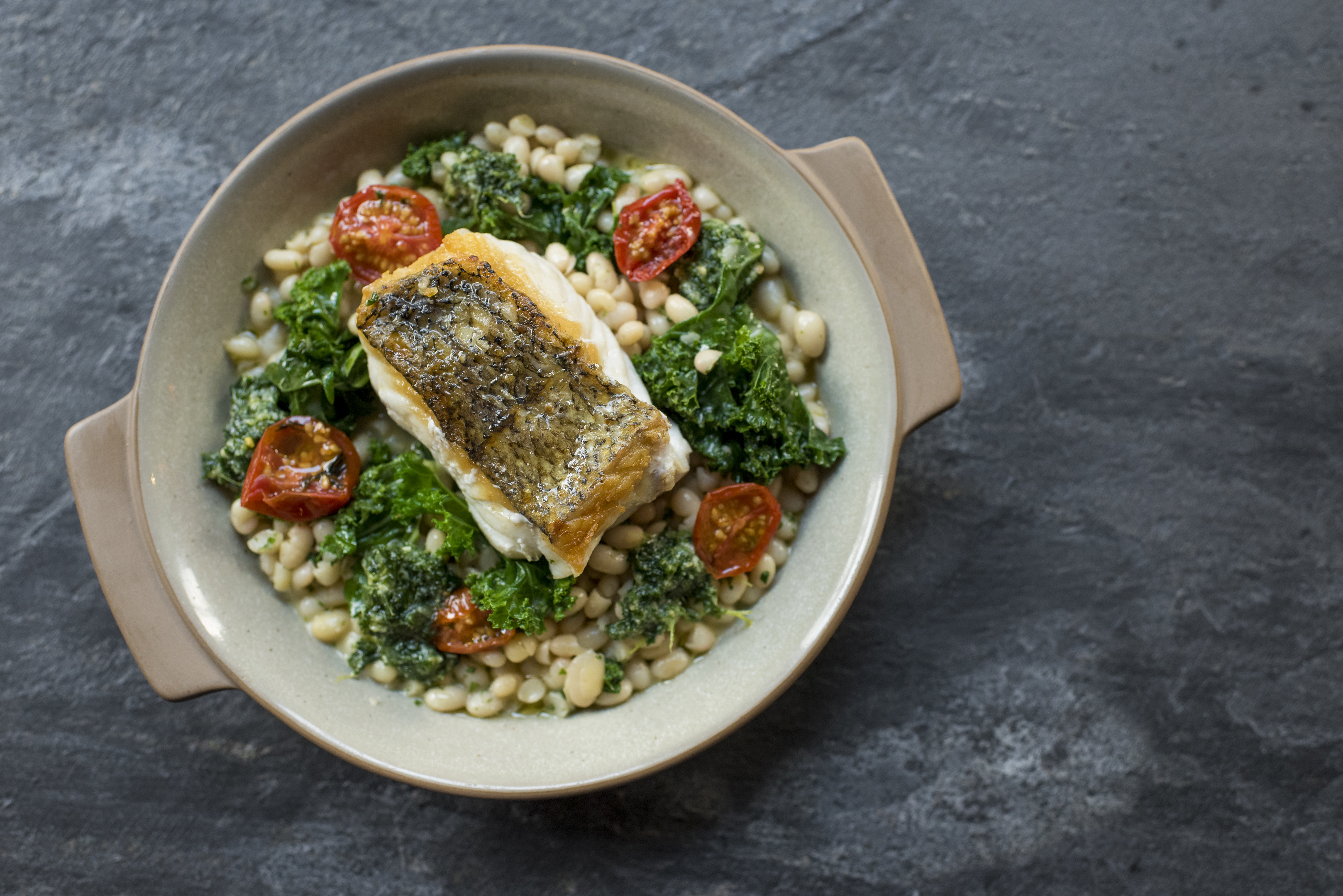 Finely chop the shallot and sweat in olive oil until translucent.
Drain the soaked beans and add to the shallots. Add the chicken stock and bring to a simmer. Simmer gently until beans are just soft. Add salt to season the beans and set aside.
Pan fry the hake (skin side down) in a little olive oil until a crispy brown skin has formed. By this time, it should be almost cooked through. Depending on the thickness of fillets – you can put them in a hot oven until ready; or flip in the pan and finish on the other side
When the fish is almost cooked through, add 10g butter and a dash of lemon juice to baste the fish for the last 10 seconds in the pan.
Blanch the kale (in salted water) until tender.
Heat the beans and stir in the remaining butter and parsley to create a nice sauce coating the beans.
TO SERVE
Pour the beans in a bowl. Drizzle on some kale pesto.
Arrange the cooked hake, kale and cherry tomatoes atop the beans and drizzle with olive oil.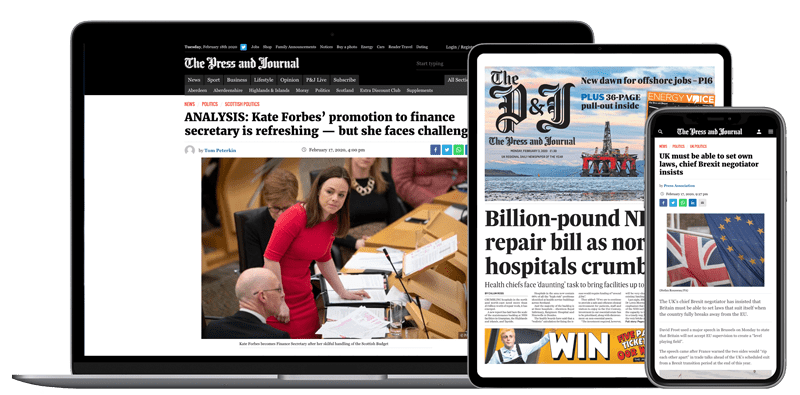 Help support quality local journalism … become a digital subscriber to The Press and Journal
For as little as £5.99 a month you can access all of our content, including Premium articles.
Subscribe