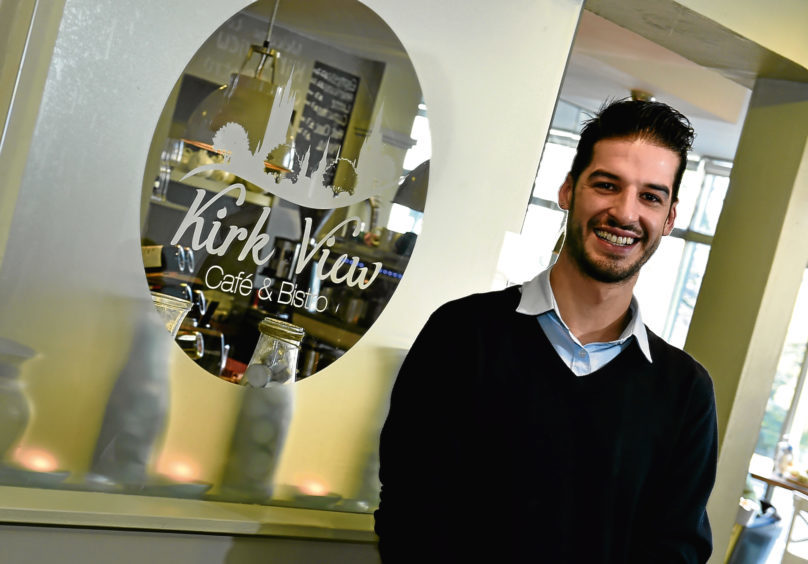 So many more cafes are now expanding and opening up in the evenings with many trying to do something just a little different, which is a great sign. Kirk View Cafe & Bistro on Union Terrace has just celebrated its first year of trading and is now running theme nights as well as afternoon teas and pre-theatre meals. The cafe states on its website that it is a family-run business that sources local ingredients, so myself and some friends were eager to try it out.
We had booked for the Gin & Cocktail experience which is served with a delicious taster menu. At just £30 per person, which included some live entertainment, this sounded a pretty good deal.
You could immediately feel a really nice, cosy ambiance in the bistro as soon as you stepped in from the chilly streets outside. Lots of fairy lights were strung up with nice dimmed lighting, while candles twinkled on the tables. There was a mix of couples and groups with a live singer playing guitar in the corner.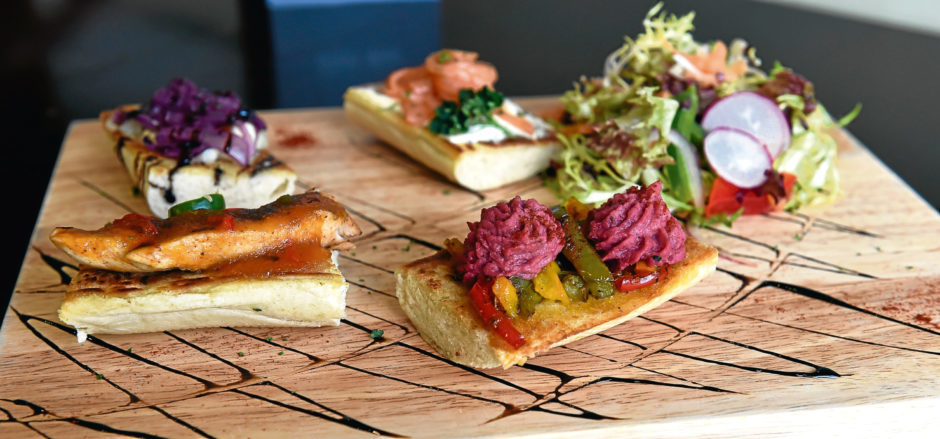 One of my pet hates is entertainment that drowns out any conversation, especially over dinner, but thankfully the volume was just perfect so we managed to chat with ease while still enjoying the music.
As we settled in at our table we were served up a jug of the traditional cocktail Woo Woo, a vodka, peach schnapps and cranberry juice concoction poured over a large portion of ice. No menus were handed out so we just waited in anticipation for whatever treats were in store.
Our first course out of four arrived, an amuse bouche of leek and potato soup presented in delicate teacups on saucers. It was creamy and warming and I could have gladly eaten a whole lot more. Next up was a large white plate of starters to share. We each devoured a haggis and black pudding bon bon drizzled in a whisky sauce, a king prawn with sweet chilli sauce and a bite-size piece of halibut on a beetroot puree. There were lots of different flavours going on in this plate, but they all complemented each other rather well and this was a tasting menu after all.
Next up was a large wooden serving board featuring a variety of bruschettas. We had never sampled any other kinds of bruschetta rather than the traditional tomato and basil, so this was something new to try.
The waitress described each one and we dived in. This was a job for your hands, not cutlery, and conversation came to a halt as we crunched our way through them. There were some tasty combinations including salmon and cream cheese and roast vegetables with beetroot chutney, but my favourite had to be the goats cheese and red onion. The sweet caramelised red onion and tangy goats cheese was the perfect fusion on top of the lightly toasted bread.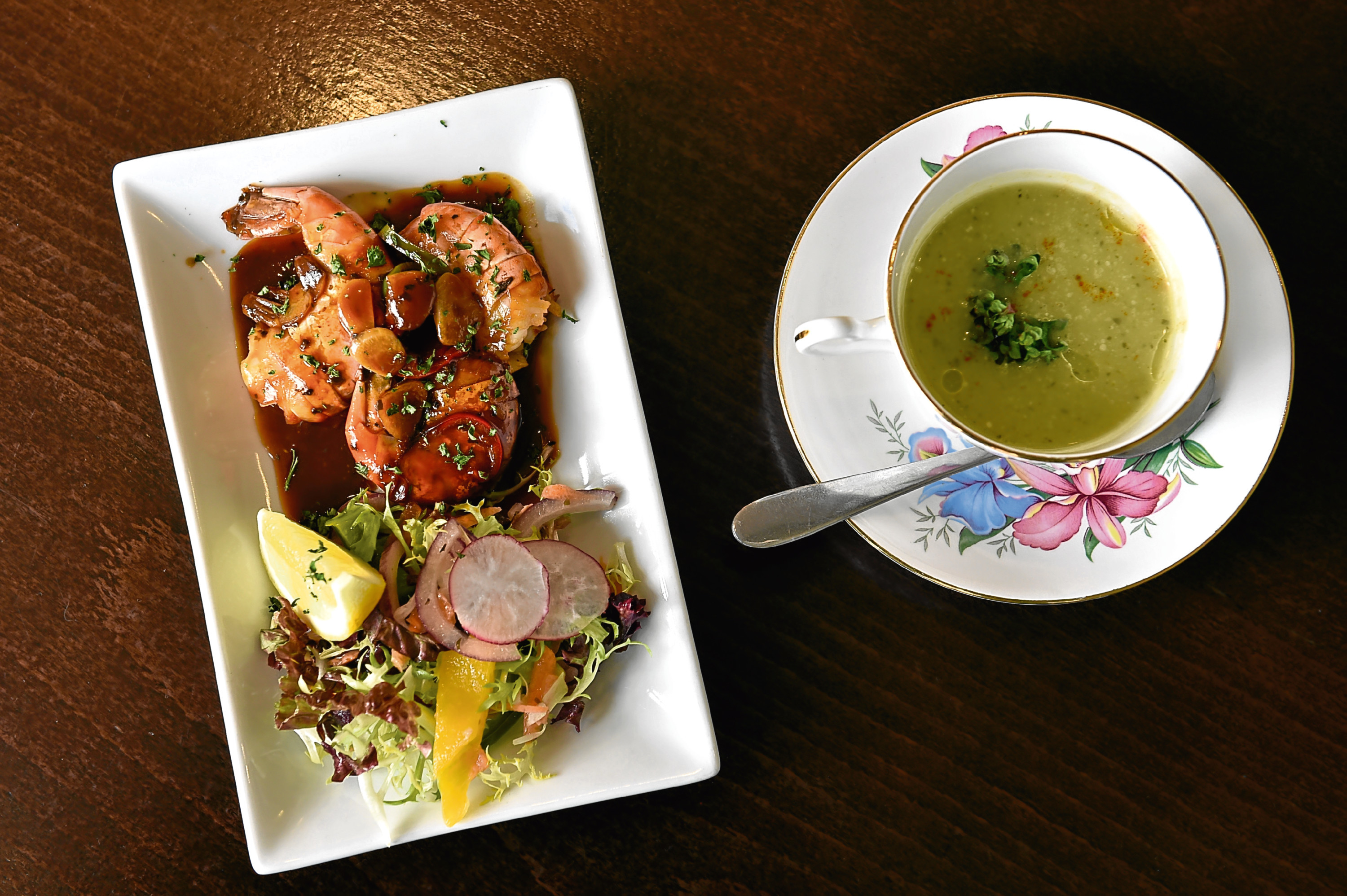 There was just enough time between courses and the anticipation of not knowing what was coming next added a bit of intrigue to the evening. Our main course was once again expertly presented on a large white server with a dome of couscous surrounded by salmon in a white wine sauce, chicken stuffed with haggis with a whisky sauce and some pork in a red wine jus. The white wine sauce worked well with the perfectly cooked salmon; I didn't really detect any whisky in the sauce over the chicken, while the red wine jus was rich but not too heavy. All of this sounds like a whole lot of food, but the meat was mostly bite size and we felt that the portions could have been just that bit bigger.
We sat back with our gin cocktails enjoying the live singer. On the menu they suggest the best tonics and garnishes to pair with the many gin choices, which is an excellent idea. My heavenly rhubarb and ginger gin was served with pomegranate and basil tonic and adorned with blackberries and plenty of ice.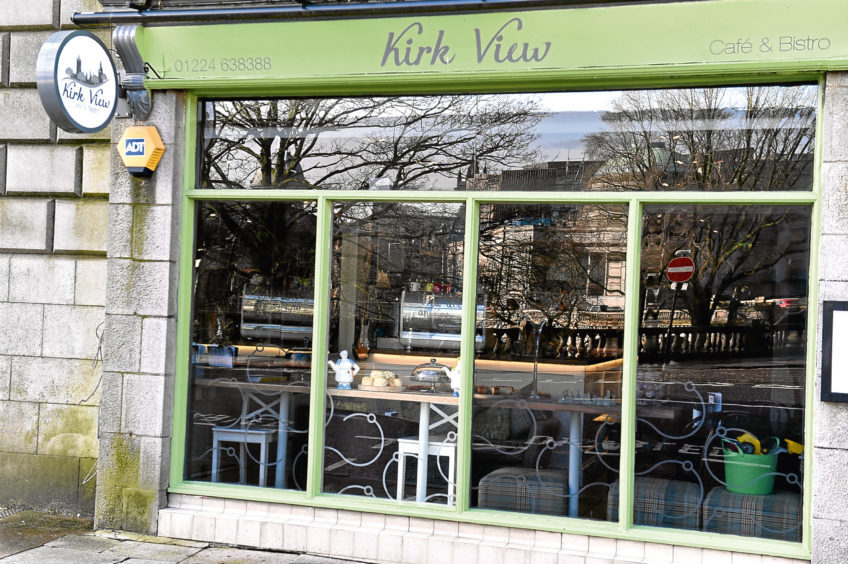 Dessert was an extra charge but we went for them anyway. This time they weren't sharing and we dived into decent portions of sticky toffee pudding and chocolate brownie both served with vanilla ice cream. They must have someone artistic in the kitchen as the puddings, as well as everything else that arrived at our table, was a work of art.
We thoroughly enjoyed our evening at Kirk View. It is lovely to see a local family business doing well and trying something just that little bit different. The food is simple but flavoursome, letting the quality of the ingredients shine through. We are already planning going back for a pre-theatre meal; you can actually see the theatre from the window, so you can't get much closer than that.
KIRK VIEW CAFE & BISTRO
27-29 UNION TERRACE, ABERDEEN AB10 1NN
TEL: 01224 638388
2 X GIN & COCKTAIL EXPERIENCE £60
2 X DESSERTS £10
TOTAL £70
FOOD 4/5
ATMOSPHERE 4/5
SERVICE 4/5