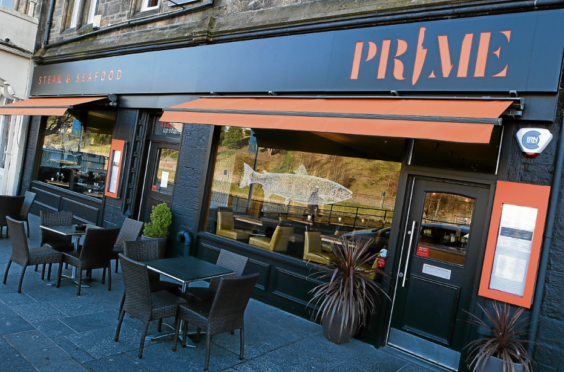 I love it when a restaurant gets you talking, especially if you're still talking about it days after you've dined there.
Such was the case for Prime Steak and Seafood Restaurant, a re-invention of Riva, the oldest independent Italian restaurant in Inverness. Prime, which overlooks the River Ness and its iconic castle, is the latest member of the Cru Holdings family – it is behind several venues including Bar One, Scotch & Rye, Riva, Dow's Bar and Bistro and The Keg.
Cru said arrivederci to Riva as it felt there were too many Italian eateries in the Highland capital. Prime, which opened earlier this month, has menus offering fine, locally sourced meat and seafood, but also caters well for vegans and vegetarians. As well as an upmarket dining experience, there's an express lunch menu and early-bird two-course set menu at £17.
We'd pre-booked a table for a Saturday night, and walked into a restaurant buzzing with happy diners chatting away. Greeted like old friends, our coats were hung up and much to our delight, we were shown to a window table where we could enjoy the views – this restaurant enjoys some of the finest in Inverness.
Our waitress was charming and efficient, presenting us with the wine list, menu and a nice jug of fresh water.
Which brings me to our first talking point. The difference between pakora, a fritter and a bannock. To me, pakora and fritters are similar, delightful deep-fried delights while a bannock is a traditional Scottish flat bread.
From a good selection of starters, my partner chose the Prime Bannock. Described as mixed vegetables fried in a seasoned batter, but using "bannock" made us think it might be more bread or dough-like.
What arrived were two very large pakoras filled with very fresh veg with a nice hint of spice and featherlight batter, served with an Asian-style coleslaw and minty yoghurt.
They were delicious and after much discussion lasting a couple of days, I thought a better description for this starter might be Mac-ora, a Scottish twist on the Indian favourite. Don't worry, I'm not giving up the day job…
I struck gold with my starter, rope-grown mussels and surf clams served in an Asian-style broth with charred bread. A generous portion, I loved the mix of fresh mussels and clams while the broth had a superb kick of heat which made my tastebuds dance with delight.
Steaks and seafood are the main events here, so it felt only right to sample one of each.
There are four cuts of steak to choose from – and thanks to a nice piece of artwork in the stylishly decorated restaurant, you can see which part of the cow each steak comes from. These included a T-bone at £50, chateaubriand at £55 and sirloins at £45 and £18. I chose the latter, as it was more my price range.
Here, you build your own main course, in that you pick your own side dishes to accompany the steak. These are priced at £4 each, while sauces are £3 and butters £1.50.
I chose a fresh mixed salad with pickled vegetables, olives and percorino which was superb, a real mixture of flavours and textures, and instead of traditional chips, chose sweet potato fries with crumbled feta cheese and rosemary.
I felt a wee stab of disappointment when my wooden platter arrived as my rare
steak was already sliced. I like it served whole so I get the pleasure of slicing
through the chargrilled exterior to expose a beautifully pink interior. That didn't detract from the taste though and the juicy, tender steak and flavoursome sides didn't disappoint.
However, when my other half's main course arrived I almost wished I'd ordered it, as it had the wow factor.
A whole roasted seabass (head removed at his request) served on a bed of Mediterranean vegetables and sweet potato and topped with vibrant, green buttered samphire, it looked fabulous and tasted sublime. A real 10 out of 10 seafood dish.
The service here is very friendly and they do their best, in the most charming manner, to tempt you to have another glass of wine, try a pudding and so on. We resisted the sweet choices but having been told how good the cheeseboard was, were persuaded to try it – and order a glass of port too. That's a good waitress for you…
This was a lovely finishing touch to a dining experience we'd really enjoyed.
With a nice selection of crackers, chutney and best of all, two fabulous cheeses – Lanark Blue and a smoked cheddar – served at the correct temperature (it makes me furious when restaurants kill cheese with coldness), along with a warming glass of port.
Perfect for staving off the cold night air, we left Prime feeling good about life and delighted that the Inverness dining scene continues to thrive and expand.