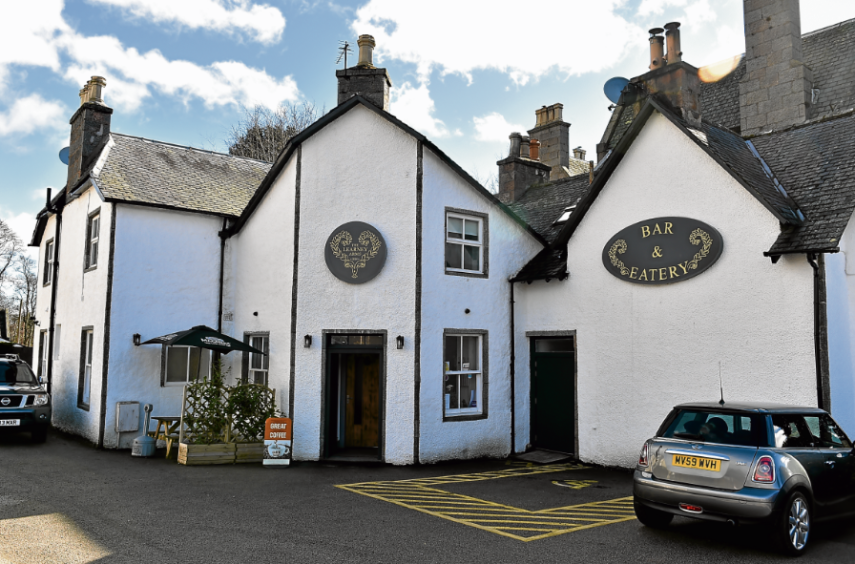 When choosing a restaurant to visit, I always like to act on recommendations. So after finding out that a friend used to work at the Learney Arms in Torphins, I marked it down as next on our list to visit.
The village of Torphins is a 30-minute drive from Aberdeen, and we chose a beautiful, crisp, spring day on which to travel, meaning the Aberdeenshire countryside was looking picture-postcard perfect.
On arrival at the Learney Arms – which was re-opened in 2016 as a restaurant and bar – we received a warm and friendly welcome, were offered a seat while our table was prepared and given menus to pore over. This gave us an opportunity to have a good look around and admire the stylish surroundings of the newly refurbished eatery. A short time later, we were shown to our booth in the main dining room.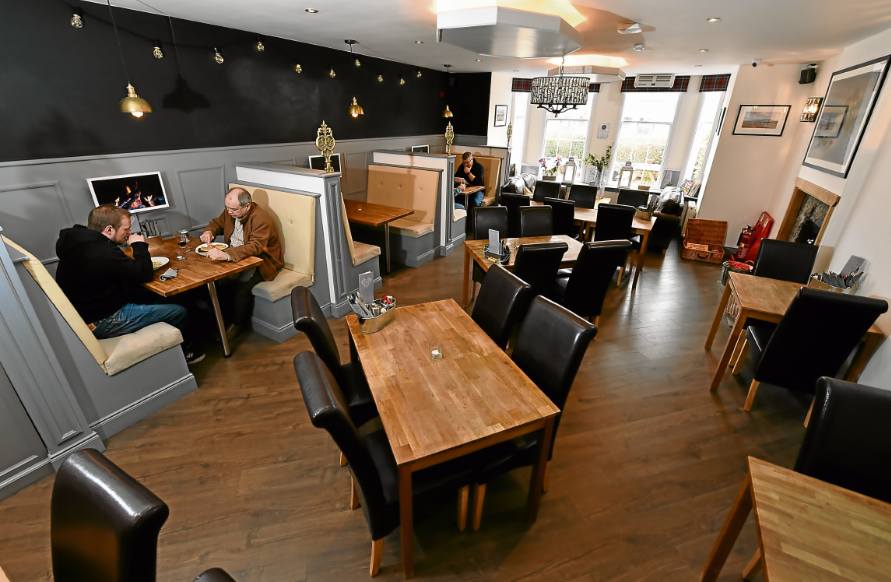 The dining room can seat up to 30 people and is a mixture of snug booths and larger tables. We were given a booth, which came with its own TV. A nice touch when eating with children.
Looking around the dining room, it had a real family feel, with generations young and old getting together to enjoy a Sunday lunch, while next door in the bar a few football fans were watching the game on the large TV.
Thankfully, despite it being an Old Firm match, we barely heard a peep from the bar, so we were able to enjoy our meal in peace. Blending traditional and contemporary styles, the dining room has a lovely exposed stone wall, tartan blinds, Scottish art, a pretty chandelier and a wood burner. As it was a chilly day, we would have loved the wood burner to have been on, but we soon heated up as we decided what to order.
For starters, we decided to share two between us. Haggis and black pudding bon bons for the meat eaters, and breaded Brie for the veggie. And on that note, top marks must go to the Learney for its wide range of vegetarian options. This is something so many restaurants still do not offer, despite the demand increasing year on year.
The bon bons – two haggis and two black pudding – came with a tasty whisky mayonnaise and a nice light salad with dainty chopped peppers.
While the haggis lacked flavour, the black pudding was delicious and was the clear favourite among the three carnivores. Across the table there was silence as my veggie wife devoured the deep fried Brie wedges. I managed to get a little taste and the gooey, melted cheese was light and tasty, topped off perfectly with the accompanying cranberry sauce.
For mains I chose the steak and ale pie which came with a puff pastry lid, seasonal vegetables and chips. The pastry lid was beautifully light and all that was needed to go alongside the tender pieces of steak. Too much pastry can ruin a good steak pie, but this was the right amount, while the rich, red wine sauce was delicious and not too heavy.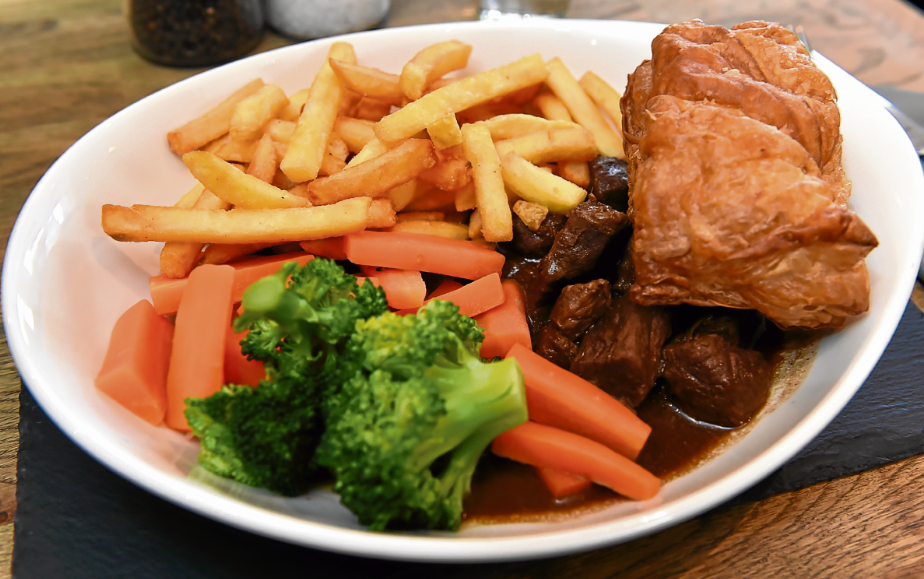 My wife, spoilt for choice with the veggie options, decided on the squash stew – spiced butterbeans, chickpeas and roasted butternut squash finished in tomato sauce. While the presentation of this dish wasn't the most appealing, and it looked quite a small portion, appearances can be deceiving as it was both tasty and filling – the only drawback being it was meant to come with rice but was served with a piece of plain bread instead.
My young son had ordered the deep fried haddock and chips from the main menu, and it was so big that we joked they must have caught a shark instead. But he took on the challenge and did himself proud, while his dad helped him polish off the rest of the beautiful white haddock, chips and coleslaw. And when he dropped his lemon wedge, it was no problem at all to the attentive staff to fetch him a replacement.
Despite the plentiful portions we'd consumed, we thought it only right and proper to sample something from the sweet menu – the things we do for you, dear YL reader.
So while the children enjoyed some tasty ice creams, I went for the Mars Bar cheesecake from the specials board. Cheesecake can sometimes be a bit heavy and sickly, but I was delighted to find this was a light, fluffy dessert with a lovely subtle flavour that all four of us tucked into.
Special mention must go to the young waiting team who were friendly and very capable from start to finish. The only black mark was being left waiting to pay for our bill at the end, which is a pet hate of mine. But other than that they were superb.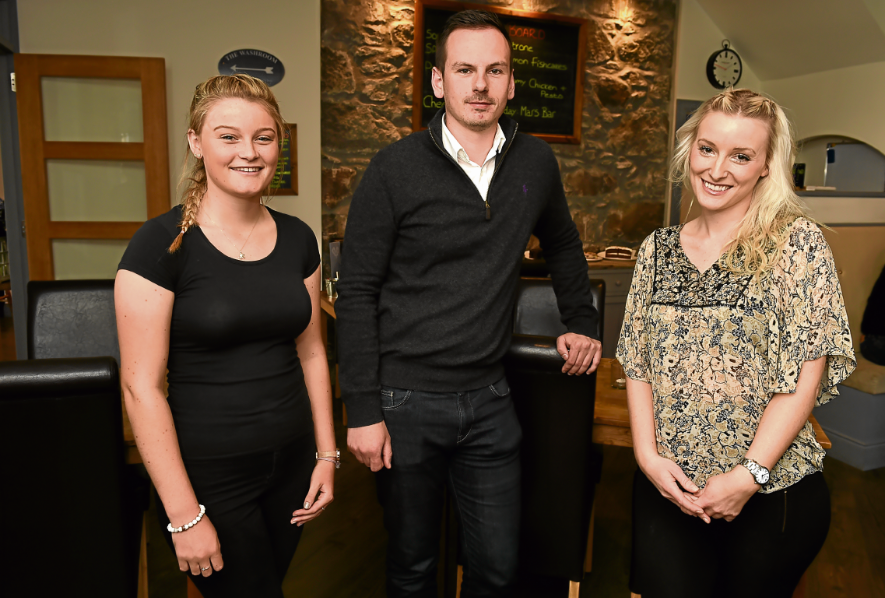 Many readers will also be pleased to hear that the Learney Arms is happy to highlight the provenance of its food, both on its menu and on a blackboard on the wall of the dining room. Katy's Eggs, Torphins, Graham's Family Dairy and Sheridan Butcher, Ballater, are just some of its local suppliers.
On the Learney Arms website it states its standards are as follows: a friendly welcome; a nice atmosphere; a flexible menu; polite and knowledgeable staff. Well, they scored a full house in that regard on our visit.