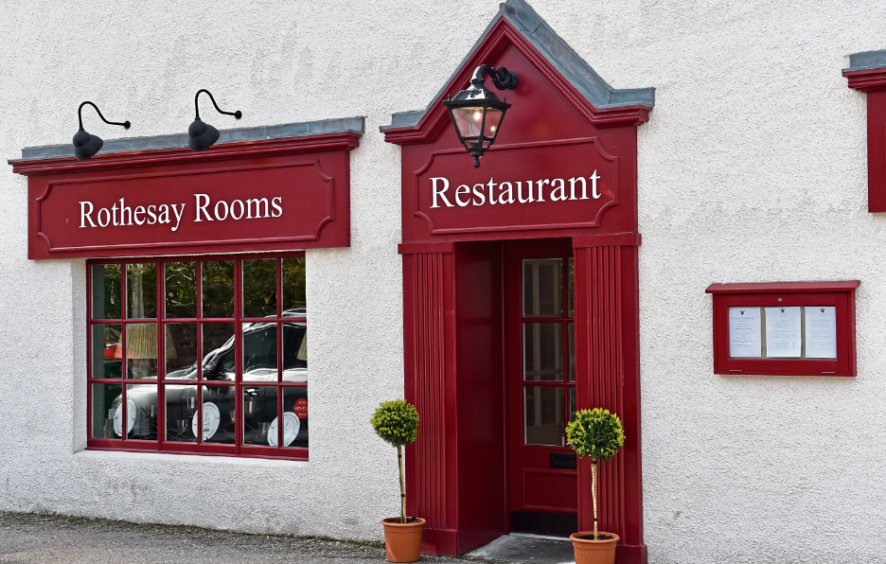 Ballater, just over an hour's drive from Aberdeen, is a favourite destination of ours. When our children were younger, we enjoyed camping weekends there and regularly walked our dogs on the scenic paths around Loch Muick.
Eating was mostly sausages from camp fires or packed lunches by the loch, so the chance to visit the Rothesay Rooms was a real treat for us.
It is just over three years since Storm Frank caused the River Dee to burst its banks and spread mass destruction to many homes and businesses in the beautiful village of Ballater.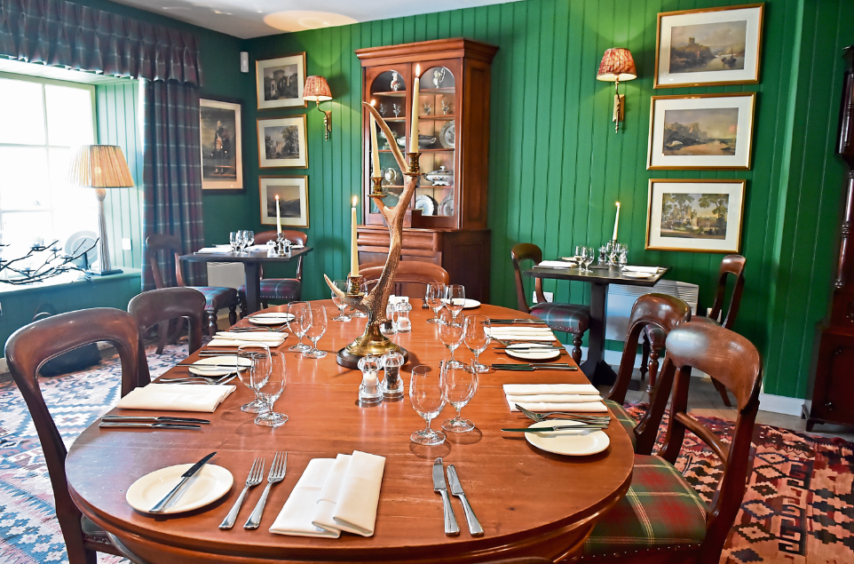 Shortly after the floods, Prince Charles, Duke of Rothesay, visited the village from nearby Balmoral Castle and pledged his support to rejuvenate the village.
Local companies and people across the area were incredibly generous and the extremely successful Ballater Flood Appeal helped so many people get back to their everyday lives.
To help the community continue to grow, as well as attract visitors and locals to the area, a charity chaired by HRH Prince Charles, now known as The Prince's Foundation, converted a former Co-op shop into a restaurant with support from the appeal fund.
The Rothesay Rooms is quite a transformation. We visited on a Friday lunchtime and there were already a few tables occupied.
We felt transported to some grand Scottish lodge with such an impressive dining area.
The flickering candles, the sparkling glasses and polished cutlery provide a sophisticated ambience.
The walls are a rich green colour and there are hints of tartan in the upholstery, alongside striking antique furniture and silver antler candle holders.
The open kitchen at one end is an interesting feature and we enjoyed watching head chef Ross Cochrane and his talented team at work.
As we browsed the menus I asked for a recommendation for a nice white wine and the waiter suggested a glass of Pazo la Maza Albarino, a light, fresh, elegant wine which was served chilled in a very delicate wine glass.
With just four choices of starters, mains and desserts the menu is fairly small but, with mouth-watering meat, fish and a vegetarian option, I am sure there is something that will appeal to all tastes.
The emphasis is on locally-sourced organic produce and the menus are changed seasonally to showcase premium local goods.
For starters my husband chose the goats cheese, aubergine caviar, rye crisps and lambs leaf.
The sun was shining outside so this lovely fresh dish was the perfect way to kick-start his lunch, which was beautifully presented on a large plate with the rye crisps not only giving height to the presentation but also bringing a nice crunch to the overall texture.
A surprise find were some gooseberries – not found in many dishes nowadays – and a hint of lime, which gave the dish a delicious tang and was a superb accompaniment to the cheese.
I skipped a starter and went straight to the main event – aged sirloin – while my husband chose the rump of Wark Farm lamb. As the plates were laid down in front of us, we breathed in the wonderful aroma and couldn't wait to tuck in.
Sharing the plate with the good-sized steak were some vine tomatoes, chunky chips arranged into a small tower and charred onions.
The steak was truly spectacular – tender and moist with only the rich, meaty cooking juices needed to showcase the high quality of the meat.
The charred onions with caramelised edges and a crunchy-sweet interior were also perfectly cooked and bursting with flavour.
On the other side of the table, the lamb was also going down a treat. Served with gem lettuce, pancetta, peas and a tomato jus, once again the plate resembled a work of art.
The lamb, a perfect pink colour, was cooked to perfection and the accompanying sweetness from the peas to the salty Italian bacon provided a real balance of flavours.
There was not one thing left – a sure sign of a good meal!
As previously mentioned within my YL reviews, I am the "Pudding Queen", so there was absolutely no way I was passing on a dessert.
Top of the list was rhubarb with custard panna cotta, while my husband went for sticky toffee pudding.
My creamy Italian panna cotta was so cool and light and went well with the rhubarb, although I would have liked a little bit more of the fruit, while a small meringue gave the dish a contrasting texture.
And was the sticky toffee up to my husband's standards? Indeed it was – the rich, thick toffee sauce smothered the light sponge while a scoop of ice cream was perched on top of a caramel basket on the top – more empty plates.
After our meal we relaxed with a coffee and decided this was without doubt one of the finest lunches we had ever had. The components of each dish have been so expertly put together. The surroundings match the experience and the waiting staff were very professional and friendly throughout.
With the royal wedding taking place today, speculation will now surround the honeymoon destination, and if it happens to be Balmoral, you may find yourself sitting next to Meghan and Harry in the Rothesay Rooms.
But as we experienced, everyone is treated like a royal with a menu to grace any regal occasion, so live like a king or queen for the day and treat yourself to a visit.
Rothesay Rooms, 3 Netherley Place, Ballater
Phone: 01339 753816
GOATS CHEESE STARTER £7
SIRLOIN £19
LAMB £17
STICKY TOFFEE PUDDING £6
RHUBARB AND CUSTARD
PANNA COTTA £6
ALBARINO £6.95
ORANGE AND LEMONADE £2.50
TOTAL = £64.45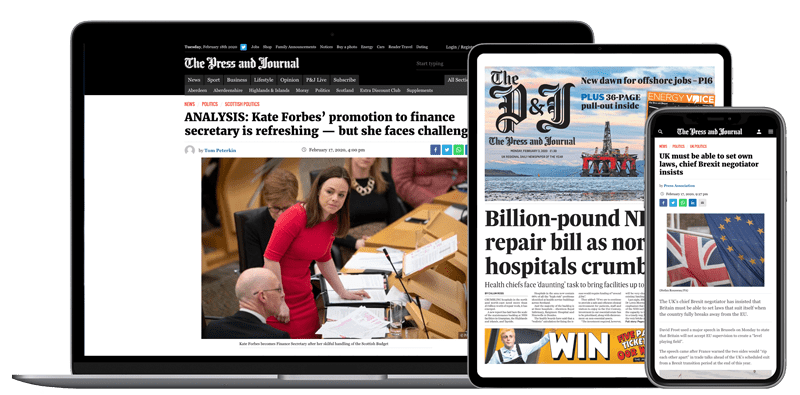 Help support quality local journalism … become a digital subscriber to The Press and Journal
For as little as £5.99 a month you can access all of our content, including Premium articles.
Subscribe