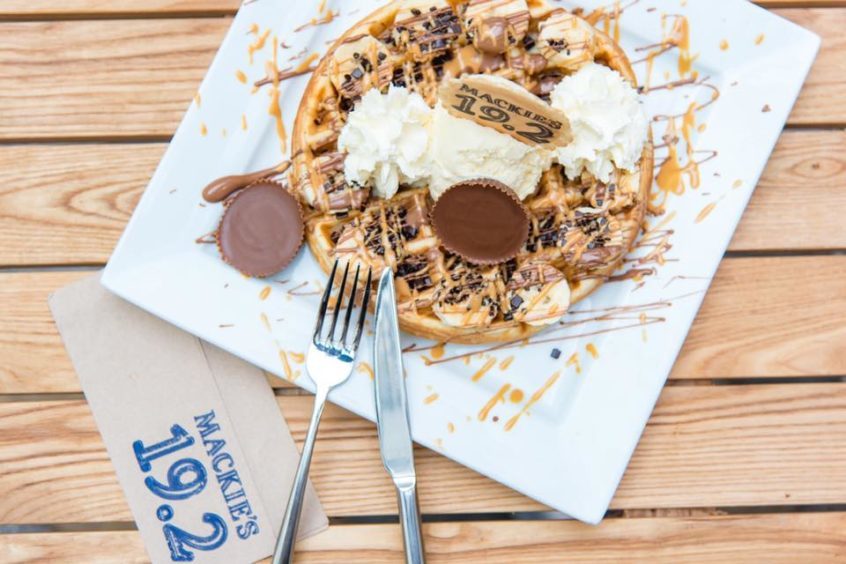 Desserts are not just to be enjoyed at the end of the meal – they can be a meal in itself.
Indulge your sweet tooth with our pick of the best places to grab dessert in Aberdeen.
The Long Dog Cafe
https://www.instagram.com/p/Bi11zDvAIhy/?tagged=longdogcafe
The Long Dog Cafe is an independent cafe on Claremont Street – just two minutes away from the city centre.
It is dog friendly and has a huge range of treats for you and your dog. There's even a boutique next door for you to purchase some goodies for your pup.
As well as their variety of food, cakes and ice cream, the business is well known for their selection of instagrammable freak shakes – some of the best in the north-east.
Shakes and Cakes
Shakes and Cakes is a hugely popular venue with three parlours in Aberdeen; Great Northern Road, Spital Street and one in the middle of Union Square Shopping Centre.
Well-known for their range of desserts like crepes, waffles, sundaes, tower pancakes, cookie dough, cakes and tango ice blasts, this is absolutely one place you shouldn't miss.
Crolla's Gelateria
https://www.instagram.com/p/BiMsaTrFkYI/?taken-at=527973470747352
Family-run Crolla's Gelateria is an award-winning ice cream shop sitting in the heart of Rosemount.
Crolla's is one of the few places in the UK which serves cold stone ice cream – and was even voted Scotland's Best Ice Cream Parlour 2014.
A trip to Aberdeen definitely requires a trip to this place.
Cones & Candy
Cones & Candy is a sweet-lover's dream. Sitting in Westhill Shopping Centre, this is a popular venue with the locals.
Friendly customer service and a range of treats – including 36 ice cream flavours – are on offer at this cute and colourful cafe.
Children will be mesmerised by the array of sweets decorating the walls.
Valerie's Brasserie
https://www.instagram.com/p/BSBJasYhC1-/?taken-at=229105252
Cakes are the lifeblood of this classically-decorated brasserie sitting on the ground floor of Union Square Shopping Centre.
You've probably walked past this place a million times and never given it a try, but the sweet offerings are to die for so make sure you add this to your to-do list.
With a range of hot food and alcohol available the business also have afternoon tea sessions and a wide range of unique handmade larger cakes.
Baskin-Robbins
Baskin-Robbins, also known as 31 flavours, is nestled among the independent boutiques of Thistle Street.
This vibrant ice cream parlour is always busy, and doesn't close until 11pm, so late night revellers can easily grab a snack before a night out – or maybe even after.
They also offer ice cream cakes which are sure to go down a treat at a family barbecue on a hot day.
Equi's Ice Cream
Only two-years-old Equi's Aberdeen forms part of the Equi's Ice Cream franchise, which has many bases across the Central Belt.
There are heaps of quirky ice cream flavours on offer – with a great selection of toppings to boot.
Some of the recipes have been passed down through four generations, since the first ice cream parlour's formation in 1922.
Mackies 19.2
Mackies 19.2 is a brand new ice cream parlour in the newly-developed Marischal Square.
The parlour is a local family run business that promises to use as much local produce as possible.
The name refers to the exact number of miles from the farm, where all the ice cream is made, to Marischal Square.
There's also a much-loved peanut butter tap – believed to be the first of its kind in the UK.