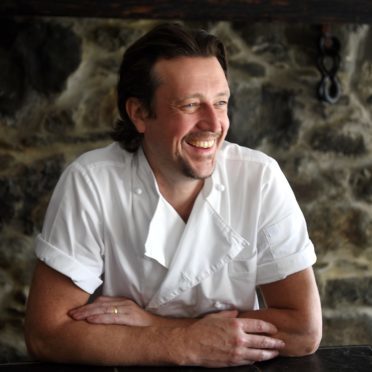 Michelin-star chef Michael Smith, of the Loch Bay Restaurant in Skye, creates two classic dishes that are simple to make at home.
Holding a fresh, bright green pea pod and gently squeezing it so it pops open to reveal a row of perfectly shaped peas, is one of life's great simple pleasures.
But let's be honest, not many of us have time to sit down and open several bags of pea pods in order to get enough to make a pot of summer pea soup.
If you have the time and inclination then go for it, but I'd recommend using a bag of frozen fresh British garden peas.
These are frozen within a couple of hours of being picked, so are really fresh and pretty cheap to buy.
Today's recipe for pea soup is ideal for enjoying on a summer's day as it is light and fresh and bursting with flavour.
I've added a swirl of cream blended with Scottish Crowdie cheese which adds another level of flavour to this zingy, fresh soup.
We have French author Marcel Proust to thank for today's dessert as it features Madeleines, those plump cakes which are a perfect mouthful.
In his famous work, In Search Of Lost Time, he speaks of a childhood memory after eating a Madeleine dipped in tea. The shell-shaped treats have been hugely popular ever since.
Here, I've revisited this classic cake for YL readers many of whom will be keen bakers – Scottish housewives are the best bakers in the world, and everyone knows that!
The only specialist piece of equipment you need is a mould to create the distinctive shape.
Lakeland, for example, sell a good Madeline tin that's inexpensive.
Once made, the Madeleines mixture will happily sit in a Tupperware container in the fridge for a couple of weeks making them ideal for serving to unexpected guests who may drop in.
Summer pea soup with Crowdie cream
INGREDIENTS
SERVES 4
30g butter
4 spring onions, chopped
450g frozen garden peas (petit pois)
750ml vegetable stock
Pinch of sugar (optional)
Squeeze of lemon juice
1 tblsp Crowdie
and 1 tblsp crème fraîche (mixed together)
DIRECTIONS
Heat the butter over a medium heat in a large pan and add the spring onions. Sweat until cooked, but not coloured.
Add the peas and stir well, then pour in 750ml veg stock. Bring to the boil, then simmer until the peas are tender (about 10 minutes depending on size).
Purée the soup using a blender or hand blender then add the lemon juice and season to taste.
You may also wish to add a pinch of sugar depending on the sweetness of your peas. Add a little water if you'd prefer a thinner soup.
Reheat if serving hot and serve garnished with chopped mint and a swirl of creamed Crowdie.
Scottish heather honey Madeleines with fresh Scottish rasps and lemon curd
INGREDIENTS
SERVES 4
150g unsalted butter
3 eggs
150g caster sugar
150g plain flour
1 tsp baking powder
1 tblsp heather honey
Butter and flour (or baking spray) to grease the Madeleine mould
DIRECTIONS
Melt the butter in a small saucepan and set aside to cool.
In a large bowl, or the bowl of an electric stand mixer, whisk together the eggs and sugar until the mixture is pale and thick.
Add the flour, baking powder,heather honey, and melted butter. Mix until everything is well incorporated and the batter has a thick consistency.
Leave the batter to rest in the fridge for at least one hour. Preheat the oven to 220C.
Generously grease the Madeleine mould with butter and flour, even if it is non-stick. Another option is to use a non-stick baking spray.
Place a generous teaspoon of batter in the hole of each mould, or use a piping bag.
Place the tray in the oven, and immediately turn down the temperature to 200C.
Bake until the Madeleines have risen and are lightly golden on top.
Once the Madeleines are cooked to your liking, remove the tray from the oven, and wait a few minutes before carefully removing the cakes from the moulds. Leave them to cool on a wire rack (the ridge-side facing down), and eat them warm or cold.
Serve with fresh Scottish berries and lemon curd.
For more information about Michael's restaurant, click here.