Had I been driven there wearing a blindfold – stay with me on this one – when the blindfold was removed, I'd have thought I'd been magically transported to the Swiss Alps.
For the Moulin Hotel, Pitlochry – a traditional white-washed building with colourful flowers bursting from a raft of window boxes – looks every inch a pretty Alpine retreat.
It's been around for a long time and legend says it first opened its doors some 50 years before Bonnie Prince Charlie's 1745 rebellion.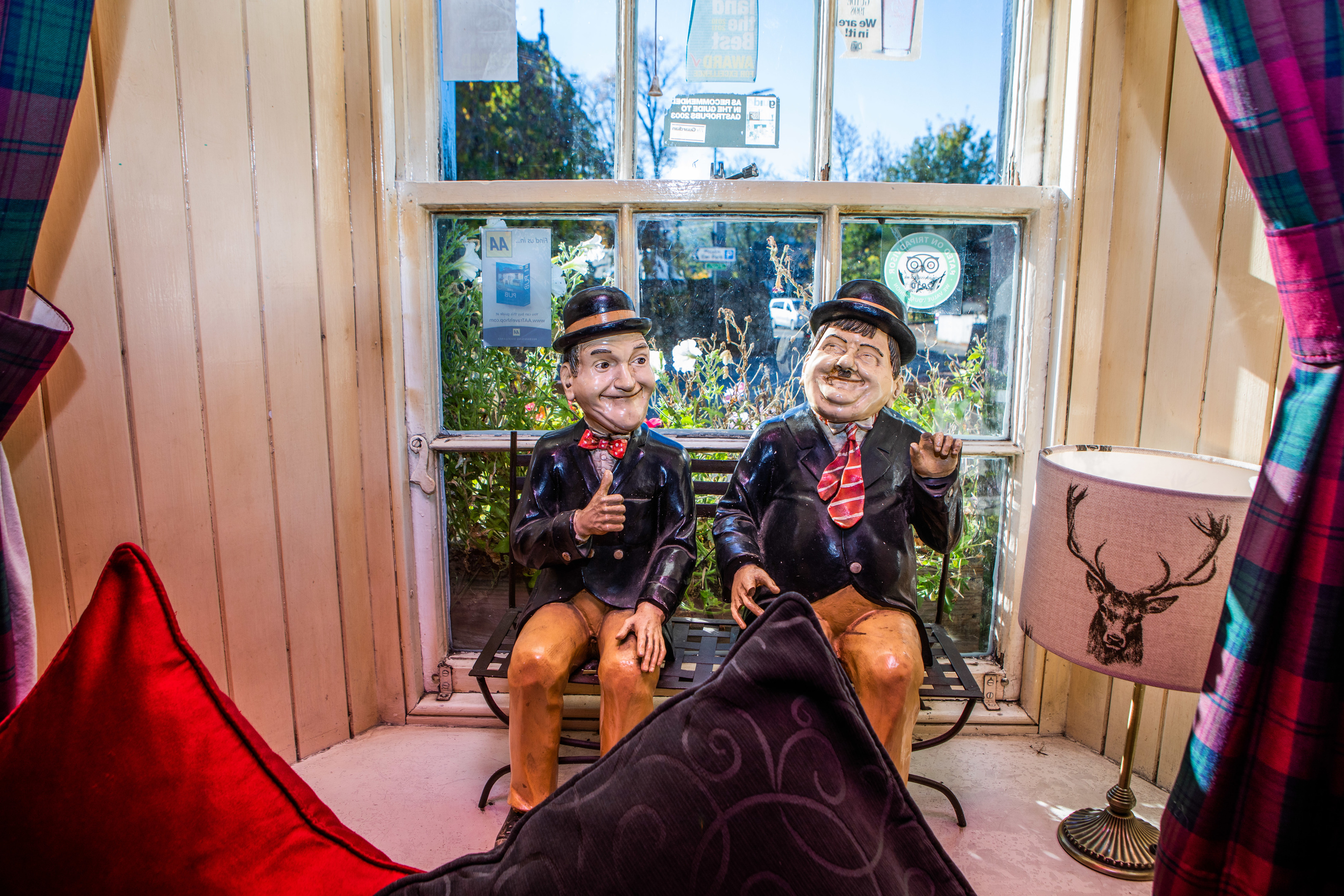 We were in the Highland Perthshire town as I was about to fulfil a personal ambition – to experience The Enchanted Forest, a sound and light spectacular which attracts tens of thousands of fans each year.
Before heading to Faskally Woods, we wanted a bite to eat, which is why we wound up in the inn attached to the hotel.
Having dodged enormous floral baskets and piles of seasoned logs to get inside, we found ourselves in one of the nicest traditional bars we've had the pleasure to visit for a long time.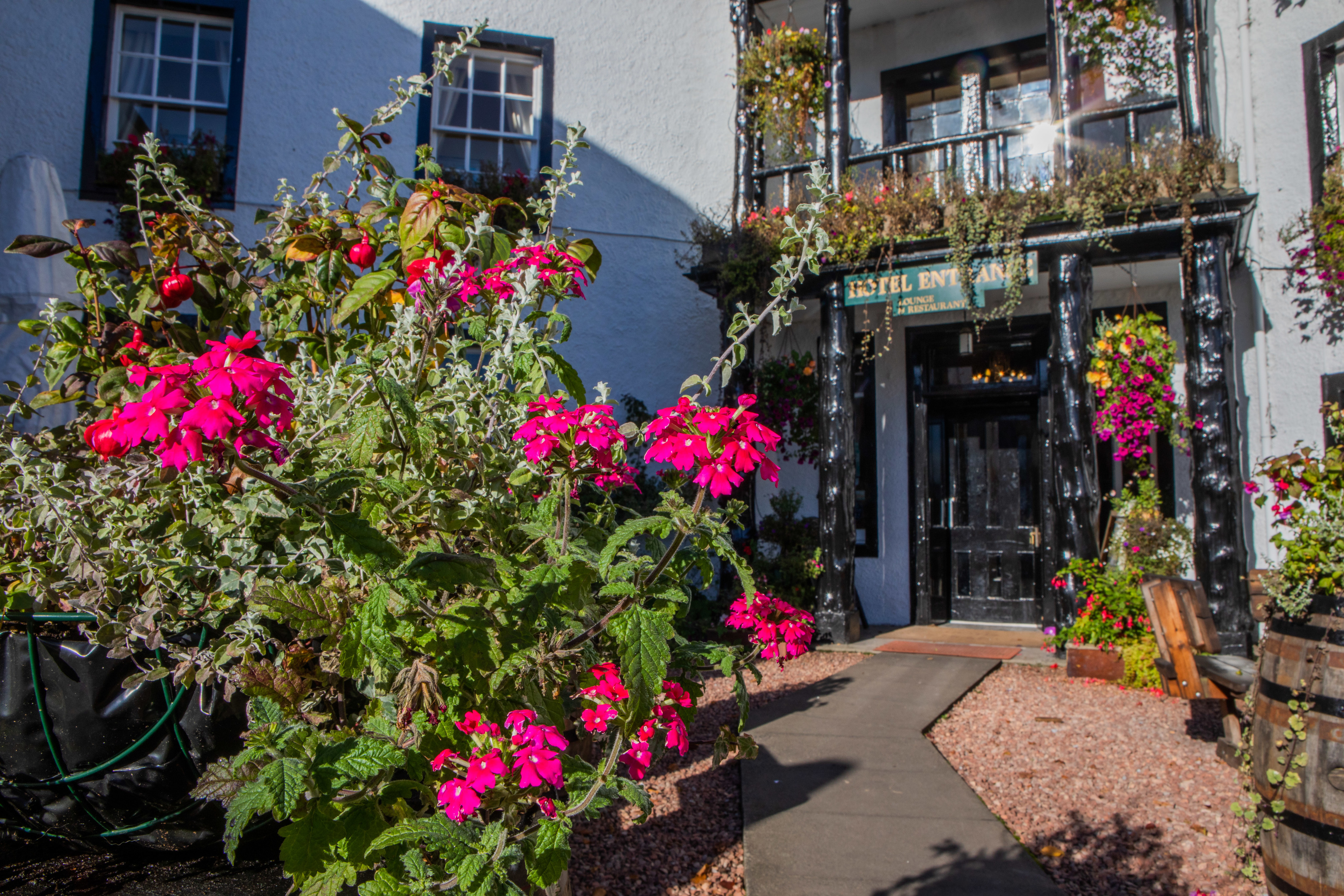 At each end of the pub, fires burned merrily in big stoves while the ceiling and pillars in the main, wood-lined seating area were adorned with hundreds of twinkling fairy lights which created a cosy atmosphere.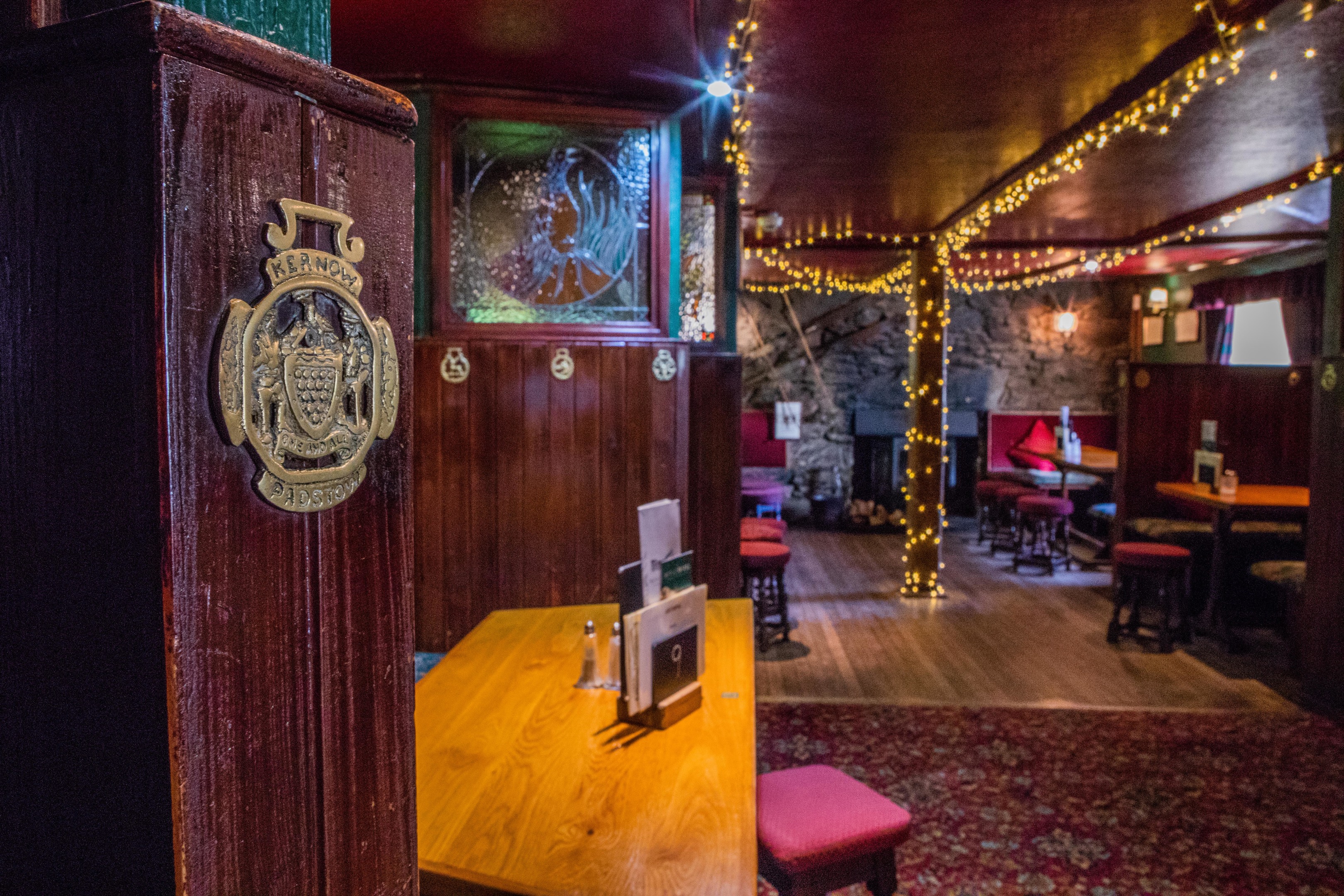 There's traditional wooden tables and chairs, booths with tapestry cushions and nice stained-glass windows depicting folk enjoying outdoor sports such as fishing and shooting.
One framed pic made us laugh as it stated the Moulin Inn had been named Pub of the Year in 1695…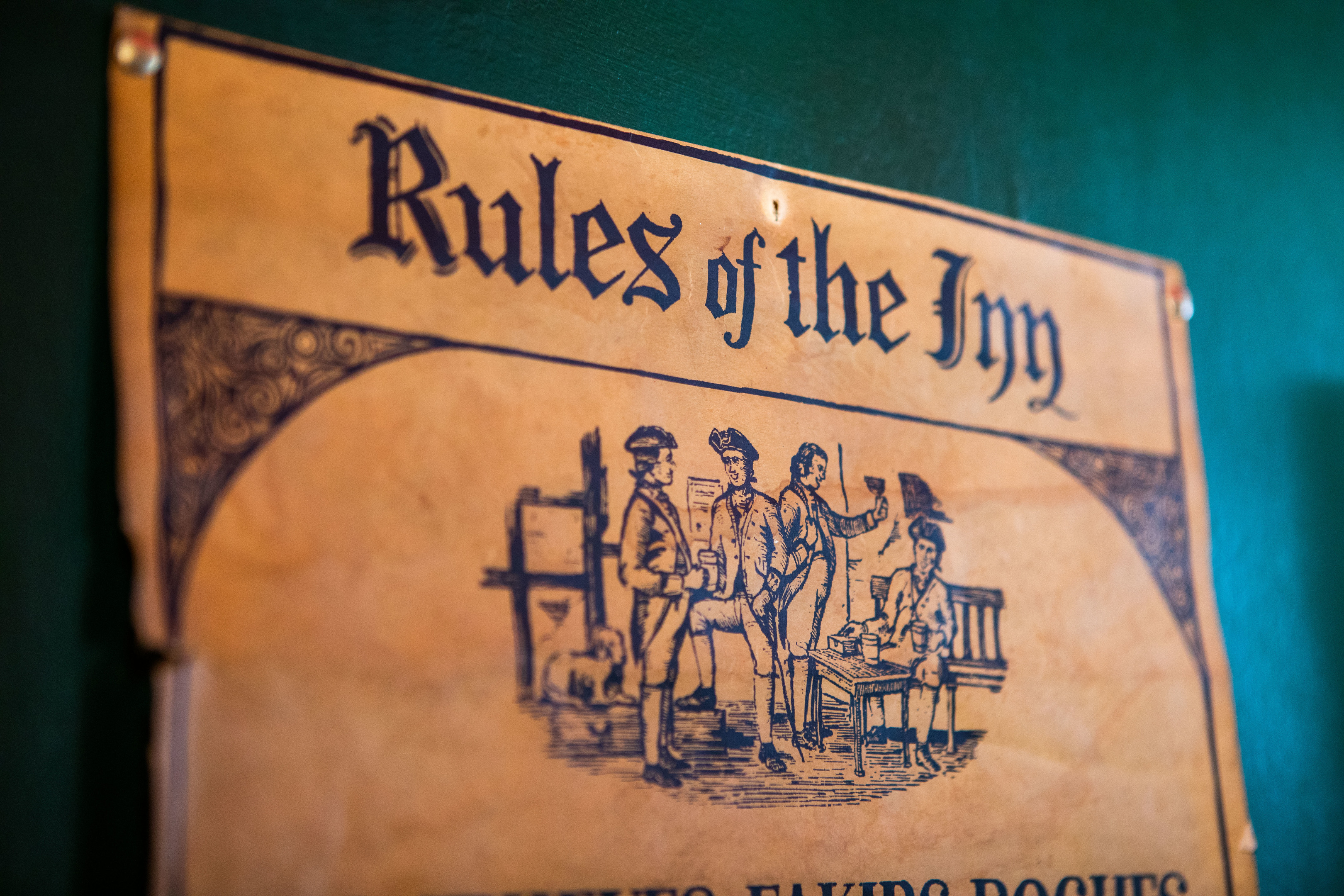 Having been shown to a table by a friendly waitress, we were presented with the menu, advised of the specials and asked to place our order at the bar when ready.
After dithering for a while we wandered through to the cosy bar area to place our order only to be greeted with a wet nose and waggly tail – a beautiful black Lab saying hello.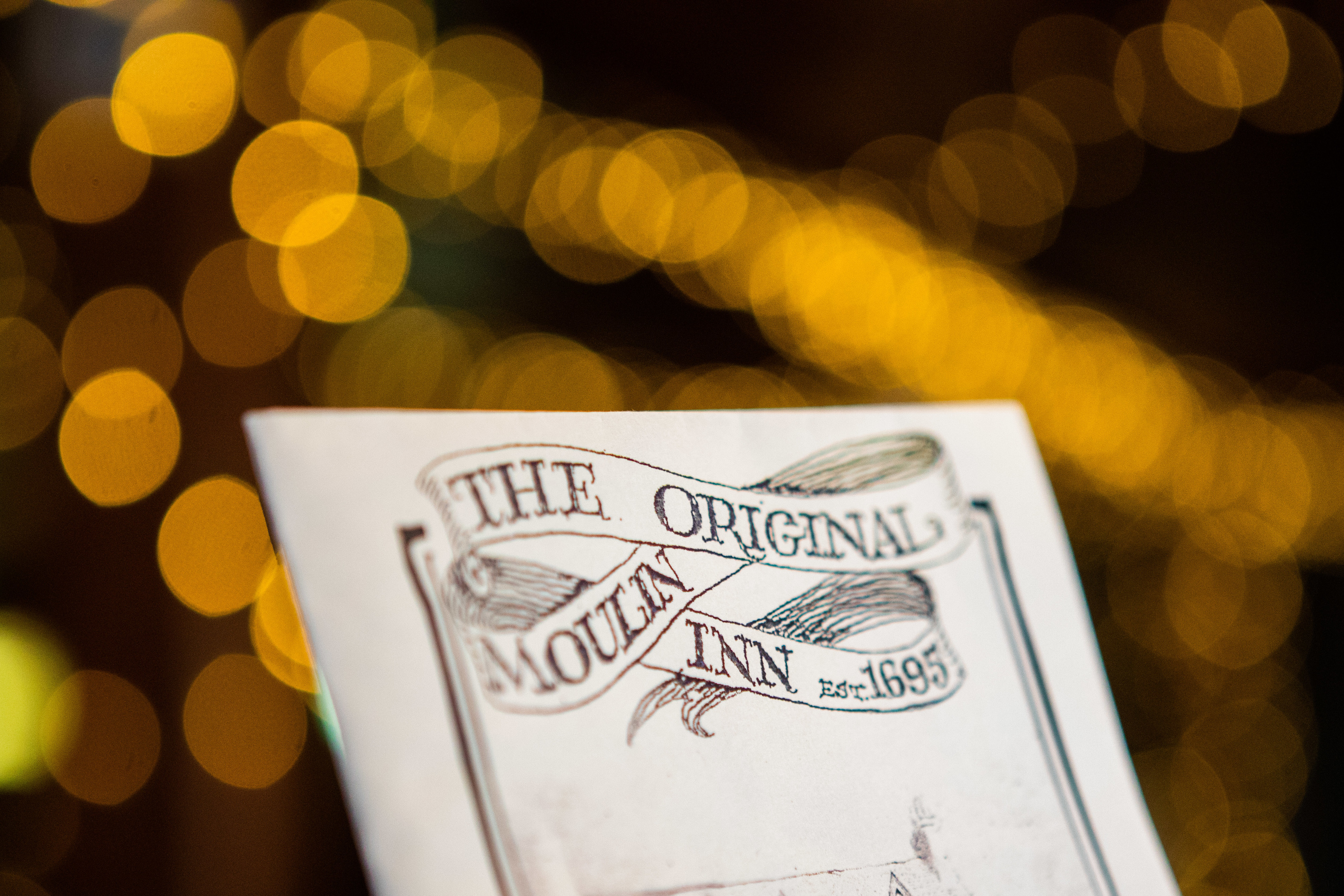 This bonnie lad was with a group of older, local gents who were clearly enjoying the craic, the warmth of the fire and the excellent selection of beers made at the inn's on-site brewery.
The inn also boasts a good selection of wines, with bottles priced from £18.95.
But on to the food which was, as we'd hoped, good pub grub.
I began with a starter of Arbroath Smokie pate with smoked salmon served with Melba toast and a nicely dressed salad of lettuce, cucumber, peppers, cherry tomatoes and red onions which were crisp and sweet but with a good kick of heat.
The pate had a delicious smokey flavour and went well with the more subtle flavours of the smoked salmon without overpowering it.
My other half loves a bowl of home-made soup and although tempted by the braised parsnip and apple soup of the day, ordered an old favourite – braised onion soup.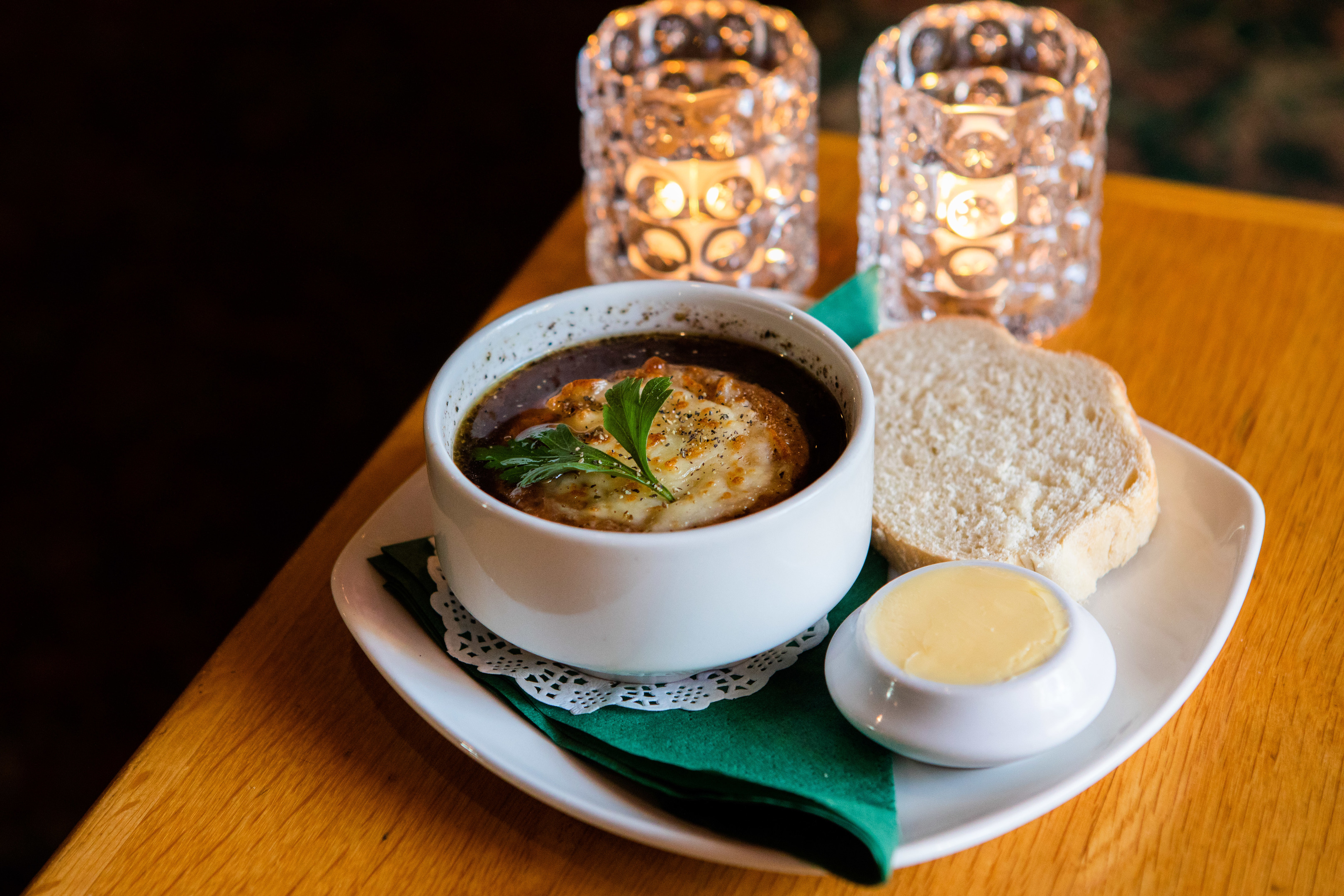 It hit the mark nicely.
The bowl was almost hidden beneath a lovely thick slice of bread topping it, all slathered in gooey, melting cheese, making this hearty bowl of soup almost a meal in itself.
Having begged for a spoonful, it reminded me of the onion soup served in Parisian cafes. Delicious but sometimes tricky to properly recreate at home.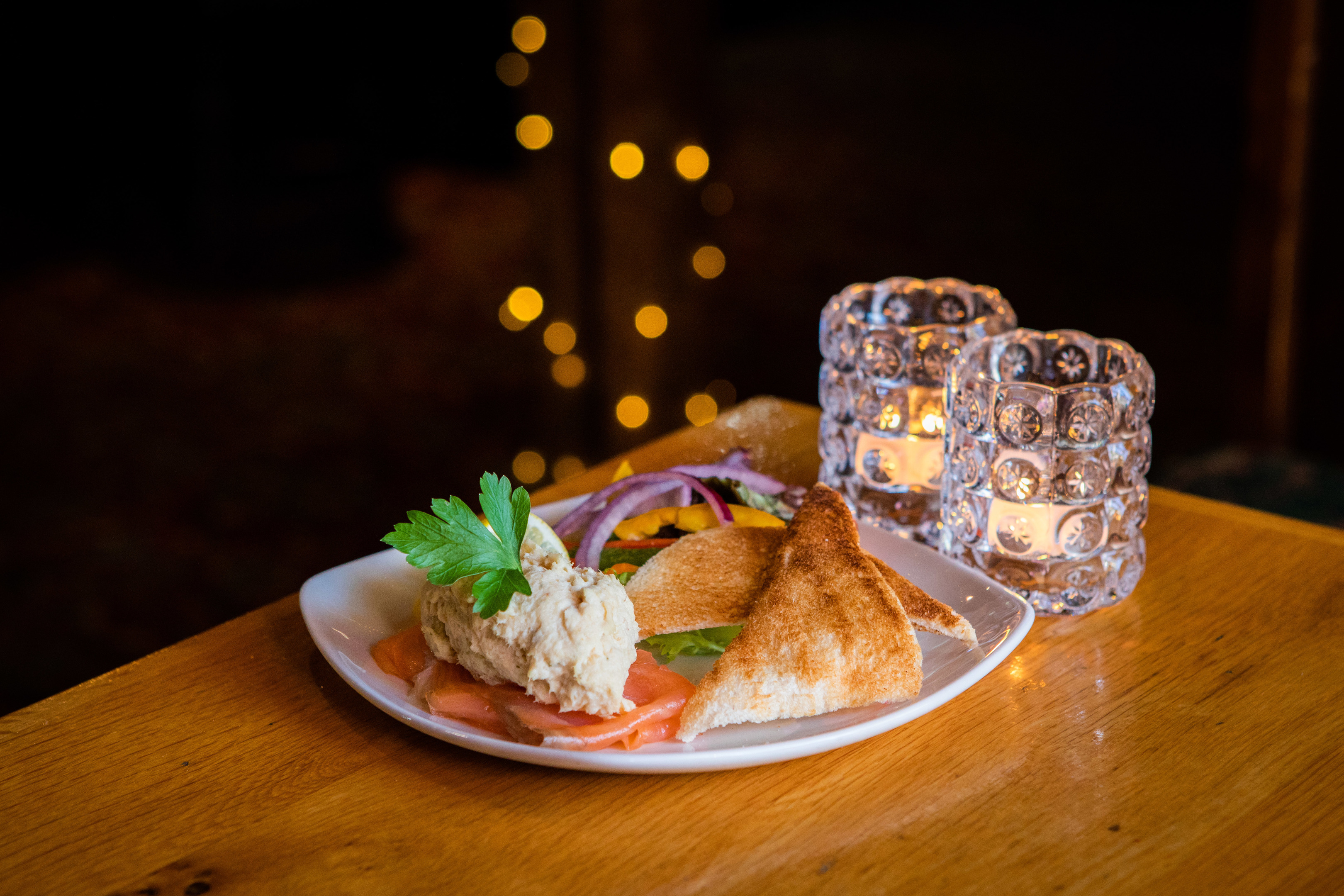 As this was a country pub, it felt only right to order the home-made game casserole so I plumped for that, but my other half went in the opposite direction and ordered the vegetarian haggis instead.
The casserole was a knock-out, with big chunks of rabbit, venison and partridge vying for attention in a rich, dark gravy so good I asked for a soup spoon to make sure I didn't leave any behind in the pot.
It came with a mountain of buttery mash, carrot batons and plump mangetout, all cooked perfectly.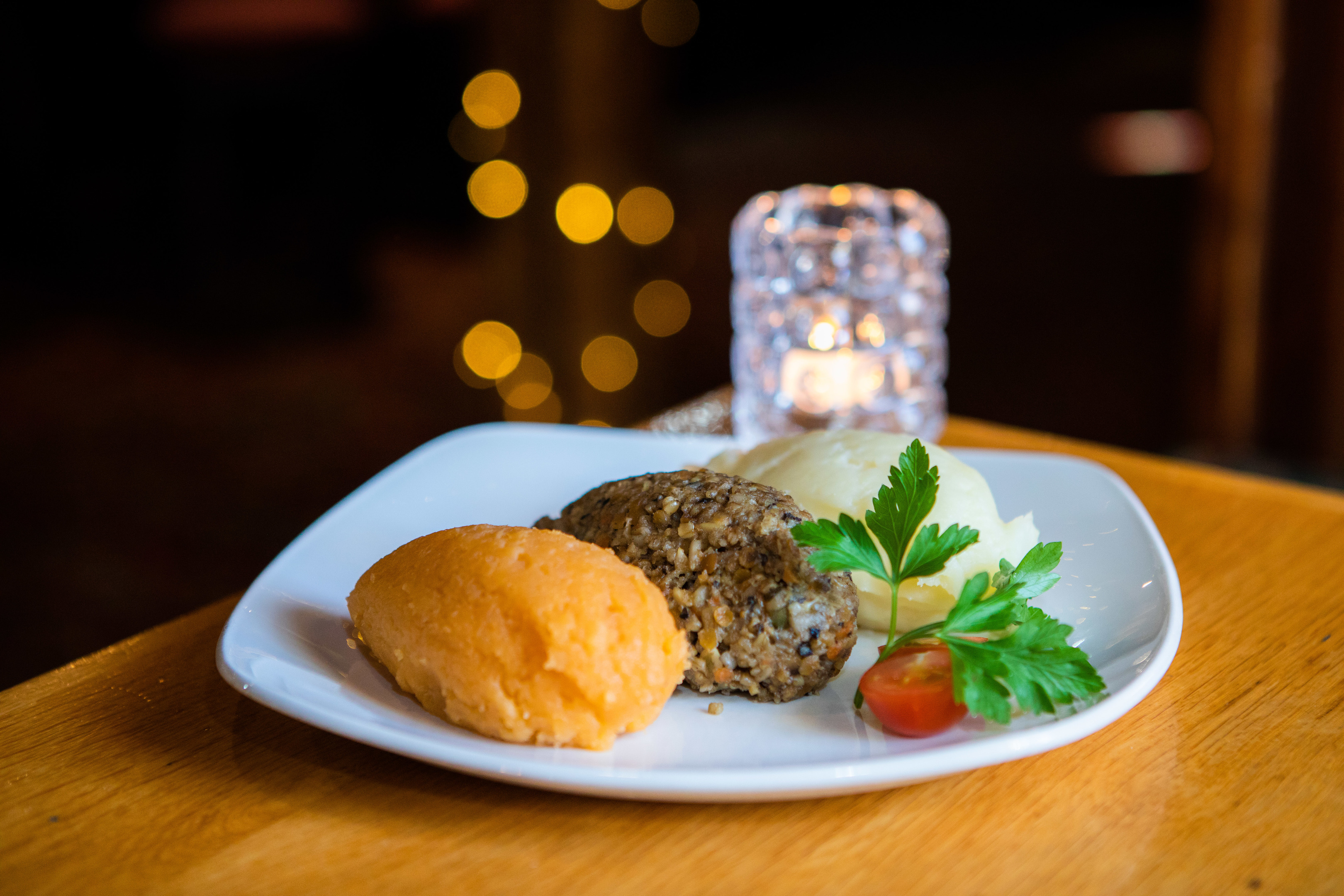 The veggie haggis was tasty but a little on the dry side and a splash of veggie gravy wouldn't have gone amiss.
It also came with good veg including really nice autumnal mashed swede and spuds.
By the time we'd finished eating we were packed to the gunnels, while the heat from the fire was making us feel a little sleepy.
It was awfully tempting to sit awhile, but there was a steady stream of customers coming in looking for a table including two lots of folk we knew from Inverness and hadn't expected to see there.
But a date with an Enchanted Forest awaited, which incidentally, surpassed my expectations.
We'll be back, hopefully to visit the woods, but most definitely to eat at the Moulin Hotel's inn once more.
---
The Moulin Hotel – Moulin, Pitlochry PH16 5EW
t: 01796 472196
Price: Arbroath Smokie pate £7.95; Braised onion soup £4.95; Game casserole £13.95; Vegetarian haggis £10.95; 1 Soda and lime £1.20; 1 pint Ale of Atholl, £3.60
Total: £42.60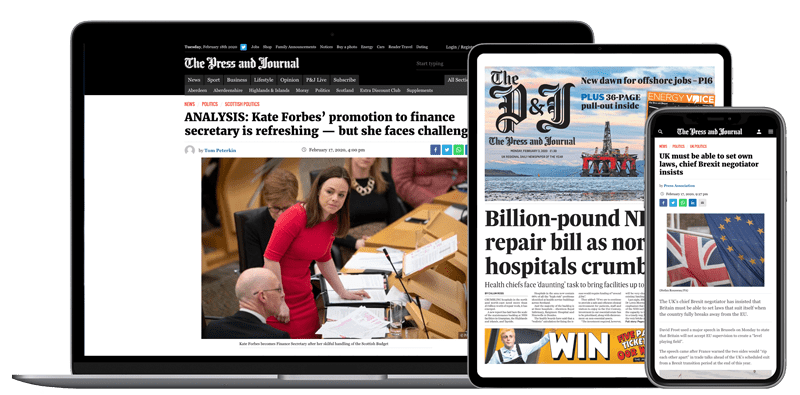 Help support quality local journalism … become a digital subscriber to The Press and Journal
For as little as £5.99 a month you can access all of our content, including Premium articles.
Subscribe