It's fun to be able to pull together a couple of showstopping dishes that can be served at a celebration dinner, whether that's a birthday, Christmas or New Year celebration.
Oysters always bring something special to such occasions and my version of Oyster Rockefeller, shown here, is a real showstopper.
It's nice to push the boat out now and again, and while this dish is sophisticated, it really only takes a little extra effort to create.
Serve the oysters with a chilled glass of Champagne, cava or prosecco and your guests will feel like billionaires!
Pudding today is a wonderful seasonal dish that's really easy to make at home.
Pears poached in red wine and spices have as much flavour as Christmas pudding, but make a much lighter dessert.
You don't need to use an expensive bottle of red wine for this recipe, but it should be a red that's nice and fruity.
The beauty of this pud is that once made, it can be kept in the fridge for up to four weeks making it a great standby for unexpected guests.
Oyster Rockefeller
Serves 4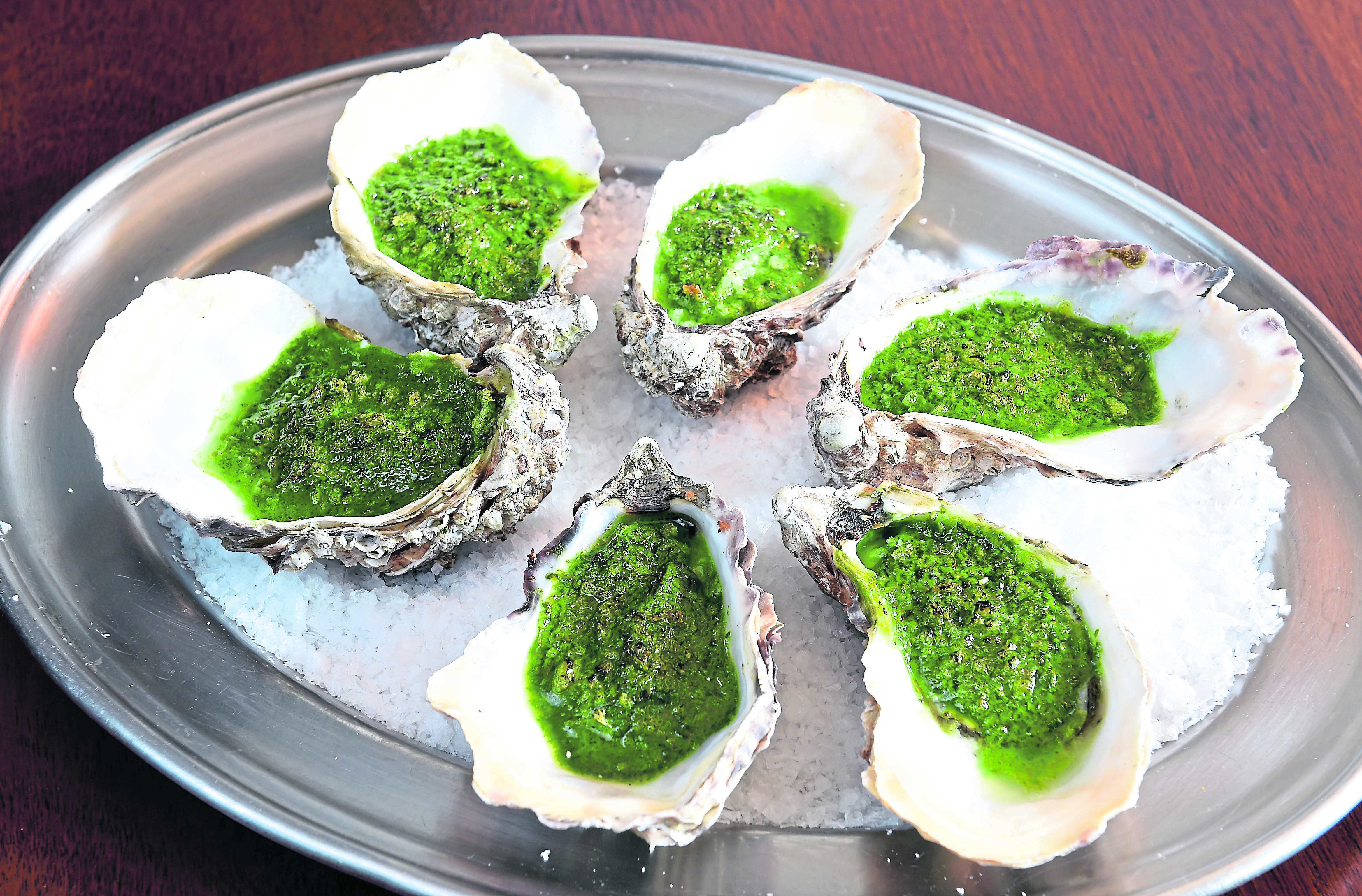 INGREDIENTS
12 rock oysters
150g spinach
100g watercress (or 100g more spinach)
75g butter, at room temperature
1 small shallot, finely chopped
2tbsp pastis (optional anise liquor)
10g parsley
A squeeze of fresh lemon juice
Tabasco (optional)
Rock salt, to serve
5tbsp dried breadcrumbs
DIRECTIONS
Carefully shuck the oysters and pour the liquid into a jug.
Blanch the spinach and watercress in boiling water for one minute then rinse under cold water and squeeze out well.
Melt 1tbsp of the butter in a small pan and soften the shallots until golden. Add the pastis and half the oyster juices (passed through a sieve) and bubble until reduced by half. Allow to cool a little.
Puree the squeezed-out greens, shallot mixture and herbs with a food processor or a hand blender, then add the remaining butter and a good shake of Tabasco and pulse to combine. Season with a squeeze of lemon juice.
Heat the grill and arrange the oysters on a heatproof platter covered in rock salt (this will keep them steady). Top each with a generous spoonful of the mixture and flatten down to coat. Sprinkle with breadcrumbs and then grill for about 3-4 minutes, watching all the time, until the breadcrumbs are golden and the butter is bubbling.
Spiced poached pears
Serves 4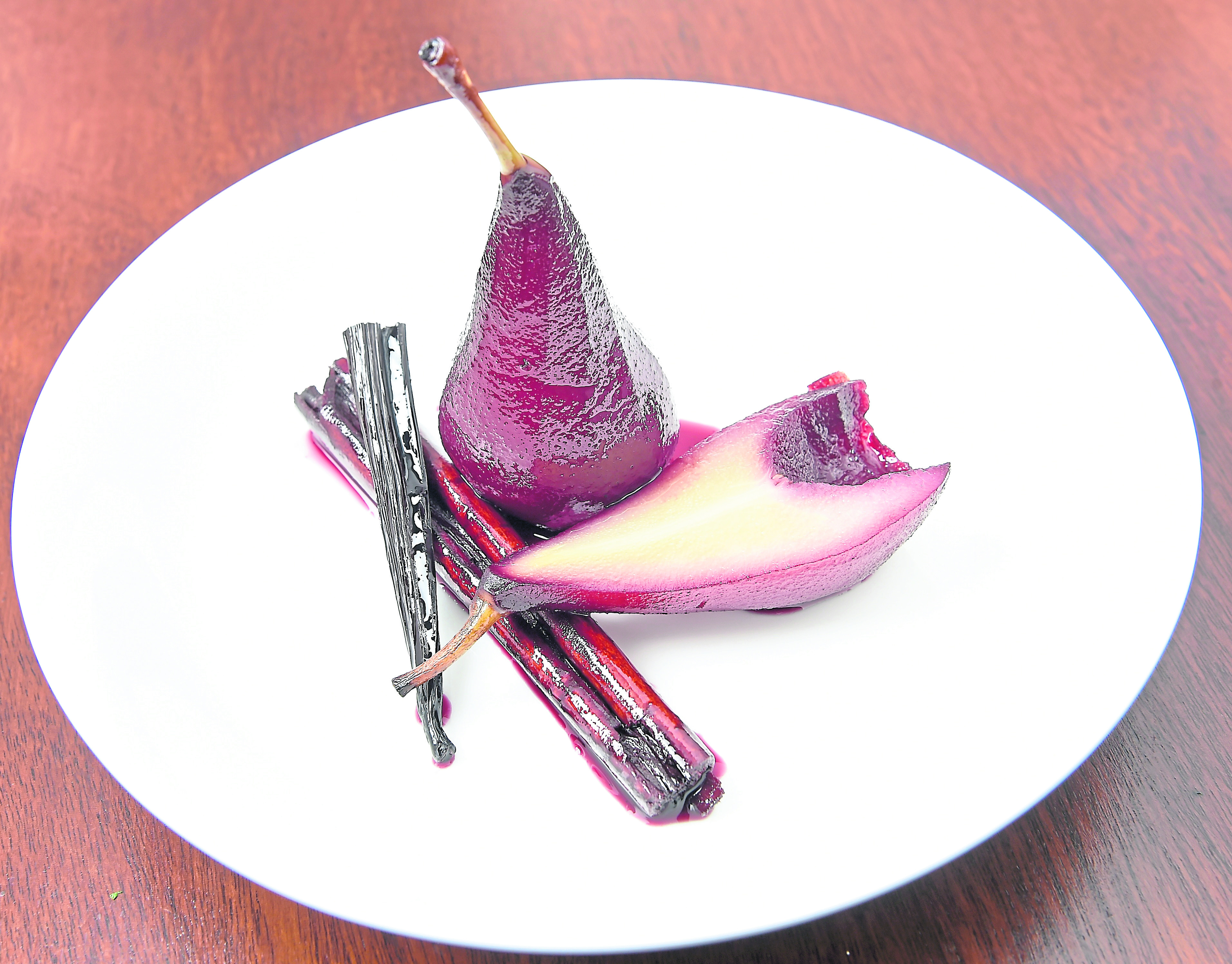 INGREDIENTS
1 x 750ml bottle of soft, fruity red wine
125g granulated sugar
2 cloves
1 star anise
1 stick of cinnamon
1 strip of orange zest
1 vanilla pod, split (optional)
4 under-ripe pears, comice or williams
DIRECTIONS
Heat the oven to 180°C/gas mark 4. Put the wine in a pan with the sugar, spices and zest and bring to the boil, stirring occasionally to dissolve the sugar.
Meanwhile, peel the pears and cut out the core at the base, but leave the stalk intact. Find an ovenproof dish just wide enough to hold the pears in one layer and lay them in there.
Pour the spiced wine over the top – it should just cover the fruit – and cover.
Bake for about an hour, checking after 45 minutes; once the fruit is tender to the point of a knife, but still holds its shape, lift it out of the liquid and set aside.
Pour the liquid back into the saucepan and bring to the boil. Reduce by about half until syrupy. Pour the sauce back on to the pears and serve warm or cold with any kind of cream you fancy. Also delicious with blue cheese!