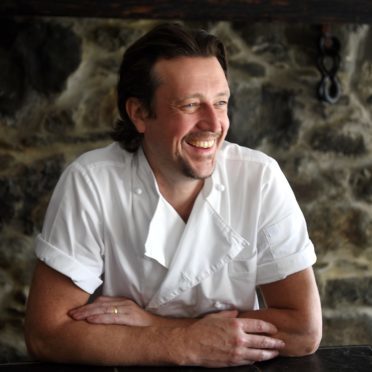 Mulligatawny soup is a Colonial dish, one that has its roots in the heat of India and adapted to suit British tastebuds.
On a cold winter's day, after a bracing walk, there's nothing nicer than returning to the house and sitting down to a warming bowl of this gently spiced soup which is made with  ginger, garlic and chilli – some of our favourite spices!
It's also a great way of using up the last of the Christmas turkey and any leftover vegetables.
You can adapt this recipe to suit whatever bits and bobs you have to hand as it's the spices that make it delicious.
Today's second recipe, scallops with spiced coconut lentils, may sound complicated, but it's very simple to prepare – it's the ingredients that make it extra special.
This is an excellent fish course for dinner parties and has a wonderful combination of flavours – earthy thanks to the lentils and sweet because of the scallops.
Use Scottish hand-dived scallops and take them out of the fridge in advance, so that they are at room temperature, before cooking them.
Puy or green lentils are readily available everywhere, or alternatively use ready-cooked lentils to make it an even quicker dish.
Turkey mulligatawny
Serves 4-6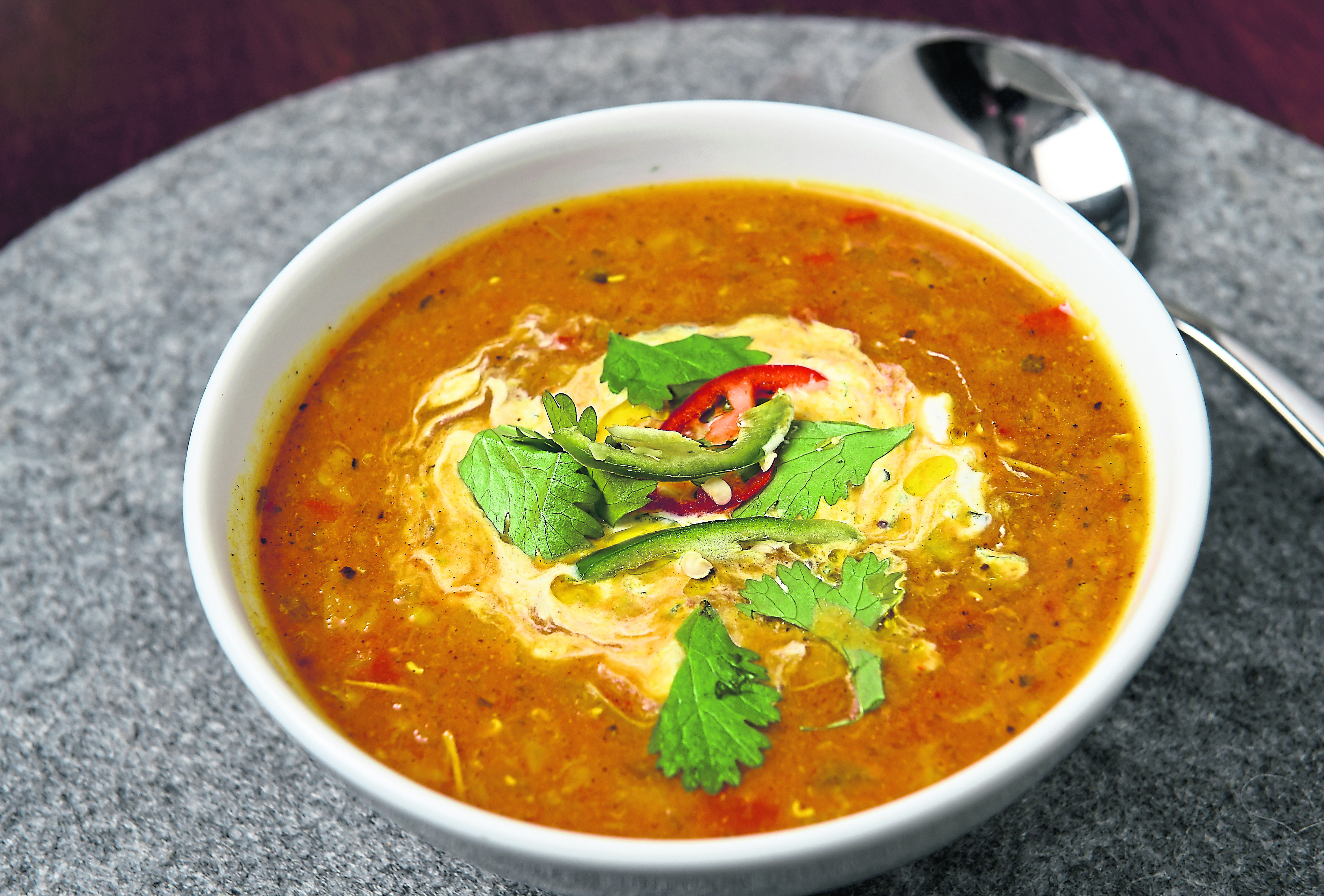 INGREDIENTS
2tbsp ghee or coconut oil
1 onion, finely sliced
1 carrot, diced
1 parsnip, diced
1 celery stick, diced
4 garlic cloves, crushed
2tbsp finely grated fresh ginger
2½tsp Madras curry powder
½tsp cayenne pepper
1½ltr good-quality chicken stock (or vegetable if preferred)
200g left-over turkey meat (optional)
150g masoor dal (split orange lentils)
4tbsp flaked almonds
100ml hot milk or water
1tbsp lemon juice
1-2tbsp mango chutney (optional)
Small bunch of coriander, roughly chopped, to serve
DIRECTIONS
Heat the fat in a medium saucepan over a medium heat and add the onion.
Cook for about five minutes until soft and golden, then add the carrot, parsnip and celery and cook for another five minutes.
Scoop out the veg and set aside.
Add the garlic and ginger and cook for a minute or so, then add the curry powder and cayenne pepper and stir for a minute.
Pour in the stock, add the dal, bring to the boil, then turn down the heat, and cover.
Simmer for around 35 minutes.
Meanwhile soak the almonds in the hot milk or water.
Blitz the soup with a hand blender until smooth, then whizz the almonds to a puree and whisk them into the soup.
Add lemon juice and salt to taste.
Stir in the chutney if you prefer it sweeter (keep tasting).
Add the turkey meat to the soup along with the reserved vegetables and gently bring back to a simmer.
Divide between bowls and garnish with the coriander.
Hand-dived scallops with spiced coconut lentils
Serves 4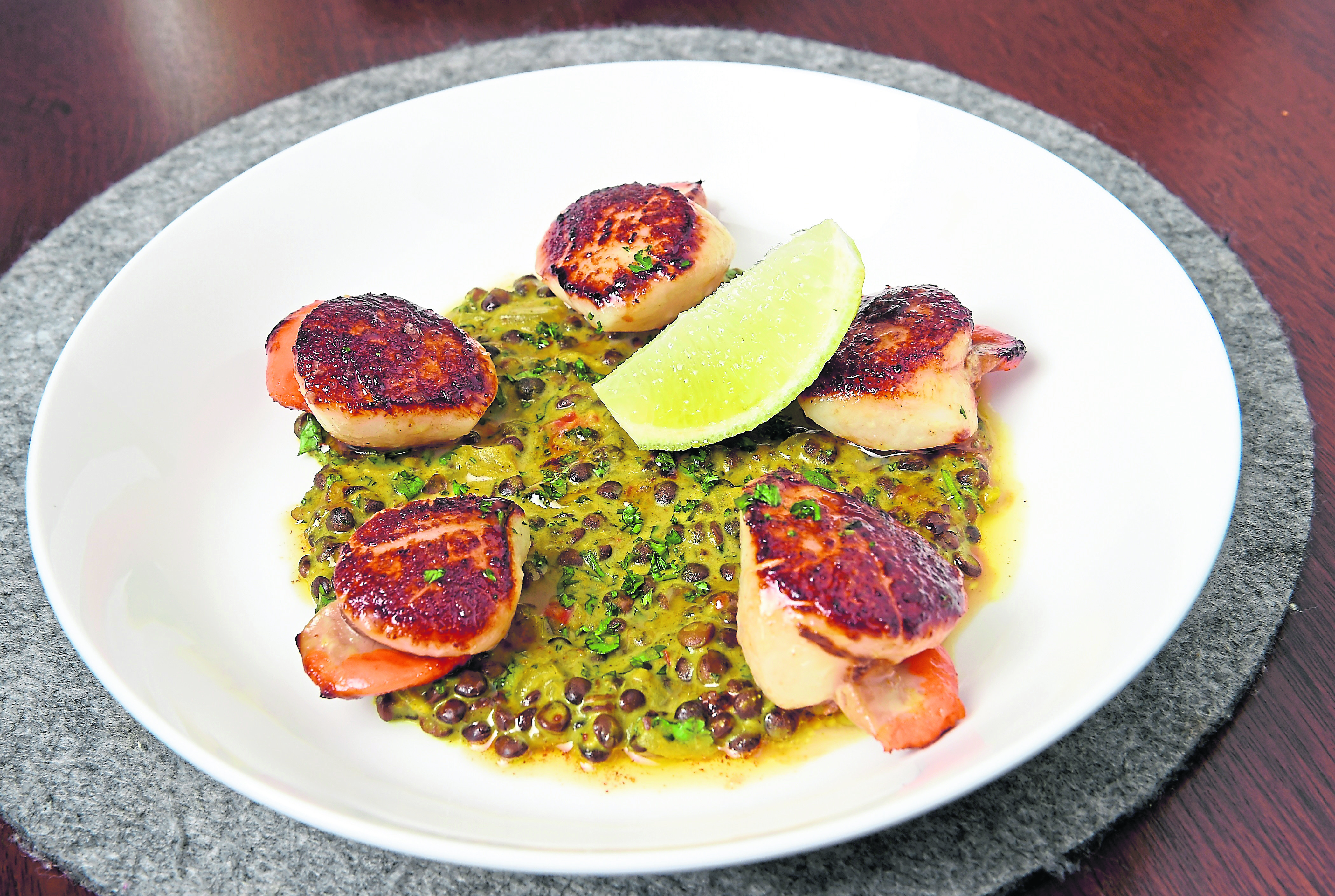 INGREDIENTS
12 hand dived scallops, freshly shucked and cleaned
Rapeseed oil for frying
For the sauce:
150g cooked green lentils (Puy if possible)
Half an onion, peeled and chopped
1 large garlic clove, peeled and crushed
1 knob fresh ginger, peeled and chopped
1tsp cardamom seeds, crushed
1 red chilli, deseeded and finely chopped
1tsp favourite curry powder or spice mix
2tbsp tomato passata
1 tin light coconut milk
Juice of half a lemon
1 small bunch fresh coriander, chopped
DIRECTIONS
Fry the onion gently in some oil until soft and a little golden.
Now add the garlic, ginger and chilli and continue to fry for another minute.
Add the spice mix and crushed cardamom and allow the mixture to cook off the heat for a few seconds.
Next add the passata and coconut milk and bring to a simmer for three minutes, stirring occasionally.
Now stir in the cooked lentils.
Season with the lemon juice and add the fresh coriander.
Moderately heat a large non-stick frying pan with a little oil, until the oil just begins to smoke.
Carefully add half the prepared scallops and fry on one side, without moving, until they start to colour at the edges.
Flip the scallops and continue to cook for another 30-45 seconds.
Remove from the pan, drain on some kitchen towel, and keep warm while you repeat with the remaining scallops.
On warm plates, spoon some lentils into the centre then place the cooked scallops on top and serve.