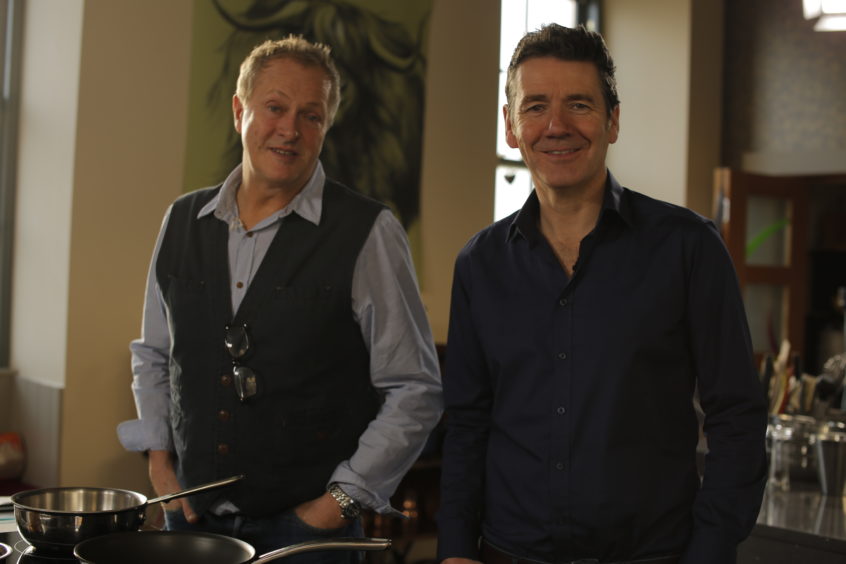 Dougie Vipond admits that he sometimes wakes up and rubs his eyes in astonishment at how fortunate he has been throughout his diverse career.
Whether performing with chart-toppers Deacon Blue, presenting TV programmes such as "Landward" and "The Adventure Show", or covering football and rugby, Dougie has become one of the most ubiquitous figures on our TV screens.
Yet, rather like golfer Gary Player, the more he practices, the luckier he gets, and he will take a starring role with chef Nick Nairn in a new series "The Great Food Guys" on BBC Scotland next week.
The shows were filmed at a specially-created kitchen on the Fasque estate in Fettercairn in Aberdeenshire last month and they combine culinary treats and food expertise with snappy banter and a message or two.
Dougie said: "Basically, we're on a mission to highlight the great range of food which is produced in Scotland and emphasise the fantastic variety which is here on our doorstep.
"I've been involved with 'Landward' for 10 years now and one of the most popular features on that was the Food Van, so Nick and I have plenty of experience of working with one another and we have a terrific time.
"Sometimes in Scotland, we don't blow our own trumpet enough about our world-class produce and so much of it is in plentiful supply and affordable, so it wasn't difficult for Nick to come up with innovative recipes.
"Filming the programme was a joy, because Nick is a good guy to have in your corner when you are looking for quality food. The weather was nice in the Shire as well and the snow gates only closed after we had finished."
There was an element of tristesse amid the laughter, as the cameras rolled. The death of Michelin-starred chef, Andrew Fairlie, at just 54, cast a pall over the crew and Nick's father, Jimmy, died a few weeks later.
Dougie said: "Andrew was a good friend of Nick's and it was desperately sad news when we heard he had passed, so we had to keep our chins up and I know it affected Nick.
"It was obviously hard when his dad died so soon after that, and we have all tried to pull together and just be there for him."
Dougie never has much time to stand around and contemplate his life. On the contrary, his packed schedule means he is forever rushing from one assignment to another.
But he had some news which will delight those who revelled in such Deacon Blue classics as "Dignity", "Chocolate Girl" and "Fergus Sings the Blues."
He added: "Later this year, we will be releasing a new album and we are clearly excited about that, on the back of our tour of the UK and Ireland last year.
"We are also planning to pop off to Australia for some concerts and the diary is pretty packed.
"It is busy, busy, busy, and I know that I've been extraordinarily lucky."
"The Great Food Guys" is on BBC Scotland on Tuesday, February 26 at 7.30pm.