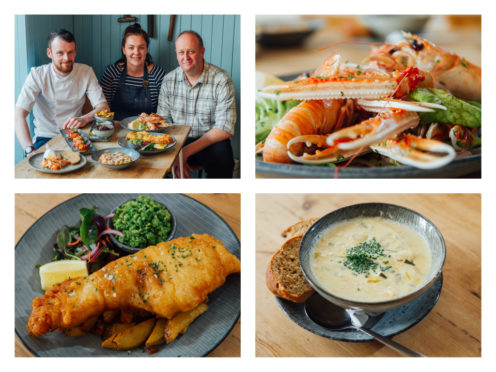 I remember visiting Burghead as a kid and loving the mixture of beach, rockpools and busy harbour, and the way the houses seemed to huddle together for shelter in some of the narrower streets.
I'm too old now to plowter about there with a bucket and spade, but I've found a reason to visit Burghead again – the Bothy Bistro on Grant Street.
In fact, I enjoyed eating there so much the first time that I paid a second visit there the following month.
The first visit was as part of a group attending an event elsewhere but lunching there.
It was a tapas-style affair which let us sample a range of dishes from the menu including glazed Morayshire ham hough; home-made chicken liver pate; smoked mac and cheese croquettes with a tomato fondue and gypsy eggs – that's ham, eggs and chorizo baked in a tomato sauce.
It was great from start to finish, which is why I was keen to return under my own steam.
The bistro is owned by local couple Ruth and Barry Scott, who also have the West Beach Caravan Park in Hopeman.
They've turned a former library into a really nice venue, full of quirky features, many of which reflect the town's fishing heritage.
The building is easily spotted as it's painted a nice blue colour and the lower half of the windows are dressed with a blue wave design.
Inside, the main room has a big wooden counter/bar at one end, equally well stocked with cakes and Scottish gins, and at the other end a grand wood-burning stove which was throwing out a good heat.
Walls are adorned with nicely framed pictures of old Burghead and an eclectic mix of old implements, including spades for cutting peat, and boat hooks.
There's an adjoining cosy seating area, another bright and spacious dining area with old church pews and funky seafaring wallpaper, and a nice courtyard for fine weather days.
We'd booked in advance which proved a wise decision as even midweek it was busy.
We were warmly greeted, shown to our table, told of the day's specials and presented with the lunch and drinks menus.
When my partner spotted Cullen skink, he immediately plumped for it.
Served with thick oatcakes and room temperature butter (full marks for that), the soup was thick and creamy with plenty of chunky potatoes and smoked fish to make it a really filling and warming dish.
It was, he declared, the best restaurant version of Cullen skink soup he'd tried.
High praise indeed.
My starter was smoked salmon cured in a Torfa Glenglassaugh single malt whisky, served with Bothy spelt and rye bread, and dressed with delicate rings of red onion, teeny capers and fresh lemon.
The smoked salmon, cured in Portsoy, is divine, with a lovely silky texture and lingering smoky aftertaste.
Very, very moreish.
For mains, I had battered Peterhead haddock and chips with crushed peas and a chunky, homemade tartare sauce.
Proper chips with the skin on, plus two single fish wrapped in a delicious, feather-light batter, and peas so fresh they tasted like they'd just been popped from the pod.
I felt like I'd picked the best dish, but my other half disagreed as he was tickled pink with his mac and cheese, topped with a herb and brioche crumb dressing.
He took great delight in showing me how much cheesy goey-ness each forkful contained before demolishing it while I waved the "proper" chips at him.
We're such a class act…
Too full for a pud, we settled on coffee and paid the bill, and on learning our next stop was to be in Lossiemouth, the waitress suggested we visit Miele's for an ice-cream.
Nice to hear one local business recommending another.
THE RESTAURANT
Bothy Bistro
16 Grant Street, Burghead IV30 5UE
t: 01343 830006
THE BILL
Cullen skink, £6
Torfa smoked salmon, £9
mac and cheese, £10
haddock and chips, £12
soda and lime, £1.75
Fentimans Ginger Beer, £2.45
coffee x 2 £4.95
Total: £46.15