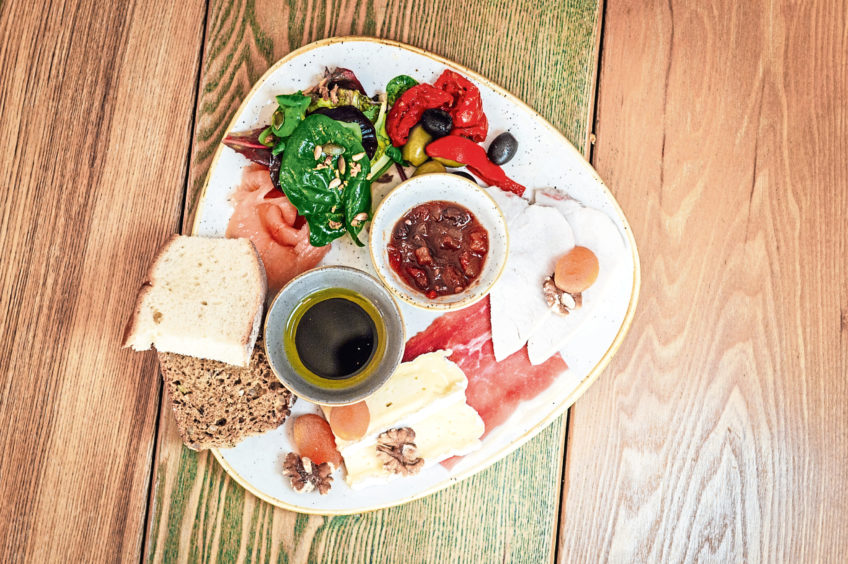 It was a cold day outside which made the warmth of the smile that greeted us even more heartening.
We immediately knew this was a place where our business was really appreciated.
It had been a few years since we had visited Grantown-on-Spey, and this eatery was a new addition to the High Street since then, although it's apparently four years or so since it opened. I must get to Grantown more often, I said to myself, how had we left it so long? Returning soon will be an easy choice if it's going to involve eating here again.
The High Street Merchants is somewhere between a café and a restaurant with a mixture of dining tables and easy chairs for coffee and cake. A wood-burning stove ensured the whole place was cosy on this chilly day.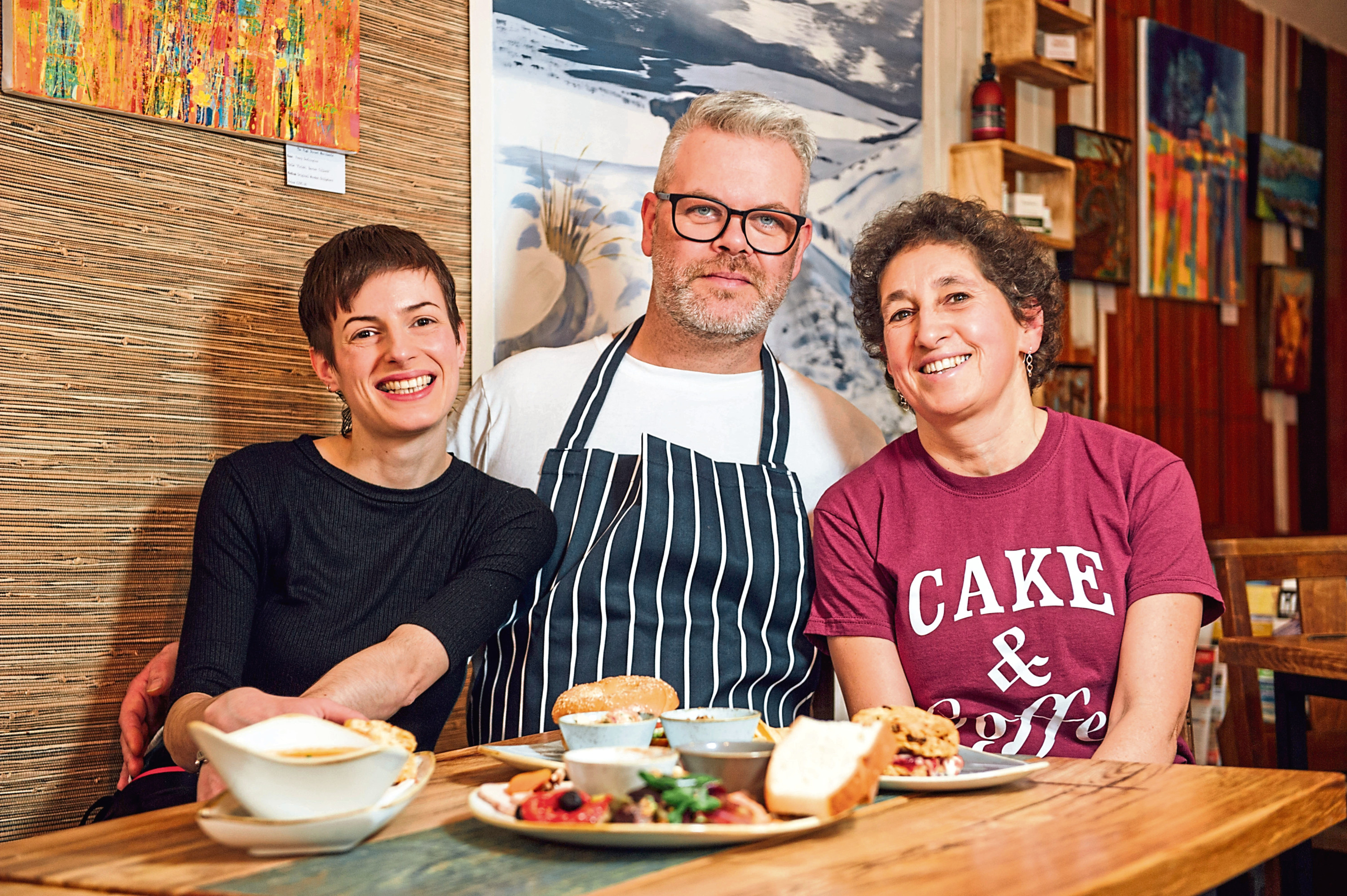 The furniture and décor was a quirky and charming mix of old and new with some lovely wooden tables and old chairs. Stunning wildlife photography lined the walls, along with paintings by local artists. They were all for sale as the café doubles as a gallery.
The menu was interesting with a range of platters including cheese and vegan options. The specials included haunch of venison and butcher's sausages with mash. The dishes were focused on local ingredients and contained some usual – and not so usual – types of burgers. I opted for the Merchants Platter with a tasty selection of smoked salmon, serrano ham, Highland cheese and turkey breast with Mediterranean nibbles. The locally produced Achnahannet chutney merits a special mention.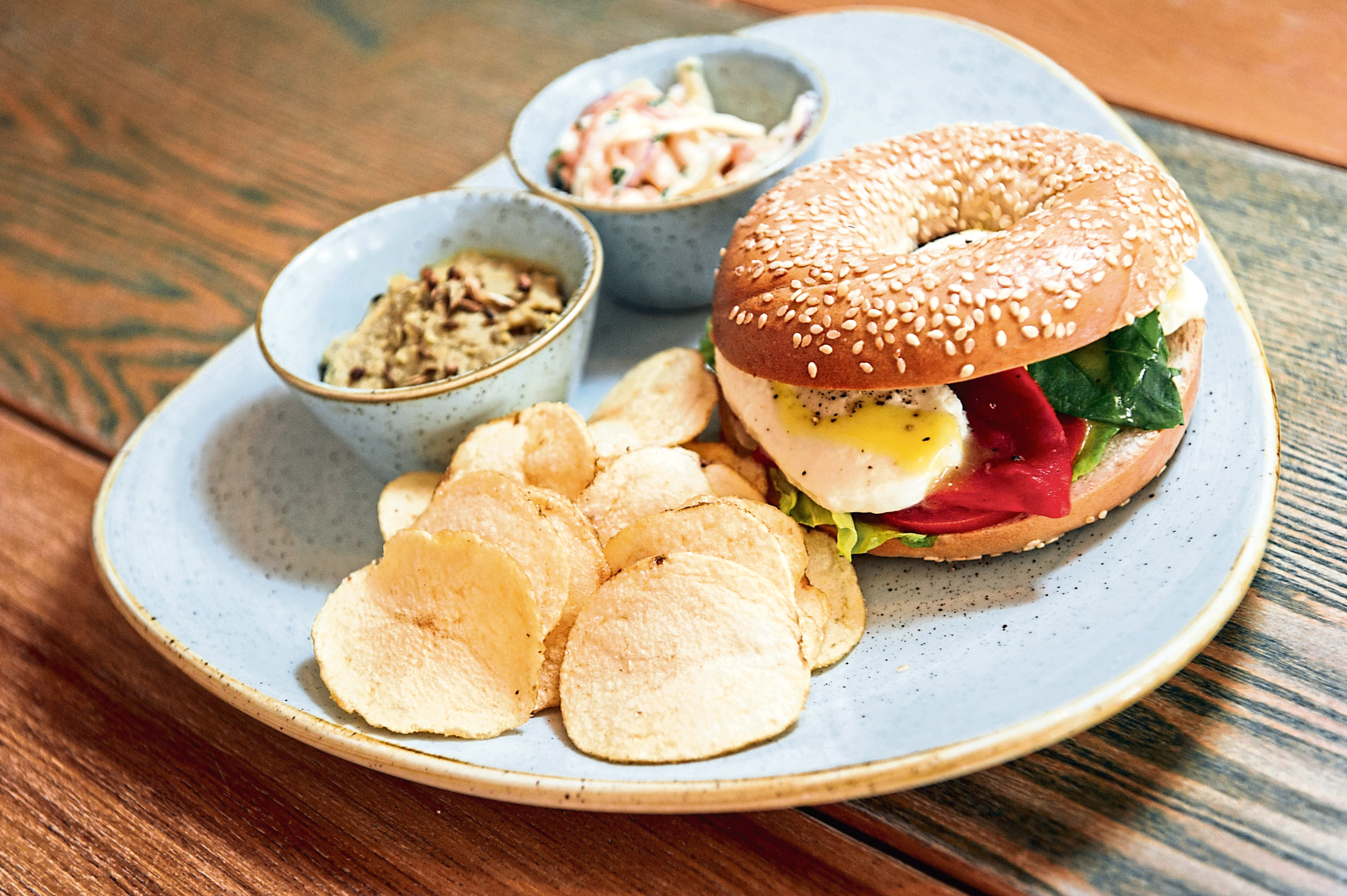 My partner for once went for the lighter lunch option with a turkey bagel. But this was much more than a simple bagel. The moist turkey breast was accompanied by Brie and cranberry, lemon and mustard mayo, coleslaw and hummus – all with a sun dried bagel. Other varieties of bagel on offer were sesame seed, wholemeal and gluten free. Bagels can be dry but he declared this one of the best he had ever tasted. There was a good selection of vegetarian food and those with food allergies were well catered for.
We had started the meal with two hearty bowls of tomato soup along with thick slices of both white and brown home-baked bread. Just what was needed as the snow had started to fall outside.
The High Street Merchants is clearly a popular venue with visitors and locals alike. It was a bustling place and all the tables were occupied. There were people coming and going all the time. As well as serving home baking and lunches, it's open for evening meals at the weekends and for longer hours at the height of the season.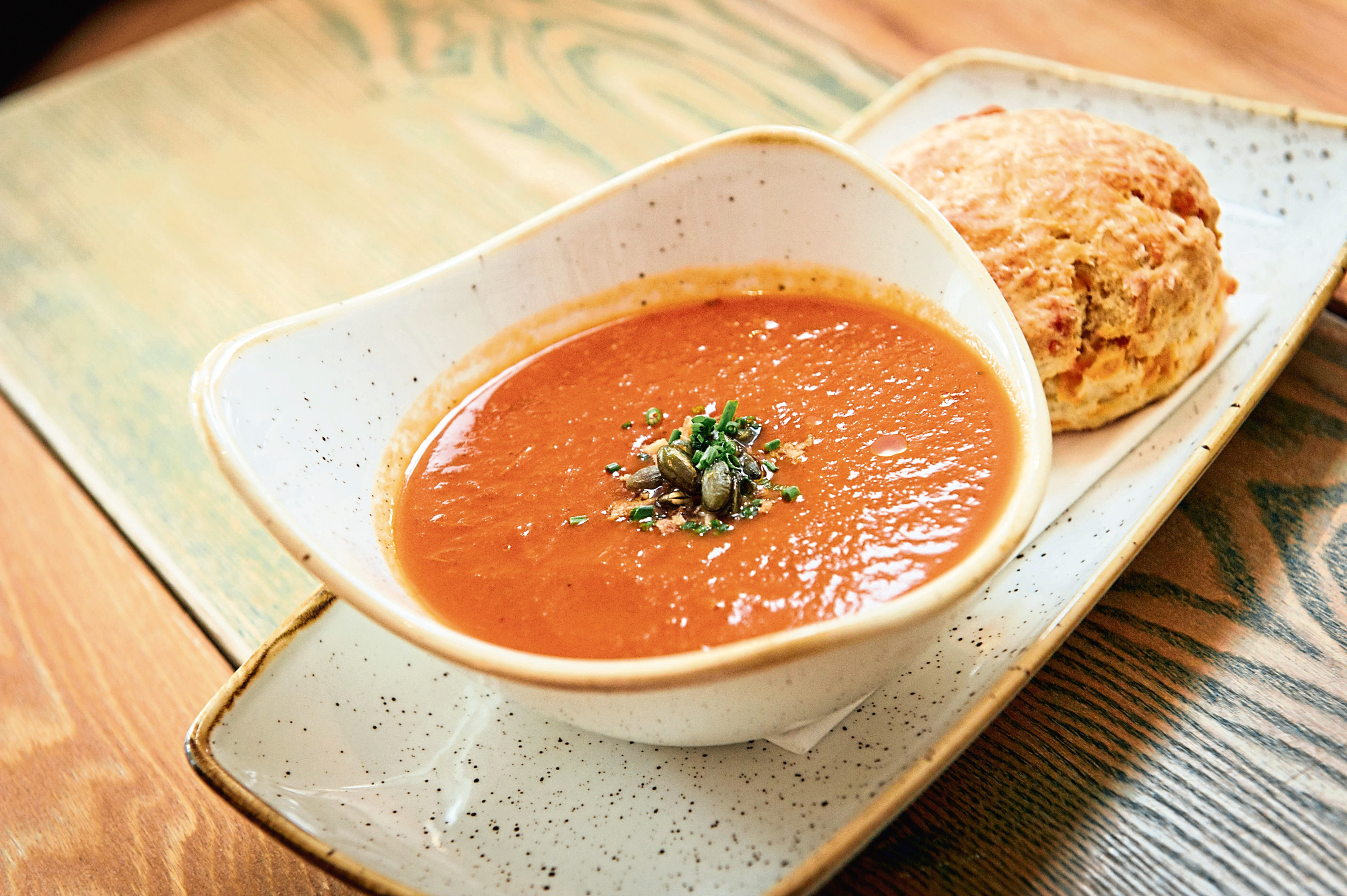 The wood-burning stove at the far end with its comfortable leather sofas seemed to be a particular draw for the local community. Outside was a charming little courtyard garden, although it would have been a very hardy soul who spent any time out there at this time of year.
Grantown-on-Spey is a lovely place to wander around – it must surely be one of the prettiest towns in the Highlands, if not Scotland. It still retains independent shops on its High Street and even boasts a bookshop which has been there as long as I have been visiting, surviving against all odds.
The town celebrated its 250th anniversary a few years ago. Named after the local landowner who then occupied nearby Castle Grant, it's a fantastic example of a planned town with its wide streets, splendid buildings and open squares. The planning was meticulous as even the forests encircling the town were planted to provide timber for the local community. I've always found it an incredibly friendly place with the traditionally warm welcome we expect from the Highlands.
We'd thoroughly enjoyed our meal, but the best was yet to come. We had spotted the home baking on our way in and knew we had to leave some space to enjoy some. There was a vast array of cakes and tray bakes and it was hard to make a choice. My partner opted for the wonderfully named Big Al's Victoria Sponge. The icing was rich and the sponge delightfully moist. I had a scone packed with fruit. Best of all the butter and raspberry jam came in little bowls, not wrapped up in plastic.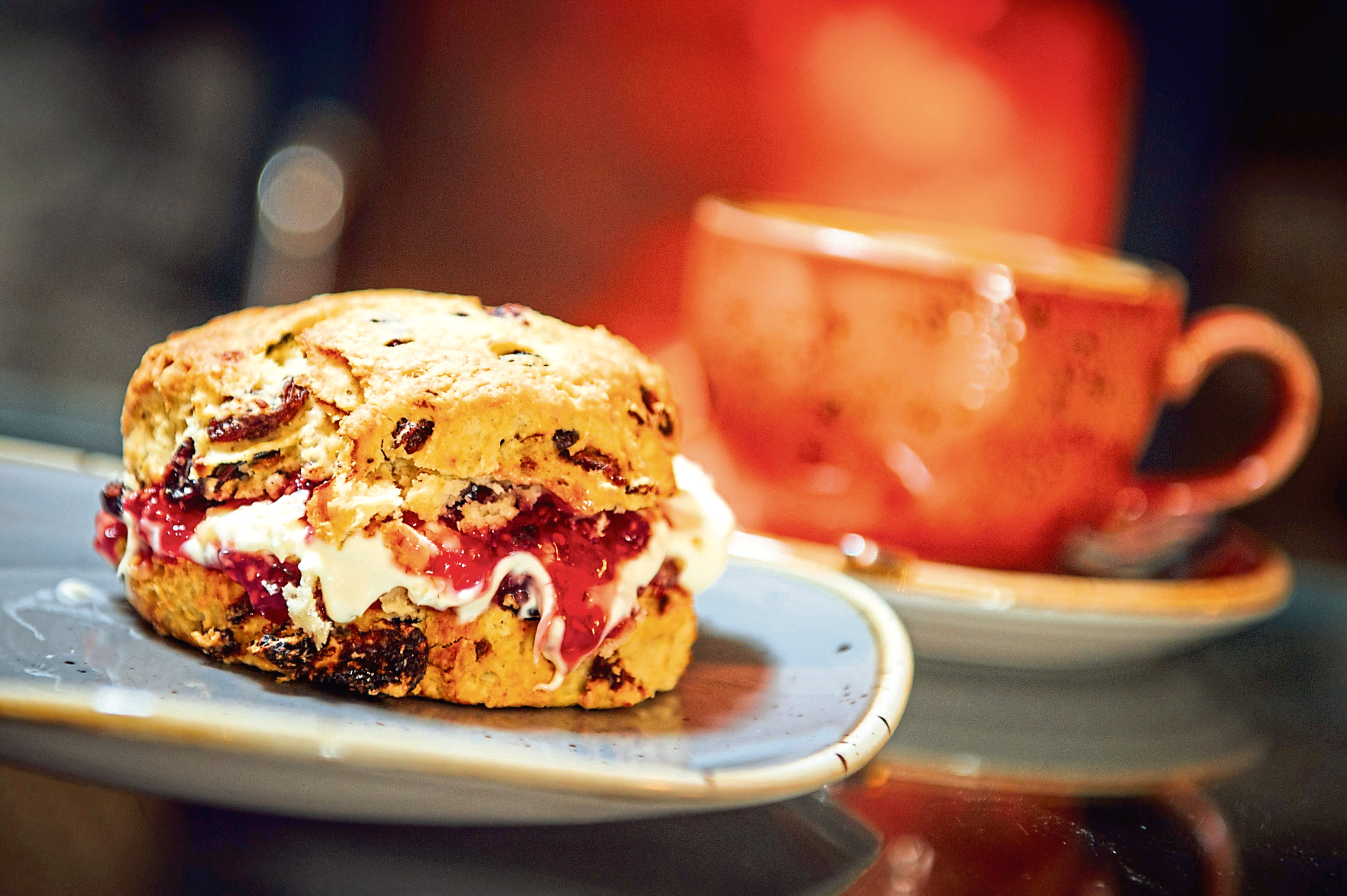 It was a great end to a fantastic meal in attractive surroundings and the best the Highlands has to offer – great food, efficient service and a warm welcome.
Our drive home was gloriously scenic and not too hazardous as the snow, which had continued to fall throughout our meal, was not lying in any serious way. Indeed the memory of a lovely meal remained long after the last of the snow had melted.
THE RESTAURANT
The High Street Merchants
74-76 High Street, Grantown-on-Spey PH26 3EL
t: 01479 872246
w: www.thehighstmerchants.com
THE BILL
Price: Tomato soup x 2 £9.50;
Merchants Platter £9.50;
Turkey bagel £8.75;
Big Al's Victoria Sponge £3.50;
Fruit scone £2.50;
Pot of tea x 2 £3.60;
Sparkling water £1.75
Total: £39.10