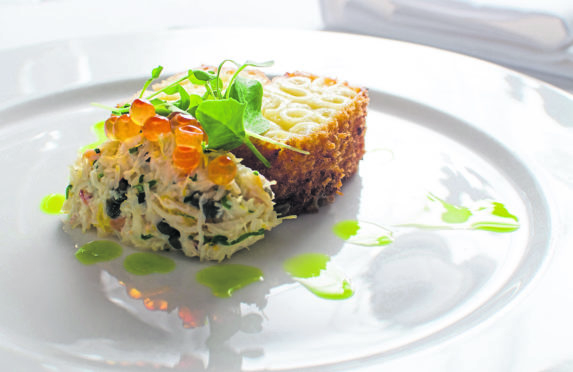 Dornoch Castle Hotel restaurant has been refurbished and now bears the name of head chef, Grant MacNicol.
Having trained at North Highland College, Grant, 35, started his career at the hotel in 2004 as sous chef but left to build up a fine reputation as a Highland chef to watch.
Now that he is back at the hotel, local produce remains to the fore in Grant's menus which include a six-course tasting menu; a la carte menu; new two-course seasonal lunch menu; and afternoon tea.
Here are two shellfish recipes to try at home:
Hake with langoustine and bisque foam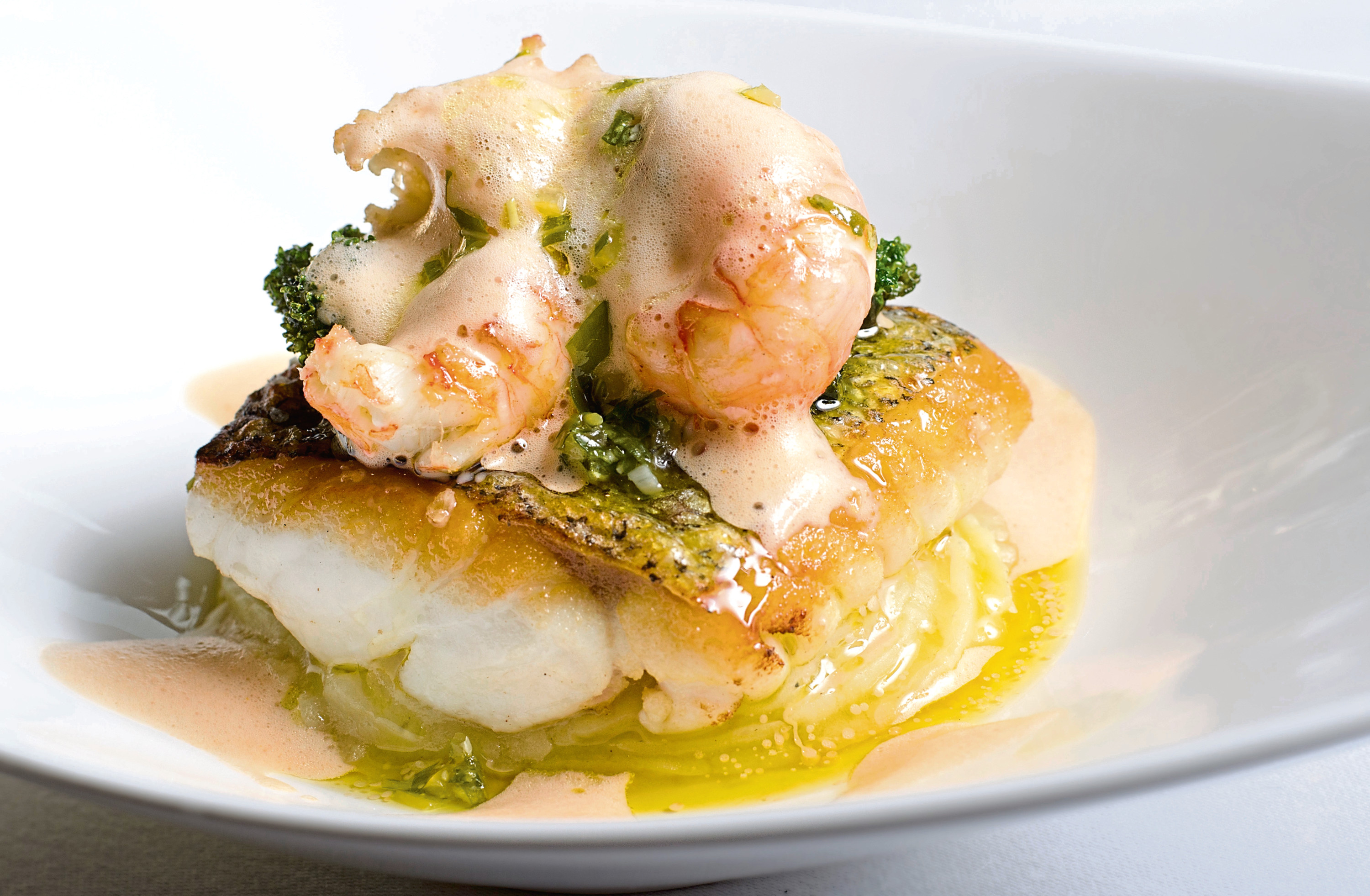 INGREDIENTS
SERVES 4
4 x 5oz hake portions (pinned and scaled)
8 langoustines
400g Rooster potatoes
75ml double cream
30g of butter
THE METHOD
Peel the potatoes then boil in salted water until cooked.
Drain and pop in a colander until dry.
While still hot, mash until smooth.
Place the butter and 25ml cream in a pan over a low heat, then add to the mashed potato.
Mix until smooth and silky.
Cook the langoustines for three minutes in salted boiling water.
Take out and add to iced water.
Once cool, take the tail off the body and push the back bone in until you hear a crack.
Slowly peel the langoustine, place to one side.
Season the hake and put oil in a pan.
Place the hake skin side down and press down to make sure the skin makes contact with the pan.
Leave fish skin side down and place in the oven for eight minutes at 160°C.Once cooked, leave to sit for two minutes before eating.
For the bisque:
Warm 50ml bisque and 50ml double cream.
Using a small hand blender, mix until you get nice, even bubbles and foam on top.
To serve:
Place a quenelle of mashed potato on the plate.
Place the hake on top.
Warm the langoustines in water for 30 seconds, then place on top of the fish.
Top with the bisque foam and serve.
Macaroni and crab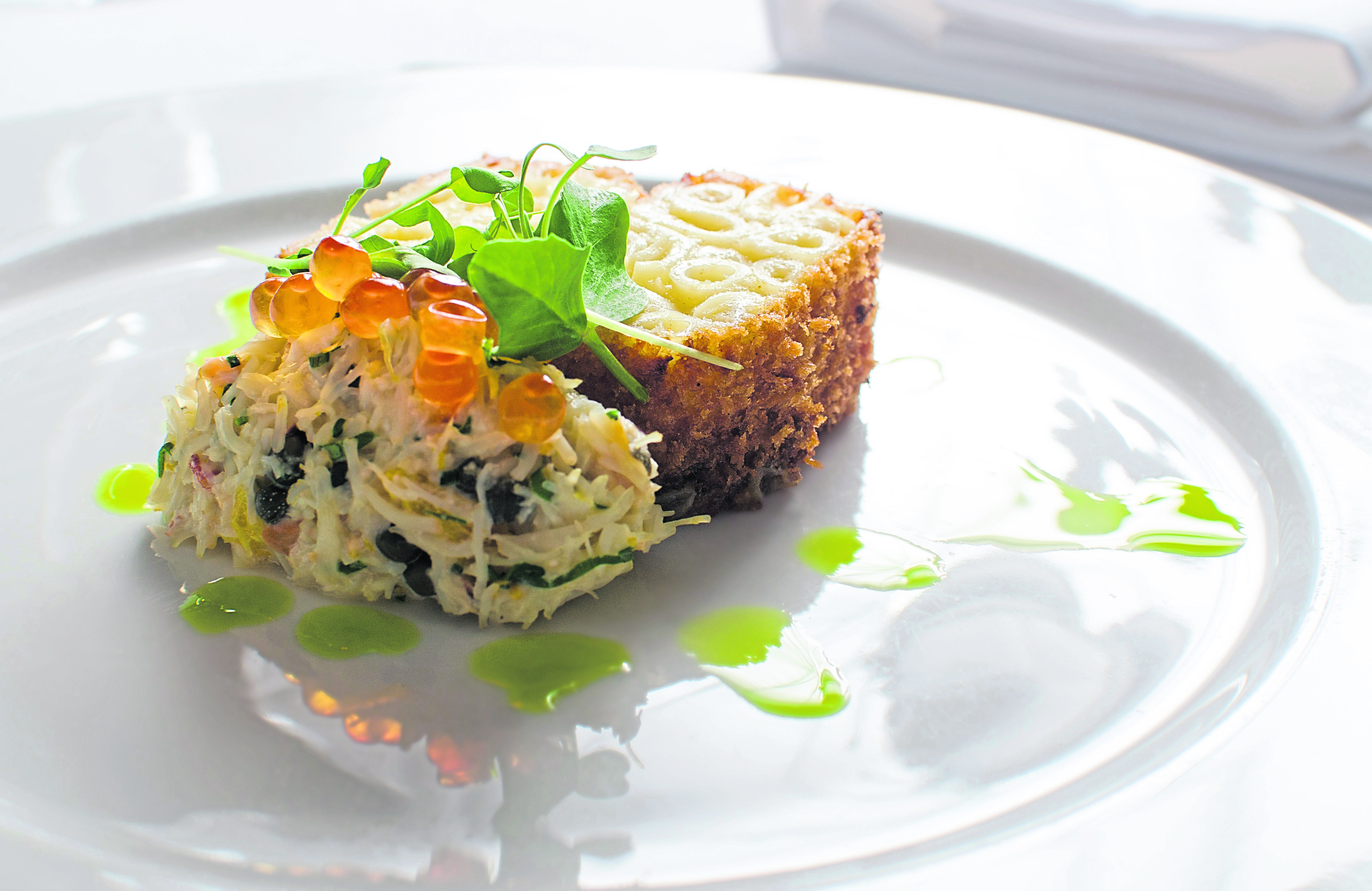 INGREDIENTS
SERVES 6
For the crab:
250g white crab meat
20g baby capers
1 orange
10g chopped chives
50 cream cheese
To decorate: Salmon roe red eggs
Pea shoots
THE METHOD
Pick through white crab using your fingers to make sure there are no small bits of shell.
Peel and segment the orange then chop in to small bits.
Add baby capers, cream cheese, chopped chives.
Mix well, place in fridge for later.
When ready to serve, use two spoons to make a large quenelle (egg shape) of crab.
Place on the plate and top with some salmon roe red eggs and pea shoots.
For the macaroni nuggets:
The ingredients
300g macaroni
170g butter
170g plain flour
750ml of whole milk
175g Applewood cheddar
1tbsp English mustard
For breading: 500g panko breadcrumbs
100ml whole milk
4 eggs
200g plain flour
The method
To make the cheese sauce, melt butter on a low heat; add the flour and slowly mix until it comes together.
Heat milk in a separate pan then, when warm, add to flour/butter pan and mix until smooth.
Add the cheese and mustard and cook for 10 minutes.
Cook the macaroni in a large pan of salted water until soft, but still with some bite.
Add the cooked pasta to the cheese sauce.
Line a tray with parchment paper and pour in the pasta.
Place another tray on top to compress it and leave overnight in the fridge.
To make the nuggets:
Cut the macaroni into squares.
Set out three plates. One for egg wash, one for flour and one for breadcrumbs.
Dip the squares into the flour, then egg, then breadcrumbs, dusting off any excess.
Fill a pan or deep-fat fryer with oil and heat to 180°C.
Drop the macaroni nuggets in and cook for around seven to eight minutes until they are piping hot.
To serve, cut each nugget in half and serve with the crab quenelle.
Visit www.dornochcastlehotel.com for more information.