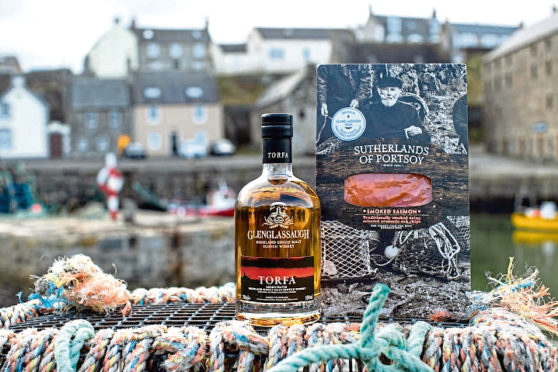 Standing on the beach at Sandend Bay, watching the sun set while sipping a Glenglassaugh dram of rare cask release I'd poured myself was, for me, one of those "life doesn't get much better than this" moments.
The distillery, which sits at the east end of the bonnie bay, was established in 1875 and quickly earned a well-deserved reputation for its high-quality whisky.
But over the years its fortunes have fluctuated.
Bought by Highland Distillery is 1892, it was largely demolished, then rebuilt in the 1960s, a period when whisky distilling in Scotland was enjoying a boom time.
But those days weren't to last and in 1986 the distillery went to sleep.
After 20 years it was re-awakened when a group of investors started production again and then, in 2013, it was taken over by BenRiach Distillery Company.
After touring the distillery in the company of brand ambassador Matt Chambers, we retreated to the beach and raised a glass to the old girl who, like Sleeping Beauty, has gone from strength to strength since being gently kissed awake.
Here, they still do things the traditional way and the spirit is handcrafted by a small, dedicated team while the salty, coastal air and Aberdeenshire peat does wonderful things to the barrels patiently sitting in the warehouse.
They're not content with just producing fine drams either . . .
A new partnership has seen the distillery join forces with Sutherlands of Portsoy, a long-established salmon smokehouse less than two miles away.
Here, they have been smoking salmon in the kilnhouse using traditional methods passed through five generations of one family.
Smoke is made using shavings from flavour-packed whisky barrels that are gently burned in a way that creates lots of smoke, which, in turn, is fanned around the salmon.
Let me assure you, the smoky/whisky smell that envelopes you as the kiln door is opened is simply superb. If they could bottle it they'd make a fortune!
But what makes their salmon different is that, just before it is packed, it's infused again, this time with a spray of Glenglassaugh's Torfa Single Malt.
This particular dram was chosen as master blender Rachel Barrie thought the salty but sweet flavours of the whisky, influenced by the distillery's coastal location, made it a perfect pairing for salmon.
It's a superb dram, while the Glenglassaugh-infused salmon is wonderful, with a soft, non-oily texture and a strong, but not overpowering, hint of whisky.
Served with a sliver of lemon, crisp side salad, thick slice of crusty bread and a dram of Torfa, it makes a perfect starter to any dinner party.
Tasting notes for Glenglassaugh Peated Torfa Single Malt Whisky
Appearance: Gleaming yellow-gold.
Aroma: Vivid, sweet campfire smoke and sea air infused citrus, apricot and ripe soft fruits gently warmed by hints of ginger and cracked black pepper.
Taste: An eloquent, sweet coastal peat smoke engulfs candied peel over melon, pineapple and apple.
Finish: A heady yet elegant harmony of distinct coastal peat and striking fruit favours.
Visit glenglassaugh.com and sutherlandsofportsoy.co.uk for more information