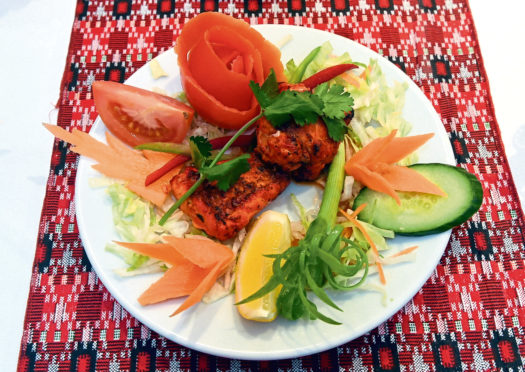 On a recent night out with a colleague, I was scouring a list of Aberdeen eateries to find one that we had yet to review for these pages.
The Everest on Union Street caught my eye as somewhere I hadn't visited, and so a table for two was booked for a Thursday night catch-up.
The Everest is located at the top of the Granite Mile, a couple of doors along from the popular Sabai Thai restaurant.
We were afforded a warm, friendly welcome when we went in, and after a brief wait at the bar were shown to our table.
As I sat down and took in the surroundings, I thought I recognised the exposed brick walls and layout of the long, narrow restaurant. But it wasn't until we chatted with the waiter later on that it twigged The Everest was formerly Cinnamon, which I had visited many years before and had been impressed by.
Our friendly waiter told us with a big smile on his face The Everest opened about seven months ago with "new management, new flavours".
So the decor and management may be new, but my enjoyable experience remained as we tucked into some delicious Indian and Nepalese delights.
The culinary treat began with the traditional poppadoms and accompanying sauces. Always a nice way to kick off, and they were despatched with indecent haste.
Naturally we needed something to wash the poppadoms down with, and I was delighted to see a choice of two of my favourite beers on draught: Kingfisher and Cobra. I sampled both just to make sure they were up to scratch.
Deciding what to order from a menu of Indian food is something I always struggle with, but we were given all the time we needed in between chatting, and eventually decided to share the non-vegetarian platter.
This was a tasty selection of chicken tikka, lamb tikka, seekh kebab and lamb chop. Everything on the plate was beautifully cooked and marinated and we were disappointed when we'd polished it all off as it was so good.
I often find I get full very quickly eating this type of cuisine, so I was delighted when the waiter asked if we wanted a little break before our main courses were prepared. In fact, we were asked another couple of times if we were ready before we eventually agreed.
I thought this was a nice touch and really aided the experience as, when we left later on, neither of us felt bloated, just comfortably full.
When the mains came they didn't disappoint. While my colleague stuck to his tried and tested favourite lamb bhuna dish, I plumped for the Everest Saffron chicken. I'm not a fan of really spicy food, so this mild dish with chicken tikka, onion, saffron and a fresh, creamy sauce was right up my street.
While the chicken could have done with being a little more tender, the sauce was nice and light and went beautifully with the lemon and cashew rice we ordered to share, with the crunch of the cashews really adding to the dish.
Across the table, the lamb bhuna was met with approval and both dishes were completely cleared.
We were too full for desserts but appreciated the refreshing slices of orange we were served along with hot wet towels. Another nice touch. Instead, we enjoyed a blether as we finished off our crisp lagers while still tasting the flavours from our main courses.
Overall we had a very enjoyable evening at The Everest. Everything from the friendly waiting staff, to the vibrant decor and good-quality food was as it should be. Even the toilets were clean, modern and stylish, something which can let down an otherwise exemplary restaurant.
So well done to the new management with their new flavours. This Everest is definitely at the peak of its game.
Price: Non-vegetarian platter, £10.95; Everest Saffron £10.95; lamb bhuna £9.95; lemon and cashew rice £3.55; pint of Cobra x 4 £19; pint of Kingfisher £4.75
Total: £59.15
Food: 4/5
Atmosphere:4/5
Service: 4/5
Total: 12/15
The Everest
476 Union Street, Aberdeen AB10 1TS
t: 01224 644444
w: www.theeverestaberdeen.co.uk