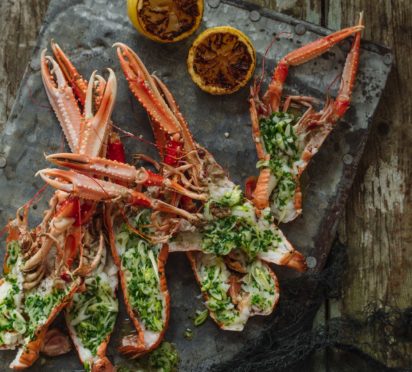 Michelin-starred chef Tom Kitchin's most recent opening is Southside Scran, a bistro in Bruntsfield, Edinburgh.
Here, the former P&J food writer offers diners a menu that brings together the best of Scottish produce with hints of French cuisine.
Tom said: "I often get asked that dreaded question of what I would choose for my last meal.
"I think langoustine and garlic butter would be right up there.
"If you have never visited the west coast of Scotland, you must.
"To eat fresh langoustine just off the boat along the coast is something very special.
"Langoustines can be difficult to get hold of and are often expensive, but you will find them in good fishmongers, so give yourself a treat whenever you come across them. They are just delicious.
"I also love to eat raw fish and shellfish, but I also understand that some people are a little dubious or hesitant to take the risk.
"Of course, the real secret is to make sure you always use the freshest possible produce, and that's why it's so important to have a great relationship with your fishmonger. I cannot stress that too much.
"In the second recipe, I've used some beautiful hand-dived scallops, but it works well with salmon, tuna or just about any other very fresh fish.
"When I'm making this at home I get all the components ready and then just mix them together when we're ready to eat."
Scallop tartare with orange and mint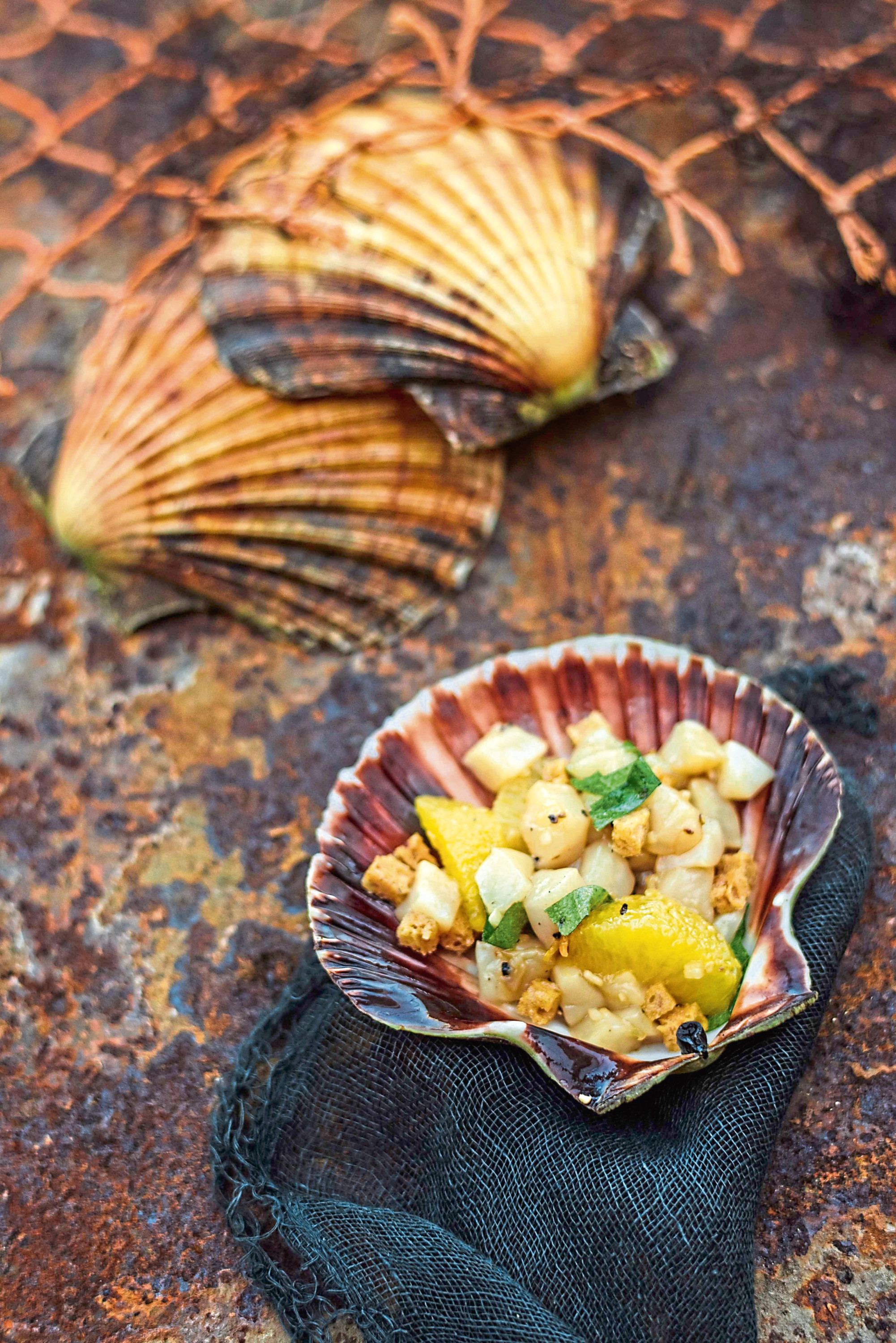 Ingredients
SERVES 4 AS A STARTER
4 shelled scallops with corals removed
(about 70g each), cut into 1cm cubes
4 tsp olive oil
1 tbsp finely chopped shallots
2 tsp soy sauce
8 mint leaves, chopped
1 orange, peeled and segmented
2 tsp orange confit (optional) or grated
orange zest
Sea salt
Freshly cracked black pepper
For the croûtons:
2 slices white bread, crusts removed and
cut into ½cm cubes
Olive oil
The method
First make the croûtons, which will keep for up to three days in an airtight container.
Preheat the oven to 200°C fan/220°C/gas mark 7.
Place the bread cubes on a baking sheet and toss with a generous splash of olive oil so they are well coated.
Place the baking sheet in the oven and roast the bread for seven minutes, or until the cubes are golden brown and crispy.
Tip on to a plate lined with kitchen paper and leave to cool, then set aside until
required.
Place the scallop cubes in a bowl and place that bowl in a larger bowl of ice.
Add the olive oil, shallots and soy sauce to the scallop pieces, and season with salt and pepper.
Add the croûtons, mint, orange segments and orange confit, and gently toss together.
Adjust the seasoning, if necessary. I like to serve these in scallop shells, but
the mixture also looks appetising on a simple, plain plate.
Roasted langoustine with spring onion and garlic butter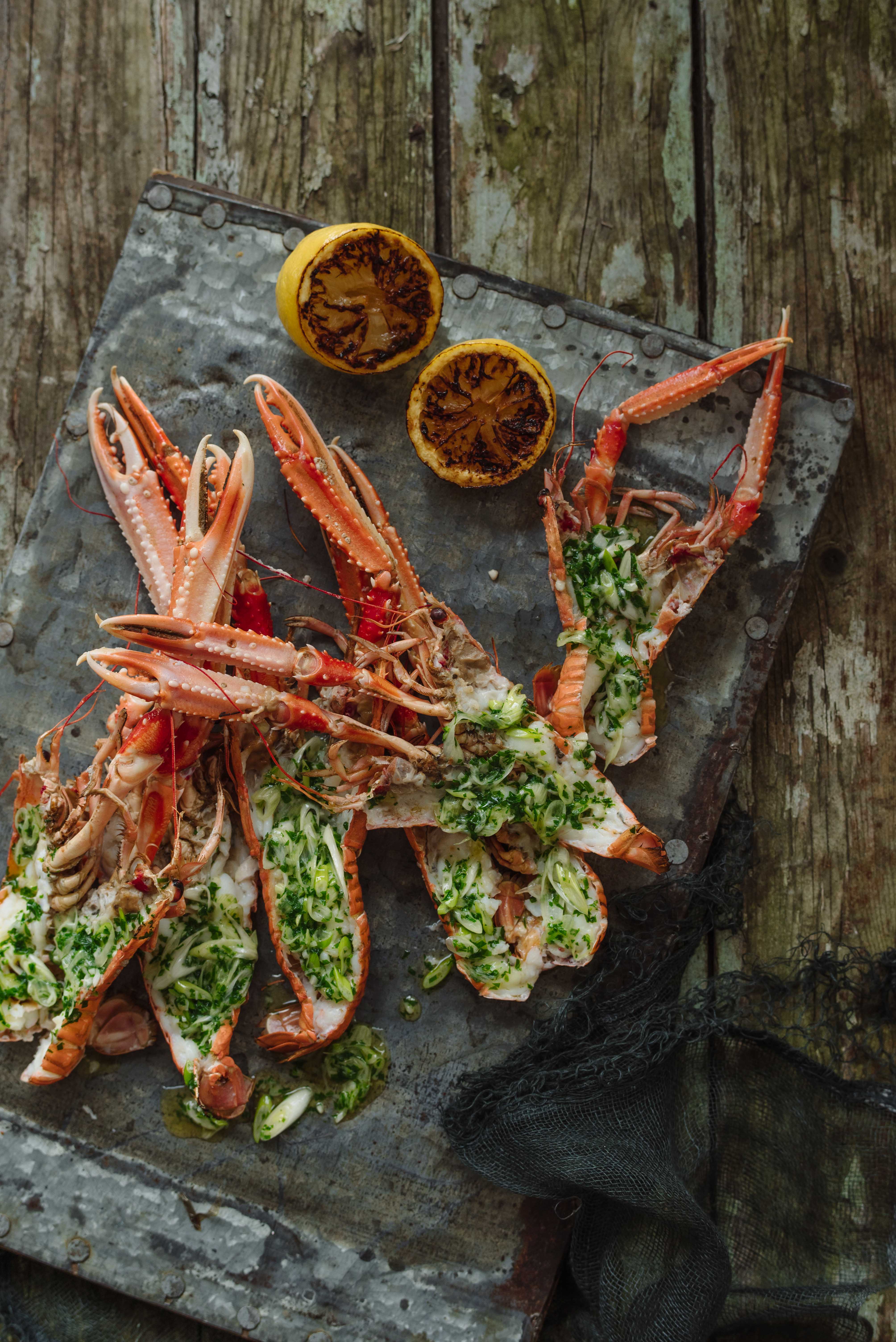 Ingredients
Serves 3-4
12 langoustines, halved with the brains and intestines removed and discarded (if using frozen ones, thaw thoroughly)
Olive oil
Charred lemon halves (optional)
Sea salt
For the spring onion and garlic butter:
4 spring onions, trimmed and thinly sliced
3 garlic cloves, finely chopped
2 tbsp finely chopped flat-leaf parsley leaves
150g butter, diced
The method
Preheat the oven to 200°C fan/220°C/gas mark 7.
Use one or two heavy-based shallow roasting tins so all the langoustine halves can be arranged in a single layer – you don't want them piled on top of each other.
Place the langoustines into the tins, add a good splash of olive oil and sprinkle with salt.
Place the tins in the oven and roast for six minutes or until the flesh is white.
To make the flavoured butter, combine the spring onions, garlic and parsley, and set aside.
Heat a large, heavy-based saucepan over a medium heat, then add the butter.
When it starts to foam, add the spring onion, garlic and parsley mixture, and stir for one minute.
Remove the langoustines from the oven and pour over the butter mixture.
Place in the middle of the table and serve with lemon halves for squeezing over. I like the flavour charred lemons give, but regular lemons work just as well.