Under blue skies I was gazing upon a seductively curved bay with small yachts bobbing in the harbour.
Ferries were departing and arriving at intervals as they transported visitors and locals to the nearby islands. A cruise liner, moored a short distance offshore, was preparing to depart. Its cargo of holidaymakers was lining the decks having a last look at the small town with the curious monument perched high on the hill above. The sea was calm. It looked like it would be a pleasant voyage.
The hotels along the front appeared to be doing a brisk trade, even if it was early in the season. Groups of holidaymakers wandered along the front taking in both the sights and sounds of the quiet harbour and the wares on offer in the shops.
It was late afternoon when we arrived, tired from a drive from the city 100 miles or so to the south. We knew we were only halfway towards our final destination so we decided to look for somewhere to eat and recharge our batteries. The first place we found looked perfect.
It offered a delicious selection of Eastern Mediterranean specialities ranging from hummus and tabbouleh to tamarind prawns and moussaka. Perfect for a selection of a few dishes to share before the next leg of our journey.
Now before you start thinking this is the travel section rather than the restaurant review, I need to tell you that all of the above is a true account of a recent visit to Oban, not some Greek island paradise. And I have to say I was as surprised as anyone with our experience. In one of the most dreich early summers we have seen for many a year, we arrived when the sun was shining and Oban looked at its best.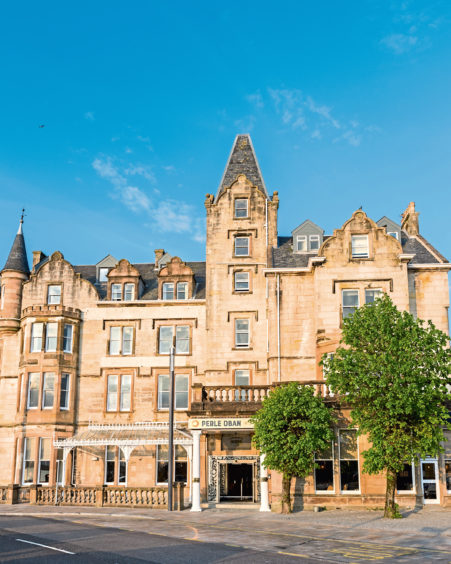 The sea was calm, there was a feeling of holidays in the air and the passengers on the cruise ship would have had a beautiful day to enjoy the sights of the west Highlands. But, to be totally honest, it was not weather for sitting out or taking a dip in the sea. There was still a touch of winter in the breeze and most people on the harbour front were well wrapped up in anoraks. Definitely more balaclava than bikini weather.
But BAAB, the restaurant in Perle, a newly rebranded hotel close to the pier, offered a truly Mediterranean menu with a host of my favourites and I couldn't wait to sample them.
To start we chose two staples of any Mediterranean restaurant – a good test to see if they had the basics right. The menu promised the falafel would be freshly made and served hot. It was good – crispy and caramelised on the outside and moist when you bit into it. With a fresh salad and a yummy pepper sauce it certainly didn't disappoint. And the deep-fried halloumi with their signature chilli sauce was just as good.
Fried halloumi never gets to the oozing unctuousness of its close relative Mozzarella, but it is still lovely. Wrapped in perfectly dry and crisp panko breadcrumbs, it went beautifully with the chilli sauce which was neither too hot, as my partner feared, nor as bitter and insipid as it can be.
It would be wrong to be in a Mediterranean restaurant and not try a kebab. The one we chose was from the town of Adana in Turkey and was made with fresh Scottish minced beef. The menu didn't say anything about what else was in it, but there was certainly a beautiful mix of herbs and spice that I just loved. Again, the pepper and chilli sauces were a perfect accompaniment.
We also shared the chef's special Musakhan with shredded chicken. It was like a variation of a pizza, but in my view much lighter and healthier, although my partner wasn't quite so keen. The chicken had been cooked with cardamom and was just delicious.
With our mains we had very generous side dishes of fries and pilaf rice, and I have to admit we couldn't finish it all.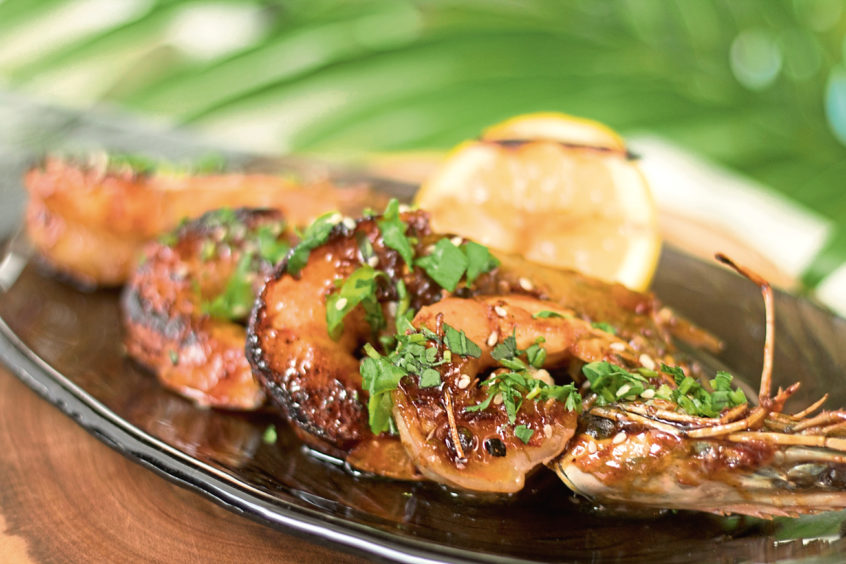 One reason was we were both saving some room for dessert. We had seen two Mediterranean versions of our favourites and couldn't resist. Rice pudding for my other half and bread and butter pudding for me. And they were delicious. The rice pudding served with date compote and rose syrup was very sweet – but that drew no complaints from my partner. And the bread and butter pudding (more accurately called Umm Ali) was heavily flavoured with pistachio and rose. I loved it.
So, we didn't get to the Mediterranean, but as we drove away from Oban back towards home, we certainly felt we had experienced a genuine taste of the East.
But then it started raining.
The restaurant
BAAB Meze and Grill
Perle Oban Hotel, Station Square, Oban PA34 5RT
t: 01631 700301
w: www.perleoban.com/food-and-drink/baab
The bill
Falafel £3.50
Fried halloumi £4.90
Adana kebab £9.90
Musakhan chicken £10.90
Fries £3
Pilaf rice £3
Umm Ali £4.20
Rice pudding £4.20
Soft drinks x 2 £6.35
Total: £49.95