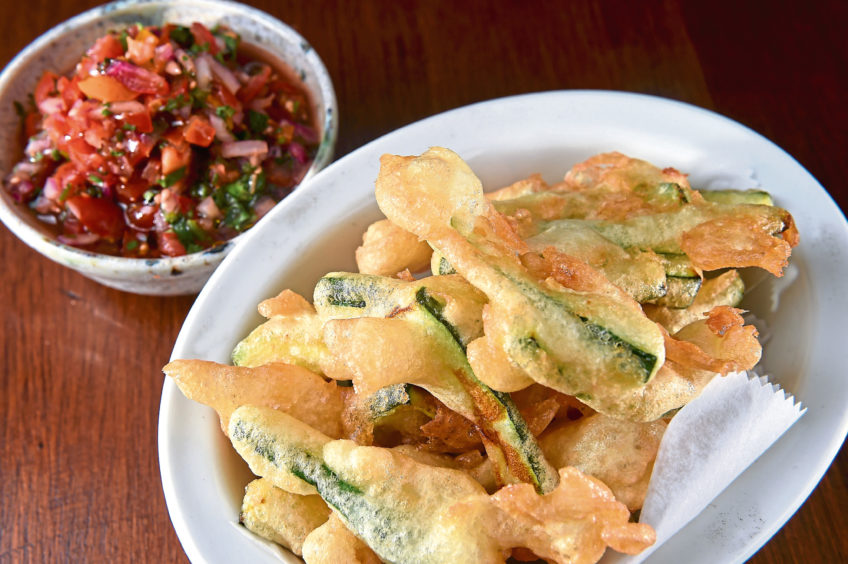 July is the ideal month to get your hands on courgettes – they're very easy to grow as they basically look after themselves.
Deep-fried batons of fresh courgette make a great little summer snack which, once cooked, need to be eaten straight away.
Dip them into a fresh, zingy salsa made with cherry tomatoes, red onions or spring onions, fresh corriander and a bit of seasoning and that's it.
Job done!
The best way to eat ripe Scottish strawberries is with a good dollop of Scottish cream.
The next best way to eat them is in a Strawberry tart.
Today's recipe is ideal if you want to get children or grandchildren interested in cooking as they'll love getting hands-on with this dessert.
Making the pastry is an absolute doddle as all you do is get the ingredients together and pop them in a food blender.
If you don't have access to a blender then just use your hands to bring it together.
No rolling required either – just push the pastry into the flan tin.
And here's a great tip for you…
To get a nice sticky sauce, simply warm up some strawberry or fruit jam in a pan, then sieve it into a bowl and hey presto! You have a lovely fruity sauce.
Visit www.lochbay-restaurant.co.uk for more from Michael.
Courgette fries with salsa
The ingredients
SERVES 4 AS A SIDE DISH OR STARTER
2 medium courgettes
Salt
150g plain flour
2 egg whites
Olive or vegetable oil, to fry
The method
Slice the courgettes laterally about 0.5cm thick (a mandolin would be useful), then lengthwise into long matchsticks, then cut these in half.
Toss with a little salt and drain in a colander for 30 minutes.
Meanwhile, in a wide, shallow dish, stir together the flour with enough lukewarm water (roughly around 250ml) to give the consistency of double cream.
Season lightly and leave to rest for 20 minutes.
Whisk the egg whites to stiff peaks then fold this into the batter.
Heat a large pan a third full of oil to 170°C and put the oven on low.
Squeeze the courgettes and dry on kitchen paper, then tip into the batter and toss to coat.
When the oil is at the right temperature, add a handful of the courgette strips a few at a time and stir gently to separate, then fry until golden.
Scoop out with a slotted spoon on to kitchen paper and season lightly, then put in the oven to keep warm while you fry the rest in batches.
Serve immediately, ideally with a home-made salsa.
Simple strawberry tart
The ingredients
SERVES 1-8
For the pastry:
200g plain flour
110g cold butter, cut into cubes
65g caster sugar
¼tsp fine salt
For the filling:
300ml whipping cream (well chilled)
2tsp icing sugar
100g thick whole milk yoghurt
About 500g ripe strawberries
4tbsp redcurrant jelly or tart glaze to finish
The method
To make the pastry, put all the ingredients in a food processor and whizz until they look like damp ground almonds – this will probably take a minute or so.
Tip into a loose-bottomed shallow tart tin about 25cm wide, spread out and press with a mug or glass until you have a pastry case.
Put in the freezer for 15 minutes until firm.
Meanwhile, heat the oven to 180°C.
Prick the pastry base all over with a fork, then bake for about 20-25 minutes until lightly golden (overcook it and it will be crumbly). Allow to cool in the tin, then gently transfer to a serving plate.
When the shell is cool, whip the cream until soft peaks, adding the sugar towards the end of the process, then fold in the yoghurt.
Taste and add a little more sugar if needed.
Spoon into the tart shell and smooth.
Hull the strawberries and cut into quarters, or sixths if large, and then arrange, point upwards, in concentric circles.
Heat the jelly in a small pan until liquid, then brush over the fruit and leave to set for at least 30 minutes before serving.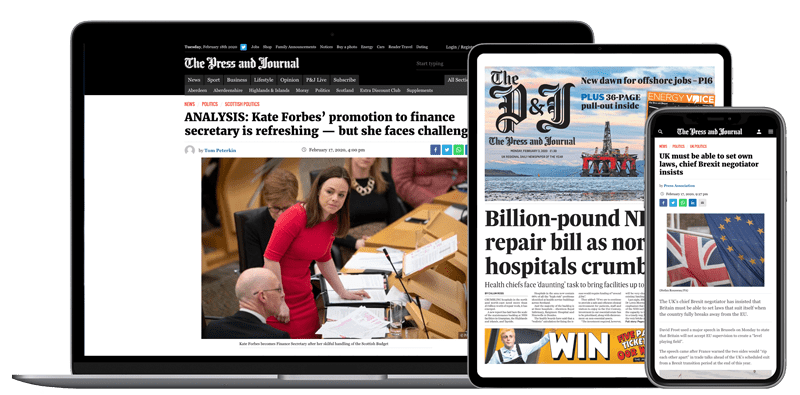 Help support quality local journalism … become a digital subscriber to The Press and Journal
For as little as £5.99 a month you can access all of our content, including Premium articles.
Subscribe