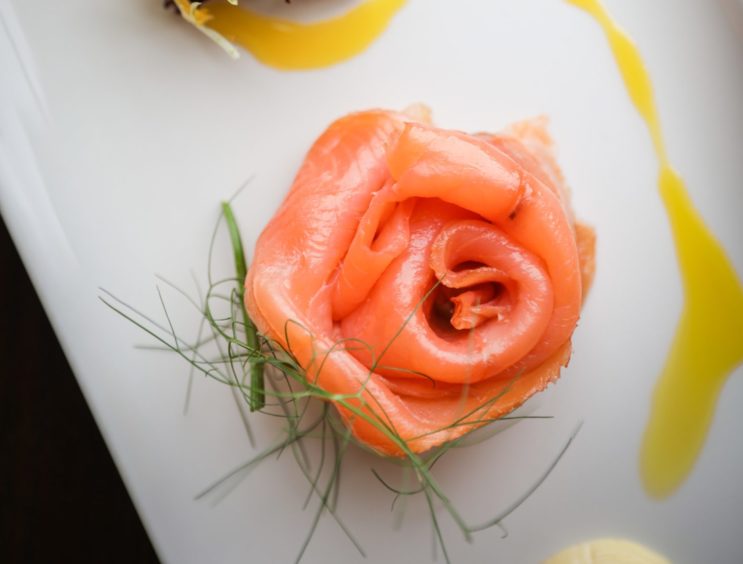 For years, each time I've driven along the A9 past Pitlochry, the sight of the grand Atholl Palace Hotel standing high above the town has made me utter the following sentence:
"I must go there one day, it looks amazing."
I've said it so often it has become a standing joke with the family, who now like to point out each time we pass by: "There's the hotel you want to visit."
This year, I added it to my list of, albeit mostly impossible, things I wanted to achieve in 2019, like losing a couple of stone and persuading George Clooney to leave his gorgeous wife and set up home with a Highland wifie instead.
I've now had lunch at the hotel, so two out of three ain't bad, as they say…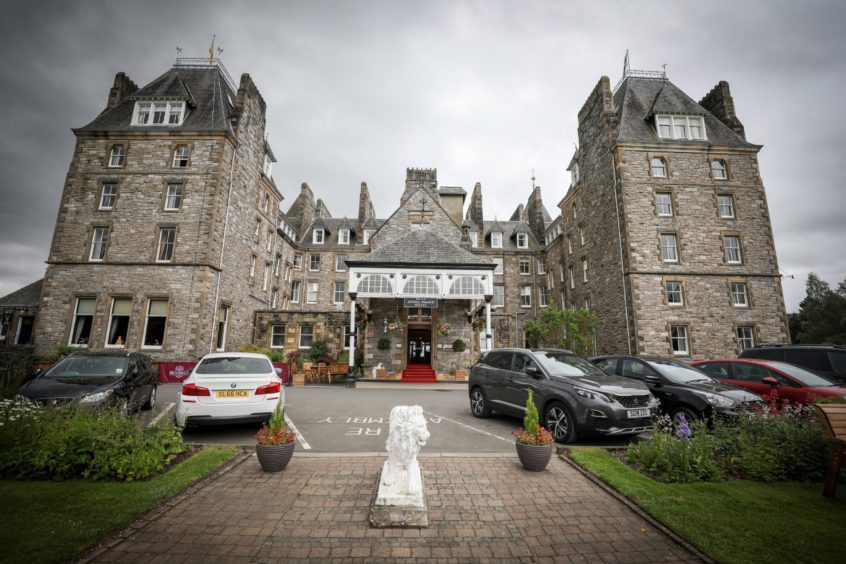 Booking took several attempts via phone and online, as on each date that suited me, the restaurant was already fully booked.
But we got there in the end and first impressions were great.
The Atholl Palace has the whole jingbang – a sweeping driveway lined with trees and roddies, glorious gardens and a building dripping with Scottish baronial architectural splendour.
I'd imagine my first impression was pretty similar to the one Victorian guests would have experienced seeing this grand hotel for the first time.
Inside, it feels like a historic, Scottish hotel thanks to a grand reception area, cosy stoves and fires, big mirrors, comfy seats, a stag head or two and tables piled high with newspapers and magazines.
Outside the Verandah Restaurant, I spotted a copy of the P&J's own menu magazine, which made me think fate had brought me here on this particular date.
The restaurant is traditionally styled with big windows offering stunning views of the Tummel Valley.
Thanks to the hilltop location there's almost a tree-top feel to the restaurant, which is rather pleasant.
Much to our surprise we were the only customers, so didn't have to fight anyone to bag a window table.
I'd hoped to dine from the table d'hote menu, which offers one course for £25, two for £29 and three for £33, and looked delish, until our friendly waitress informed us it's not available until the evening.
The lunchtime menu offers plenty of choice, from sandwiches and burgers to afternoon tea, to what turned out to be substantial main courses.
To start, my partner had the French onion soup, which came in a tureen and was deliciously warming and filling.
Topped with Gruyère cheese croutons, which added flavour and crunch, it was served with some rather nice, thickly sliced soda bread.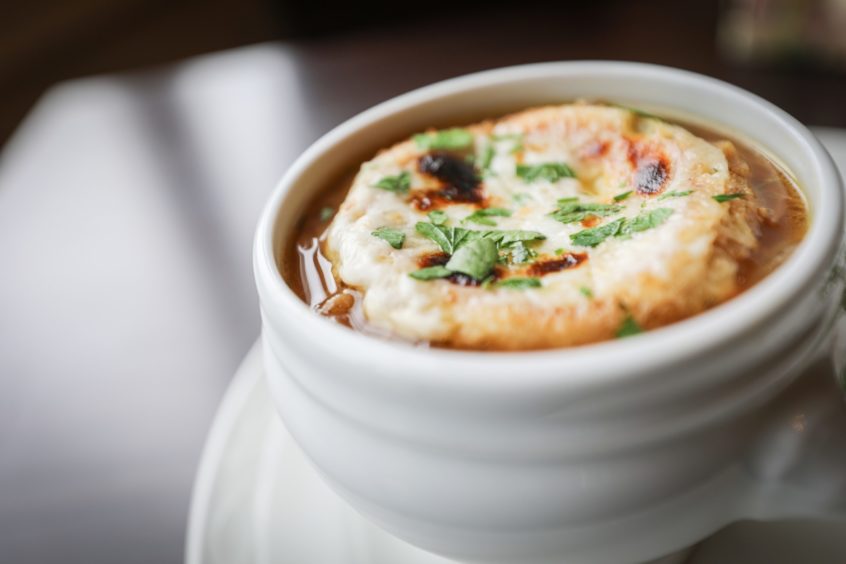 I couldn't decide between duck liver parfait laced with port, or a pressed game terrine with red onion marmalade.
The terrine won, and I was happy with my choice as it had just the right texture – not too pate-like and not too chunky.
The strong, gamey flavour went well with the sweet and sticky caramelised red onion marmalade.
Mushroom ravioli with a vegetable ragout and spinach cream was the main course choice for him indoors while, as I was in Highland Perthshire, felt it only right to have the rich Highland venison pie flavoured with red wine, redcurrant and juniper, vegetables and potatoes.
The ravioli pieces were large, perfectly cooked and packed with lovely pieces of mushroom.
These sat on top of a generous portion of rich, herby tomato sauce.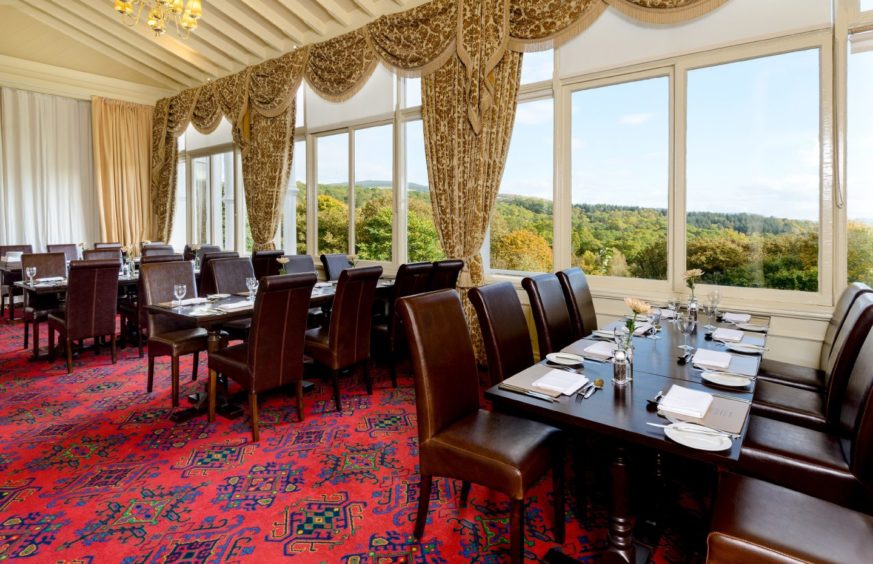 Rather delicious really.
A personal bug-bear of mine is having a casserole or stew topped with puff pastry referred to as a pie.
To me, a pie should have a pastry bottom, sides and top.
What I was presented with was the former, a very large dish of venison stew topped with a lovely, buttery, flaky pastry top.
What was also unusual about this pub-grub-type "pie" was the vegetables (carrots, potatoes, etc) were in the stew, not served alongside it as I'd expected.
The result was a huge, hearty casserole, jam-packed with meat and veg that could easily have served two or three.
It was delicious. Filled with melt-in-the-mouth chunks of tender venison and loads of veg and lashings of gravy.
I barely managed to eat a quarter of it.
So dear reader, I did something I'd never done before – asked for "doggy bag" so I could take what I hadn't eaten home.
They duly obliged, and the following day I made stovies with the leftovers, enough to feed two folk.
And very good they were too, if I say so myself, which made this lunch even better value as in effect, we enjoyed four meals for the price of two!
The hotel
Atholl Palace Hotel
Address: Perth Road, Pitlochry PH16 5LX
t: 01796 472400
w: www.athollpalace.com
The bill
French onion soup, £7.50
Terrine, £7.95
Venison pie, £17.95
Ravioli, £14.95
Soda water and lime £3.10
Ginger beer and lime, £3.10
Coffee, £3.50.
Total: £58.05