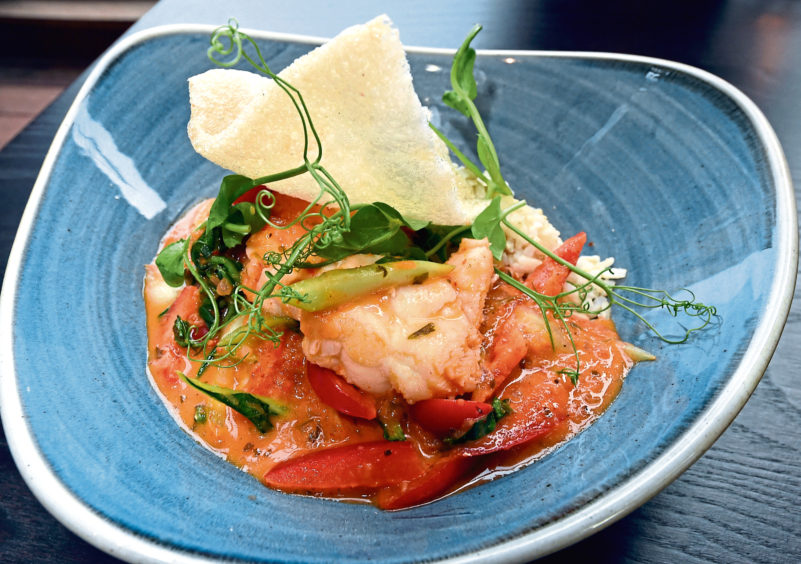 They serve a large slice of heritage at The Esslemont, and very tasty it is, too.
I've lost count of the times I stared wistfully at the grand former department store Esslemont & Macintosh on Aberdeen's Union Street.
It was crying out to be loved but was left sitting there like a magnificent multi-tiered cake someone had dumped on a shelf to melt away.
The store occupies a special place in north-east history: it opened nearby in 1873 before moving to Union Street in the 1920s, and finally closed more than a decade ago.
How its fortunes have changed in recent months: a new restaurant has opened under local ownership within its granite walls and is starting to make its mark.
Its retail heritage as a wonderful old-style department store has been restored carefully and integrated into the stylish new Esslemont concept, which has a traditional restaurant and bar downstairs in the shape of The Esslemont.
Upstairs is a funky dining room called Mac's Pizzeria, which boasts another bar and a bespoke pizza oven.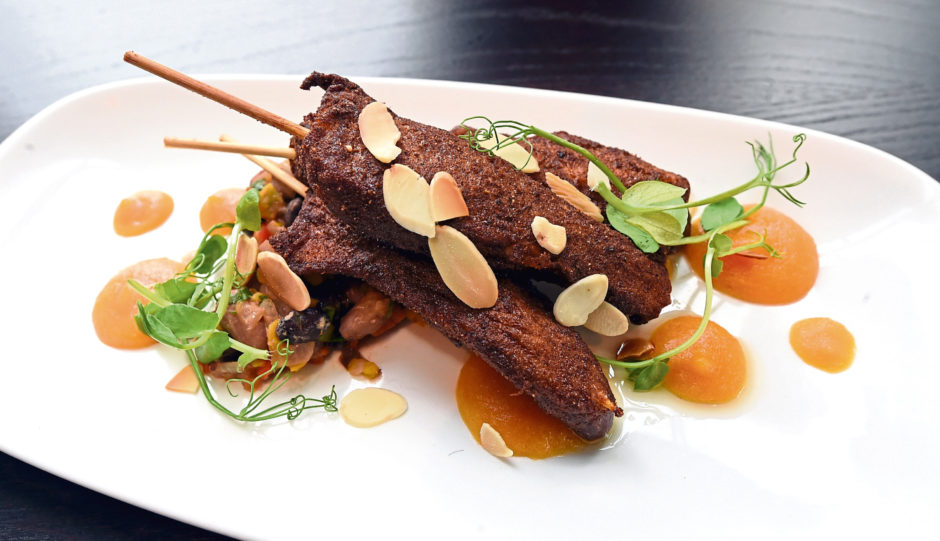 The Esslemont occupies a section of the sprawling building that has a troubled recent history.
Jamie's Italian, the doomed dining chain created by celebrity chef Jamie Oliver, was a jaunty newcomer on the block for a while but sank as fast as a defective souffle when times became hard. It shut before calamity struck the group as a whole.
New owners have brought this part of the building back to life in some style with a totally different look.
It rubs shoulders with another major player: a steak chain that occupies a separate section of the former store, which spans a small side street.
Early indications, to me at least, suggest that there is plenty of room for two culinary big hitters side-by-side, judging by the steady footfall heading their way.
And they have brought some much-needed quality to this end of Aberdeen's most famous street, and complement the transformation of Broad Street around the corner.
When you step through the doors of The Esslemont, the general layout of the former Jamie's is unmistakable.
But the decor has gone through a dramatic metamorphosis and the former Esslemont & Macintosh nostalgia comes at you in waves.
Tailors' dummies wearing suits in various stages of construction are everywhere, along with an impressive display of men's shirt collars. A striking collection of women's hats is on show on high shelves around the bar area.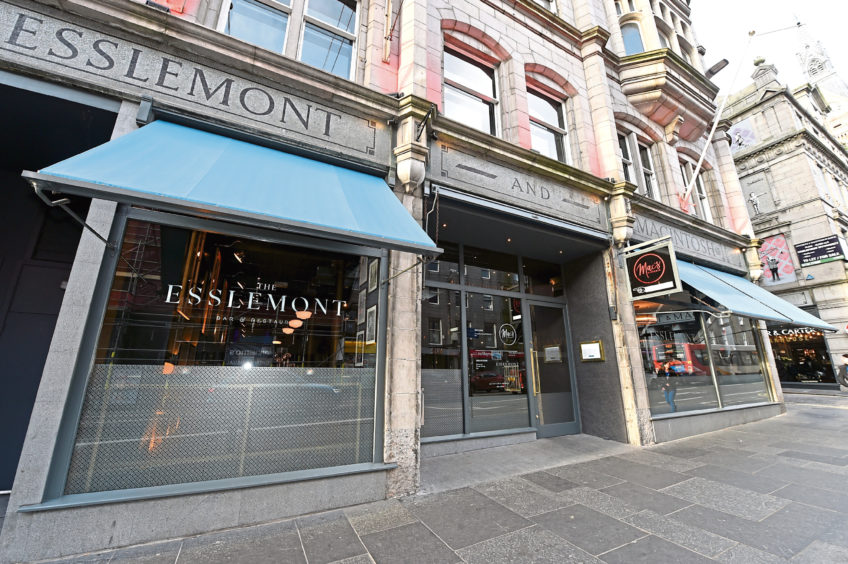 It was a horrible, cold, rainy, midweek night when we swept in, and although there was a lovely warm welcome from the staff, we felt the heating could have been turned up a notch, but it is a cavernous high dining room that must take some heating.
We loved the menu.
Yes, there were steaks but there was so much more, too, on a very well thought out menu that was refreshingly different.
My wife began with pan-seared Shetland king scallops with chorizo, smoked sweetcorn puree, crisp samphire and lemon oil.
I chose Moroccan chicken skewers, with apricot puree, toasted almonds and harissa spiced-bean salad.
It was a different type of starter for me (having to drag myself away from Cullen skink), but full of flavour.
For mains, spiced lamb shank with "Indian spiced cauliflower and broccoli", chick peas, mango rice and naan bread.
For me, red Thai curry monkfish with pak choi, red peppers, braised brown rice and Asian crackers.
The lamb shank was presented beautifully with a great combination of tastes, but could have been a little more spiced for my wife's liking. It's all down to personal taste, isn't it? But if it says spiced you expect some kind of kick. The succulence and tenderness still made it an excellent dish.
As for the monkfish, with its plump, brilliantly white fleshy chunks, this is probably the king of fish for me. Not the easiest catch for trawlers at sea, but worth every penny. The kitchen got the spiciness just right for my tastebuds.
I found the triangular-shaped serving dish a handful, though. I could not figure out where to put my knife and fork when not eating: when I left them in the dish they kept flying out with a clatter. A small point, I suppose.
I nipped to the loo and saw the tailors' dummies were strung out up the stairs, too, which was a nice touch.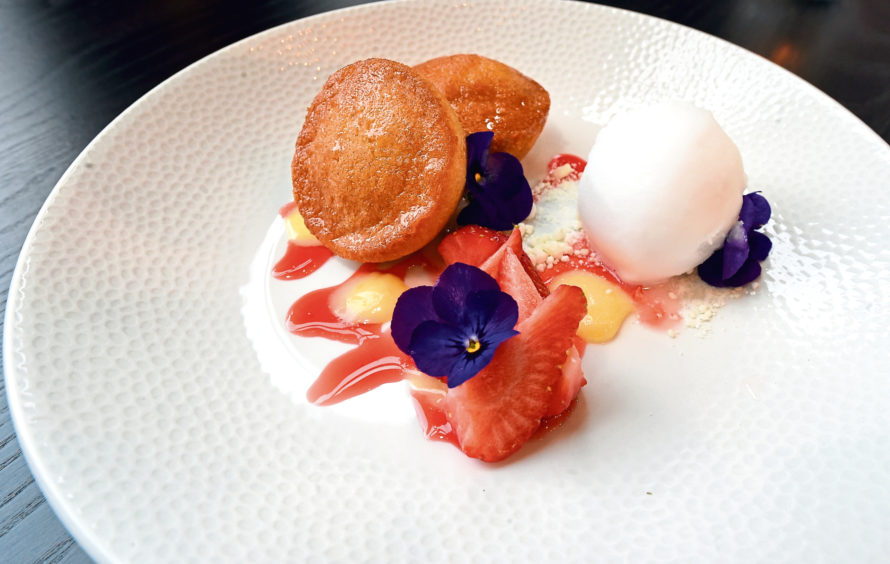 There was also one of those old signs we used to see next to department store lifts. You know the sort of thing – "ladies fashions, haberdashery, occasional furniture…" on different floors, and so on. A nice touch that reminded me of the old Are You Being Served TV comedy.
Back at the table, our puddings were arriving.
For my wife, lemon drizzle cake, and for me, a kind of deconstructed bread and butter pudding. It had vanilla ice cream, custard and the pudding, with a lovely, slightly rubbery balance of firmness yet softness, sitting in a neat row of small bowls on a plate. It was excellent.
All in all, our serving of nostalgia mixed with a modern vibrant twist on the food was a treat. Long may it last.
The restaurant
The Esslemont Bar and Restaurant
38 Union Street, Aberdeen AB10 1BD
t: 01224 634815
w: www.theesslemont.co.uk
The bill
Scallops £10.50
Chicken skewers £7.50
Lamb shank £19
Monkfish curry £19
Garlic bread £4
Chips £4
Lemon cake £7
Bread and butter pudding £7
Pint of tonic x 2 £6.40
Americano x 2 £4.60
Total: £89