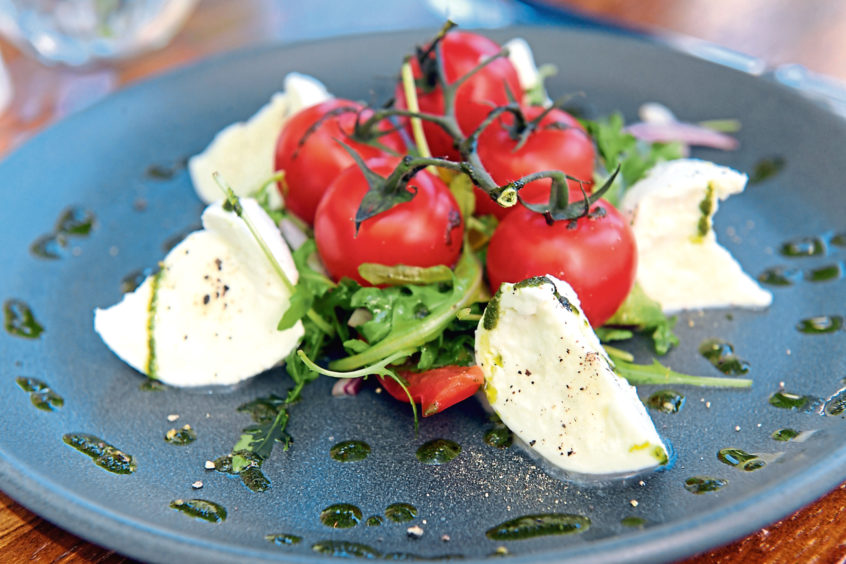 I love Italian food, and like to think I can tell the difference between a good Italian meal (Grand Hotel Tremezzo, Lake Como – delizioso) and a bad one (Rome Ciampino Airport – disgustoso).
So you can imagine my delight on learning that yet another Italian restaurant has opened up in Aberdeen, and only a 20-minute walk from my front door.
While Aberdeen already has a number of tasty Italians to choose from, can there ever be such a thing as too many good Italian restaurants? Not in my opinion.
The new eatery – Valentino's Italian Bar & Restaurant – is the latest incarnation at city institution Dizzy's.
Having gone through a number of re-brands since changing hands four years ago, it may well have finally found the perfect fit, if my visit was anything to go by.
Replacing the previous venture, Soju, Valentino's offers a welcoming, authentic taste of Italy in the west end of the Granite City.
On walking under the colourful arched fairy lights above the front door, we were warmly greeted by smiling staff and offered a choice of tables.
The dining room is painted in a relaxing deep red with classic artworks on the walls and a large picture of a vineyard and blue sky on the ceiling, transporting you to sunnier climes.
Attention has been paid to every table with fresh flowers, candles and skilfully folded napkins waiting to greet diners.
Classic Rat Pack standards played in the background as we leafed through the menus early on a Saturday evening. Despite booking our table for 6pm, we were far from being alone in the spacious room, with a large Italian family eating and chatting happily in the corner, and another couple of tables full as well. As the evening progressed, the restaurant filled up with a variety of diners and made for a nice atmosphere.
Turning our attention to the food, the menu offers a good selection of starters. Despite having our two young children with us and their menu being good value at £6 for two courses, we decided to sample four starters to get a feel for the produce on offer.
I loved the sound of the zuppa de pesce, a tomato broth containing a variety of seafood served with garlic bread. This was a showstopper. Big chunks of meaty turbot shared a bowl with beautifully cooked squid and mussels with a juicy langoustine to finish proceedings. The broth soaked up all the fishy flavours and I was reluctant to have to share with my son. A seafood-lover's dream.
The arancini – deep-fried breaded risotto rice balls with ham and cheese – were very tasty too, and came with a chilli mayo that added a nice kick. They didn't hang around on the plate for long.
Neither did the favourite classics of insalata caprese – buffalo mozzarella with roast vine tomatoes, rocket and basil – and bruschetta – toasted bread topped with plum and cherry tomatoes, garlic, olive oil and black olive tapenade. These were bursting with flavour and the tomatoes were lovely and ripe.
Moving on to our main courses, I was delighted to discover my choice of rombo in padella – pan-fried turbot with chorizo and cannellini bean mash with Genovese pesto – was a match for my seafood broth starter.
I've not eaten turbot many times before, but it was fast becoming a new favourite. The soft white meat simply fell away on my fork, revealing the lovely salty cannellini mash and tiny chunks of chorizo. The flavours combined well and I also loved the delicious pea shoots that finished off this beautifully presented dish.
My wife also cleared her plate of the mushroom tagliatelle with peas, garlic, mascarpone and white wine cream, while the children both enjoyed their spaghetti and tomato sauce, one with meatballs and one without.
By this stage we were pretty stuffed, but couldn't resist trying a dessert to keep the kids company. Their deal came with an advertised knickerbocker glory and sparklers.
This turned out to be two scoops of ice cream and a wafer, but they were happy enough with that.
The adults opted to share a lemon custard tart, or torta della Nonna. This was a nice consistency with a fruity flavour, complemented by a raspberry sorbet and fresh raspberries. I particularly enjoyed the little swirls of sweetened whipped cream dotted across the plate, both to eat and to look at.
It was a lovely end to a great evening.
With the restaurant only having been open for a matter of weeks, there were some minor teething problems such as no spoon offered to eat my soup with and coffee being delivered to a table that had just finished their starters, but the experience was an overwhelmingly positive one from start to finish, and these little issues didn't detract from that.
After my first evening at my new friend Valentino's, there is no chance of my love affair with Italy ending any time soon.
The restaurant
Valentino's Italian Bar & Restaurant
70 Carden Place, Aberdeen AB10 1UL
t: 01224 625577
w: www.valentinositalianrestaurant.co.uk
The bill
Zuppa de pesce £8
Arancini £6
Insalata caprese £7
Bruschetta £7
Rombo in padella £18
Tagliatelle con fungi £12
Kids meals x 2 £12
Torta della Nonna £5.50
Pint of Peroni £5
Mini prosecco £7.95
Bottle of Italian red £24
Fresh orange juice £2
Total: £114.45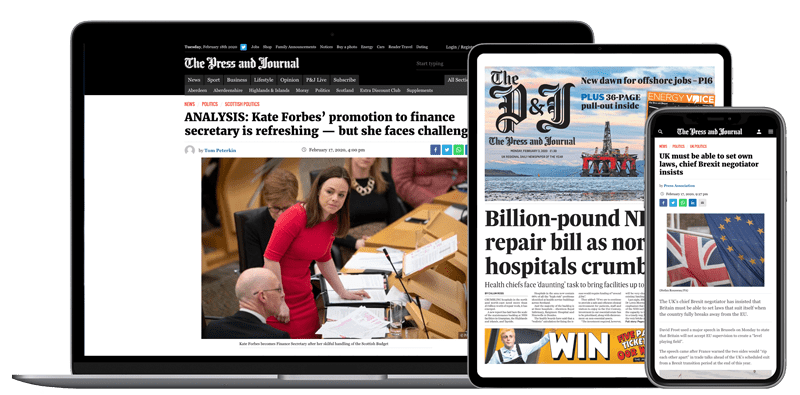 Help support quality local journalism … become a digital subscriber to The Press and Journal
For as little as £5.99 a month you can access all of our content, including Premium articles.
Subscribe