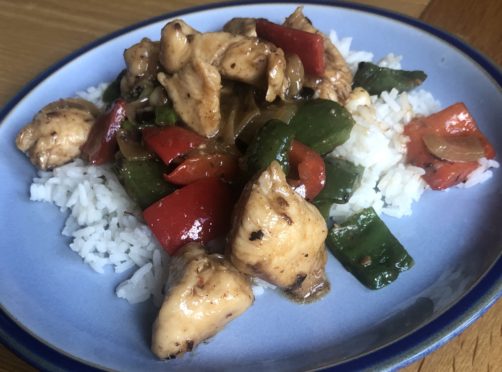 Foodie Brian Stormont has been busy perfecting some of our favourite take-out dishes so we can continue to enjoy them during lockdown
Are you missing your favourite takeaway during lockdown? Is it one of the things you're really looking forward to when restrictions on our movement are relaxed?
Well you might be pleased to learn that without a huge amount of effort you can make a variety of dishes at home that taste just like the real thing.
With a little research and help from the family, we could all have our very own fakeaways.
Where I live, some of the takeaway shops are open for deliveries only, but a number have been closed for the duration, including all of the Chinese takeaways.
Now, Chinese cuisine is one of my favourites and having been unable to enjoy one for about six weeks it got me thinking, could I create my own?
I have cooked Chinese food at home in the past, but I must admit it's not something I do at all nowadays preferring it as a weekend treat with the family.
I then wondered about creating restaurant or takeaway meals that you couldn't obtain during lockdown.
What I did discover is, with a little research and help from the family, we could have our very own fakeaways.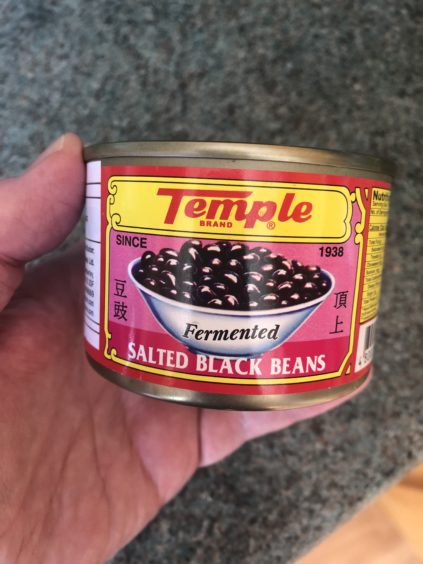 My first endeavour was chicken with green peppers and black bean sauce and I was thrilled with the way it turned out – so much so that I made a second batch the following day and delivered it to my parents along with some fried rice. I even put it in a wee white bag to capture the takeaway delivery feel before leaving it on the doorstep for them.
The only thing that wasn't readily available was the fermented black beans, an integral part of the dish, but I managed to purchase some online and I had them delivered within a few days. I had the chilli bean paste in the fridge as I use it in other dishes, but it isn't a requirement.
You can, of course, purchase both from any Chinese supermarket if you have one nearby.
---
Chicken green peppers and black bean sauce
(Serves – 2)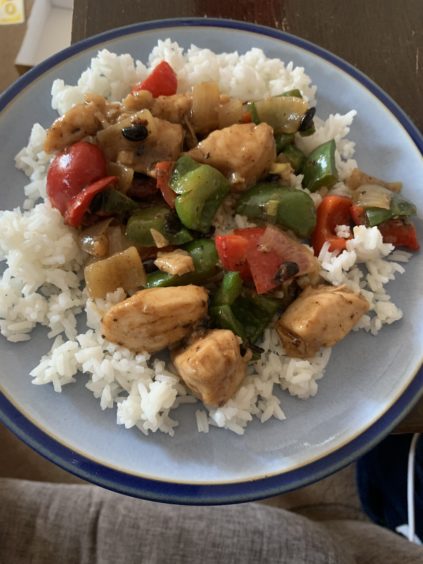 Ingredients
Marinade: One of the most important things in Chinese food I have learned is velveting the chicken to achieve that unique texture – and it's really simple. You simply marinade the chicken with the following ingredients – any time from 10 to 40 minutes will do the trick. I find if I do that first then prep my other ingredients it is an ideal timescale.
2 chicken breasts, cut into cubes or strips, whichever you prefer
½ tsp of cornflour
½ tsp salt
½ tsp soya sauce
¼ tsp sugar
Splash of vegetable oil
For the main dish: 
1 tbsp of oil
1 medium onion, sliced or cut into chunks
2 green peppers, cubed, or use 1 red pepper and 1 green pepper
2 cloves of garlic, chopped
2 tsp of fermented black beans
½ tsp of sugar
½ tsp of salt
½ tsp chilli bean paste (optional)
1 tsp of soy sauce
50-100ml of water, dependant on how much sauce you like
1 tsp of cornflour, mixed to a paste with some water
Three spring onions, chopped
Method
Combine all the marinade ingredients together and leave to marinade while you chop and organise the remaining ingredients.
Add 1 tbsp of oil to a hot wok (if you haven't got a wok, a decent sized frying pan does the trick) and cook your chicken until it is browned nicely, then remove from the pan with a slotted spoon.
Fry your onion and peppers for a couple of minutes before adding the black beans (either whole or bashed a little in a pestle and mortar or with the back of a fork in a bowl) and the garlic and cook for another minutes or so.
Return your chicken to the wok. Add the sugar, salt, soy sauce and chilli bean paste (if using, if you want it spicy and don't have chilli bean paste, a finely diced chilli works well too) and cook for another minute.
Add the water. I tend to add about 50ml first of all and then top up if necessary. Then add the cornflour and water paste and cook for a couple of minutes.
Garnish with spring onions and serve with boiled or steamed rice.
If you're really organised, boil your rice until it's ready, then let it cool and make your own fried rice by frying it over a high heat in your wok, adding some soy sauce, frozen peas and a beaten egg. Move it around the wok quickly and voila!
Substitute the black beans for oyster sauce and the peppers for sliced mushrooms, follow the same recipe for a lovely chicken and mushroom dish.