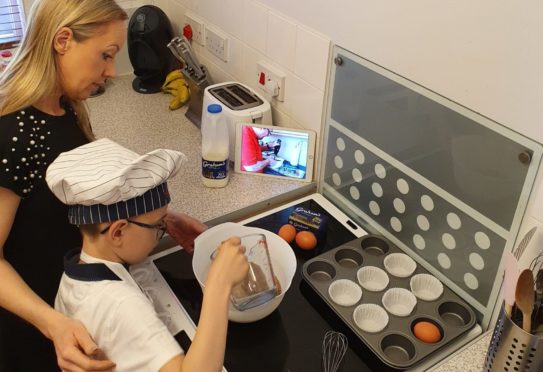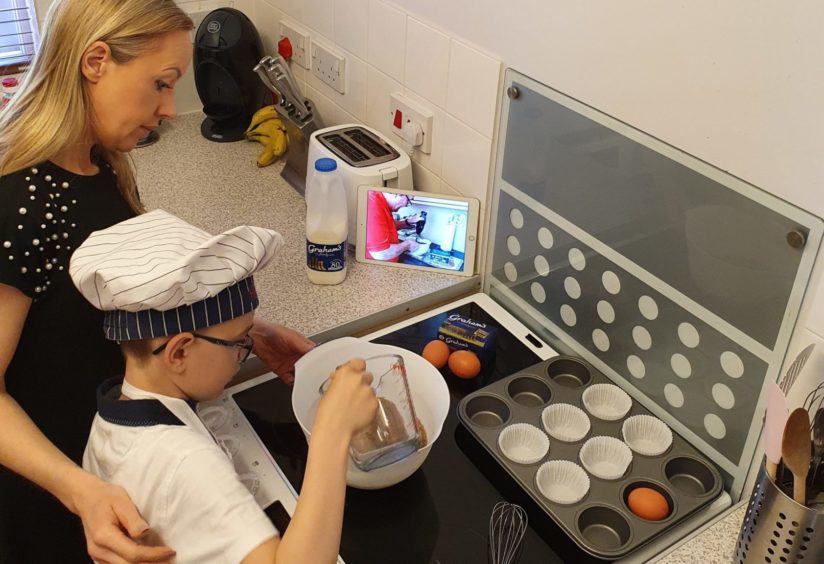 Good food brings everyone together as an online campaign proves – Ailsa Herd tells Caroline Lindsay about #CookingTogetherApart and how it's helped her family stay connected in these challenging times…
There might not be many advantages to lockdown but one of the benefits is that a lot of us are spending more time cooking from scratch and spending quality time with family.
But what about the family members and friends we can't see at the moment? Ailsa Herd, PR manager for Graham's the Family Dairy, has come up with a good way for her four-year-old twins to keep in touch with their grandparents, who, before lockdown, looked after the twins on Fridays.
"Like many people across the world now, my husband Alistair and I are trying to work full time while simultaneously looking after the happiness, education and welfare of our twins at home," she says.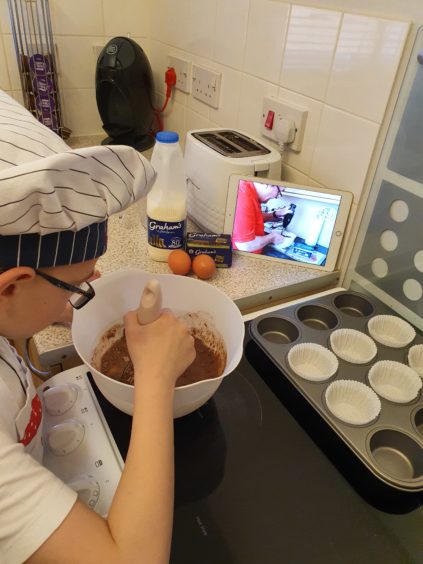 "We are however, really enjoy spending more time together as a family and here at Graham's, we want to encourage families – grandparents and their grandchildren in particular – and friends to keep connected via technology during these unusual times by #CookingTogetherApart.
"Not only does baking together keep the children entertained and happy, it also sparks so much joy for grandparents as many have been unable to see their grandchildren for several weeks.
It's become popular with our customers as we share recipes and hints and tips, including how to make your own butter at home via our social channels.
"Baking with Grandma Jean is a bit of a Graham family tradition, so the children have been making cupcakes, flapjacks and pancakes with her via FaceTime. My two have also enjoyed cooking with their granny via the iPad, particularly at breakfast time when they love to help make eggy bread together, with my help in the background of course!"
Thank you to everyone who has sent us their heart-warming #CookingTogetherApart photos. We love the idea of creating new happy memories via technology, particularly if this means making and enjoying eggy bread with Granny! 🍳 pic.twitter.com/SM8JXfWIeX

— Grahams Family Dairy (@GrahamsDairy) April 26, 2020
Alistair and Ailsa share the now huge amount of daily cooking, so they get the kids involved too. "They seem to be really loving it. There is lots of cooking and cleaning up to do every day, so the more people who help out, the better," smiles Ailsa.
"We have always enjoyed cooking and eating together as a family, and now we can have grandparents and friends on our iPads, enjoying these pastimes together while we are living this new and strange lockdown life.
"I really do miss spending time with my mum, and know she misses us all so much too.
"By enjoying cooking and laughing together, it feels like we are making new memories and keeping things as normal as possible, all while keeping a safe distance apart," she continues.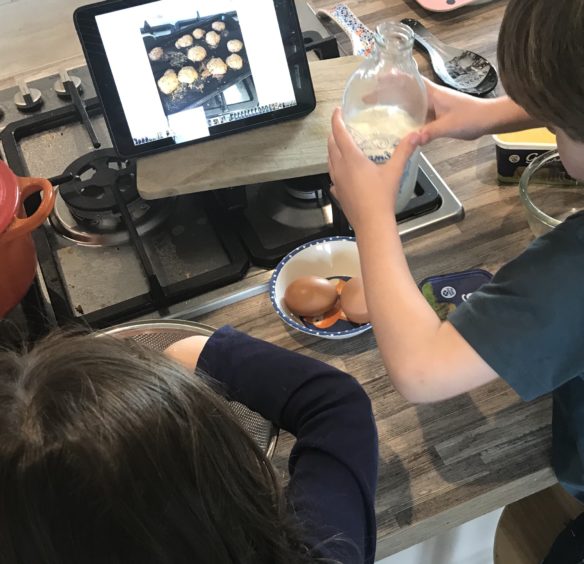 "As the children aren't attending nursery at the moment, cooking together as a family is such a positive, happy and also educational activity to do together, plus they also learn the life skills of clearing up afterwards and helping with cleaning the dishes.
"They also made their own butter the other day by shaking up cream in a jar until it went from whipped cream and finally turned into butter. Great fun!"
Ailsa would love readers to share their own #CookingTogetherApart photos or videos online. "We are really enjoying seeing how others are creating their own special family memories, sharing recipes and making a joyous mess in their own kitchens," she says.
"We're thankful that technology and cooking together can keep smiles on all our faces."
Just upload your photos, videos and stories on your own social channels and tag @grahamsfamilydairy and include hashtag #CookingTogetherApart.
---
Ailsa's top three tips for cooking in lockdown are:
Be prepared. We now shop weekly and I create daily menu plans in advance to ensure we know what meals we are having, including snacks. Batch cook and freeze when you can.
Make it fun. Get the children to help at every meal. Mealtimes should be family fun time and it can also help with any little fussy eaters if they are actively preparing their own meals. There is lots they can do, and yes it may get a little messy, but they can help clean up too!
Be flexible. Ask the children what they would like to cook or provide them with a few choices of food or new products they could try and cook with. We have lots of family-friendly and simple recipes on grahamsfamilydairy.com, tried and tested by Grandma Jean and her own grandchildren!
---
Flapjacks
(Makes 10)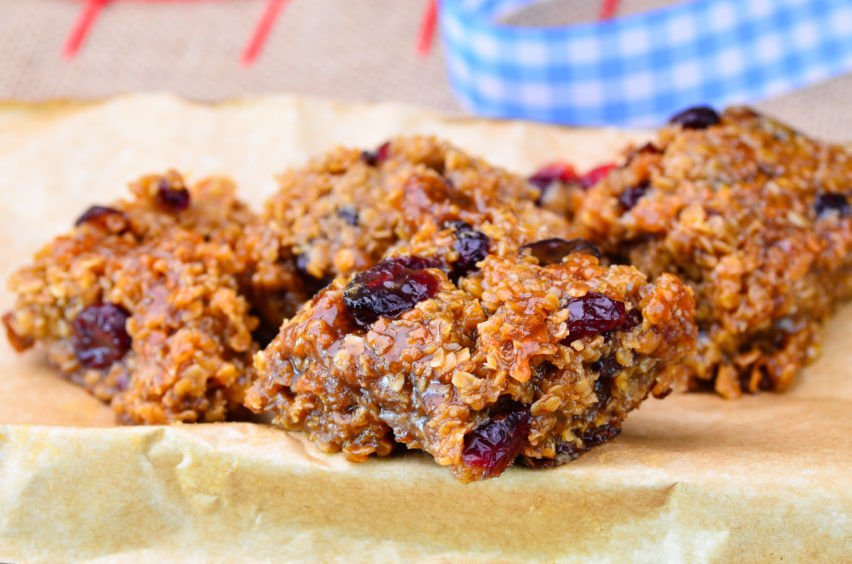 Ingredients
175g Graham's salted butter
175g golden syrup
175g brown sugar
350g porridge oats
80g dried cranberries
Method
Preheat the oven to 150C/300F/Gas 2 and line a 20cm/8in square baking tin with baking paper.
Melt the butter in a medium pan over a low heat. Dip a brush in the butter and brush the baking tin with a little bit of it.
Add the golden syrup and sugar to the butter and heat gently. Once the sugar is dissolved and the butter is melted, remove the pan from the heat and stir in the porridge oats and dried cranberries.
Pack the mixture into the baking tin and squash down. Bake in the oven for 40 minutes.
Once cooked, remove from the oven, leave to cool for 15 minutes, then turn out on to a chopping board and cut into squares.