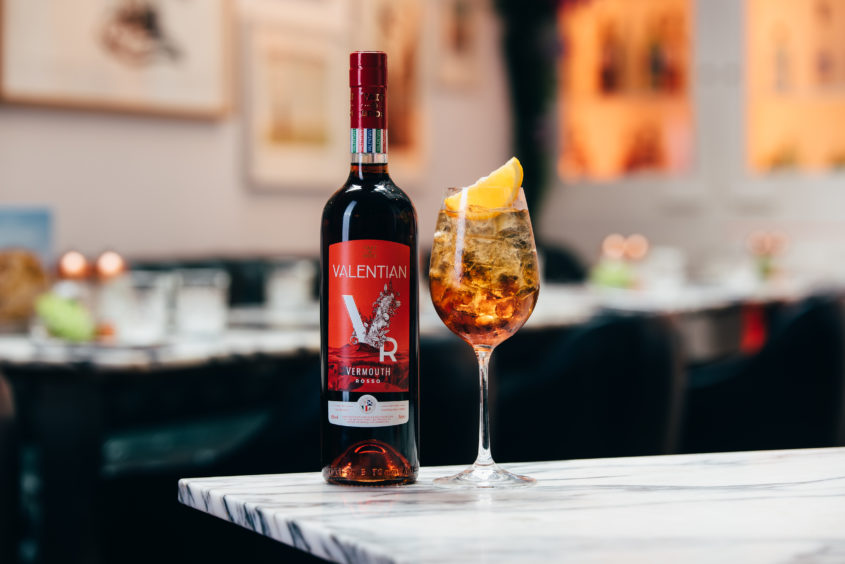 Scotland is known for its diverse drinks offering, but did you know we're now home to a vermouth? Julia Bryce finds out more…
When you think of vermouth, images of a dusty, hardly-used bottle at the back of your drinks cabinet probably comes to mind.
The bottle that no one seems to reach for, well, not until the Martini's are flowing.
But two Scots brothers are set to bring the traditional Italian spirit into the modern era by giving it a Scottish twist.
Years in the making, Valentian Vermouth is the brainchild of Dominic Tait and his brother David who have launched the brand's first expression, rosso – a sweet red vermouth.
Growing up in the drinks industry, the duo wanted to bring an innovative product to the market, putting their own Scottish twist on the Italian aperitif.
Dominic said: "My brother and I had this idea to create a vermouth and it requires wine in its production. Scotland doesn't really have the climate for wine production so we wanted to find out how we could combine two countries to bring it together.
"We've grown up in the drinks industry – our father was the co-founder of Borders Distillery, the first one in that area since 1871. He's also the director of Innis & Gunn (a Scottish brewery) and I've worked in the drinks industry for years. We really wanted to create a product that was for Scotland."
Dubbed by Dominic as the next leading drinks trend, the business owner says vermouth's popularity is growing and is anticipated to be the next big thing.
He added: "We think vermouth will be one of the next big drinks trends and we wanted to create something of really great quality and something we really enjoy. We are also big fans of Italy as we spent most of our childhood holidays there, so it was a great way of combining our love of Scotland and Italy."
Putting their own Scottish spin on it, the duo use new-make malt barley spirit – the product which goes on to become Scotch whisky when aged – to create their Scottish/Italian fusion.
"We combine a mixture of botanicals related to Scotland and Italy. So it's really inspired by Scottish and Italian cooking and cuisine," said Dominic.
"Things like rhubarb, sage, and then we also use new-make malt barley spirit – which is basically unaged Scotch whisky. After three years of ageing that spirit would traditionally go on to make whisky but we take it fresh off the still and use it as part of the aromatisation process.
"Vermouth is just fortified wine. They use a high-strength grape brandy but we use the new make malt barley spirit instead. That's the revolutionary, totally new process that we've introduced to the market."
Working with friends in the industry, Dominic and David were put in touch with an Italian family who had around 100 years experience working with vermouth to help them bring their brand to life.
He said: "It's quite a challenge to make. We tried making it at home and experimented with it, but we worked with some Italian partners and one of our friends – who is half Scottish and half Italian – introduced us to a family who had been making vermouth for nearly 100 years. They were able to help us with the recipe.
"We send the Scottish ingredients to them and they source the Italian ingredients and then we bring it all together. We really got to explore the making of vermouth and the Italian styles of drinking.
"It's great to get to work with another family business as it's just myself and my brother. To have a family business as our production partner who have these values of tradition and heritage but also saw the value of something different and ground-breaking, I think that's really great."
Creating the small-batch drink in Italy, Dominic has his sights on upping production volumes once sales increase, and also hopes to open his own production facility in the Scottish Borders to bring the full production process to Scotland.
Primarily selling via their online channels and through bottle shops at the moment due to the coronavirus pandemic, Dominic is looking forward to launching the two other products within the core range in the coming year.
He said: "At the moment we're relatively small batch. We use small batch Italian wines and we source the best quality grapes for the production. Ultimately we will look to scale the business up and long-tern we'd like to have a production facility in the Scottish Borders near Melrose.
Vermouth is just fortified wine. They use a high-strength grape brandy but we use the new make malt barley spirit instead. That's the revolutionary, totally new process that we've introduced to the market."

Dominic Tait, Valentian Vermouth co-founder
"The other products have been developed already. We have a bianco which is a semi-dry super fruity product inspired by traditional biancos from Piedmont. The secco is super dry and perfect for classic Martini drinkers.
"The business has been self-funded apart from some small business start-up grants from the local council. Once we get to a decent size and we can afford to, we'll release the other expressions. We hope to launch them within the next year.
"People are really getting into vermouth and having the range will be great for everyone. We're passionate about making really good-quality products."
With the rise of the Aperol Spritz, and the Mediterranean style of enjoying drinks with a lower ABV, Dominic and his brother believe many more will turn to trying out the 15% ABV aperitif, especially in the warmer summer months.
Dominic added: "The great thing about vermouth is it's incredibly versatile. We maybe need to move people away from thinking it's that dusty bottle at the back of your cupboard. It's actually something you can drink regularly.
"Across the Mediterranean – particularly in Spain, France and Italy – having aperitif cocktails is just vermouth and soda or tonic. It's much lower in ABV than spirits like gin or whisky, so if you're not looking for that high-strength drink, or it's your first drink of the night, it's a great alternative and is really refreshing.
"It's also used in cocktails like the Negroni or Manhattan. There's loads of different ways of drinking it. Lots of people are big fans of the Aperol Spritz and I think it's a great alternative to that."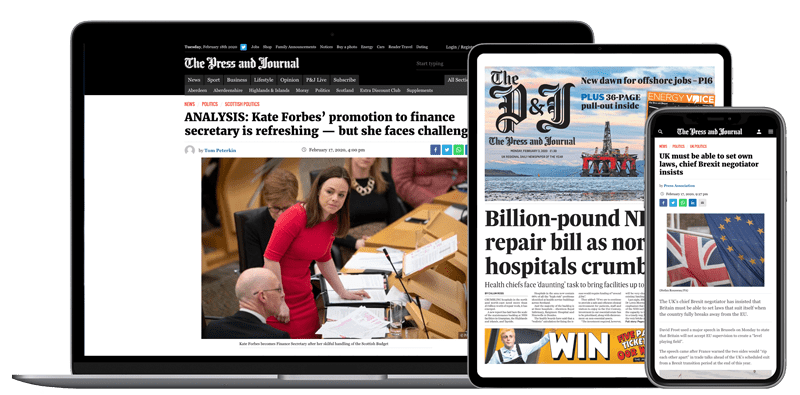 Help support quality local journalism … become a digital subscriber to The Press and Journal
For as little as £5.99 a month you can access all of our content, including Premium articles.
Subscribe