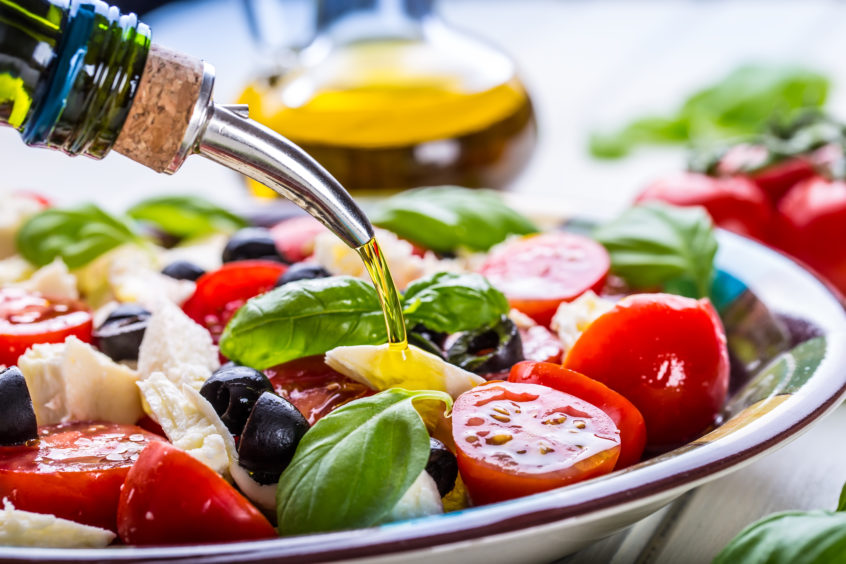 Now that the weather's warming up, follow our super-simple salad recipes to add a touch of freshness to your table.
When someone mentions salad you might picture a wilted lettuce affair for when you're on a diet, or the single, unimaginative vegetarian option on a restaurant menu.
In Scotland, largely due to the climate, we are often more tempted by stodgier "comfort" food rather than the lighter meals favoured in warmer countries. But it's a mistake to write salads off as mere "low calorie", boring food.
If made right, they can be extremely versatile, tasty dishes that can be eaten as sides, starters or even a meal in itself. In most Mediterranean countries – whose diet is said to be among the healthiest in the world – salads are a daily feature on the family table.
While non-essential travel abroad is restricted, you can still bring the holiday vibe to your home by whipping up something a bit more refreshing in the kitchen. Salads are the perfect dish for warmer days, and you don't need to make them fancy either – you can work wonders with simple ingredients from your local supermarket or greengrocer's shop.
A recent report showed that locally-produced fruit and vegetable boxes are enjoying a new-found popularity during lockdown, with many independent shops delivering them to your door. If you've ordered one, or if you've simply stocked up at the supermarket, why not have a go at these easy summer salads. They serve two as a side dish/starter and one as a main meal.
---
Greek Salad
There's a reason why this is of the best-known and popular salads around the world – it's so simple to make, yet tastes amazing. It's perfect on a warm summer evening as a starter or a side with pretty much anything, whether it's meat, fish, pasta or another vegetable dish.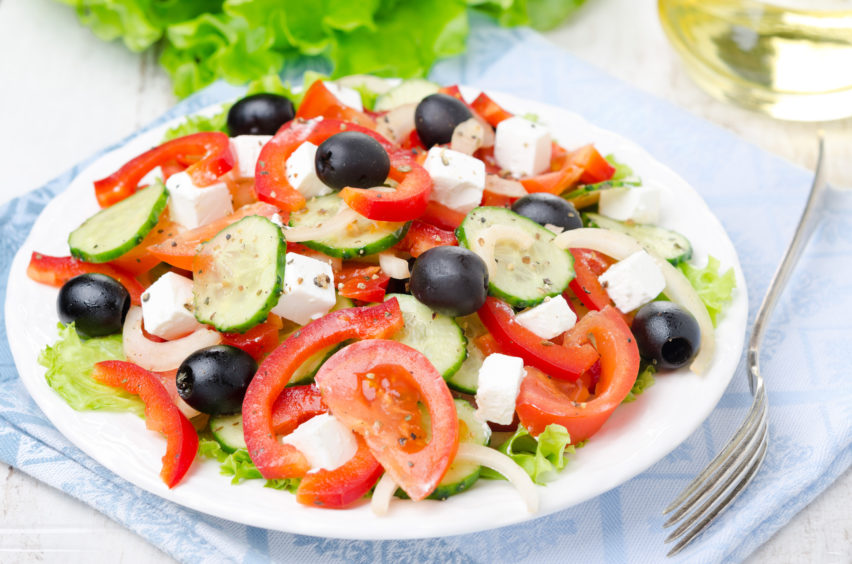 Ingredients
3 large tomatoes, ideally on the vine
1 cucumber
½ onion, red or white
3 tbsp dark olives of your choice
1 tsp dried oregano
30g feta cheese
1 tbsp olive oil
Method
Cut the tomatoes into bite-sized wedges, the cucumber into even slices and chop the red onion finely.
Add in the herbs, olives, olive oil and the cheese, cut into small cubes.
---
Green salad with blue cheese
This salad is packed with potent flavours and can be eaten as a stand-alone meal if you wish, due to its ingredients – cheese and walnuts are both very filling, without being too "heavy". Pair with some toasted sourdough or crusty white bread drizzled with olive oil to keep you full for even longer.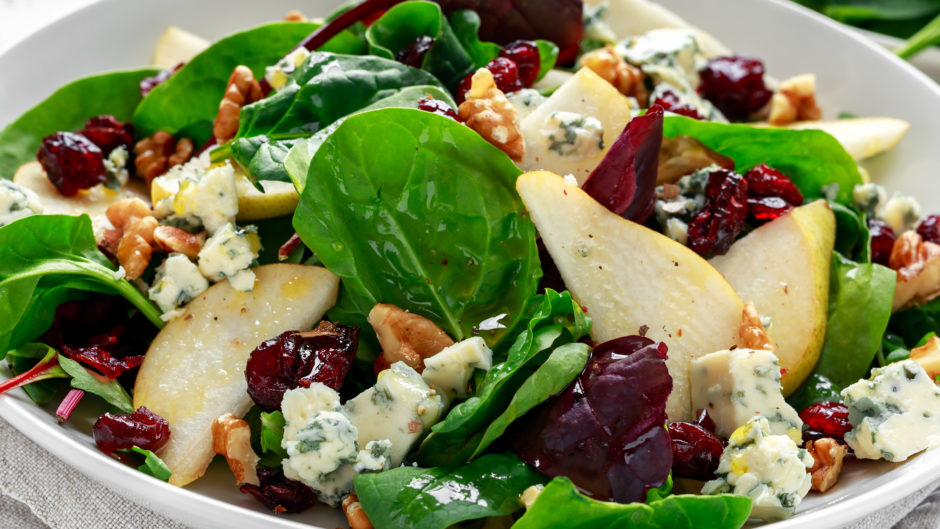 Ingredients
A cupful of green mixed leaf salad, ideally containing rocket and/or baby spinach leaves.
30g of hard blue cheese, such as Stilton
1 pear
3-4 walnuts
1 tbsp olive oil
Optional: 1tbsp dried cranberries and/or runny honey for drizzling
Method
Wash the leaves, cut the cheese into cubes and quarter the pear. Chop the walnuts finely. Mix in a bowl with the olive oil.
Add the cranberries if you're using them, and drizzle some honey on top if you like sweet and savoury combinations.
---
Turkish Shepherd's salad
Despite its humble origins – as the name suggests, this salad was once popular with shepherds – Turkish Shepherd's salad is anything but ordinary. The recipe uses simple vegetables but the spices give it a strong, exotic flavour. Combine with some plain yoghurt and pita bread on the side for a light main meal, or dish it out as a side or starter with meat dishes.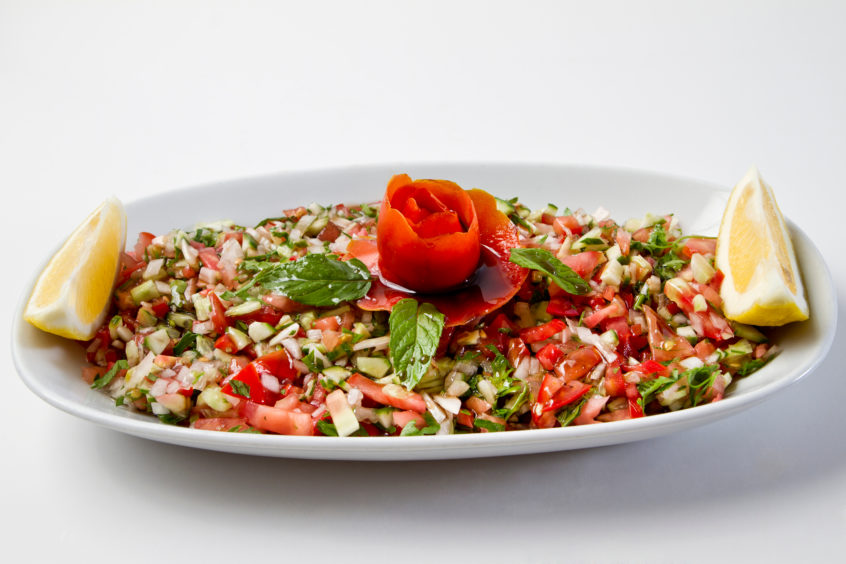 Ingredients
3 tomatoes, preferably on the vine
½ cucumber
1 green pepper
1 onion, white or red
3 tbsp black olives
A few springs of parsley
1 tsp dried mint
2tsp dried chilli flakes or chopped fresh chillies
1 lemon
1 tbsp vinegar
1 tbsp olive oil
2 tsp sumac, a Middle Eastern spice, if you can find it (optional)
Method
Chop all the vegetables finely, into small cubes of roughly equal size. Chop the parsley and add it in, along with the sumac, if you have it. Mix well.
Make a dressing by mixing the olive oil, vinegar, juice squeezed from the lemon, red pepper flakes and mint. Drizzle over the salad. Garnish with the olives.
---
Spanish mixed salad
In Spain this colourful salad is usually served on a big platter and left in the middle of the table for everyone to share. It contains protein-rich ingredients such as egg and tuna, meaning it can be eaten as a main meal or as a side/starter if you have a smaller portion.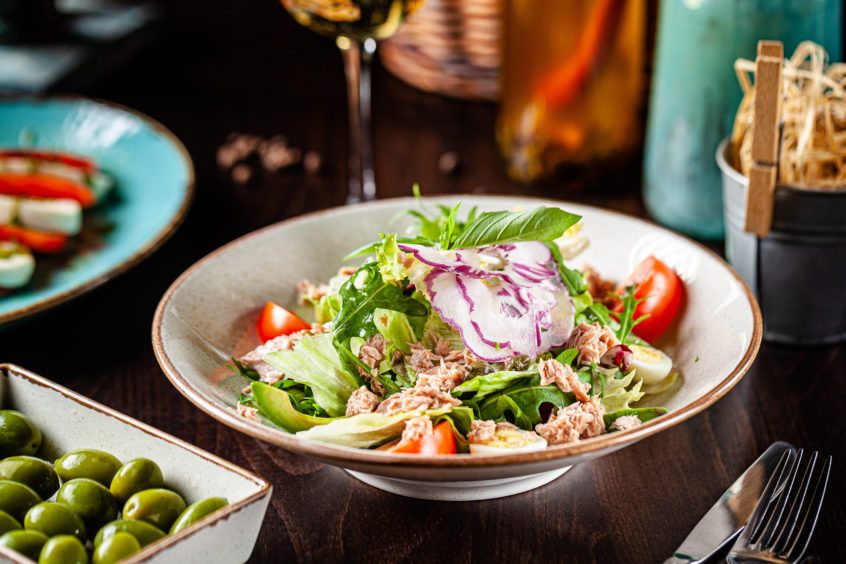 Ingredients
1 egg
½ head of iceberg lettuce
2 tomatoes
½ cucumber
1 red or yellow bell pepper
½ an onion, white or red
1 carrot
Small can of tuna, or ½ of a regular-sized can
3 tbsp green olives of your choice
1 tbsp olive oil
1 tbsp red or sherry vinegar
Method
Hard-boil the egg and let it cool. Cut into quarters.
Chop the lettuce finely, dice the tomatoes, peel and slice the cucumber.
Slice the pepper into long, thin strips.
Finely chop the onion and grate the carrot. Lay a "bed" of lettuce on a platter and put the other chopped vegetables on top.
Place the egg on top of the vegetables and the tuna around them.
Garnish with olives and drizzle the olive oil and vinegar over the salad.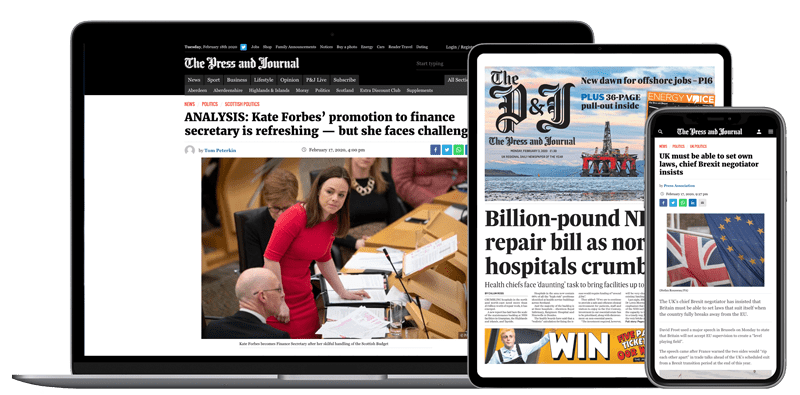 Help support quality local journalism … become a digital subscriber to The Press and Journal
For as little as £5.99 a month you can access all of our content, including Premium articles.
Subscribe