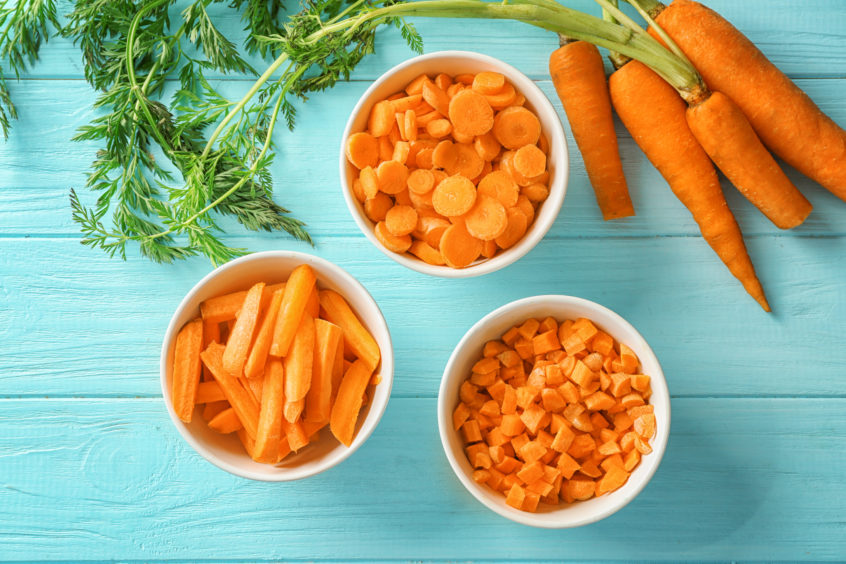 They have a knack for working their way into many of our meals throughout the week but just what is it about carrots that means we should be eating them in June?
It may not seem like they are a seasonal vegetable as carrots are technically available all year round. But, with their prime months being during the summer, it's time for us to get our hands on locally-grown carrots.
According to British Carrots, around 75% of Brits eat the orange stuff regularly, with more than 10 million being consumed each year.
It is thought that they first came to Britain during Elizabeth I's reign, during which it is said they were imported from The Netherlands, with the very first carrot thought to have appeared in Afghanistan in the 7th Century.
Here, we speak to some of Scotland's local carrot producers and find out why we should be eating them in the coming weeks.
What do the carrot growers say?
Ian Morrison, head of field department at Kettle Produce LTD in Cupar, Fife, says the carrot season differs between both Scotland and England and that, although they are best eaten over the summer months, the growing and harvesting process happens all year round.
"In most years, the UK has an all-year-round supply starting with English new season in mid-June before moving into Scottish new season at the end of June. Main season carrots generally start around beginning of September and run until early December.
"In the autumn, the winter and late crops are covered with straw to protect them from frost. We start to harvest the first strawed crops in early December and remain on these until about mid-April.
"In mid-April we move into crops in more northern regions where spring starts later and crops therefore keep for longer. These crops are generally harvested until the third week of June by which time English new season is ready to start again."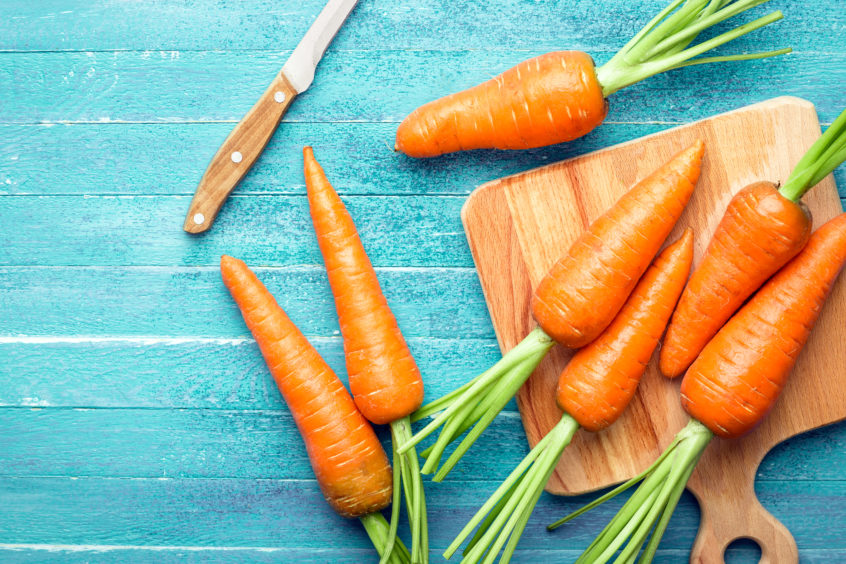 John Fraser, who grows carrots just outside of Stonehaven, says the season for him is slightly later in the year.
"We sow our carrots at the end of April, beginning of May and they're not usually ready until August. But this is our particular way of doing it – some people sow them earlier so they have an earlier crop. Then we harvest them between August and March.
"Between April and August they're germinating, we let them grow on a bit then they have to be weeded. Then it's really the end of July, beginning of August before we can harvest any as they're not big enough until then.
"There are some producers who have carrots ready now, but a lot of them have their carrots in cold storage or they cover them with straw in November, while there's frost in the ground, then in April and May they take the straw off then they can harvest those carrots."
Richard Bruce, garden manager at HOPE Garden in Arbroath explains a bit more about the process.
"The seed is directly sown into the ground in drills and takes around 17 days to germinate. They prefer deep soil – sandy if possible – and need to be grown in a sunny spot. They won't grow well in compacted or stony ground.
"The seedlings require them to be thinned out every 2 or 3 inches to give them room to develop.
"If the crop is sown in early March then they will be ready to harvest in June, or can be sown in June for a September to October harvest. Any later than that and the seeds are less likely to germinate, and will require to be covered with cloches to protect from the cold and harvested November to December.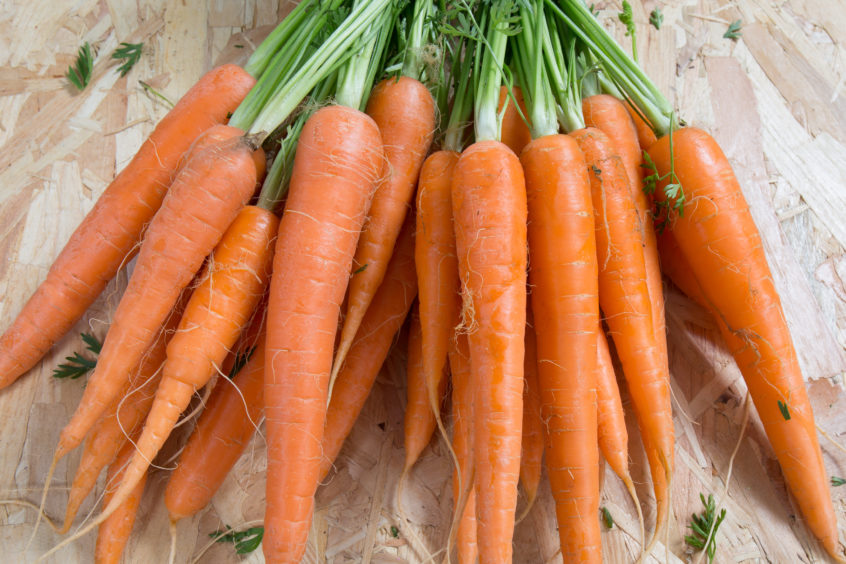 "Tayside and Angus are particularly bad areas for carrot rootfly," says Richard, "So crops require to be covered in enviro mesh or something similar. The rootfly can get in the smallest of gaps. They lay larvae and tiny little white grubs infest and burrow into the carrot. The crop is ruined within a matter of days should that happen."
It is also the case that carrots can differ in taste, depending on a number of factors.
"Carrot taste can be affected by a number of factors including weather and climate, nutrition, variety, soil type," says Ian. "So taste does differ depending on where the carrots are grown and at what stage in the season they are harvested."
Richard says: "There are many varieties of carrots ranging from colour to size. They can range from yellow, white, purple and red, as well as the more common orange varieties.
"The sizes vary such as the popular chantenay red cored carrot, which is a short stubby carrot with a sweet and crisp flavour, Nantes, an early variety which is also sweet and crunchy and is good for freezing, as is Amsterdam Forcing. You can have golf ball round varieties, finger long varieties and long rooted varieties as well."
When it comes to buying carrots though, John says it's better to get as local as possible.
"They'll be the freshest you can get and that's what you want – fresh produce. I would recommend people buy dirty carrots where possible. They're the ones that aren't washed and have a bit of dirt left on them still. The soil keeps the nutrients in by protecting the skin. As soon as you wash them you start losing some of this nutrition.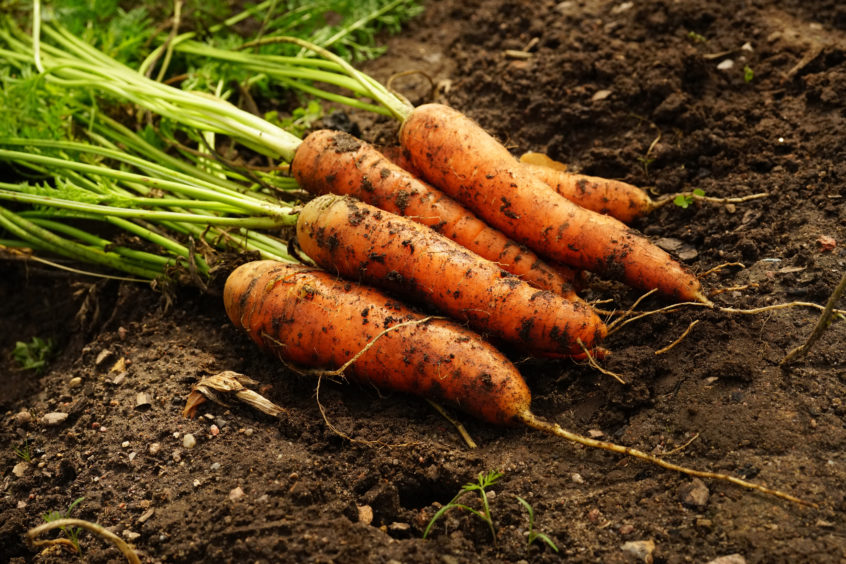 "When the soil is still on them the carrots will keep longer as well. A lot of the carrots in the supermarket have been through a washing machine which 'tumbles' them and sprays water on them to clean them. It is convenient but you're not getting as good a quality vegetable."
How should we cook with them?
One of the most versatile vegetables, carrots can be used in a variety of dishes and eaten with almost every meal.
John says: "Juicing is a really good way of eating fresh carrots and it means they also aren't cooked so are more nutritious this way. Grated in salads is a good way as well, but we use them mainly in soups and stews."
Meanwhile, Jane Leonard, customer marketing and innovation manager at Kettle Produce LTD says: "Carrots are nutritious and versatile vegetable that can be eaten raw or cooked in a number of different ways. High in vitamin A, carotene and antioxidants they can be used in sweet and savoury dishes and have a health benefit too.
"They perfectly marry with many different flavours including Moroccan spices; sweet flavours such as honey and orange; fiery ginger; many herbs including thyme and tarragon; or simply steamed with a knob of butter."
---
Classic Carrot and Coriander Soup
(Serves 4)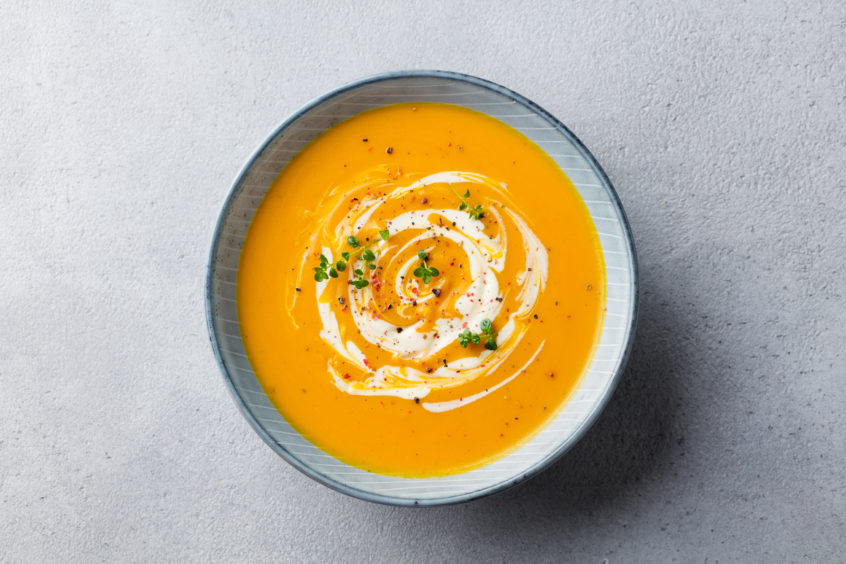 Ingredients
15ml vegetable oil
1 onion, chopped
450g carrots, washed and sliced
1 clove garlic, crushed
5ml/1 tsp ground coriander
1.2 ltr/2 pints vegetable stock
45ml/3 tbsp chopped fresh coriander
Squeeze of lemon juice
Freshly grated nutmeg, to taste
Salt and freshly ground black pepper
Single cream, to serve if liked
Method
Heat the oil in a large pan, add the onions, carrots and garlic, sauté for 4mins, until they are beginning to soften but not colour. Stir in the ground coriander and plenty of seasoning and cook for one minute.
Add the stock and bring to the boil, cover and simmer for 20mins or until the carrots are really tender. Stir in the fresh coriander.
Whizz the soup with a stick blender or transfer to a food processor. Add the lemon juice and nutmeg to taste and adjust the seasoning as necessary. Reheat until just hot but not boiling and serve. Garnish with a swirl of cream if liked.
For more recipes, visit the British Carrots website here. 
---
Read more in this series…
Season's Eatings: Why we should be going wild for dandelions
Season's Eatings: Why these ap-pea-ling legumes are good for you and the environment