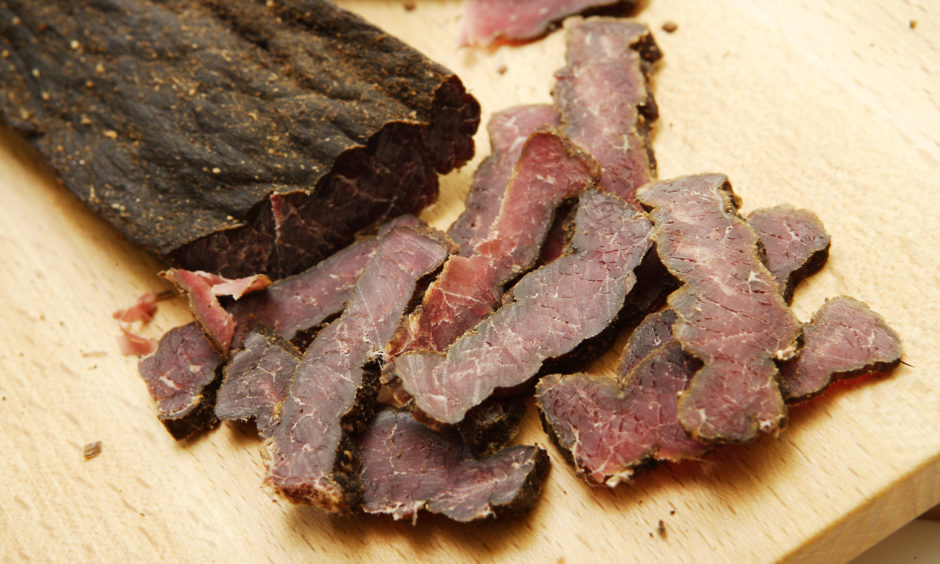 Many won't be familiar with the delicacy, but this dried, cured meat is fast becoming a go-to fitness and bar snack in the country.
"What actually is biltong?" is the common response when I mention the South African snack to any of my friends and colleagues.
Having discovered it a few years ago myself, it is described as being very similar to  jerky, the dried meat snack.
With biltong, raw air-dried beef is marinated in the traditional South African recipes of salt, pepper, coriander and vinegar. It's served either in stick form or chopped into small pieces cut across the grain of the meat.
Now food producers in Scotland are turning their hand to experimenting with vension and bacon biltong, while in South Africa game meats such as ostrich and kudu would also be quite common.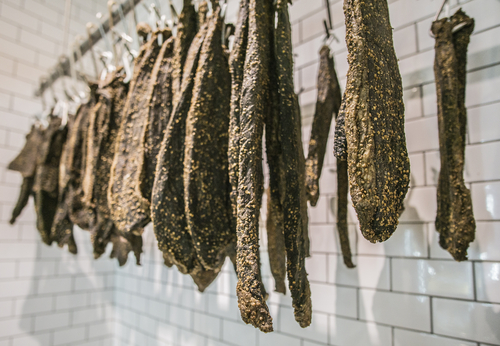 Taking anything from a few days to just over a week to dry out, biltong can last for months – and up to two years in some cases. However many producers will put a much shorter shelf life on the products due to food health and safety. Packed with protein, iron, zinc, B-group vitamins and omega-3 fatty acids, biltong is seen as a healthier alternative to other snacks.
Stocked in various national supermarket chains including Tesco and Lidl, more independent brands are popping up all over the country, sharing their unique recipes with the world.
Here, in Scotland, biltong can usually be found in gym and fitness establishments or in pubs. Two very contrasting industries, biltong is a great source of protein – making it a hit with avid gym-goers, but also pairs very well with beer – and would be seen as a lighter, healthier option than crisps when enjoying a brew.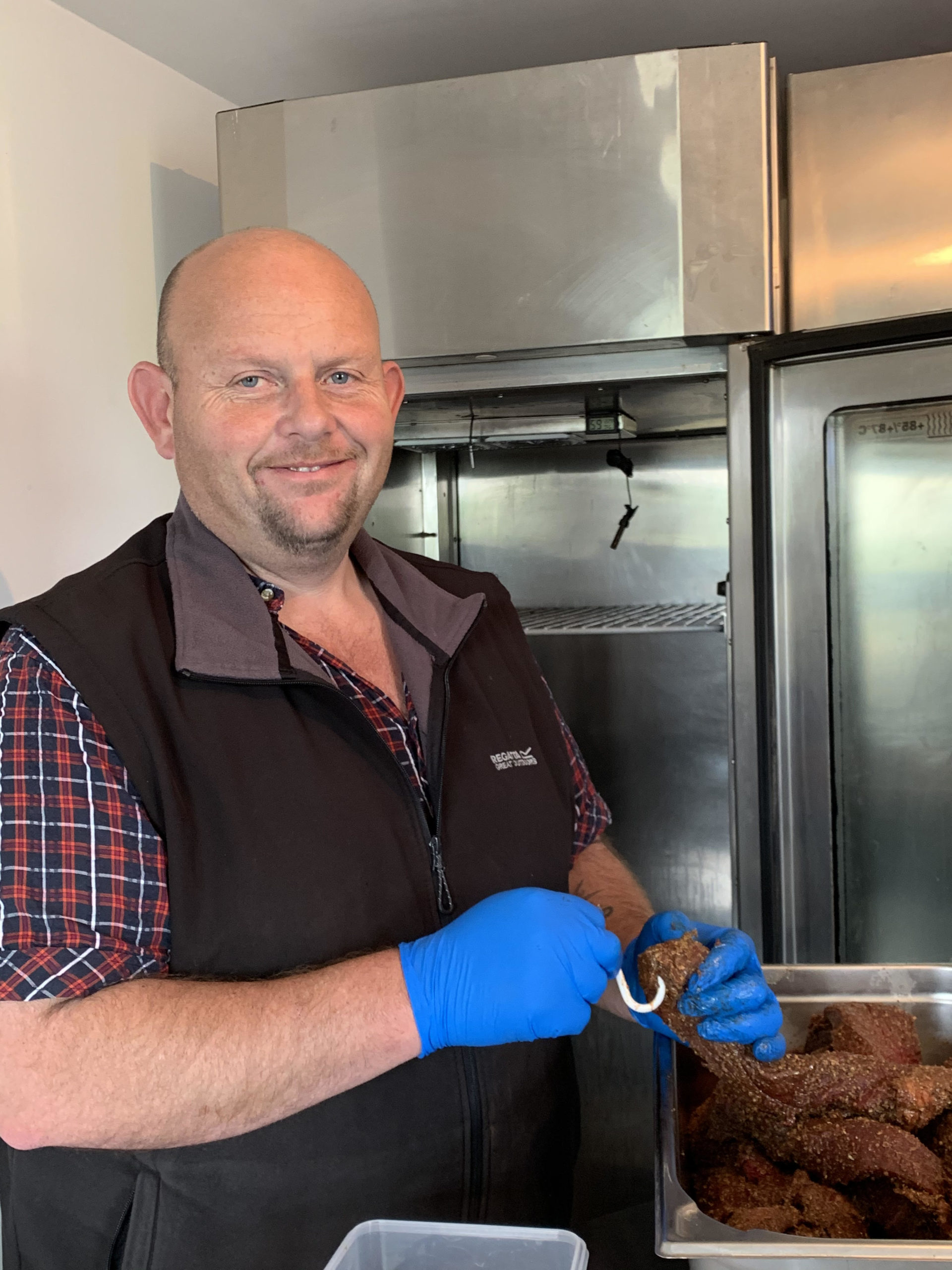 Born and raised in Johannesburg in South Africa, Justin Brown, owner of JC Browns Biltong in Aberdeenshire, wanted to bring his love for the country's local delicacy to his new home in Scotland.
A recipe generations old
Using traditional methods and family recipes passed down generations, Justin has been making biltong for more than 20 years, and took the plunge to launch his business in September last year.
He said: "It's hard to get people to understand what it is. I usually get people to taste it first, and then tell them what it is.
"We've just re-branded so we're off to a good start. There's eight flavours now – we started off with the barbecue and chilli. I've noticed people are really enjoying hot stuff so I've made a really hot biltong which is really good. There's a variety of heats as there's some people who don't like spice so we accommodate everyone.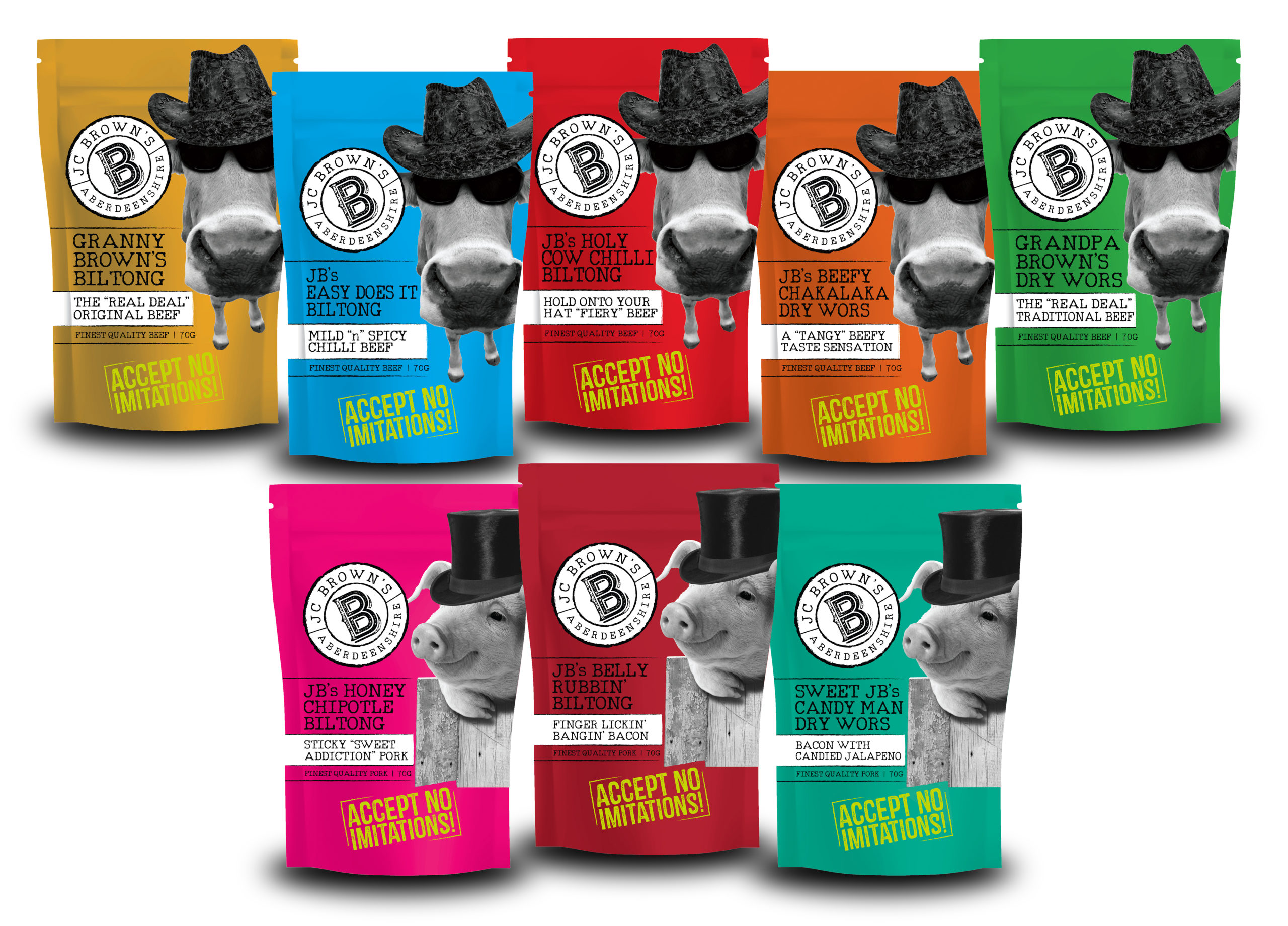 "I've recently developed a bacon sausage and I'm the first in the UK to do that. The bacon sales outweigh a lot of the other sales as it's so unique.We have the traditional range and another focused around bacon and we're also using local beers in our products. We marinade them in the beer for around six hours – depending on the product. I very much see it as a beer snack and something you can enjoy in pubs."
Working with award-winning Inverurie butcher, John Davidsons, Justin says sourcing the best meat when making his biltong is something he prides himself on – and the way he makes it in Scotland is worlds apart from how he used to make it traditionally in South Africa.
"In South Africa there was this culture of 'I can make it cheaper myself' and so lots of people would buy cheaper cuts of meat and make their own biltong with it," said Justin.
"When I used to make it at home I'd hang it in my bedroom or wherever I could find and put a fan on it. That's how it was traditionally made. You come back two or three days later and eat it. Biltong is one of those things that will either work or it won't.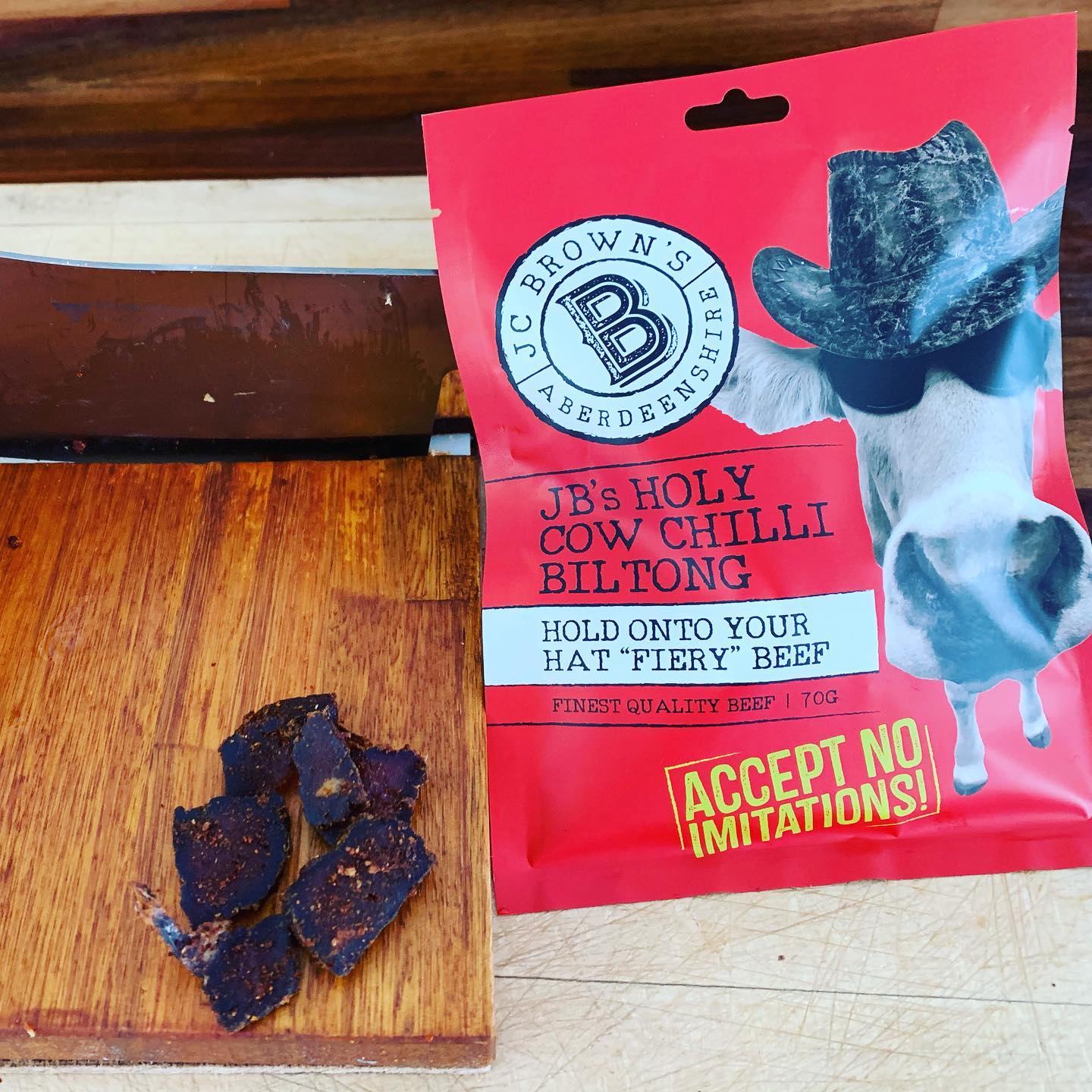 "Every shop has it and every butcher makes it – there's so many different ways to do it. I've worked in the food business and manufacturing my whole life – be that potato chips, snacks, and I've run two restaurants before.  I come from a food background. Once you know how to make it you can experiment with it and change it to your tastes – that's when you can play around with spices.
"The product is pretty new to the environmental health department so it's hard to make them realise that biltong really doesn't have that many requirements. I mean it could easily last a year and a half to two years no bother, but because I need to make it the way that works for them I have stainless steel boxes with UV lights and follow all of their other requirements. I guess it's different because you're working with raw meat, but your're not cooking it or curing it, so they are unsure exactly what it requires as it is dried.
"I work really closely with John Davidsons in Inverurie who supplies my meat. Most biltong producers seem to use silverside beef but I use a different part of the cow and for the British market that don't really know biltong that well, I think it's a great way to introduce them to it. Some biltong you'll get a lot of sinew (touch fibrous muscle connecting to the bone, tendon or ligament) in it – and it can put people off. Different cuts of meat eliminates that from the process."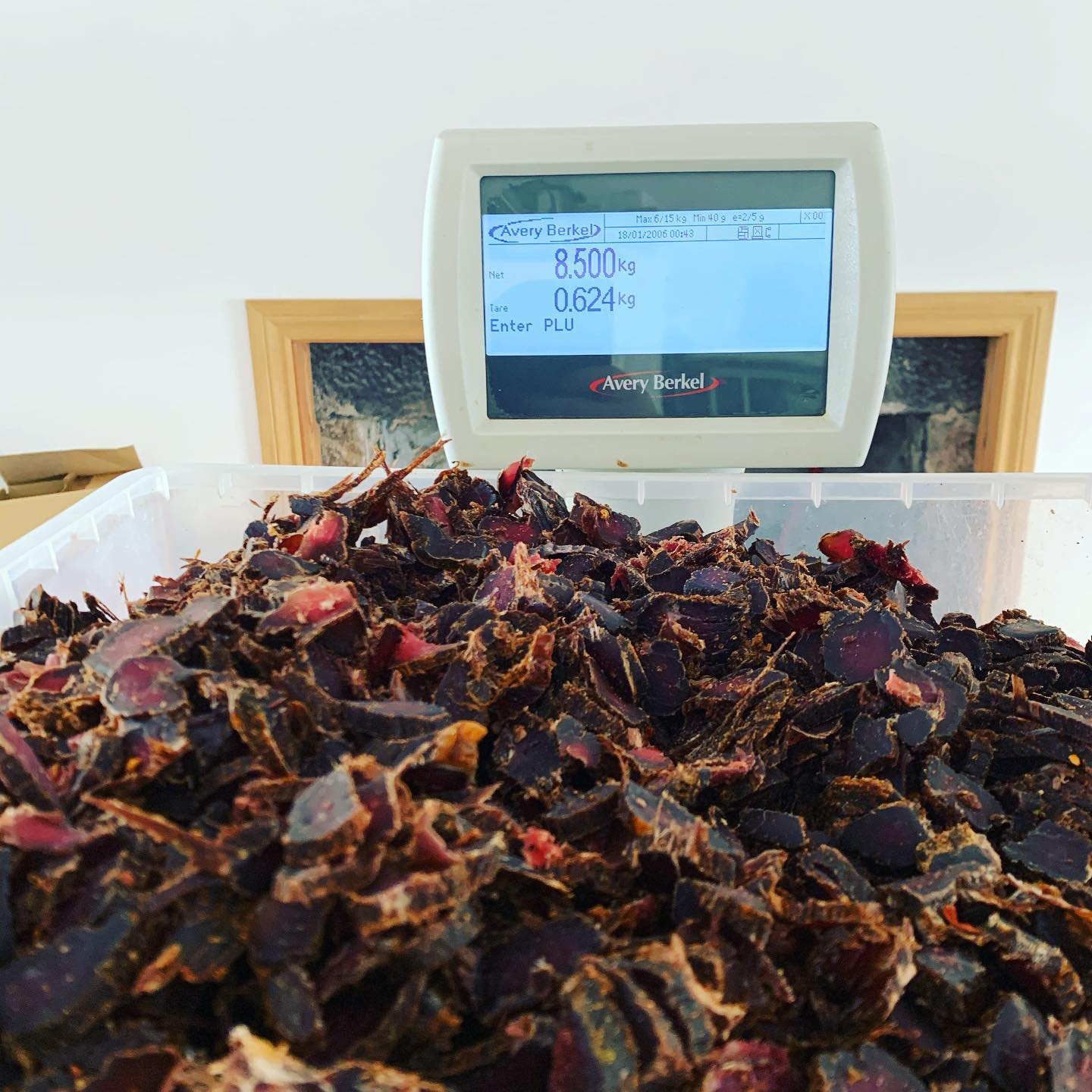 Selling across the UK, the product is still in the early stages of growth, but Justin believes the market is changing and consumers are becoming more receptive to the concept.
He added: "We sell biltong all over the country and I've been working with a supplier who is a retail buyer to all the pubs in the UK, too. It is very early days but now we've got our branding and packaging sorted out we'll be able to promote ourselves to these companies. We also work with some butchers who stock our products."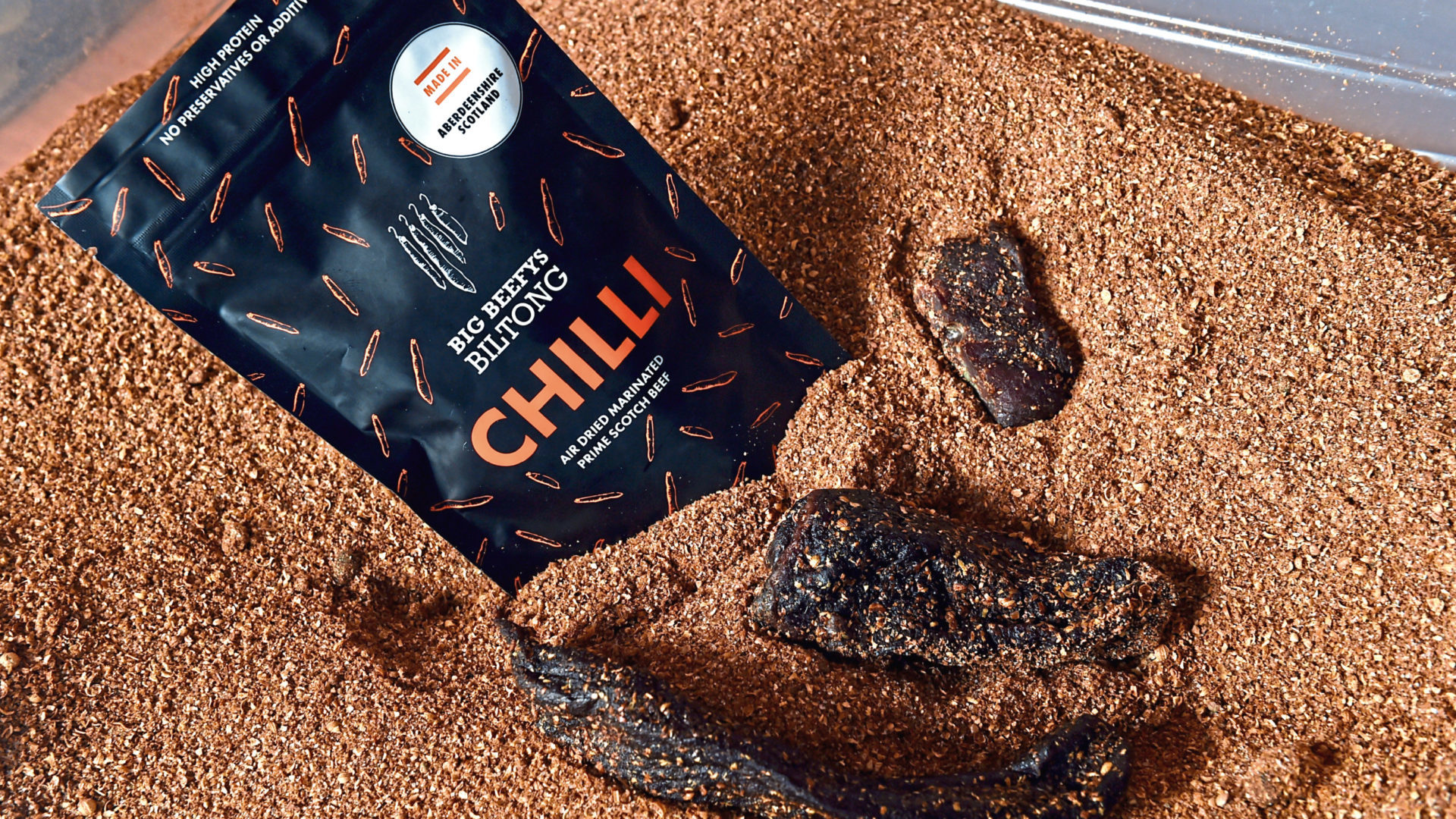 In Aberdeen, Matt Smith who owns Big Beefy's Biltong, which was established in 2014, specialises in the air-dried beef and has also introduced a number of new products, including its boerewors, to biltong fans.
Formally owned by Colin Thain, Matt took over the business in October last year and has been pushing to make it bigger since.
He said: "I bought over the business in October 2019 when the previous owner, Colin Thain, put it up for sale due to other work commitments. I have always been interested in biltong so when it went on the market, I was delighted to purchase it.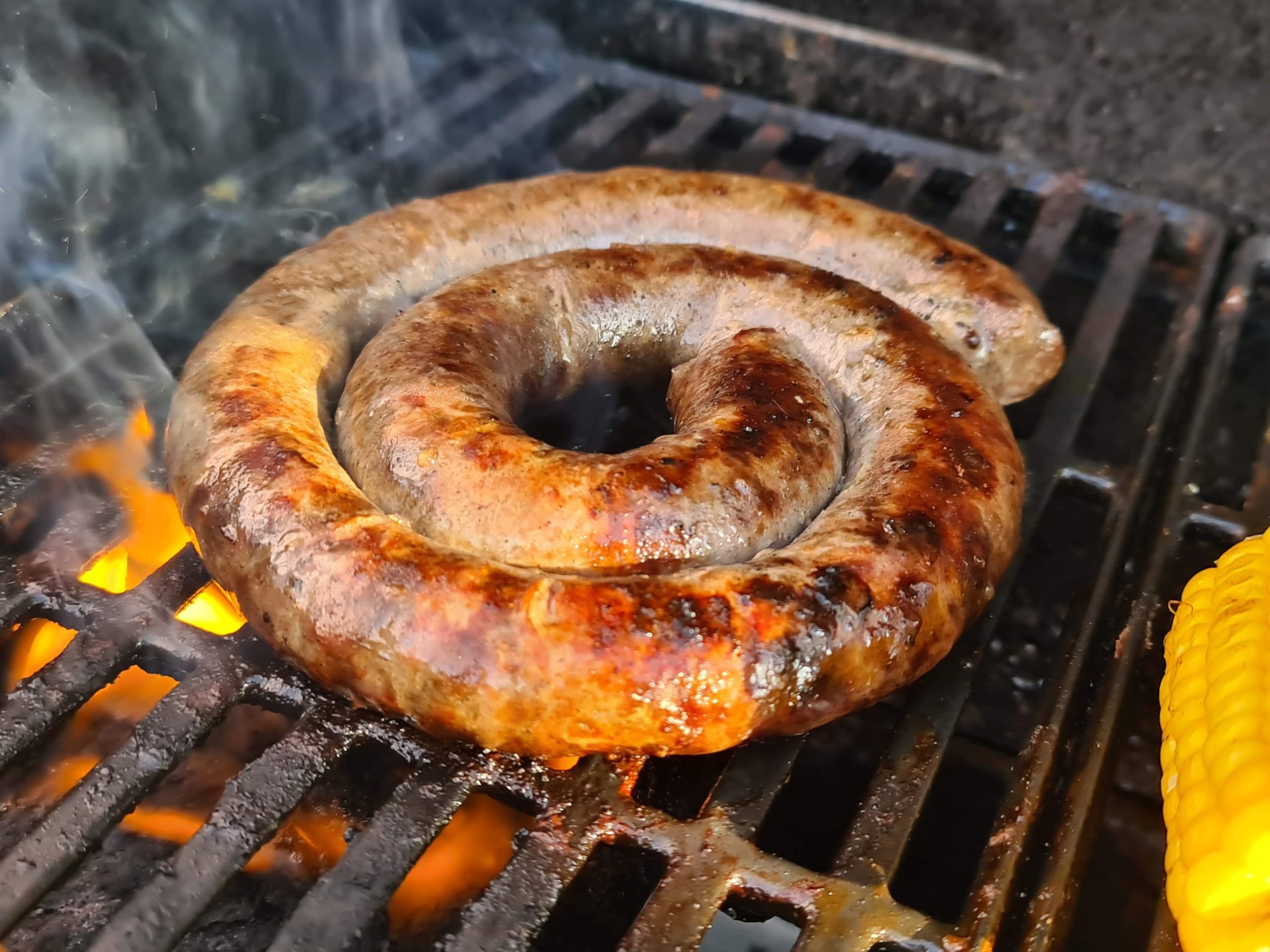 New products
"We have launched our new boerewors (BOO-ruh-vorse) range – a fresh South African sausage in a coil shape which is best cooked on the Braai (BBQ) for eight to 10 minutes each side and enjoyed in a bun as a boerie roll. Our flavours include original, chilli and garlic and we have been working on researching and developing products over the past few month. We are also now making a special edition of venison droewors – another South African snack – in original and chilli. We are continuing to work on other flavours, too."
Seeing a spike in sales throughout lockdown, Matt says most of his customers eat the product as a snack.
He said: "Our sales have actually increased during lockdown as many people are looking for snacks to have at home and biltong makes for a great healthy one. Since lockdown we have processed over 400kg of the beef and turned it into biltong.
"Most of our customers buy it to eat as a snack instead of chocolate or crisps as it's healthier and some buy it to have with their lunch. One of our South African customers bought it for his child to chew on during teething. I love to eat biltong as it is full of protein and fills you up. Biltong also pairs perfectly with craft beer especially stouts as the rich aromas of a chocolate stout goes perfectly with our chilli biltong for that kick.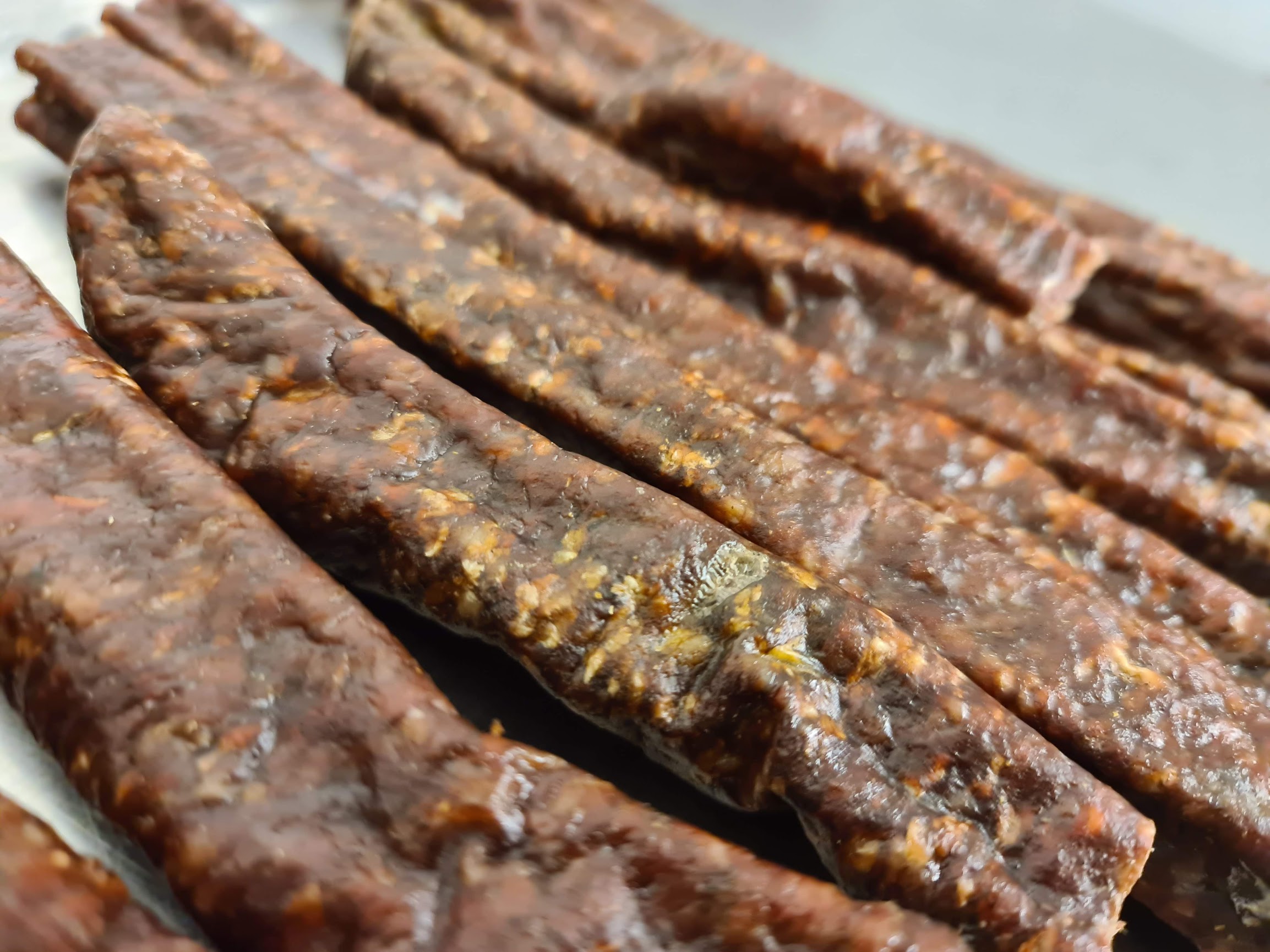 "I think that as the awareness of biltong increases throughout Scotland, our business will continue to grow.
"I would definitely say that biltong is growing in Scotland, part of our marketing is to increase the awareness of it as it's not like jerky and has much more flavour. We only use prime Scotch beef in our products and our biltong has no artificial flavourings or preservatives in it. We are the only biltong company in the UK using Prime Scotch Beef PGI which sets us apart from the rest."
Down south near the borders, biltong production is just as popular, with numerous firms and butchers offering the tasty snack up. Among them is Margaret Webster, director of HungTen Biltong.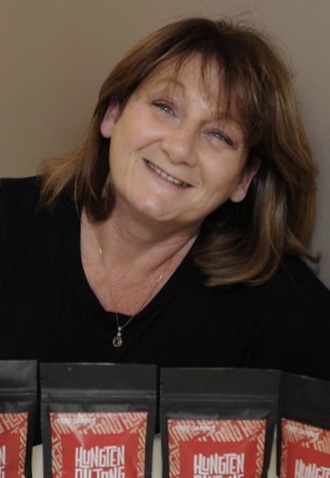 Born in Zambia, she has spent most of her life living in South Africa where biltong is one of the country's most popular snacks.
Operating the business from a unit in West Calder, Margaret initially started a South African catering firm but decided to move to producing her own biltong after receiving rave reviews.
She said: "I originally started with a catering firm specialising in Bunnychow, but I was doing it myself and getting the stand set up and everything done was quite a struggle. I took biltong along to the RBS Accelerator team I was on and everyone just loved it. It was especially popular for the younger people into the gym. They found that the natural protein they got from it was much better and benefited them more than protein drinks.
"I was born in Zambia and my parents are Scottish. My dad was an ex marine so he was into all the adventure activities like skydiving and so on. I lived in South Africa from the age of six until around 12 years ago and I have spent most of my life there. My ex husband grew up on a fourth generation farm and it is their biltong recipe that we use. It's really special. On the farm they would make biltong from their dairy cattle and I'm now using beef from the Scottish lowlands and borders. They feed on clover and that is what gives the flavour to it."
The voortrekkers
Tracing the recipe back to the voortrekkers (a mass migration of Dutch-speaking inhabitants of the British-run Cape Colony, who left the Cape Town and travelled east by wagon train into the country), Margaret says getting her business approved by Environmental Health was challenging.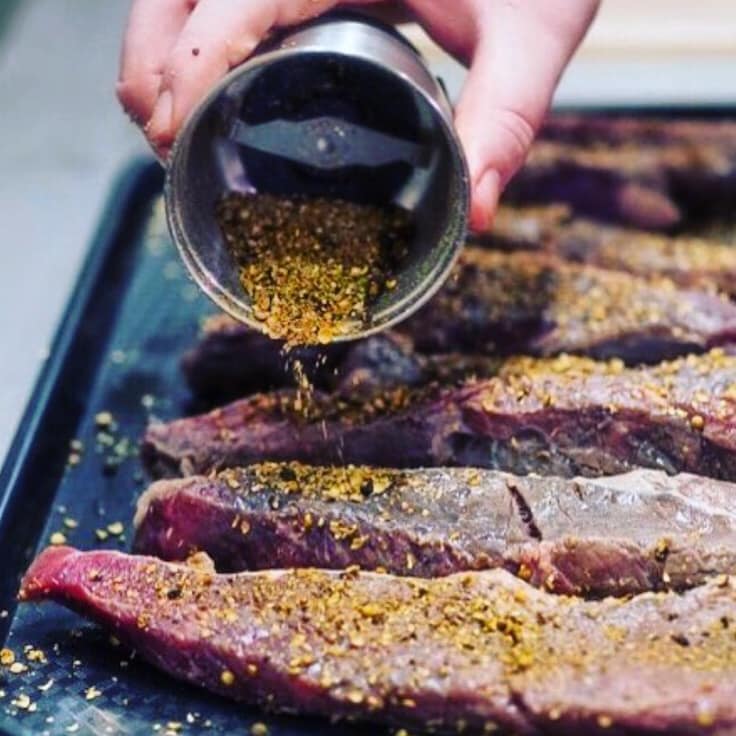 Having never dealt with a business like it before, the office didn't quite know what to make of the raw yet dried meat product.
She said: "We can even date it back to the voortrekkers who used it dry their beef under their wagons out of necessity to keep a supply of meat that would keep for extended periods of time.
"They'd salt it and the vinegar's they used would kill off any e-coli on the surface of the meat. They'd rub the meat down with vinegar, put it into a salt with coriander or pepper and then build on the flavour profile from there. That would give them their meat on the long journey. The flies don't like the vinegar so would mean they wouldn't do anything to it.
Environmental health
"Nowadays I use a drying chamber as I don't think my environmental health officer would let me do it under a wagon. I had to do a full hazard and operational study on it to ensure the flow of making the product didn't have any cross contamination at any point. I did studies with the local universities so I know all the science behind it as well.
"Because mine is packaged, it can be a little more expensive. Butchers can make biltong at a much cheaper rate as they can sell it that day, whereas mine is in a packet. There can't be much water content in it as it's packaged and I have to ensure the oxygen absorbed levels are right so I can keep the meat safe for them to eat. They can also get meat a lot cheaper as they have direct access to those markets. I'm passionate about using Scottish beef as provenance is really important.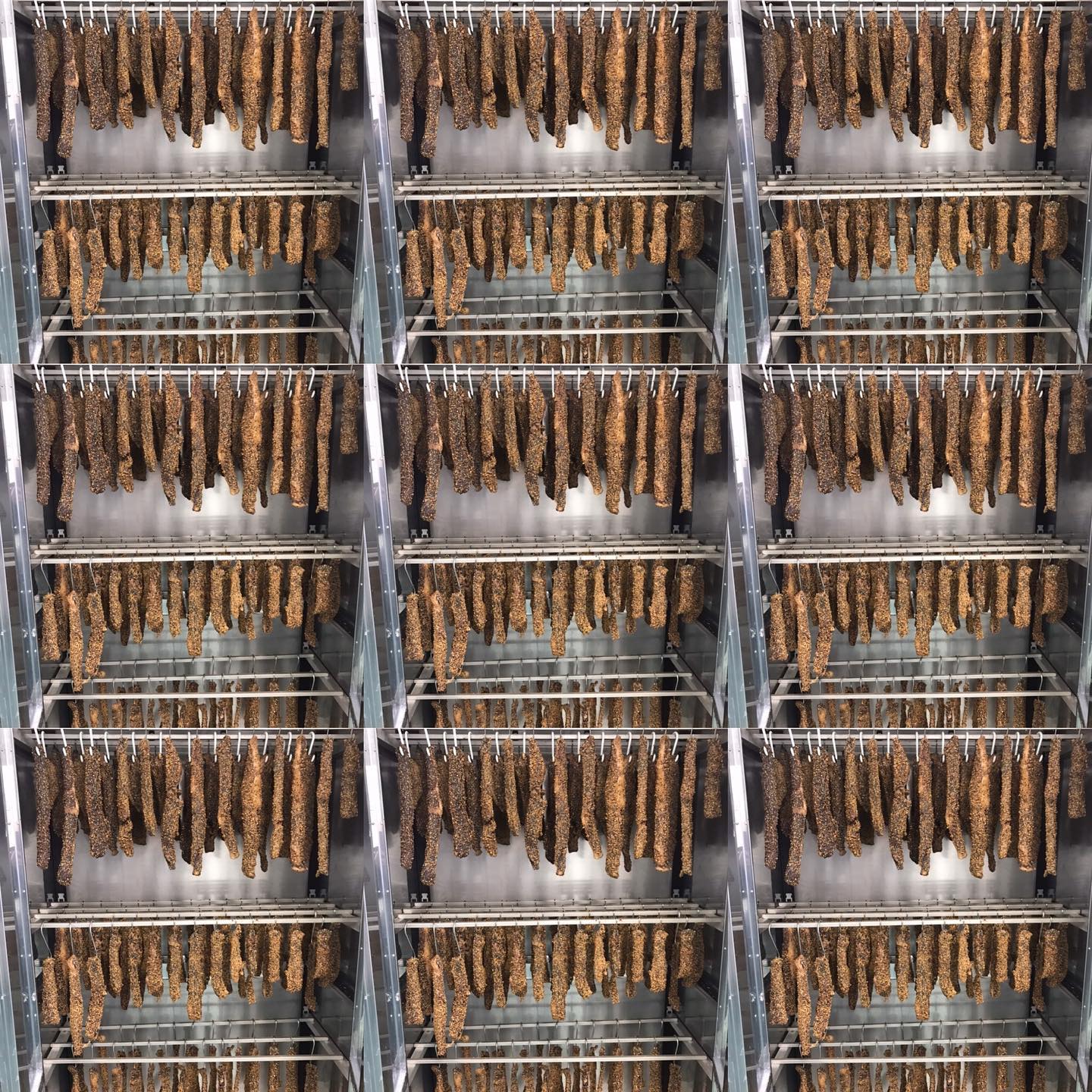 "The vision would be to get into the health and fitness products and be a protein boost product. Biltong boats a natural protein the body is used to.  I've also just launched droewors dried sausage, and I'm using venison in it which gives it this brilliant taste.
"Hopefully it's seen as a snacking revolution by the Scottish people. Hopefully it will promote the prime meat we have here, too.
---
Up North Biltong – Edinburgh
Established in 2017 by George Taylor, Up North Biltong is another firm looking to increase the profile of biltong in Scotland. From original to Scotch bonnet, not to mention chipotle, garlic and mild chilli, there are plenty of flavours to try out.
---
Black Isle Biltong – Black Isle
Launching just last month, this biltong business is the latest to his the Scottish market. Based on the Black Isle, the company looks to expand its product offering as the business grows and makes its biltong using silverside and tri-tip cuts.
---
For more in this series…
Industry Insight: The artisan Scottish vodka wave hitting a glass near you
Industry insights: How wagyu, the prestigious Japanese beef is making its mark in Scotland