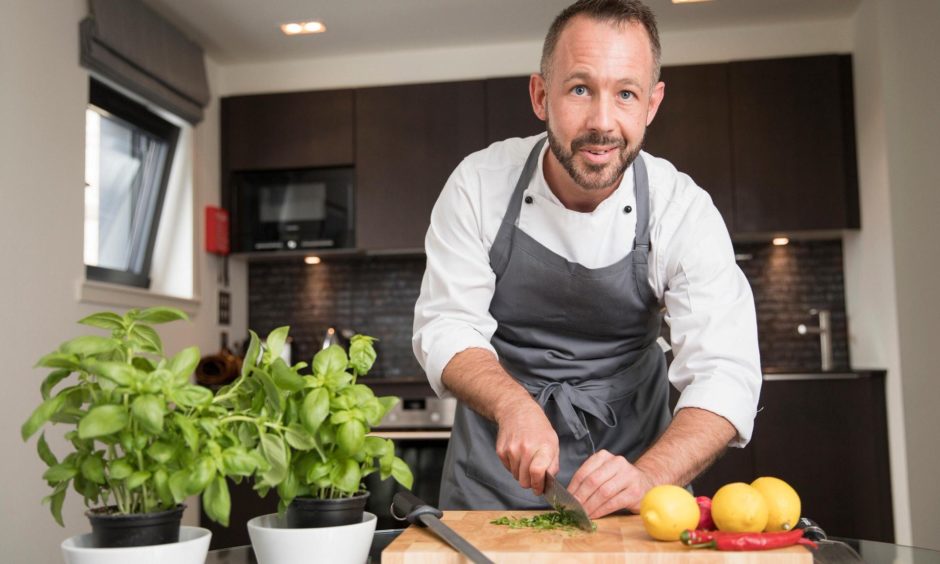 In this series, Rebecca Shearer speaks to chefs from across Scotland to find out about the meals that helped shape their life and career. Here, she talks to Barry Bryson about his rise to culinary success…
Barry Bryson, 44, is one of Fife's many success stories in the culinary world. Having grown up in St Andrews and training as a chef at what was formerly Elmwood College in Cupar, it's no surprise that Scottish produce is one of his passions.
In 2018, Barry took his culinary creations to the stage after being personally selected by TV cook, author and journalist, Nigel Slater, for his food to star in Nigel's autobiographical play Toast, at Edinburgh's Traverse Theatre.
Now running his own catering business Cater Edinburgh and sharing his favourite recipes on social media and his newly-created Youtube channel, Barry looks back over his life at the role food has played and how his passion came to be his way of living.
Childhood – salty porridge
Barry grew up in North East Fife and attended Madras College in St Andrews. But he remembers it being the simplest of foods that shaped his childhood.
"I think childhood is the most important decade for me, out of all of them. I've always had a fascination with food, cooking and when meals were next coming, so I was a permanently fascinated and hungry child.
"I grew up as the only boy in a single-parent family. My mum, who raised us, was a really clever and creative cook who was able to cook for us all on what was, in the 1980s, a tiny budget.
"I think in those days we often ate the same thing two or three nights in a row. But I think I was very fortunate back then because meal times were joyful but there just wasn't much variety.
"Some of the things I remember eating, and that I still have a yen for, were things like salty porridge, which my mum would make midweek. It would just sit there and we would reheat it every morning so that I would go to school with porridge in me every day.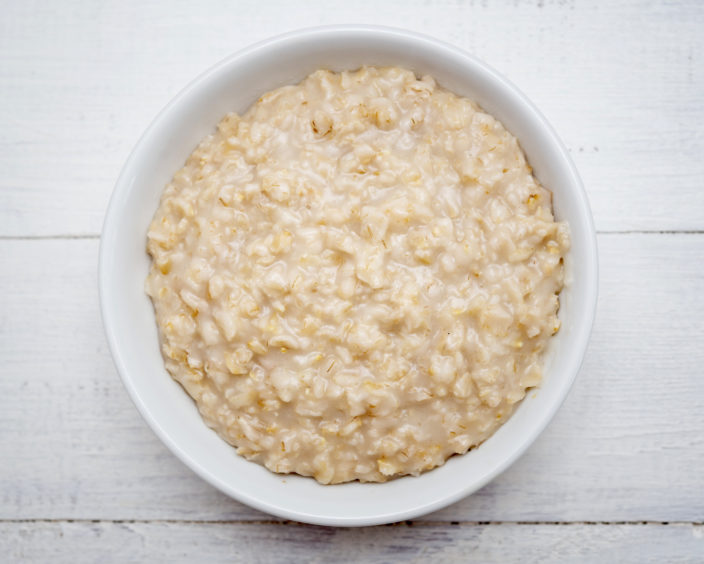 "I still love eating it but salty porridge has stayed with me as it's what would set me up for the day when I was a kid.
"Back then I also had a fascination with comfort food which, even now, I still really love eating – bangers and mash, cottage pie, mince and tatties, stovies. These were the sorts of meals my mum could prepare on her budget and it also meant there wasn't going to be a riot at dinner when she put the food on the table as there was plenty to go around.
"In childhood, I became very aware of the role of providing food and of the moments when food was going to appear. It's possibly one of the reasons why, as a chef who's been cooking in the hospitality industry for as long as I have, I still have this reverence for meal times.
"Now, when I'm cooking for people, I still treat it as importantly as I did when I was a kid. I don't think it was a conscious thing back then that I wanted to get involved in cooking but I think I became very aware that I wanted to be near food – I may have been guilty of raiding the biscuit jar in the middle of the night!
"For me, though, it was the beginning of what has been the biggest relationship of my life, which is cooking."
Teens – roast chicken
In his late teens, Barry decided to pursue his passion and went on to study "food studies"  at Elmwood College in Cupar, which is now a branch of Scotland's Rural College, but before that he pursued a love of food while at school in St Andrews.
"I went to school at Madras College in the 1980s, when home economics was still part of the curriculum. It was then that I first started cooking. All of my work placements happened in Fife too. I went to Fisher and Donaldson one year and then worked in a coffee shop washing the dishes.
"My teens were the time in my life where I ate the worst, however, especially around my late teens when I was leaving school and starting college. It was very much a period where you ate the same as everybody else. I ate a lot of fast food but I still had a massive love for good food.
"I went to Elmwood College in Cupar to do food studies, which sounds very boring and serious. I learned to cook what I ate the most of – they taught me how to make soup, how to roast a chicken, how to do a bit of a stock, pastry, and things like that.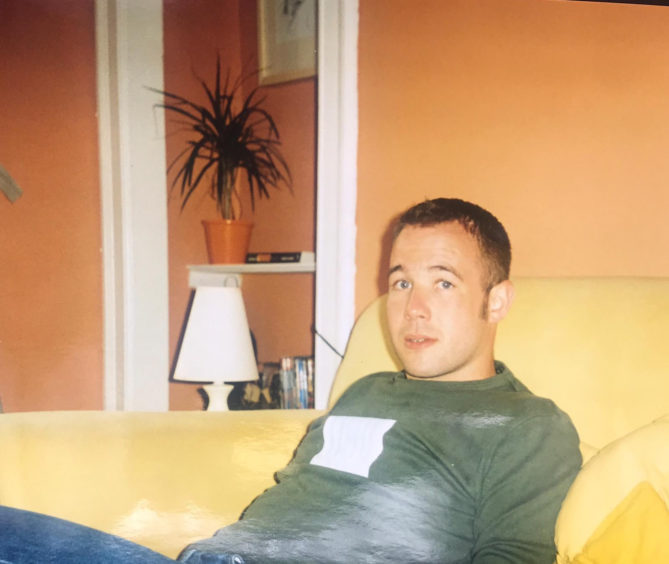 "My most memorable meal out of all of these though would be roast chicken. I'd always have it with roast potatoes, carrots, all the trimmings.
"Your teens and 20s are times when meals just happen when they happen, so I think a Sunday roast is the only thing I really made an effort to stick with.
"I would still go home for some meals when at college though. My mum would do this bonkers dish where she would line a casserole dish with Ritz crackers and bake mince. I loved it! She would always make it for me – even after I started to realise it wasn't my favourite thing after all…
"I had a yen to earn my own money at this point in my life, so I had one job on a Friday night working in a kitchen, and another on a Saturday working out the front. It gave me a really good solid grounding because as a chef now who has to present a lot, and talk a lot, that waitering work really helped me.
"If I had spent my whole time in the kitchen then maybe those skills wouldn't have come to me so easily."
20s – Caesar salad
From his early 20s, Barry's career accelerated and he was propelled on to Edinburgh's culinary stage after working in the cafe kitchen of the city's contemporary Fruitmarket Gallery.
"When I was 23 I actually started the business I now own – Cater Edinburgh.
"The business is 21 years old but has had three different incarnations. I started working with an event caterer who operated a cafe at the Fruitmarket Gallery in Edinburgh. I did a bit of work in the kitchen there and worked there for about 18 months then he decided to give up the franchise.
"So I then had the crazy idea I would start my own business and take the franchise on – which seemed unlikely but I had the support of the gallery and I managed to do it.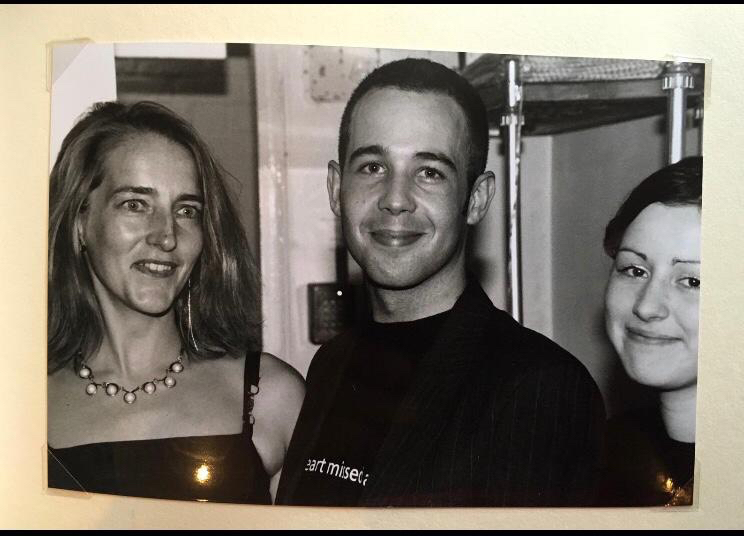 "So within 18 months of working in the kitchen, it had actually become my own business and I've never really stopped since then.
"My eating habits really changed at that point because now I was an employer and was responsible and everything we sent out from that kitchen ultimately I felt responsible for, so it was around that time I started eating in a much broader sense.
"I was always fairly into the idea that any food I produced would have some sort of nutritional content and look good. I'm not motivated by mass quantities and mass calories like the popular greasy spoons were offering.
"The Fruitmarket Gallery gave me the platform to create an identity for what it was I did want to do.
"The most memorable meal I'm going to choose from this time would be Caesar salad. We made the best Caesar salad and I only say that because everyone wanted one in the 1990s and that was the most popular dish at the Fruitmarket Gallery. It was in the days before everyone became obsessed with free range chicken but I knew that's what we wanted to use in it.
"We had it on the menu for about five years so I probably lived off it back then."
30s – Scottish shellfish
Each decade of Barry's life has seen him take on a different role in Scotland's food scene, which, as he says, has also affected the way and type of food he has eaten during those periods of his life.
"In my 30s I had an idea that I would create a neighbourhood cafe that would blend the best of both worlds – cafes and restaurants. I was always keen to create this really nice interior and a really good sense of service but also something that would open at breakfast time.
"So I opened a little place in Edinburgh called Circle which ran for six or seven years. And what I did there was develop my cooking a little bit. In those days, at the turn of the Millennium, there was a shift in eating attitudes, things were becoming more competitive, coffee was becoming super important, and not buying stuff in was much more commonplace. I was really proud of the fact that we'd made a self-producing cafe for the most part.
"Again, that changed my relationship with eating as I would start eating out a lot and I ate some really great food.
"Around this time the whole of Scotland's food landscape started changing around me. The suppliers became more important, produce became much more of a focal point, but also the identity of the people cooking it changed and it's really grown from there. That's when I remember it changing and it's never gone back.
"I think, in terms of Scottish produce, we've just kept going forwards.
"My 30s were a turning point for me in that I discovered shellfish. It's something that in my teens and 20s I'd gone towards but as a chef it's constantly what I'm reaching to. So I started saving up and eating in places that were selling the dishes that I was keen to try so that I could go away and have a think about it.
"I have a particular love of crab and enjoy making crab croquettes."
40s and now – venison
In 2018, Barry was chosen by celebrity chef Nigel Slater to provide the on-stage food for the Edinburgh run of his autobiographical play, Toast.
"It was surreal – Nigel Slater was always someone I had followed throughout my career and read a lot of his books. One of the first books I'd ever picked up by him was Toast. I'd always had a love for this book and a love for Nigel and I never thought those things would collide and have me in the centre of it.
"I got a phone call early in the summer of 2018 from another chef who said Nigel Slater is coming to Scotland to oversee the rehearsals for his play Toast and that Nigel's creative director James Thompson had shortlisted me to create food for the play.
"They followed that up quite quickly by saying that Nigel was going to come and see me in person the following week to discuss it because there would be a lot of logistics involved.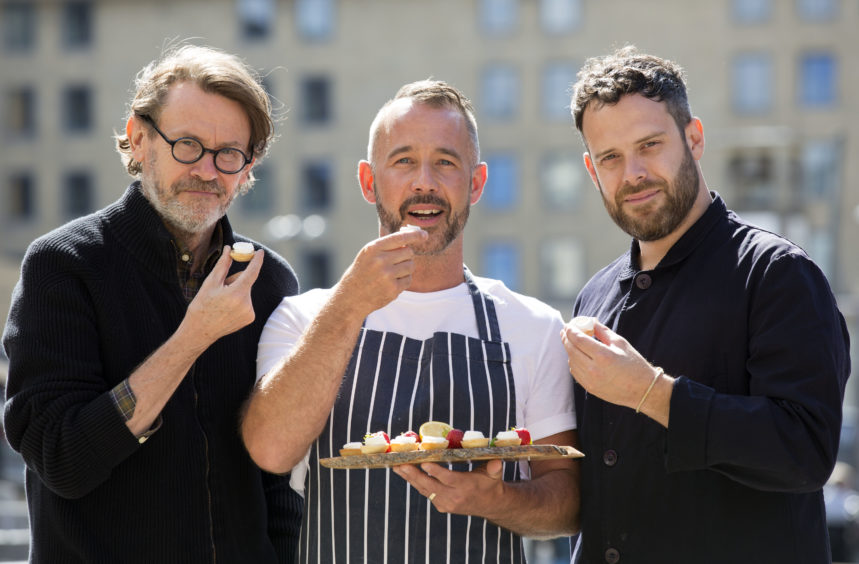 "What they needed was for food to appear at certain moments in the play and at one point the whole audience – all 500 people – would be fed lemon meringue pies. I'd had the heads up on this so I decided to be brave and make a lemon meringue pie for Nigel ahead of his visit.
"It ran for about 18 days and there were more than 20 performances and I'd have to get the food into the Traverse Theatre, in the middle of the Edinburgh festival, down some stairs, through to the backstage area, on to trolleys ready to be wheeled on stage.
"This had to be timed perfectly for the moment in the play when they were required, whilst I also fulfilled all of my other commitments with my business. I won't lie and say we didn't get it done during normal working hours, I was always working on the pies until about midnight or one in the morning then still getting up to start work at 9am.
"It did kind of take over for three weeks but it was an amazing experience. Nigel was, and still is, generous, encouraging, supportive, totally approachable and everything you think he might be when watching him. It was just a thrill as he's a hugely influential person in my industry."
These days, Barry is still cooking from his Cater Edinburgh kitchen, making content for his social media channels and finding new ways of cooking in lockdown.
"I've been self-isolating at work for more than eight weeks and I'm now cooking a bit slower, which is probably not a bad thing. I'm not having to produce, and I'm not able to produce in the same volume of work and food that I'd been doing before. So I'm working in a different way.
"I've had dinner at home every day for the last three months, which I don't think I've been able to do that since I was about 13 or 14. So it's been about 30 years since I had dinner at home every night.
"A lot of what I'm being asked about these days are ideas of things for people to cook at home. For me, one of the greatest compliments is when people send me their different versions of my dishes so I've set up a YouTube channel and been more active on social media so I can get more people inspired by food.
"I cook on three different platforms – for luxury brands, corporate events and looking after people in their own homes by doing food deliveries.
"I'm a big fan of venison at the moment but I like to make it really light – with a carrot puree and beetroot granola. Modern Scottish is how I would put it but it's one thing I've cooked regularly is good-quality Scottish venison."
---
Barry's Carpaccio of Venison with British Tomatoes, Radish, Pea, Fennel and Capers with Smoked Garlic Toast
"Now is the perfect time for this speedy dish with stunning flavours and visual wow as it's all growing in the British garden, so you are getting limited food miles and much better flavours. Good quality roe deer can be found at your local butcher and a little of this precious delicacy will go a long way in this recipe as you'll see!" – Barry Bryson
(Serves 4 as a hearty starter or light main)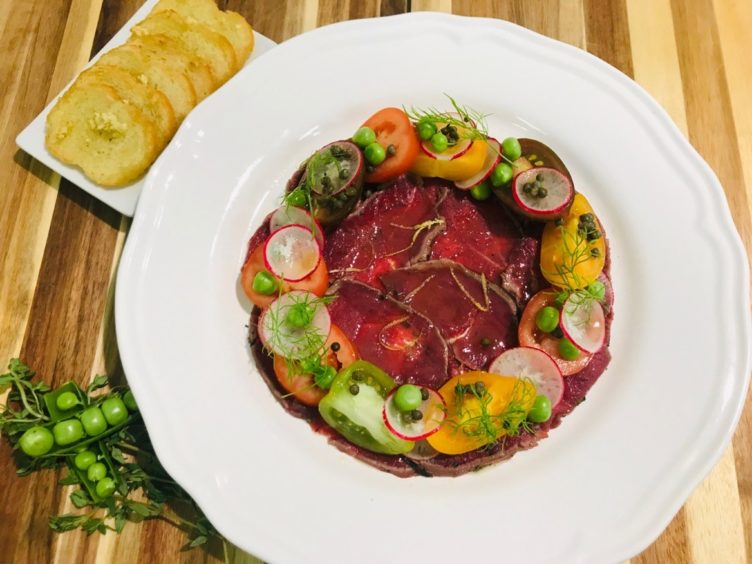 Ingredients
250g of trimmed venison or roe deer loin
Rock salt
Black pepper
8 medium sized British tomatoes
2 cloves smoked or super fresh British garlic
1 packet crunchy British red radishes
1 bag fresh British garden peas in their pods
200ml good quality extra virgin olive oil, plus extra for the marinade and garlic toast
1 unwaxed lemon
60g small capers
2 stalks fresh thyme
1 fennel (you just need the lovely herby flower at the top that looks like dill, not the bulb, you can keep that for something else)
75ml Scottish honey
1 half-baked baguette or ciabatta
Method
First, place your piece of venison onto a clean chopping board and with a sharp knife carefully remove any small pieces of sinew that the butcher may have left, you should now have a large glistening dark red steak. Cut the venison lengthways in half so you have two thick pieces.
Next make the marinade. Strip the thyme flowers from the stalks and finely chop them. Add two or three pinches of rock salt and cracked black pepper to the thyme, a good glug of olive oil and honey and mix well. Coat the venison steaks with the mixture.
 Next, heat a non-stick frying pan until it is smoking hot, and very quickly, seal the venison steaks. It should only take a couple of seconds per side.
Once sealed, put to one side to cool and then tightly roll in cling film to make a tube shape. Secure each end with some string. Once rolled, put the steaks into a freezer for an hour or two to firm up.
Whilst the venison is chilling, begin to prep your vegetables. Cut the tomatoes into chunky pieces and lightly salt them. Finley slice the radishes on a mandolin and place in cold water. Squeeze the excess vinegar from the capers. Trim the fennel herbs and put to one side for the garnish. Remove the peas from the pods.
Next, move on to make the dressing. Zest the lemon and reserve for later. Juice the lemon and gradually whisk in the olive oil until you have a combined emulsion, then add the honey.
Next, pre-heat your oven to 180°C. Then cut the baguette or ciabatta into very thin slices and brush with some olive oil. Finley chop the garlic, sprinkle over the bread and bake in the oven for around 7 to 8 minutes until golden brown.
Remove the venison from the freezer and with a sharp knife cut into thin slices, removing any cling film as you go. Once you have some slices, get two pieces of baking paper, place the slices between the paper and using a rolling pin, flattening each slice evenly and carefully until very thin.
Finally, you can begin to plate. Cover the plate with the slices of thin venison carpaccio, then distribute the tomatoes over the top with the peas, capers, radish slices and lemon zest, fishing by drizzling the dressing over the top and delicately placing the fennel herbs. Finish with the garlic toast and enjoy!
---
Read more in this series…
My Memories in Meals: Scottish self-taught cook is making waves with one of the country's most popular seafood dishes
My Memories in Meals: Gleaneagles chef on how his career took him from Shanghai to London's banking world