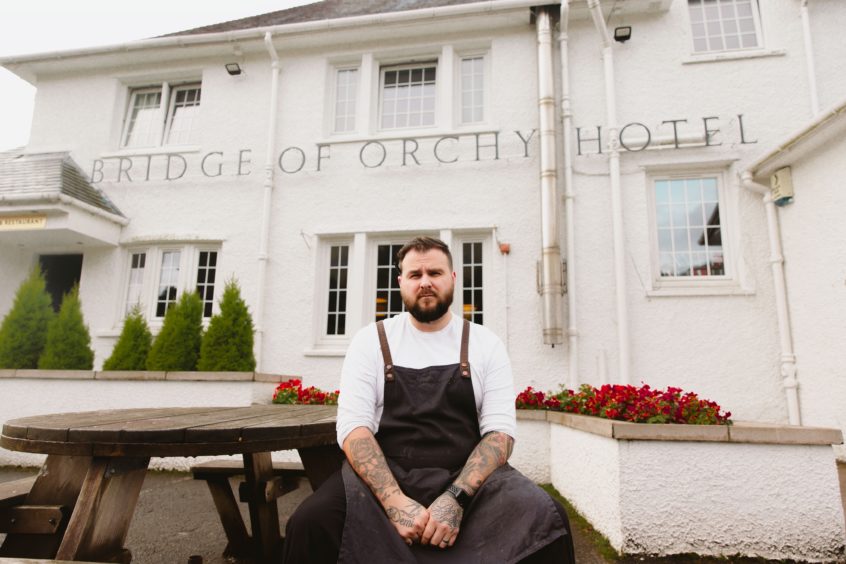 In this series, Rebecca Shearer speaks to chefs from across Scotland to find out about the meals that helped shape their life and career. Here, she talks to David Hetherington about his rise to culinary success…
Recently appointed head chef at The Bridge of Orchy Hotel in Argyll, where he is leading the hotel in its mission to serve up the best in local Scottish Highland produce, David Hetherington, 32, is perhaps one of Scotland's best ambassadors for Scottish fare.
Known for his eye-catching dishes that use bold flavours and the best of local, seasonal Scottish ingredients, he appeared on 2012's Masterchef: The Professionals and won Provenance Chef of The Year at 2018's Scottish Food Awards.
Topped off with the award for Inspiring Chef of the Year earlier this year, David's culinary career started from humble beginnings. Here, he talks about his life through the meals and ingredients that have played the biggest role…
Childhood – Viennetta ice cream
Cooking was never really a highlight of David's childhood, though he says he largely became a chef out of "necessity" after eating his mum's cooking.
He said: "I grew up in Arrochar at the head of Loch Long – a tiny village in Argyll. I have a brother who is three years younger than me and a sister who is 17 years younger than me, so me and her never really had to fight much for food.
"I think a lot of chefs learn some cooking from their mother as they're growing up. I was the opposite – my mum was a really bad cook!
"I say that but one of the best things she ever made was lasagne. I don't know where she got it from because nothing else she cooked was any good. So I think I became a chef out of necessity and survival. There would always be some fighting between me and my brother at mealtimes, though but it wasn't fighting over the food, it was fighting not to have to eat the food!
"We would still always have a homecooked meal though. My mum would try to make us chips – now, I know as a chef how to make chips but back then it would be raw potatoes in the fryer and they'd come out black. It was always interesting.
"One of the best things for me, foodwise, when I was young was that my gran worked as a dinner lady at my school – this was before a lot of the health-conscious stuff came into play at the schools. My gran would make all the cakes, so we would have some of the best cakes, scones and pancakes and that would be the best part of the school day.
"I'd always get a good meal at my gran's house. My grandpa would always say she made the best soup because you could stand your spoon up in it!
"One thing I never liked growing up was birthday cake, so every year my mum would buy me a Wall's Viennetta, so that's what I would have as my birthday cake every year. If there was ever any point I thought it wasn't coming, I would make sure she knew and send her out to get one."
Pre-teens and Teens – fillet of salmon
David was 12 years old when he started working in hospitality, when he got a job washing dishes in a nearby restaurant kitchen, which then led on to him pursuing a career as a chef.
"I was moaning to my uncle that there were some CDs I wanted and posters for my wall and he said 'well, go get a job!'. So I went out and came back with a job washing dishes. I was getting paid £2.50 an hour and I thought it was the best thing in the world.
"I won't name anyone but the food there was awful – everything was microwaved and started as frozen. The woman who owned it wasn't very pleasant either. I just remember thinking 'I don't want to stand here and be shouted at like that while washing dishes'. I just felt so strongly I could cook the food better than that and that's what I wanted to be doing.
"One thing that I do remember would be whenever they sent a trout out with the head still on and I thought that was amazing. I've always remembered that.
"That was my first interaction with food from the perspective of it being served to a customer. Once I'd ducked out of there I went to work for one of the hotels in the village which was cooking much better food. I started cooking there and worked my way up.
"The head chef at the hotel had been there a while and was doing interesting things, like chicken with banana and peanut butter sauce. I'd never seen that before – and I've never seen it since – but it seemed to work.
After having dabbled in hospitality for a few years, David chose to leave school at 15 to train to become a chef, which he knew he wanted to do.
"I went to the Glasgow College of Food Technology but I'm an impatient person and I just found it too slow. I wanted to do more but every time I looked for a job I had to have experience.
"I did a year at college then thought I just need to do something else. Then I called up the Lodge on Loch Lomond and asked if they'd be interested in hiring an apprentice. Just by chance they were having an open day the following day in which they were looking for two chefs. So I went down and out of about 20 chefs I got the job.
"It my first full-time job and I was nearing my 16th birthday. My eyes were opened to everything at this place. There was so much responsibility on my shoulders – I'd never touched a scallop or a beef fillet before and all of a sudden I was expected to cook them.
"My dad wasn't keen on me being a chef at all, he'd worked as an electrician and he'd wanted me to do that too. He was self-employed and worked in all the hotels in the area and would always tell me that chefs weren't the best people, it was long hours and seemed very anti-social.
"But I asked for a Jamie Oliver cookbook for the following Christmas – at this point I'd had a very basic level of training, such as how to chop a carrot. I picked a recipe from this cookbook, got my mum to take me to the supermarket and I was walking around with this made-up knowledge about how to check the fish is fresh etc and I was going round showing my mum how to do all this.
"I found most of what I was after then when I went home I cooked this recipe for my dad. It was a fillet of salmon with baby vegetables and a herb aioli. My dad ended up getting a piece of fish that was full of bones and the aioli was raw egg yolks with oil through it. He ate this and every day after that he would go round telling everyone 'my son's going to be a chef.' He said it was one of the best meals he'd ever eaten.
"He told everybody that I was a top chef but sadly he died before he got to see me actually get to that level. But that salmon dish was the one that changed his mind from telling me not to be chef to telling everyone I was going to be one."
Early 20s – The Rockpool by Tom Kitchin
"Just before I was 20, I left to go to Australia to work, leaving a place like the Lodge on Loch Lomond that was using lots of good, local Scottish produce. It was always drilled into me that Scottish produce is the best produce.
"I got to Australia and saw a Tasmanian salmon and other phenomenal produce over there so I wasn't really sure whether Scotland did have the best produce at the time. But they also don't have the same things that we have. Other chefs I spoke to over there would even tell me that Scotland had some of the best natural produce and would ask me why I wouldn't want to be over there and cooking with that.
"I think that was a bit of an eye opener. In no way was anything worse or bad over there but it helped me realise what I had back home. In the supermarkets they'd also have 'smoked Scottish salmon' so I was eating stuff from home that had been exported.
"I learned so much when I was out there, though it was more about kitchen management than cooking. When I came back I felt like I was on top of the world.
"After I got back I did a little stint up in Perth, at Kinnaird House. They had three rosettes and were pushing for a Michelin star at the time. The kitchen was mostly made up of French chefs and I found myself a little bit out of my depth as I hadn't worked at such a high level before.
"I came back from Australia thinking I was god's gift to cooking then realised quite quickly that I wasn't! So I went on a bit of a mission to find out what it was I loved about cooking.
"I ended up at a place called Knockderry House. This was about after six years of working in kitchens and being a chef, but the head chef at Knockderry at the time, Johnny Aitken, really taught me how to cook.
"He was all about the flavours and not about making things look pretty on the plate. It was about cooking things slowly to get the best flavour, braising things like pigs heads and the cheapest cuts you could find, and making something fantastic out of it.
"I took over as head chef at 23, after Johnny moved on to work somewhere else. I did that for a year then went and joined him at his next place. There, the rule book was thrown out the window. We used Scottish ingredients but it didn't have to have a Scottish influence.
"We'd do some Mediterranean dishes, Moroccan, a couple of the other chefs were South African so we would have some South African dishes on the menu. It really just dialled home to me about looking at flavours and the idea of not having to stick with the norm.
"It really changed the way I looked at food and the way I cooked it.
"Before joining Johnny at his second restaurant, though, I went on Masterchef, in 2012. I went and did all the filming at the next place. I look back at it as an experience – I wouldn't say anything I cooked at that point was at the same level as I would cook now. So, I'm not sure I was proud of anything I cooked on the show but it was definitely an experience. I was so, so nervous and was visibly shaking during most of the moments you see me on camera. One of the best things about it was cooking for Michel Roux Jr, and there were a couple of things I cooked for him that he liked."
"Also while working at Knockderry I went and worked with Tom Kitchin for a day at his place in Edinburgh. A couple of years later I took my sous chef there for lunch and had told Tom that I was coming beforehand. So he set us up with the tasting menu, which was just phenomenal.
"Halfway through the tasting menu, Tom actually came out to see us at the table with a dish. It was a dish he was working on at the time – there were lots of little things you could get around the coast, in the Leith area. He poured a sauce over it and said that represented the tide coming into the rock pool. It was just amazing to see the concept of that on a plate.
"I think he still has something like it on his menu today, but it was called The Rockpool.
"I took that with me – that things don't always have to be the way that they've been. I also took the fact I could work on dishes, so that's what I do now. I spend some time on dishes, then get the guys to have a look at what I can tweak.
"That meal at Tom Kitchin's was a standout for me."
Late 20s – Scottish produce
"In my late 20s I came into my own a little bit more. I think I was too young to have had my first head chef job at 23 as I just didn't know enough.
"So I was called up to ask if I wanted to do a trial for the head chef position at the Loch Lomond Arms. I went up and cooked for the owners but I missed out on the head chef job because I didn't really have much experience of managing a team as big as theirs would be. But they asked me if I wanted to stay as a sous chef.
"I did that for a couple of years then realised I wanted to go and do my own thing and run my own kitchen. I heard through the Grapevine that they were looking for a head chef at a new restaurant that was opening in the southside of Glasgow and I got asked if I wanted to do it. I turned it down because I didn't want to work in a restaurant that was just starting.
"My interview for that was at the Finnieston in Glasgow. It wasn't normally my thing but I went to the owner of the Finnieston and said that if anything was to come up in there, would they mind considering me for it. A week later I got a call from them asking if I wanted to come and trial as the head chef.
"I took a pay cut but went there and got the job. Then a year and a half later we won Glasgow's Restaurant of the Year. That solidified it for me – I feel like, at that point, I'd evolved into a different type of chef. I wasn't scared to use different flavours from around the world and I stayed as true as I could do Scottish ingredients.
"I took inspiration from all the other places I had worked at but kept the food and the produce local.
"After that I got a call from the Loch Lomond Arms again asking if I would come back and be their head chef this time. So I went back and did that and within six months I'd won provenance chef of the year.
"I think the location helped as the food up there was absolutely outstanding; the venison was practically on tap, we had pheasant – too much pheasant to be honest – and a smokehouse on the same street that had the same owner. So we also had smoked salmon literally a stone's throw from the door. We also opened a seafood bar, which I also ran.
"There was a kitchen garden where I could also get beetroots, apples, plum – it was every chef's dream. You couldn't get better than that."
"My experience there made me a huge advocate of local Scottish produce."
---
Now – Pork belly with bacon jam and crackling
Back in April David  won the most inspiring chef of the year award at the hotel awards.
"I still have no idea what it means or what I'm meant to have inspired but I wanted to make a dish that represents what inspires me – Scottish produce," he said.
"My inspiration for this recipe is the ever-changing beautiful landscape of colours that I can see from my kitchen window here at the Bridge of Orchy Hotel in the Scottish Highlands.
"Wherever possible we source locally and I'm delighted to be able to serve this dish now at the hotel using rare breed pork from Duntarrin Farm, just south of Oban, where Katherine MacDonald rears large Saddleback white cross pigs.
"My top tips for buying pork belly are to buy local, support the artisan producers that care and love the animals, or go to your local butcher and order – for this recipe – a skin off-centre cut pork belly. Try and get a piece with the distinct layers of thick ribbons of silky fat and firm pink flesh.
"When braising the belly make sure to put parchment over the belly first to prevent the foil from sticking to the pork. Allow to cool completely before cutting and importantly chill the cooking liquor before reducing, the fat will rise to the top and it will be easy to lift off as pork is a very fatty cut."
(Serves 4)
Ingredients
For the bacon jam:
250g rindless bacon, chopped
2 garlic cloves, crushed
250g dark brown sugar
2 shots of espresso
1 large white onion, finely diced
150ml red wine vinegar
100g maple syrup
For the sweet potato puree:
1kg sweet potatoes, peeled
50g maple syrup
Salt
150g unsalted butter
For the pork belly:
1kg pork belly, skin off
1 pint Harviestoun Bitter and Twisted beer
500ml apple juice
2 carrots, roughly chopped
1 white onion, roughly chopped
1 sprig thyme, roughly chopped
2 garlic cloves, crushed
For the crackling:
Pork skin
Oil
Salt
Pepper
Method
Start by making the bacon jam. Add all of the ingredients to a heavy based pot and cook on a low heat until the mixture becomes thick with a sticky jam-like consistency. Pour into a food processor and pulse until it reaches your preferred texture. Smooth with a few chunky bits works best for this dish. Pour into a jar and refrigerate for at least one hour.
Next, prepare the pork belly. Pre-heat the oven to 160°C. Place the pork in a deep oven tray and cover with the beer and apple juice. Add the carrot, thyme, garlic and onion to the tray. Cover with parchment paper and tinfoil and cook in the pre-heated oven for three hours. Remove the pork from the oven and tray and place on a clean tray, reserving the cooking liquor from the previous tray. Place another clean tray on top of the pork and using a heavy weight, press the pork belly overnight in the fridge.
Meanwhile, chill the cooking liquor to separate the juices and fat.
Once the belly is cold and firm, cut into portions.
To make the sweet potato puree, chop the sweet potato to small equal sized pieces and boil in salted water until soft and tender then drain and puree with butter and maple syrup until smooth and shiny. Season to taste.
Finally prepare the crackling. Pre-heat the oven to 180°C. Place the skin on a tray, drizzle with oil and season with the salt and freshly cracked black pepper. Cook the crackling in the pre-heated oven for 20 minutes or until crispy.
Remove the fat from the chilled cooking liquor from the pork and add to a pan. Heat and reduce the liquid by 2/3 to create the sauce.
To serve, warm the pork belly in reduced cooking juices, continually basting until it Is hot, thick and sticky. Warm the sweet potato puree and make sure the bacon jam is at room temperature. Arrange the elements on the plate, snap the crackling into shards and serve.
---
Read more in this series…
My Memories in Meals: Fuelled by salty porridge, chef was chosen by Nigel Slater for greater things