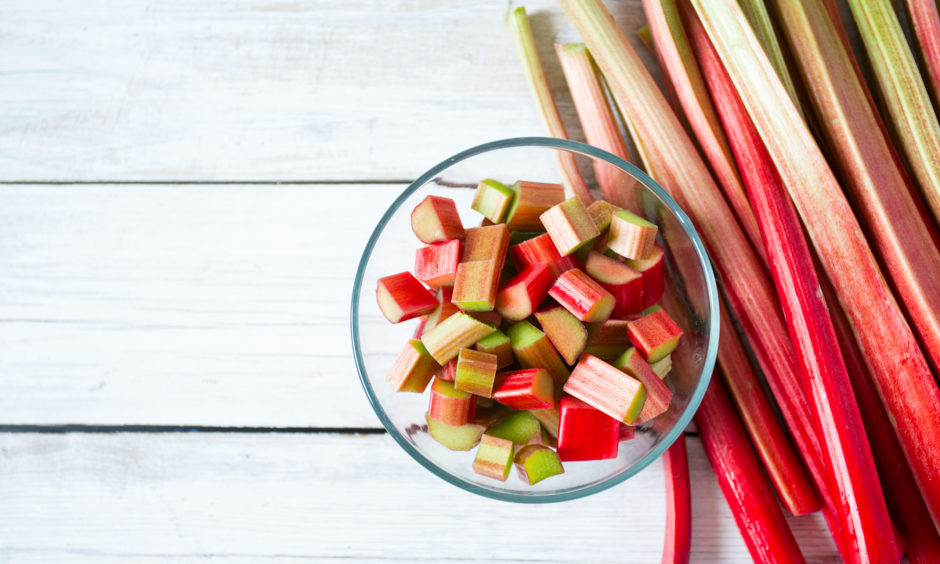 Deborah Ratcliffe shows how rhubarb can be used to make mouth-watering sweet and savoury dishes
Last year we started growing produce in our small raised fruit and vegetable bed.
The results were mixed – some good and some could do better – but the star of the show was rhubarb.
It was so tempting to pick every stalk, but learned advice stated only the odd stalk should be pulled, in the first year, to allow the crowns to conserve energy and encourage strong growth for the coming seasons.
This year the growth was great, but we're still pulling the stalks with care.
When buying rhubarb, look for beautiful crisp stalks with a wonderful vibrant colour and ignore any that are soft or floppy. When snapped, the stalk should exude a sap.
My rhubarb is a delicious pink colour, but you can get variations including a mauvy shade and green.
Fresh rhubarb will keep roughly for two weeks in the fridge and freezes really well.
The easy way to cook it is to stew in a little water adding sugar to taste.
Flavourings can be added: a hint of spice, a dash of alcohol or perhaps simmering away in apple juice instead of the water.
The end result is gorgeous eaten whilst still warm, as a delicious topping for cheesecakes, dolloped on muesli or smothered with plain yoghurt and sprinkled with toasted nuts.
---
Roasted rhubarb salad
(Serves 2 as a starter) 
Ingredients
150g washed and cleaned rhubarb, cut into roughly 5cm pieces
4 tbsp runny honey
2 tbsp balsamic vinegar
Handful washed baby salad leaves with spinach
1 spring onion, finely chopped
1 tbsp pumpkin seeds
50g small cubed feta cheese
Juice of ½ a lemon
Freshly ground salt and pepper to taste
Drizzle of olive oil
Method
Set oven to 200C/gas mark 6
Arrange the rhubarb in a single layer on a baking tray. Pour over the honey and balsamic and toss well around.
Cook in the oven until tender (timing depends upon thickness).
When just tender remove from the oven. Place the salad leaves on a serving dish.
Add the cooked rhubarb. Sprinkle over the spring onion, pumpkin seeds and feta cheese.
Squeeze over the lemon juice and add salt and pepper. Finish with a drizzle of oil.
Pour over any remaining honey/ balsamic from the cooking juices.
---
Rhubarb and blueberry crumble
(Serves 4)
Ingredients
750g rhubarb, cleaned and cut into 2.5cm pieces
125g blueberries
100g sugar
3 tbsp water
1 scant tsp real vanilla
75g butter
175g plain flour
75g caster sugar
Method
Place the rhubarb in an oven-proof dish along with the blueberries, water and 100g sugar.
Rub the butter into the flour until it resembles breadcrumbs. Add 75g of the sugar.
Sprinkle this evenly over the rhubarb.
Place in preheated oven 200C/gas mark 6 for 30-40 minutes or until the top is golden brown.
---
Read more in this series…
Food columnist: Time to go bananas for this versatile fruit with these two simple recipes
Food columnist: Awesome asparagus makes for a tasty seasonal dish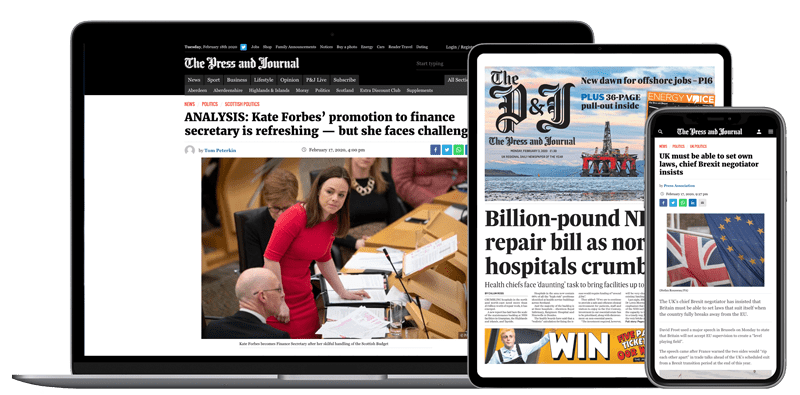 Help support quality local journalism … become a digital subscriber to The Press and Journal
For as little as £5.99 a month you can access all of our content, including Premium articles.
Subscribe