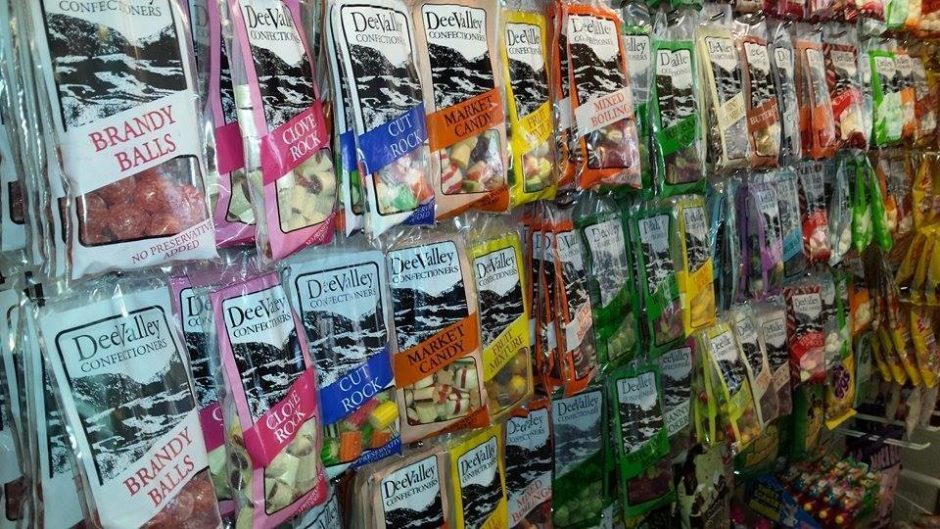 Independent sweet stores prove tradition is key flavour to success.
When I reminisce about my time spent in a traditional sweet shop, all I can think of is rows of shelves lined with some of the brightest, unique sweets I've ever tried.
From Irn-Bru pans to lucky tatties, to soor plooms (my dad's favourite), humbugs, butternuts and more, not forgetting that stick of rock I would get any time I visited Peebles with my grandparents, the luxury of picking from these lines of treats was one I will never forget.
However, nowadays, traditional sweet shops are few and far between with less and less specialising in offering up these historical goodies our grandparents and generations before them enjoyed.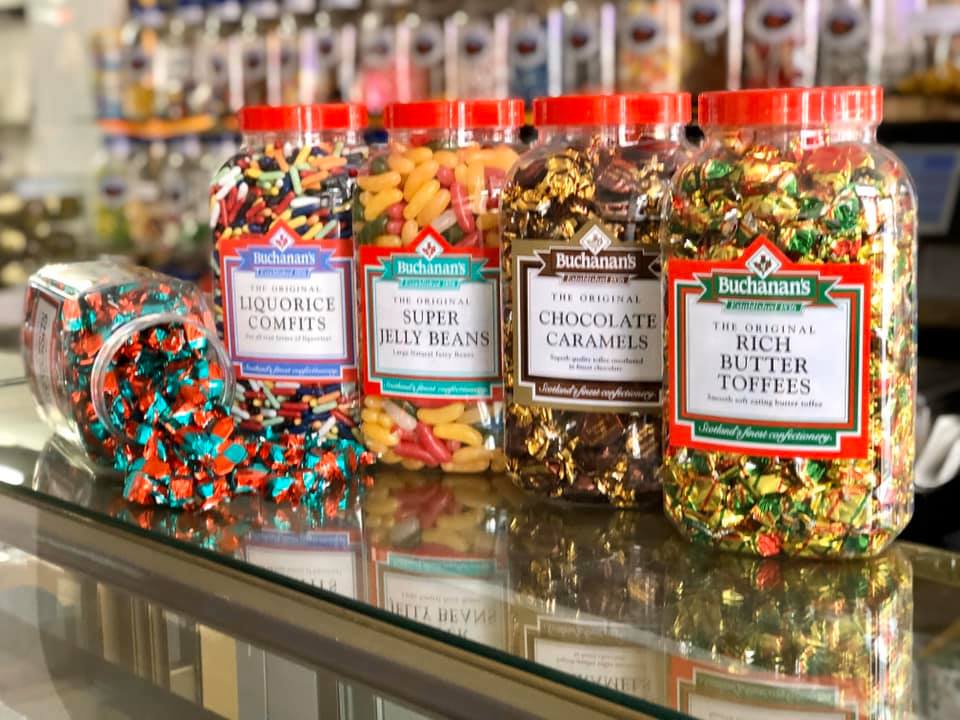 These treasure troves packed with jar upon jar of boiled, hard, soft and chewy sweets used to be found in every town and village across Scotland.
And while there may be fewer of them offering their finest wares up to customers, the quality is just as good, if not better than ever.
Creating their own sweets in-house, many stores will sell a range of Scottish confectionery manufacturers, supporting the wider industry who are also helping to keep the traditional methods alive.
Starting life in Aberdeen in 1965, Dee Valley Confectioners has called Ballater, Aberdeenshire, home for the past 40 years.
Specialising in hard boiled sweets and rock, owner Derek Skene, who runs the sweet manufacturing firm with his business partner Roddy Mcdonald, has worked in the industry since he was 22.
"We started in Aberdeen in 1965 and we have now been in Ballater for 40 years. I started when I was 22 and have been working here ever since. I guess I still do the things I did back then as we're a small business and we get involved in everything. Myself and Roddy took over the business almost 40 years ago.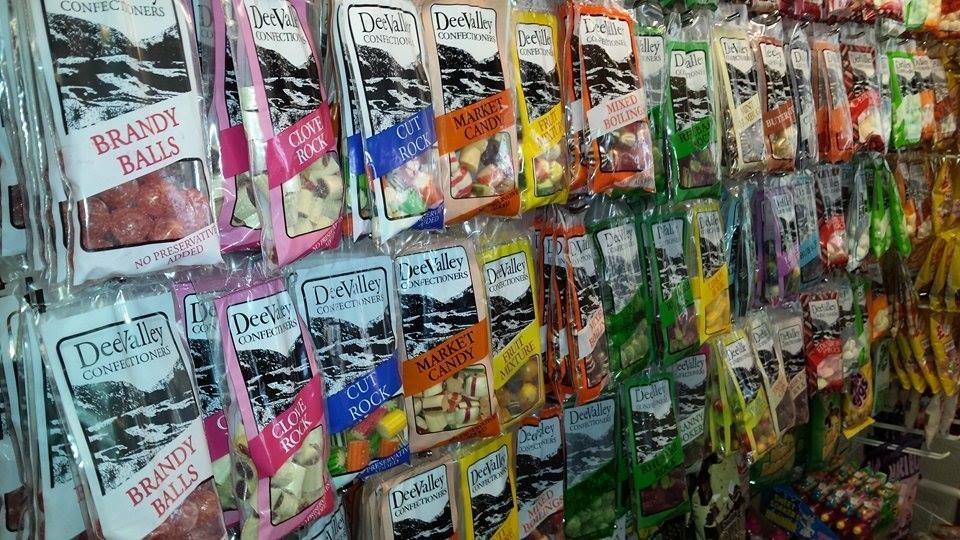 "As much as we specialise in hard boiled sweets and rock, you'll also find lucky tatties, fudge, lollipops, tablet and more. Our biggest seller is the hard boilings. We put a lot of sweets offshore and granny sookers are very popular. Rhubarb rock is also a pretty good seller, too. We send the sweets to platforms on the North Sea – we've been doing that for around 10 years. We do it through Strachan's of Peterhead who take it in and and get it offshore."
But its not just those working offshore or living in the local area who have enjoyed the makings of the team at Dee Valley Confectioners. Pop princess Kylie Minogue is just one of famous faces who has been to the sweet store and factory, visiting it in December 2016 when popped in for some boiled fruit sweets and a bag of soor plooms.
"Kylie Minogue came in around three years ago. We've had a few famous faces pop in to be honest. When Billy Connolly used to stay in Strathdon he would come in with heaps of people including Robin Williams, Dame Judi Dench, Pamela Stephenson (Billy's wife) and Eric Idle. The Aberdeen golfer Paul Lawrie has also popped in as well as some former Aberdeen football players."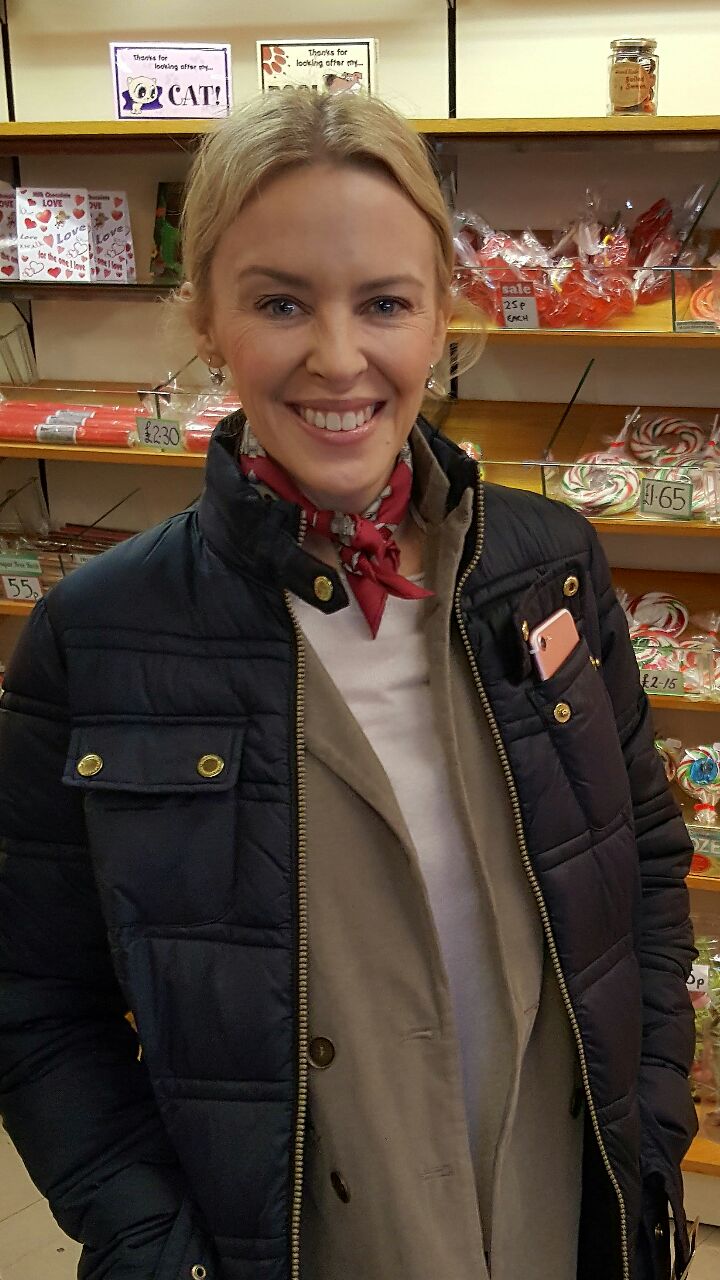 Like Graham & Duward, Derek and Roddy's team also use traditional sweet making methods and can be boiling up to 300 to 450 kilos a week.
He said: "It takes about 20 to 25 minutes to make them from start to finish. We've got copper pans which we put the sugar and glucose into with water. We boil it up to a certain temperature and put it on a cold table – that's where we add the colours and flavours. From there it goes onto a hot table and that's where we add the stripes and patterns. Everything is done by hand. After this we put it into a machine where it is shaped into a ball shape or the rock shape.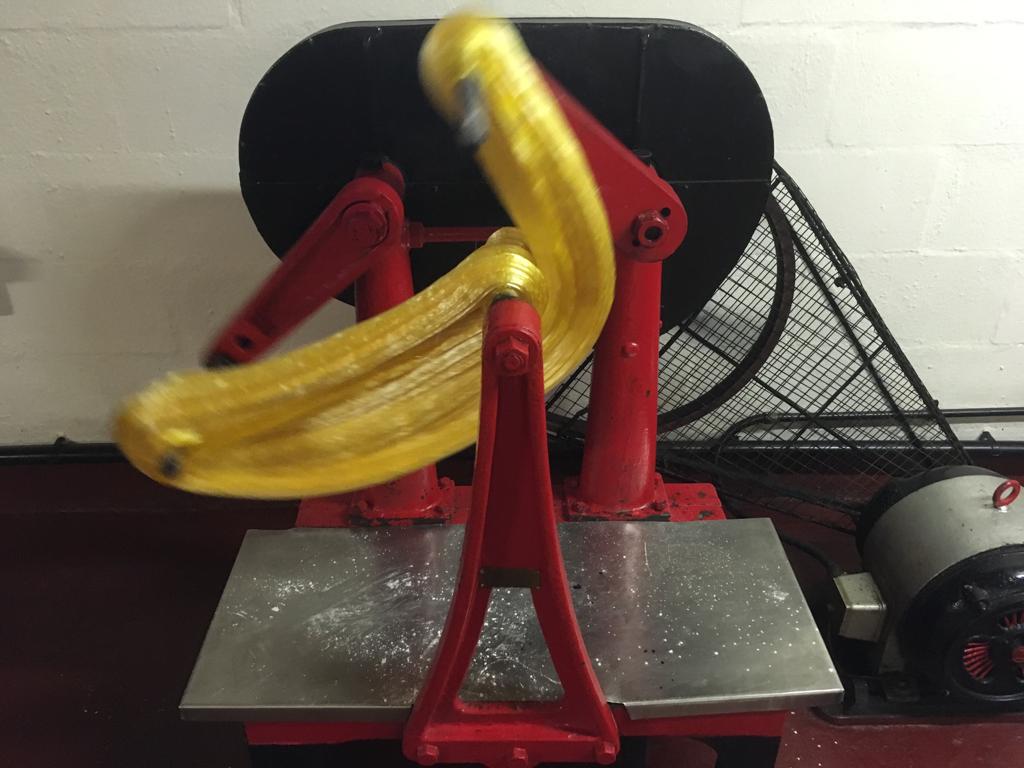 "The pulling machines are used to change the colour of the boiling from white and it also puts air in it and makes it lighter.
"Production really depends on what order comes in. We will roughly do 20 to 30 boilings a week, so that works about 300 to 450 kilos a week. Some weeks are busier, too. We have around three members of staff just now so it can be very busy. We produce two to three days a week nowadays. It is usually Mondays and Tuesdays we make sweets.
"There's a viewing area so people can come and view the sweets being made but we're unable to open it just now due to Covid-19 guidance. We primarily stick to what we know but we do introduce new flavours from time to time."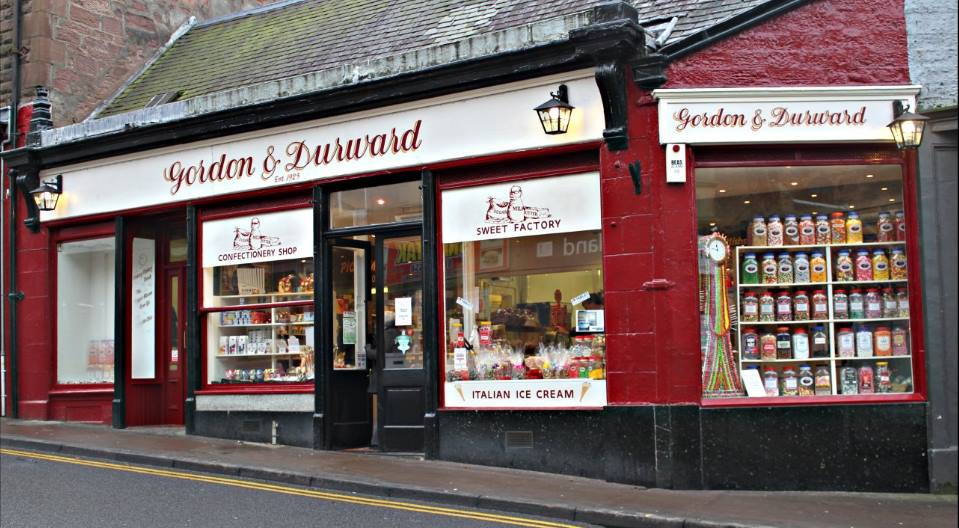 Gordon and Duward in Crieff was established in 1925 and has since been taken over numerous times. Now run by Graham and Caroline Donaldson, who have proudly owned the business for the past 30 years, Gordon and Duward's can be found across the UK in a range of retailers.
Working with a variety of well-known Scottish sweet makers including Jenny's Boilings, Buchanan's, Ross' of Edinburgh, the business also creates its own range of homemade tablet, fudge and macaroon
Graham said: "The shop has been in Crieff since 1925 – not at its present location though. I needed a job and the sweet factory came on the market. All of the equipment was there so we started off and soon built it up. We started doing van deliveries around all of the corner shops, but that died within three or four years as there was a cull of corner shops. We had to build up the specialist retailers, delis and farm shops and visitor attractions quite quickly.
Still using the traditional methods used in 1925 to created the goodies, Graham says keeping these practices alive is vital for the survival of the industry – and the skill set.
"We're still using pretty much the same kit as when it first opened, and that kit is pretty old. It is very hands on and we make the tablet and fudge in a big copper pot," said Graham.
"Flavours come and go, very quickly sometimes. Chocolate and chilli was the big thing about five years ago and it lasted around a year. At the moment its is caramel and sea salt. We have done a lot of Irn-Bru stuff and its all about fashion.
"On a normal year we're making on most days – usually six or seven days a week in the height of summer. This year, we're still working four or five days a week. Normally we'd be making around two and a half tonnes of sweets – which is a lot of sugar!
"There's seven of us producing the sweets, but that can increase in summer. We have a glass window where customers can view the sweets being made as well."
Stocking a range of Scottish confectioners Graham is proud to work with others who are providing unique specialist products other bigger international brands cannot.
He added: "If we don't look after each other then none of us will be here because these big multinationals will just pick up all the business. Most of the Scottish confectioners are smaller businesses and there are so few of what was a hugely traditional industry in Scotland left. We all know each other and work together. Ross' of Edinburgh do Edinburgh rock, old favourites, odd fellows and things like that, Jenny's make soor plooms, old favourites and more and Buchanan's make toffees. We all do different things.
"I think it is always going to be a niche, specialist market. The big companies can turn out vast amounts at much cheaper costs. We have to look at the things you can't get in the supermarket. The people of Scotland love their sweets, there's no doubt about that.
"We've just launched an Isle of Sky sea salt chocolate, from the Arran Chocolate company we do a lot of Parisian creams – they are dark chocolates with soft fondant centres. For boilings soor plooms, old favourites and Edinburgh rock is really popular. We've also just launched our ice cream selection from Stewart Tower and that has been a huge hit since we reopened. We've been doing vast amounts of ice cream."
---
Watch how the butter tablet at Graham & Duward's is made below…
Step 1:
Step 2:
---
---
Star Rock Shop – Kirriemuir
Having been producing rock since 1833, Star Rock Shop is one of Scotland's oldest sweet stores. The independent firm makes homemade old favourites daily and also boasts a range of sweets suitable for vegans, stocks sugar-free, dairy-free, gluten-free and halal goodies, too.
---
Mr Simm's Olde Sweet Shoppe – Inverness and Aviemore
While these stores may be part of a national chain, the business is dedicated to showcasing modern and retro sweets from across the decades. As well as popping in store, you can also purchase all of your favourites online, too.
---
Humbug – Aberdeen
From quality confectionery to ice cream, Humbug has served the people of Aberdeen since 2012. Based on Rosemount, an area well-known for independent firms, you'll find everything to feed those sugar cravings.
---
Lanetta's Confectioners – Dundee
Established for more than 75 years, Lanetta's can be found next to the Hilltown clock in Dundee. Serving up ice cream and a range of sweets, you'll find the top sweets from the past decade as well as old staples.
---
B.A Kerrigan – Perth
Featuring a wide range of sweets both old and new, B.A Kerrigan has been based in Perth since 1912. The city's only specialist sweets and tobacco store, this treasure trove of flavours is packed with sweets from some of the country's best confectioners. The store also boasts gluten free, sugar free and vegetarian sweets, too.
---
Small's Sweet Shop – Forfar
Boasting a modern look, this sweet shop also stocks a range of classics, not to mention all of the latest sweets including chew bars, sour jellies and chocolate eggs. No matter what you're looking for, you'll always come across something unusual at Small's Sweet Shop…
---
Aye Candy – Burntisland
Owned by June George and Bryony Thorbjornsen this family run old fashioned traditional sweet shop is situated on Burntisland High Street. From lucky tatties and saltire rock to boxes packed with all of your favourites, Aye Candy won't disappoint.
---
Guilianotti's – Stonehaven, Aberdeenshire
This vintage Italian sweet shop celebrates its 125th anniversary this year and has welcomed a number of royal customers to the store including the Duke of Rothesay Prince Charles and the Duchess of Cornwall. As well as stocking a range of unique sweets, you can also grab a scoop or two of Guilianotti's award-winning ice cream, sorbets and frozen yoghurt, too. They've even made their own Tunnock's teacake ice cream.
---
Allmark Sweets – Erskine
With more than 600 different traditional sweets to shop online, Allmarks Sweets now only operates online. The firm used to be based in Renfrew and is now based in a sweetie cabin in Erskine. It is owned by Colin and Yvonne Allmark who continue to bring unusual and traditional sweets to customers across the country.
---
Wowzie – Aberdeen
Offering a range of sweets from across the world Wowzie also stocks a selection of Scottish products which have grown in popularity over the years. From Biscoff fudge to marzipan fruits, not to mention Jelly Belly jelly beans, gummy sweets and more, there's plenty to pick from.
---
The Ice Cream Shop Cullen – Cullen
Stocking traditional boiled sweets, a range of pick 'n' mix, gobstoppers and more, this ice cream shop has it all. Delivering locally, you can also now pop in store to pick up your favourite sweets.
---
For more in this series…
Best of local: How the humble doughnut has become a work of art
Best of local: Experience a taste of luxury with one these 'fine dining at home' services